Flipping through the book "Origami Masters – Bugs – How the Bug Wars Changed the Art Of Origami", you cannot help but be frightened by this model: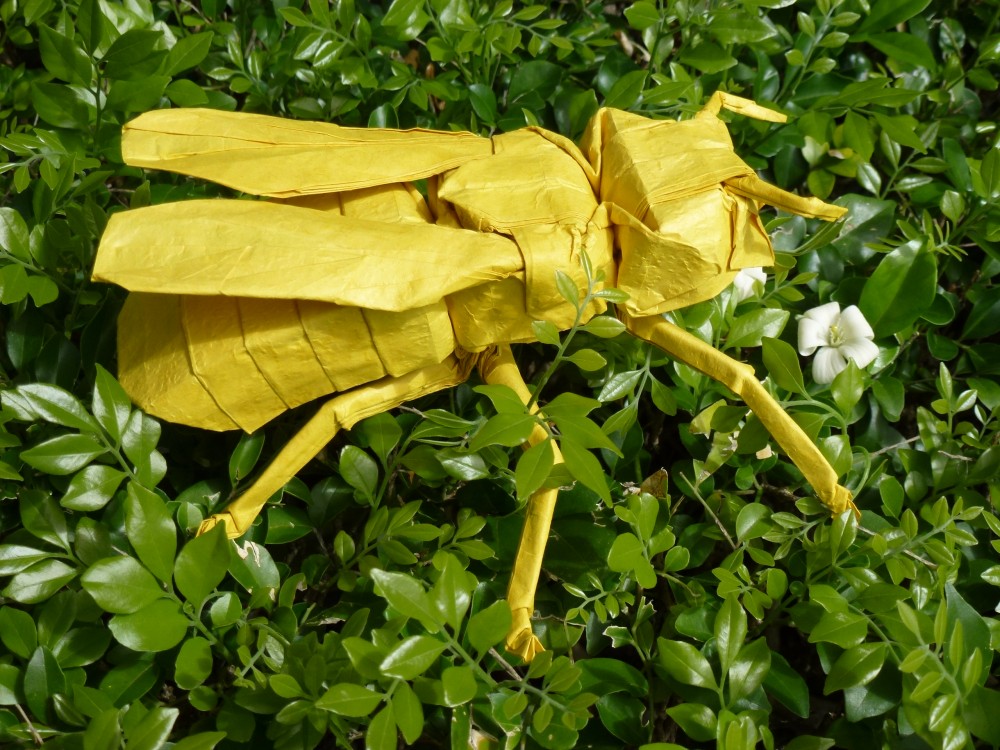 Robert Lang, mathematician, engineer and origami design genius in this model pushes the envelope of what is possible with paper on a number of levels. The book gives general hints about a truly terrifying paper manipulation which I think, largely ignores the fact that paper will be used in the fabrication.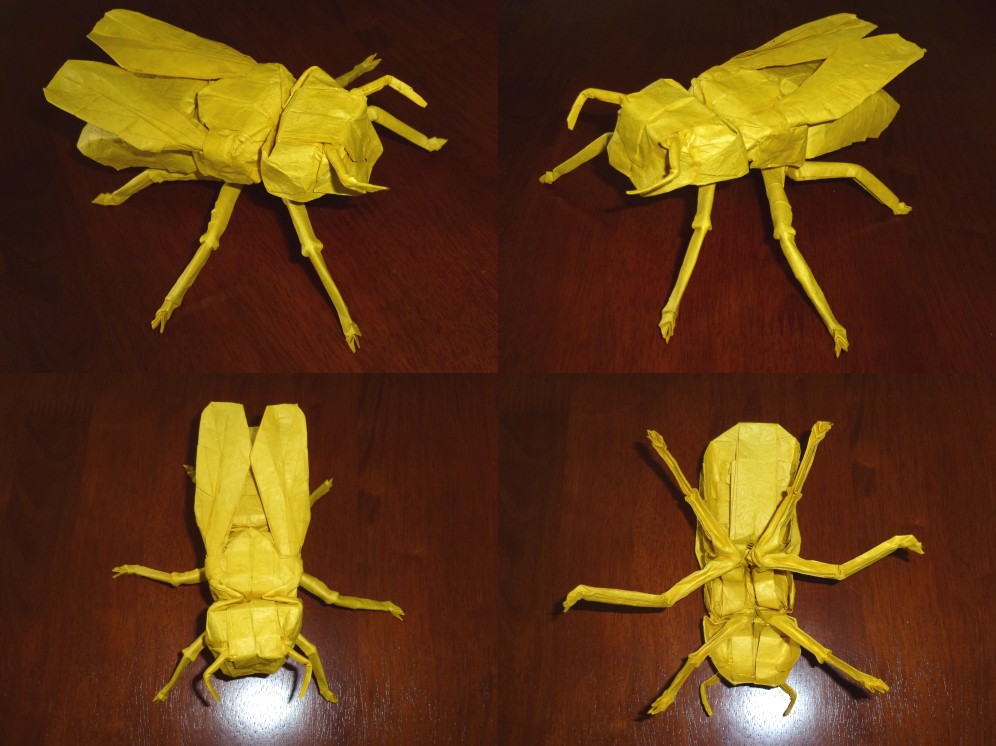 So many layers, such density of fold, unfold, rework, re-fold, then repeat a different way makes each step in this diagram sequence an amazing ride. Just the pre-creasing alone took me the best part of a week and a half – in retrospect I wish I had folded the whole 56ths grid first, but instead, I only laid in the creases he indicated we needed (making the whole creasing process much more time consuming).
Terrifying steps like collapse this all at once (step 28, that took me 2 days to understand how it worked) or  "Step 30: refine the collapse" that took me a whole day just to work out how that maneuver was even possible.

For budding entomologists, this model is a joy – fully articulated legs, beautifully segmented abdomen, thorax with lovely set of wings, head, antennae and proportions that are immediately pleasing. It is clear this is modeled off a real American or German Yellow Jacket wasp – a close relative to our Hornet. these nasties are colonial, hunt in packs, feed as adults of sugar rich things but they feed their larvae meat – anything they can chomp up for them.
This model has taken me ages for all sorts of reasons. Coaxing the 60cm VOG paper to follow quite rough processes was trickey – there is a little paper fatigue resulting in a tear in a gusset that is not visible, and many parts of the paper were bent and re-bent past the usual tolerances, resulting in flimsy parts that needed re-sizing with MC to stop them disintegrating.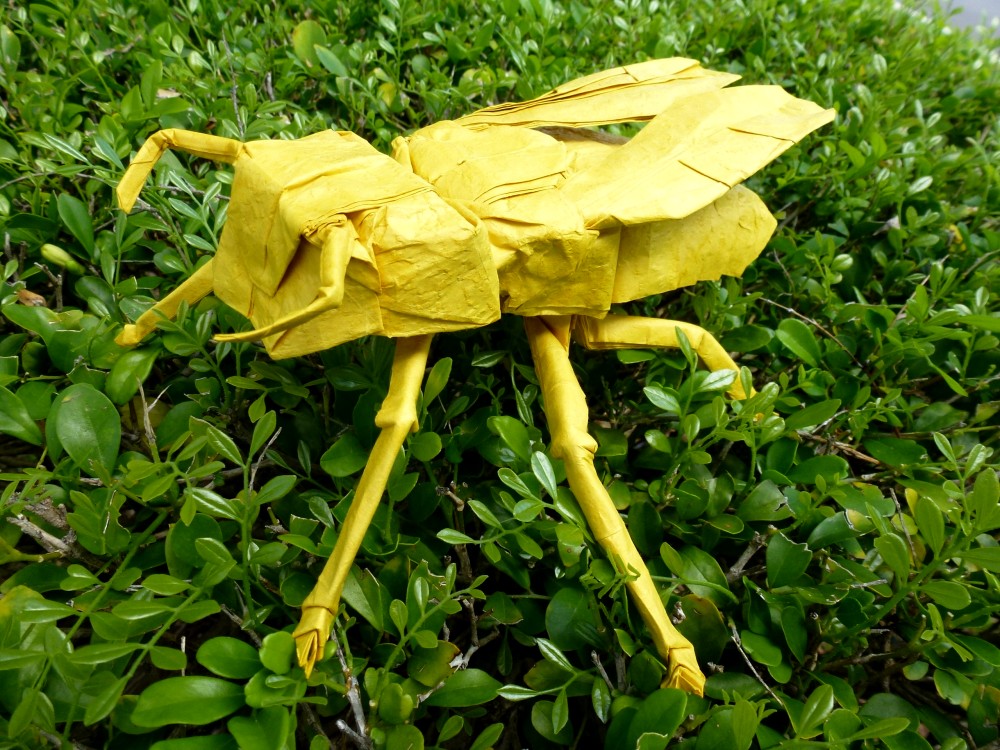 My first fold of this model is not perfect, I can see parts that if I was to fold it again I would re-work totally. Paper management is really important – getting the right number of appendages among the various parts reserved for body morphology make some of the moves seem impossible until you try them. Many a time I dropped it, got up and left, resolving to throw it out only to return when calm and refreshed and take it that step further.
Paper choice is important here – you need an impossibly thin, very strong paper in a pretty big size. I made mine from a 60cm square and would have struggled to fold it much smaller, but have seen it so – lots of to them. Even the demonstration model folded by Dr Lang has laser etched pre-creases visible, marring the otherwise crispness of the fold I think. I am not sure the instructions are complete (or correct in places – the leg assembly seems slightly off to me) and some of the details are a mystery (the development of a stinger just happens somehow, but did not for me).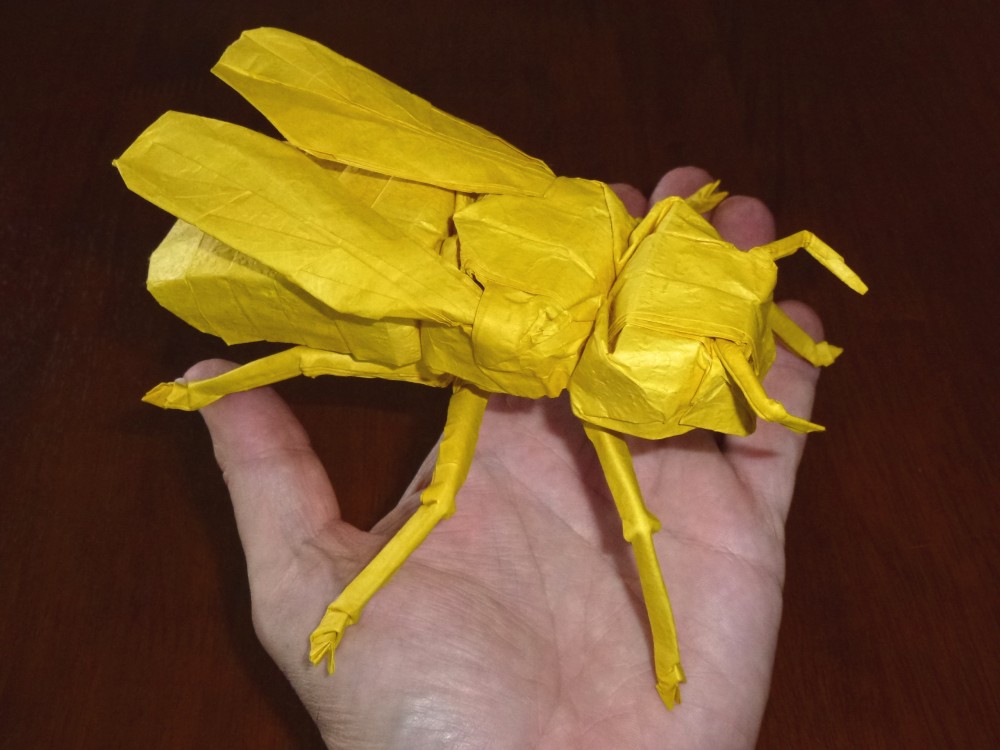 I am very happy to have added this model to my experience base, and would not have even attempted it a year ago, which is encouraging.
I am, however, in awe of the design – wow, just wow!