In topology, a branch of mathematics, the trefoil knot is the simplest example of a nontrivial knot: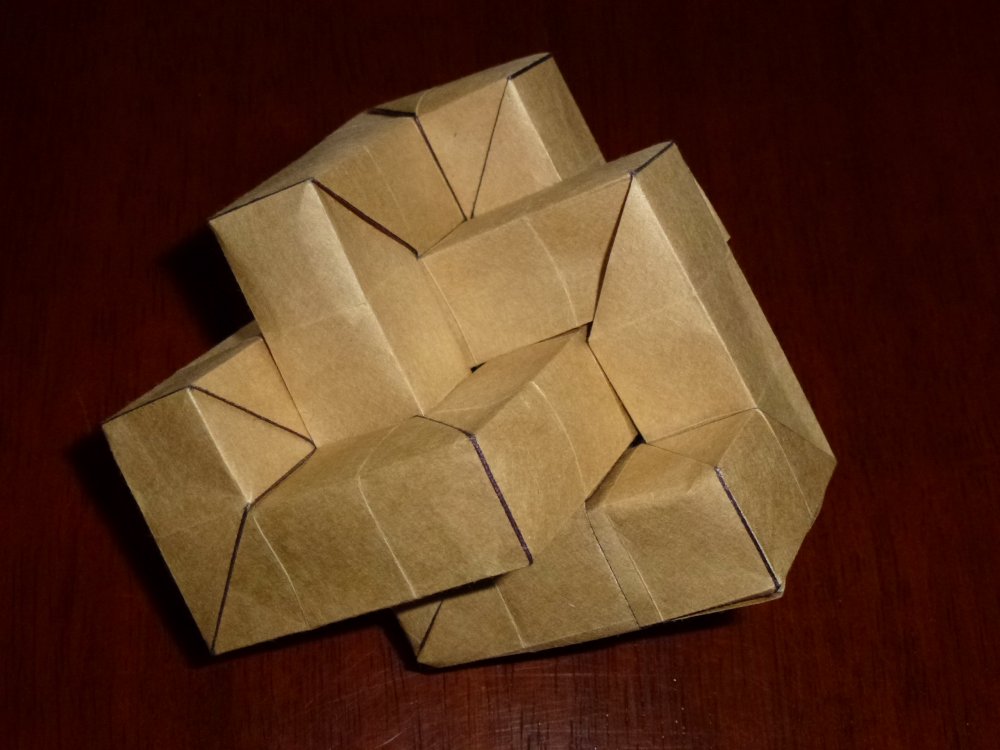 This is Kevin Hutson's design, well CP really, that I sort of just nutted out after mis-folding it 4 times and uttering some bad words (sorry Mum). The observant amongst you will notice that it starts and finishes at the same point – like a mobiius strip on acid. Read more…
In my list of "models to try someday" was this model designed by Takashi Hojyo: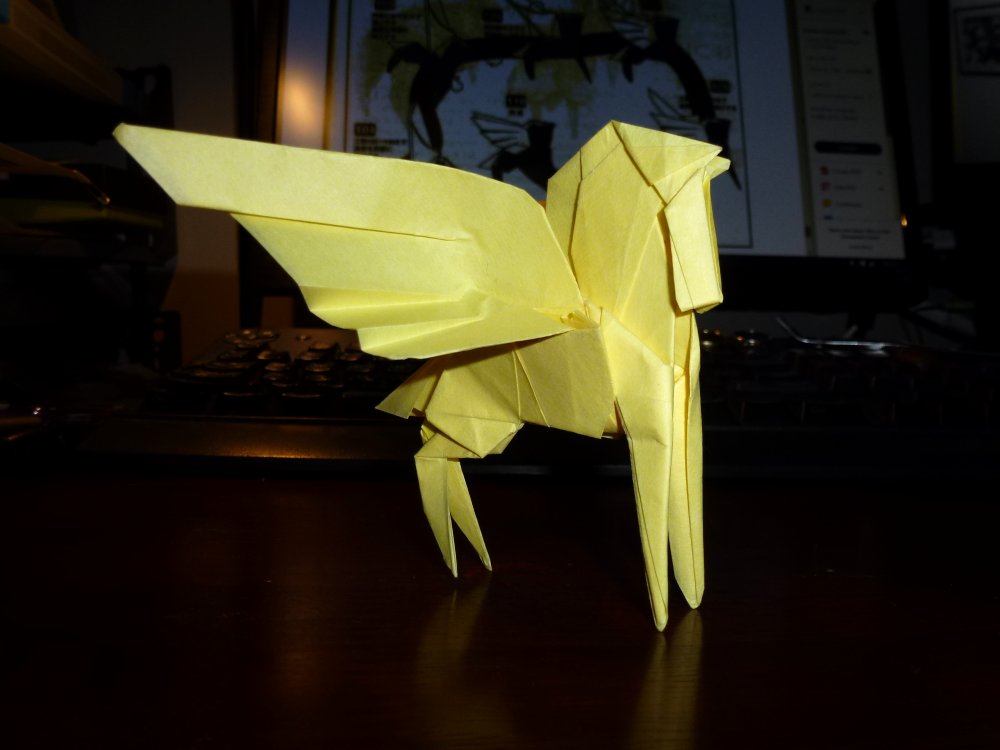 A complex management of points, this lovely rendition of a Pegasus has much to love. The wings, legs and general morphology are very pleasing to the eye but not easy to achieve as a fold. Read more…
…then my wife casually asked if I could line some cake tins: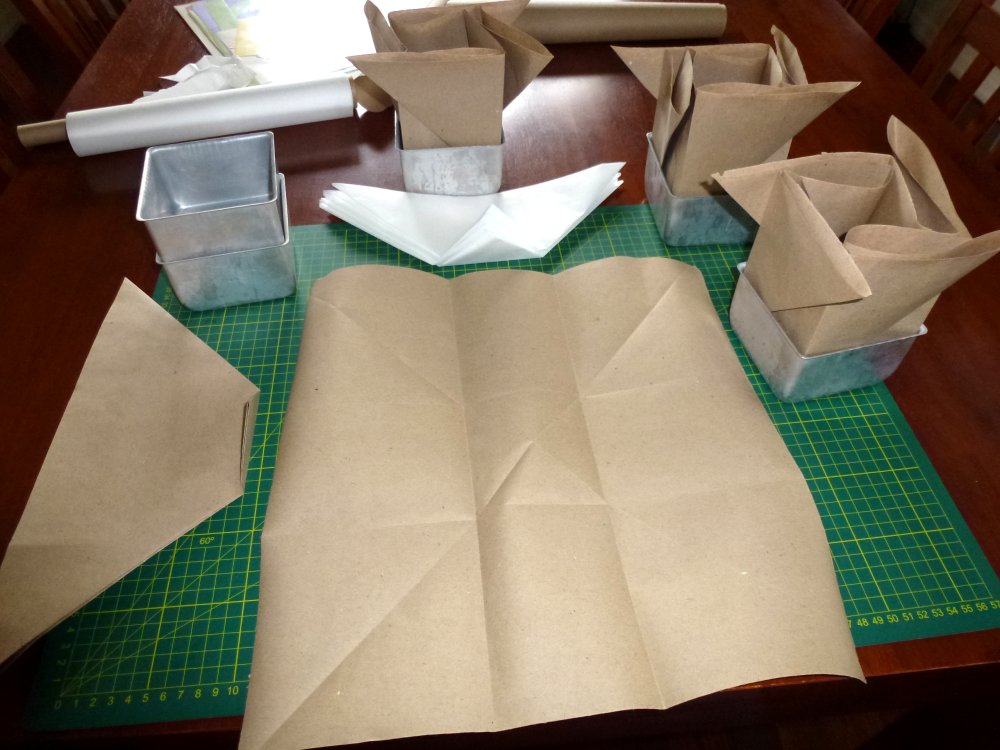 A simple fold, unequalled as a way of protecting a fruit cake from extended baking – the outer layer is 35cm square kraft paper, inner is 25cm greaseproof paper, they fit snugly in the tins. Later they will protect the maturing cake as it regularly bathes in rum. Read more…
…yes, I know I am behind, but I have been busy and my brain is fairly broken. As part of the cleanse I took a 35cm sheet of washi and decided to try Brian Chan's Super-complex "Fiddler Crab" model, never entertaining the notion that I would achieve the model, but rather just to fold for the love of it: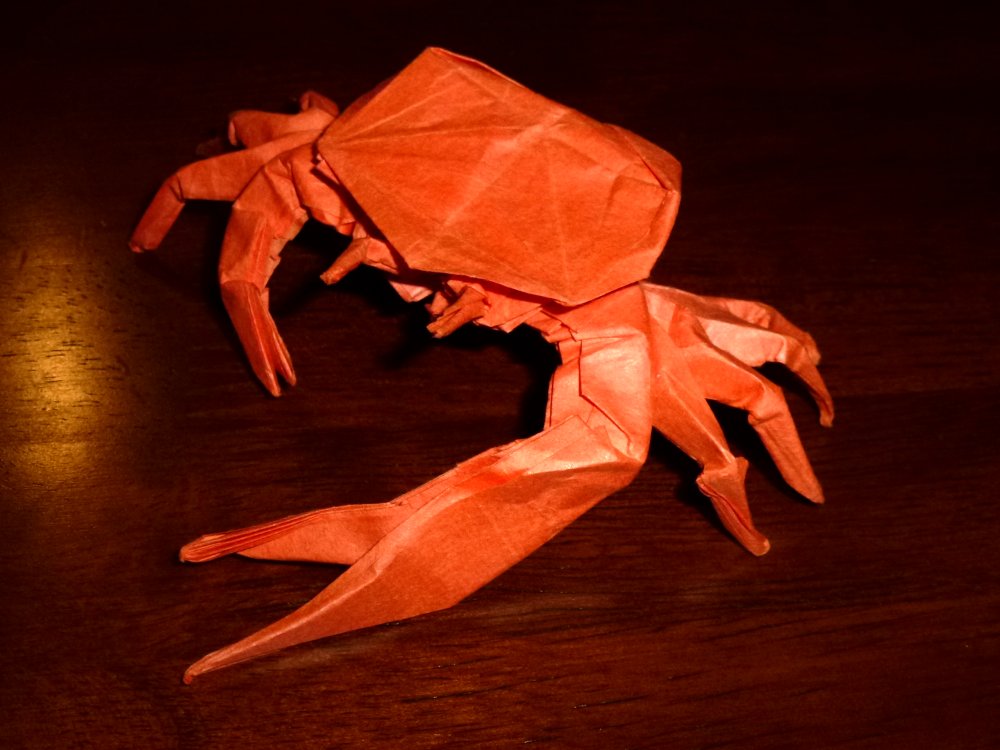 My fold-philosophy on this gig was to faithfully (well, as faithfully as I could) follow the hideously complex fold sequence and sort of just stop when I could go no further. Step 53 alone took me over an hour and a half to achieve – I just could not get my head around what was happening in the sparsely diagrammed model. Read more…
People I work with know my OCD tendencies. When it was casually suggested that I might consider folding a Nativity scene for the end of year celebrations, it was a forgone conclusion that I would: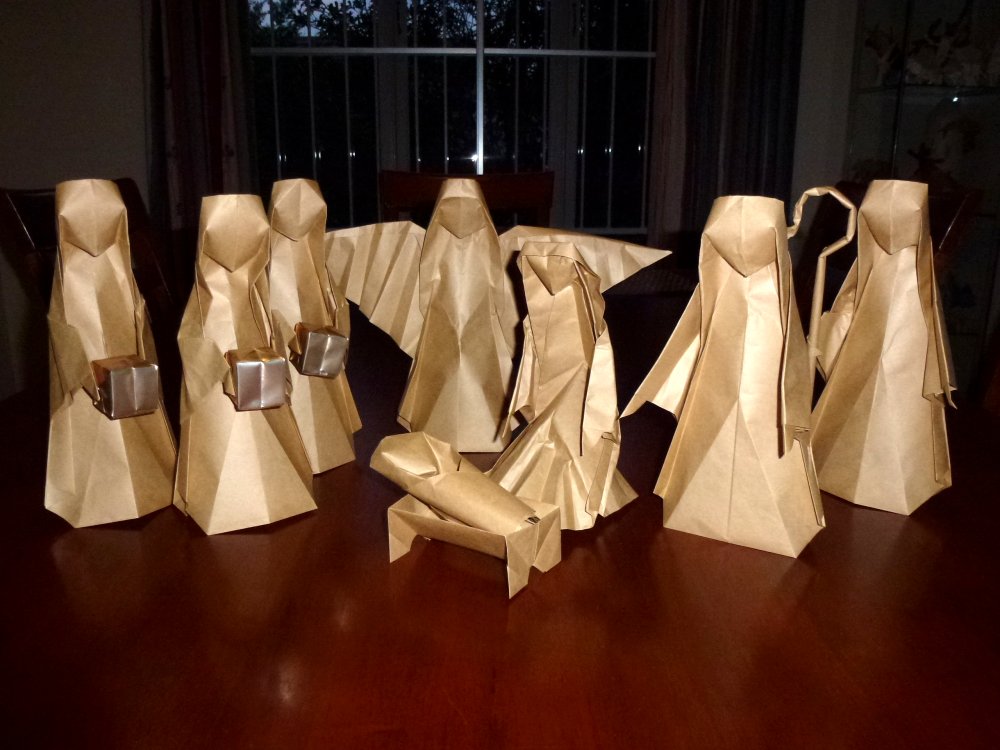 The assembled figures (each nearly 30cm tall) form quite a striking display – hopefully one that works for the display space – we shall see. Clearly Christmas is just around the corner, with this scene, it is beginning to look a lot like … well … christmas.
We have on the left, 3 kings, bringing gifts (bronze waterbombs are quite the thing this year). Centre there is an angel, looking over a mother, father and child. Bringing up the rear is a random shepherd … because … the scene needed balance.
So the challenge to render a more feminine figure, seated, as if tending something was on: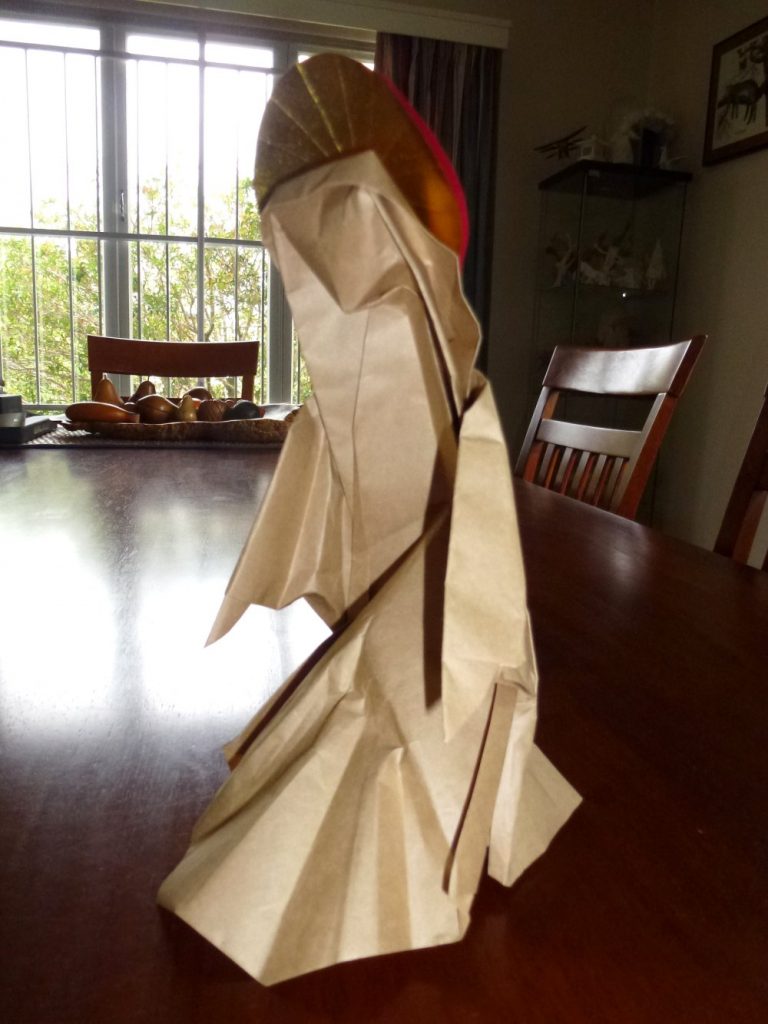 Using a variation of the generic judaian I managed to change the head, add knees and change the posture so sitting is suggested. Read more…
So, I needed some furniture, and thought of a feed trough, but had to invent one: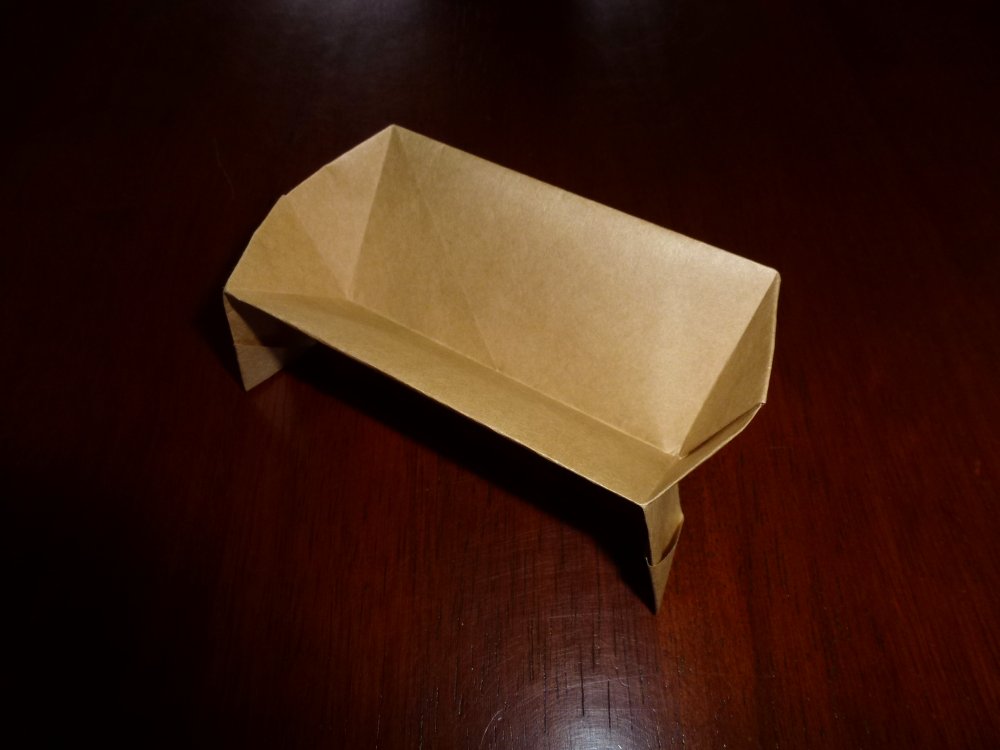 Folded from a smallish square, this has trough and some rather nice legs, but does not look very comfortable. Read more…
So the next challenge was to render a babe, in swaddling clothes: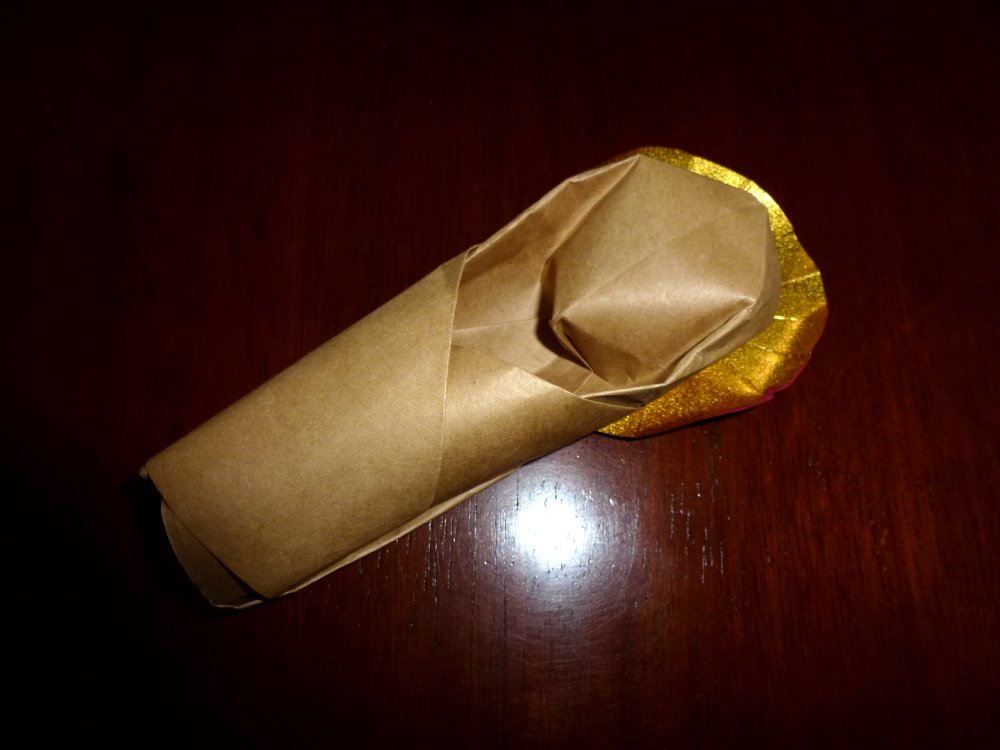 Using principles garnered from an adult fold, I sort of MacGuivered a larger-proportion head, wrapped the body and presto. Read more…
…now when you want to fold someone from ancient Jerusalem, the options are few and far between. I stumbled across a design, again by Max Hulme, that will, with modification, do nicely: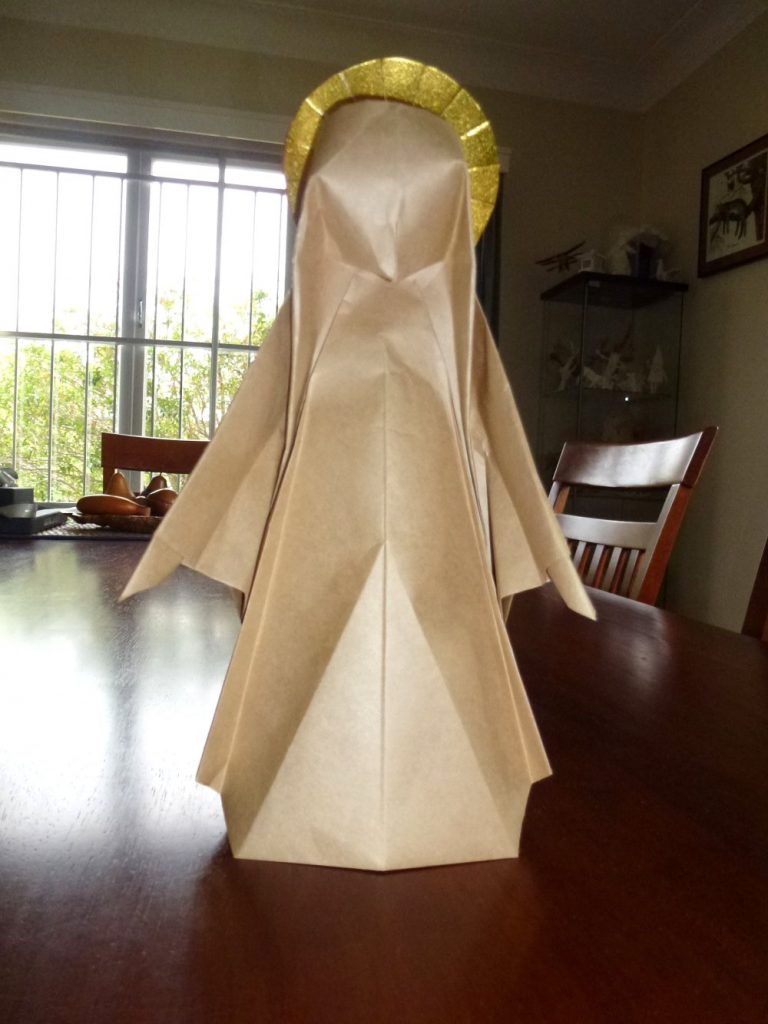 My generic Judaian is wrangled from a 50cm square of thick Kraft paper, and ends up being about 25cm tall all up. Read more…
Cruising around the internet, as one does, I stumbled across a thumbnail graphic of a diagram that appears somewhere else and sort of just worked it out: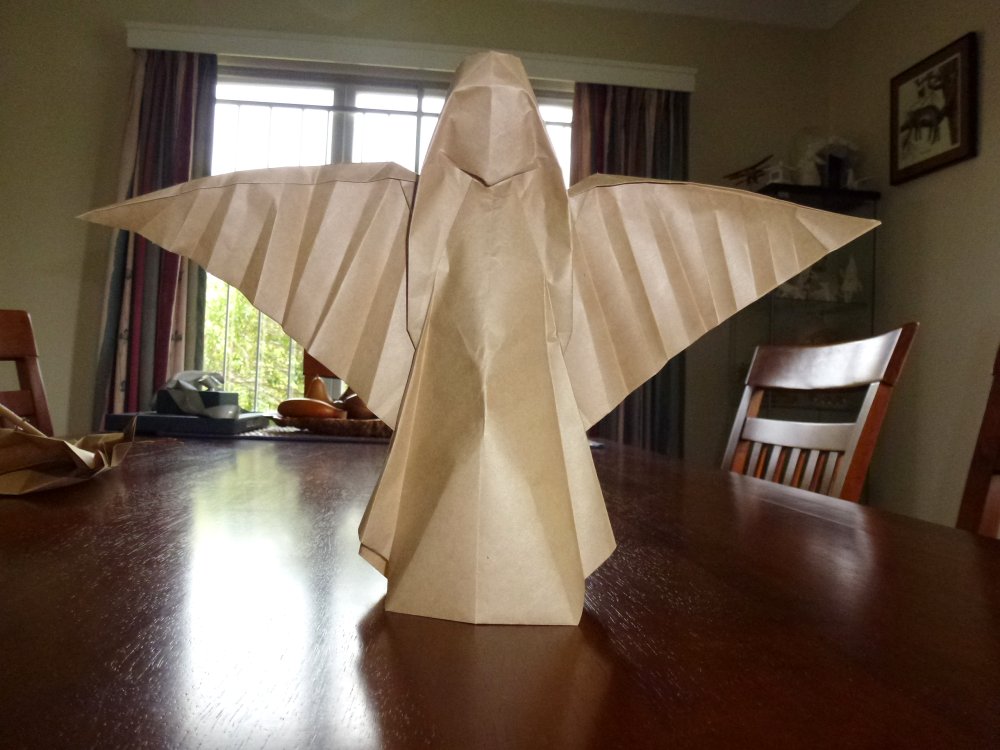 This is loosely based on an angel design by Max Hulme. Read more…