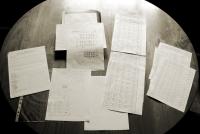 In your head! In your head!
...so I imagined this use of an old historic building at our asylum, brainstormed the sorts of creatures that could inhabit it, write a short story that encapsulates a plot [some would say I am exercising my "horror movie" - you know, the one that everyone has inside them, along with a book] and built it. Testing pops, rewards, tricks and traps is tedious but it should result in an area that is fun to play.
Yes, I employed time honoured traditions of vampirism, zombie brain lust, ghoul depression and the whole spiders web trip - all done in the best possible taste, things go groan in the night, but it was fun to write. Area building is getting more complicated as new areas fill in the gaps and complete quests started in other areas - masterplanning is a major task, internal consistency and quality control are constant bug-bears.
...oh, that is right, you do not play MUD then do not worry about it.
Zombie! Zombie! Zombie-ie-ie!
So this dude in a red suit, bushy beard and a sleigh attempted to arrive at our place, right, but seeing as though it was summer, he felt a tad overdressed and sodded off instead - you get that. Got some video nasty - the complete Red Dwarf seasons 1 - 8 - wow, what a blast from the past. I forgot the pleasure of good sci-fi comedy is so few and far between. Embarrasingly, i forgot I had seen _all_ of the episodes also, still, great to be re-aquainted with my favourite bunch of smeg-heads, so many good story lines...
...had parent down for a stay during high festive season, was nice - had other parents over for the serving of burnt offerings also, again nice - why is xmas food so nice but so bad for you ... and in the middle of summer when you do not need to eat very much anyways ... my waistline has done almost as many shocking things as my beard line - tis the season to be jolly.
Whats in your head, in your head?
...one of the boxes under the tree was a pasta machine [a mechanical hand-cranked apparatus that rolls out then cuts noodles] - in talking to family and friends they all assumed I already had one and were astonished to hear that the pasta I had served them was hand made and hand cut. Perfect spaghetti and fettucini are now mine ... recipe follows, but it is amazing the difference that the right tools make on the ease of completion of a job.
Pasta for 4 [light meal]: one and a half cups of plain flour with a pinch of salt. Whisk three eggs with a sploosh of olice oil, then oncorporate into the flour, mix by hand until a stiff dough forms [a couple of drops of water to bind is heresy but a solution to having small eggs]. Knead the dough until elastic. Wrap in plastic wrap and leave for half an hour [to allow the long protein molecules to join hands and make the dough stretchy]. Start on setting 7 on the machine, halve then flour the dough and wind it through, setting 5 repeat, setting 3 releat, then hack into 30cm lengths, and pass these through the cutters. Dust with flour and allow to dry until you are ready for it. Big pot of boiling water, plunge the pasta in, stir [I find chopsticks the best for this - untangles then and stops them from sticking initially]. After 3 mins, drain, sauce and serve - really nice.
Zombie! Zombie! Zombie-ie-ie-ie-oh!
Apologies to a group named after a small red sour fruit - The Cranberries, and their pivotal song "Zombie" from which I derived completely no inspiration.