Whats-a matter you Hey! Gotta no respect
...now I actually do respect our law enforcers, the Police do their best with an ever complex crime scene but there are times when the cynic in me says you have to be joking. I was fined - normally I would not begrudge a fine if it was deserved, but I crossed Adelaide St at Albert St trying to get to the Myer Centre to catch a bus. I was sensible, I went to a crossing, there were no cars and a bunch of us crossed [yes, the sign was flashing dont walk] the crowd went one way, I went the other way and out popped a Policeman who had been hiding near Starbucks. "ello ello ello, was there any reason you crossed on a dont walk sir" he asked. Now that begs a question doesnt it - what would be a reasonable reason? I was so furious that all I could do was hiss "no" so I got a ticket for "J" walking.
Now do not get me wrong here - according to the law I was in violation of the traffic code, but floop-me-sideways if that does not go down as the most cynical revenue-raising exercise, particularly when apparently they are there often in the afternoon at that crazy time when everyone finishes work and hurriedly tries to get to bus or train ... I still get cross when I think about it, and struggle to respect a system that allows me to, whilst walking to my bus station, walk past an unconscious drunk collapsed in a stairwell of a residential tower and witness a taxi driver assaulting two bewildered elderly passengers because they were not familiar with the city, only to be caught crossing at a crossing... sheesh!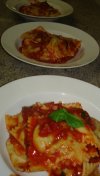 What-a you think you do? Why you look-a so sad
...italian food, gotta love it. Santa brought me a pasta machine - one of those odd contraptions that you roll pasta sheets out with - what a fun toy. I have previously hand-rolled pasta and that was a pain - the flavour of hand made pasta is unequalled, but doing it with a rolling pin is hard work and a pain in the bum. The machine delivers gossamer sheets of delicate noodle, and has a cutting mill to allow you to cut spaghetti and fettucini. It took one sticky mess to realise that if you let the sheets air dry for a little while, then they slide through the cutting mill and separate out into individual noodles effortlessly.
We bought a ziggy zaggy roller wheel cutter thingy and have used it to make Pappardelle which is wide noodles with crinkly edges [great for supporting chunkier sauces - we have served it with a paprika stew similar to Goulash] and recently we tried hand made Ravioli [150g ricotta, 1/2 a pack of frozen spinach, chiffonade of fresh basil, grind of pepper, a tablespoon of toasted pinenuts for the filling] and floated them in a fresh tomato and basil sauce - yee gods they were good - all the more spectacular as the recipe was invented and we had only ever seen Jamie Oliver make big poofy ravioli on the telly so had to sorta guess how to do it. Such a wonderful crafty thing to do, and you can eat the results. We also have made Lasagne with fresh pasta sheets [so light and tasty] and Farfalle with creamy tuna sauce [pasta bows]. This fresh pasta must be ok, the kids come back for seconds and are asking when we can have that again. Cooking is a joy, eating doubly so ... the power of a diet makes you appreciate it all the more.
Its-a not so bad, its-a nice-a place
... so I re-imagined a recently opened facility at our asylum as a centre for radical human research [not so far from the truth - Waterford in the real world should be a bold experiment in teaching in fundamentally different ways but I wonder how long until it degenerates into "kids in rows" ... can hope that it doesnt]. The bARC in TMUX is my sci-fi novel, and the first chapter is open for punters to be bewildered in ... mixed reaction, you get that with anything that is different.
... you pick up 12 gold pieces [yo ho ho and a bottle of rum] the currency system in TMUX has always annoyed me, particularly with the sorta "future imperfect" scenario I have chosen for the game - so I set about to do somethig about it, replacing its pirate/d-n-d treasure chest money with a newer, more modern idea - credits. I would like to say i thought of this myself, but, sadly, i stole the idea off an old brit scifi telly series called "Blakes Seven" where the "Federation" has control of the galaxys finance system and all money was in the form of electronic credits - tokens that were redeemable for goods and services - the tokens had no inherent value in themselves, but had an agreed value that was consistent across all aligned worlds, funds transferred electronically etc ... thanks for the idea, now post-apocalyptic terrace is like that, Republican Government and EFT and all.
...oh, that is right, you do not play mud, well, do not worry about it them.
Ah, shaddap-a you face
... I loath novelty songs - "do you come from the land down under, where beer does flow and men chunder..." or "theres klingons off the starboard bow.." those annoying half-thought out songs that some amateur film maker makes a clip for and then suddenly it appears at the top of the charts [or, worse at the top of the playlist on your fav radio station ... does anyone still listen to radio i wonder?]. Joe Dolce was guilty for todays lyrics, an ethnic pisstake on being a wogboy that i remember was on tht top of the Countdown charts for 5 weeks, I hated it sooo much as it bumped David Bowies song "Ashes to Ashes" out of the charts [Scary Monsters ... great album] which is a real pity because at least Bowie had talent - still, the public is fickle, they get what they deserve.
...say "Hi" to your mum for me.