I know something about opening windows and doors
...now I have been beavering away in SecondLife and have managed to make a functioning building. By functioning I mean it has walls and a pitched roof - yee gods I can see why few 2L buildings have anything other than a flat roof - they are a major pain to set on slope. I hacked a square hole in one wall, but some thin cross members and then floated a semi-transparent prism into the hole and presto, if it is not the most elegant window.
...but wait, theres more - I hinged a door and scripted it so when you click on it, it opens and stays open for 15 seconds then closes again - all very pedestrian in scripting terms but I am a 2L n00b, so I was happy. I used same script on wagon door and on cellar trapdoor, but needed something else to manage the moving of a mound of dirt covering the grave, so wrote a displacer script that allows you to push the dirt to one side and rveal ... an empty grave currently - still inable to find a workable cadaver. You get that.
I know how to move quietly to creep across creaky wooden floors
... the new china cabinet [sorry, previous posting mentioned new furniture - keep up!] sits on our lovely polished floors. They are all timber and some of the boards move ... little did I realise they were sending vibrations straight to shelf 2 - this is gradially re-arranging the precious things carefully placed there. I like the randomness of it and figure so long as I watch it so nothing actually falls, then the anarchy of rearranged formality might be fun to allow it get on with itself.
I know where to find precious things in all your cupboards and drawers
... so I had this idea that the next stage of a bushland setting was to be re-discovered facilities lost in bushfire and overgrowth.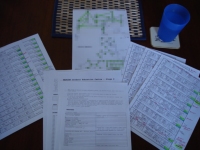 So I drew a map - always think spacially and a plan of attack is better than a photo of a nail - that was a joke, right - keep up.
Imagined a bunch of 22 original monsters, some snarly, some cuddly, some possessed, imagined a buncha items [about 25 or so], built it, tested it, opened it ... I guess players will be killed by it for a while, will see
...oh, that is right, you do not play MUD, then do not worry about it.
Slipping the clippers
... weeded the back bed, removed the Grevillea tree corpses [all but 3 trees perished by forces unknown] and am due for a load of chipbark later in the week - shovelling, yay, just when the virtual world gets busy the physical world does also, isnt that always the way?
Slipping the clippers through the telephone wires
A big thanks to "Intruder" by Peter Gabriel - look it up, is a good song