Row, row, row your sweep;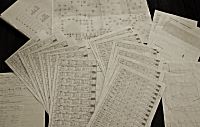 So this corporate takeover acquired land on the tennyson reach of the Brissey River that happend to contain an abandoned and overgrown rowing shed, and later were served with a develop or demolish" order by the local Republican Government. This the ROW Inc. Rowing complex at Tennyson was conceived, build, described, populated with monsters carrying and or guarding objects. Has been a long journey, punctuated by inactivity, heavy assessment and nerve damage but the deed is done.
Will players enjoy it? Dunno. Will they think it is fair, too challenging, not challenging enough or somewhere inbetween? Dunno. To rewarding or too punishing? Dunno.
It connects nicely to the next Tennyson stage which will be an open air country market and encampment of sorts - filling out the whole post-apocalypse refugee situation - they had to move somewhere, right? I actually enjoyed making this area, some lovely textual descriptions, nice coding touches and carefully considered terminology that few will even notice - you get that however when BOYS are involved with anything that involves reading and thinking.
Have been doing a bit of reading on cognitive load of virtual environments, textual versus graphical and the likely future of both - interesting stuff the human imagination. Anyone who hooks into it in a real way is destined for longevity I guess ... who knows ... oh, that is right, you do not play MUD (only _real_ gamers can anyways) - do not worry about it [go click on something].
vigorously up the stream.
Physio for a lot of the hols, strapped and trussed like a hunchback turkey as well, what a pain in the neck - literally. Smashed a nerve in my neck and the bruised bastard got muscle groups across my shoulder and down my left arm to gang up on me - has been really uncomfortable and still hurts [wierd how muscles hurt because they have remained tensed for long periods] - this happened christmas eve [and no, I was not doing anything particularly strenuous then, just felt a *crunch* while rolling over in bed [references to the Japanese whaling industry will be ignored at this point - altho, while on the topic, just how "scientific" is it to EAT the animal being experimented on - name a SINGLE other scientist that would do the same ... just one will do ... any time you are ready ... thought not.] ... neways, neck mobility is ok, have always had a fairly stiff neck - my posture is often confused with being arrogant and looking down my nose when actually it is an odd spinal curvature and poor postural compensation. I have exercises and when i remember to do them I am more confortable, but my memory is often pricked by the discomfort of having forgotted - vicious circle anyone?
Would love to say I got a lot done this holidays - reality is I did not, but the state I was in at the end of 07, I think i just needed to switch off. It took me the first 2 weeks of the hols to stop shaking, and a the end I was unable to sign my signature - that is a little scary, even for me. Would love to understand the combination of forces that conspired to beat me up so but is prollybetter and more important just to leave that year alone, so much I would like to forget about it.
If you get beaten by this eight;
A new batch arrive in a week or so - will they be wide eyed and interested or products of the "google generation" where shallow and surface is all they are interested in. I hope at least some are interested in delving deeper - makes teaching and the subject interesting - would be a shame for them if they were passive learners.
5 weeks of teaching and I am off for about 6 weeks long service leave. 19 Years employed in one place is a long time - sometimes I feel that duration, particularly when things come around again and again. I like re-inventing the wheel, I really do - it is so very satisfying to argue the same argument over and over to arguants of varying sanity ... is a teachers lot in life I guess.
Have resolved to do what I can, accept what I simply cannot and delegate so long as the delegate is competent or able to learn something from the delegation - no point otherwise as it just ends up being a bigger job in the end and sadly I have learned through first hand experience that some people are just un-teachable on certain topics.
I hate beginnings of semester/years/terms - is a wierd psychological dread of not knowing what I have not done yet because I have not thought or known it needed doing ... gotta love a challenge, but you get that.
you were thrashed by a better team!
A re-hash of a classic kiddies song, shamelessly ripped off and re-modelled as a clue nearly everyone will miss in a fairly rich area. Say hi to your mum for me. Love your work.