Gimme [a lip] with hair; Long beautiful hair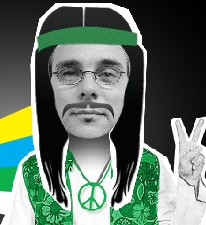 WHY MOVEMBER?
Men lack awareness about the very real health issues they face. There is an attitude that they have to be tough - "a real man" - and are reluctant to see a doctor about an illness or go for regular medical checks.
Movember aims to change these attitudes and make mens health fun by putting the Mo back on the face of fashion and in the process raise some serious funds for key mens health issues, including:
Prostate Cancer
: because every year 2,900 Australian men die from prostate cancer and over 18,000 men will be diagnosed with prostate cancer. [
http://au.movember.com/outcomes/malehealth/content/Prostate-Cancer
].
Depression in Men
: because one in six men experience depression at any given time but most dont seek help.[
http://au.movember.com/outcomes/malehealth/content/Mens-Depression
].
HOW MOVEMBER?
saturday morning I stopped shaving my top lip - we shall see what sprouts there. I intend to post growth progress shots.
SO WHAT?
To donate to my Mo you can either follow this link:
https://www.movember.com/au/donate/donate-details.php?action=sponsorlink®o=1706656&;country=au
and donate online using your credit card or PayPal account; or
Write a cheque payable to "Movember Foundation", referencing my Registration Number 1706656 and mailing it to:
Movember Foundation
PO Box 292
Prahran VIC 3181
Remember, all donations over $2 are tax deductible.The money raised by Movember is used to raise awareness of mens health issues and donated to the Prostate Cancer Foundation of Australia and beyondblue - the national depression initiative. The PCFA and beyondblue will use the funds to fund research and increase support networks for those men who suffer from prostate cancer and depression.
Shining, gleaming,Streaming, flaxen, waxen
... so I have been playing once again with music generation software and can feel a creative surge about to start where I feel confident enough to begin to make noise again - it has been too long. Played with a number of generative systems also and they are fun - must get back into it I think as sound is a gift, creatively sculpting sound for no other reason than "because we can" is fairly unique to higher order lifeforms. Still love the whole digital synthesis thing, and also the analogue synth emulations are fun ... am a bit too geeky and impatient for a real instrument I think.
Give me down to there hair; Shoulder length or longer
I love how discipline strategies focus on seemingly unimportant things [like appearance] yet ignore broader cultural problems like lack of respect for others and belongings. It saddens me that we are seeing a generation of kids who have no understanding of value, little appreciation of going without and whom are not used to be told "no". As a parent, I fully understand the aversion to denying kids anything but the current generation are so taken aback when they do not "get a prize" for merely turning up, expecting to do well and receive praise for everything they do, however mediochre. Want to traumatize a teen? Tell them you do NOT think what they did was very good at all [as in be objective and honest], but be prepared with a box of tissues - there will be tears before bedtime and most likely someone else will to be to blame and then wait for the same reaction from the parent. I am NOT saying that everything is mediochre, I see extraordinary examples of kids going waaaaay above the call of duty on a regular basis but I have noticed an increasing weight of serious ordinaryness as well - and that ordinaryness also begs the same praise, and increasingly that ordinaryness is becoming the norm.
Superficiality is the now, barely understanding LOTS of things is the norm, skimming is the way, the light and the word and I am over it. Thinking deeply about things is what sets us apart as a species, expressing ourselves in rich and complex ways showcases our developed communication skills in ways that posting a video of it on youtube does not. Are we as a race dumming ourselves down to the point where we will lose this genetic advantage ... I think there is a very real possibility the answer may well emerge as YES. National curriculums that further dumb-down already struggling puddles of knowledge, irrelevent measures of how well a school is faring, state-wide and national leaderboards have and will continue do much to batter an already bruised and neurotic education system, reducing whole school experiences down to a single mystery-meat number is not a step forward. Who can make a difference? Can you [or is that effort that you just could not be bothered to make]?
Here baby, there mama. Everywhere daddy daddy
Hair! Music of the 60s generation, barely relevent to today but nostalgically interesting none the less. If you have not heard the soundtrack, do yourself a favour and dig it up ... listen to the lyrics, they actually say stuff [particularly if you are a teenager, or a teenager at heart]