I like your old stuff better than your new stuff
... so about a month ago I got
fully sik
and the morning after I started my anti-biotics, right, I woke up with a searing pain behind my right shoulder blade and down my right arm ... the rationalist in me convinced myself that I had suffered a stroke, the realist figured I had mashed a nerve in my shoulder [apparently losing consciousness and falling on it is not good for a joint ... pfft, who would have known].
...so I waited until the rest of me felt better, then along came marking, reporting, end of semseter and so on and I decided to just put up with it [as you do].
I like your old stuff better than your new stuff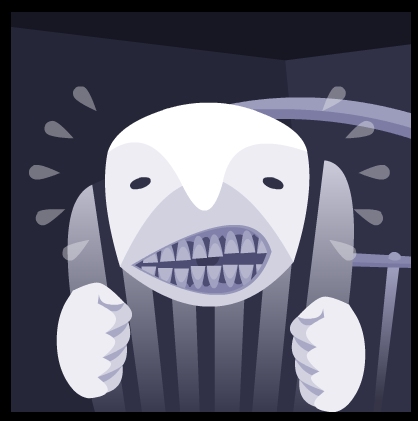 ... trotted off to a physiotherapist on monday night, shoulder seized, and proceeded to tell the physio what the problem was, and how he could cure it, only to be informed of a number of things ...
no, physios do not employ leeches, that practise died out in the middle ages
no, they do not "crack" joints back into alignment - that is a chiropracter apparently, and that would cause more damage than benefit in this case
although the pain is felt in my right arm and shoulder, the site of the injury is my neck : C3-C5 seem to barely move when i turn my head etc ... this is not as it should be
I proceeded to tell him that a glass of wine eases the problem, strangely he did not seem impressed with this solution.
the shoulder and arm pain is referred pain, apparently that is supposed to make it hurt less
my posture is ... how did he put it ... "less that perfect" - lol ... this is not news, but is one of the reasons why muscle groups in my back gang up and go out in sympathy with each other
I am not too old to correct things [I nearly hit him when he suggested that it was nearly, but not quite ... old, as if!!] ... excuse me while I make some cocoa and sit in my rocking chair with a rug over my knees.
If i had come to him sooner, then I would not be in nearly as much pain as I am now [knew that reprimand was coming, wonder how many other people put up with discomfort because the nuisance of finding time to do something about it seems never to be available?]
...neways, after some gently manipulation [do not know what he did, but it did me a power of good], and some more promised gentle manipulation next week [same time, same channel] I am relegated to applying an icepack to the nape of my neck twice a day ... for those of you who do not realise it, it is WINTER - the least sensible thing to do is to put myself in contact with ice, but there you go, it seems to help, and yes, the pneumonia is also coming along nicely, thank you for asking. I have some postural exercises I am also supposed to do, so will see how that goes.
I like your old stuff better than your new stuff
...planned a getaway with she-who-must-be-obeyed, should be fun, kids can cope while we are gone [they are old enuff to throw a really damaging party now I guess], ahh holidays, would not be working for quids, hey?
I like your old stuff better than your new stuff
Regurgitator ... what ever happened to them? A mighty Brizband that seemed to get a little silly, disband, reform, spend some time living and recording in a plastic bubble in the middle of a very public place [as one does when one is famous] and then seemingly ceased to be ... you get that. They were great live tho, ears bled after a gig that had The Fauves, The Gurge and TISM [ahh the good old days of Festival Hall ... what hall?]