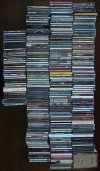 select *
from music_collection
where media = "cd"
order by artist
...so I got to thinking that I better check how current my records are regarding my music collection, and the stereo cabinet was very dusty and in need of some loving, so decided [with some encouragement from she who must be obeyed] to clean it out - no mean feat I tell you. Dismantling the audio equipment, extracting the tape deck that has finally gone to god, re-organising the wires [after removing the years worth of cobwebs] and scraping out the thick layers of dust over everything has taken all day. What amazing things turned up in the process - a bunch of minidisks I forgot I had, heaps of cd cases I forgot I had, heaps of albums I forgot I had... you get that with a largeish collection and a faulty memory I guess.
Decided that alphabetical was the way with the CDs [on artist] which was how they were originally [well, almost] until time and the ravages of borrowing teenagers seemed to randomize them. Sorted, then a quick check to see the music database [my record of what Ihave] is so hideously out of date, no new records since 2002 [and I have still not finished buying music] ... I love data entry ... not
WANNA SEE?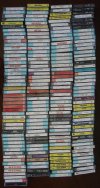 select *
from music_collection
where media = "ca"
order by artist
...then I checked that I had finished cataloguing my LPs [for the uninitiated, LPs are black plastic disks put on turntables] and low and behold I still had about 1/5 of them still to do ... I love data entry ... not ... some rareies there tho, all mint condition. Our insurer said that insurance was no problem so long as I had an itemised list of what I had ... yeah, right .. gave up indexing the cassettes - some so old but still play well, amazing ... most of the cassettes hark back to the days when I used to dub albums from other people - these days I buy ... stupid I know when there is a thing called the interweb, and downloads are so readily available, but I like to browse record shops, I like to take a risk on a purchase, searching for stuff is like the hunt .. satisfying in itself, then you get to listen to the prize.
...it is a daunting task to imagine what would happen in a theft or fire [wrt my music collection only, no doubt it would turn most other aspects of my life upside down also] ... many things I have are imports, lots are deleted [meaning no longer available]. Even at a conservative estimate of an average of $30 per album [boxed sets, imports and others cost lots more] there is around $13000 worth of noise ... what would i re-buy? Not an easy question - certainly there are some long standing favourites that are played all the time, but when the mood takes me I can listen to some obscure stuff in a typical weekend ... I hope I am never put in the situation to have to decide what to buy again as I do not think I could stand it ... does make me think tho back to the first album I bought for myself with my own money when I was at school - it was a cassette of David Bowies album called "Diamond Dogs" - it rocked my world when, in the seventies the standard music flavour was bang and twang rock and roll along came this odd looking bloke who sang of life on mars, dressed androgynously and had a versatile singing voice ... music came alive for me. I still have THAT particular copy of the album as well and it still plays fine.
Done now, buggered because of it but you get that... say hi to your mum for me.