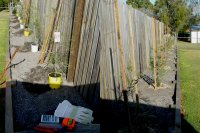 The lunatic is on the grass
... so on Thursday evening a bunch [or is it flock ... what is the collective noun for a number of potted trees? ... thicket? forest?] of potted Grevilleas were delivered - we spent some of last weekend scouring native nurserys looking for just the right cultivar, so it was time to plant.
The Great Wall
was full of soil, I had a shovel [or was it a spade?], so it was "chocks away, chuck". Holes 2ish meters apart, bucket of water in each first, then disgorge the plant, gently teasing the root ball, back fill , mound a watering well around each, mulch with bagasse and then half a bucket of fish-emulsion laced tap water [curse you water restrictions] schlooped on each. We bought really long tomato stakes [based on the plants we saw at the nursery, we estimated 2.1m stakes would work] only to notice the ones that were delivered were about half the height of the ones we had selected ... seems they go on pot size not height ... never mind, they will grow [is the theory] so I positioned a stake either side and used my sledge to bang them home ... some chain lock in a figure of 8 to support them near the top and protect them from the wind and bobs your auntie.
... will need to remember to water them for a while until they "harden off" then we should be able to stand back and hear them grow. We chose Grevilleas as we want to attract birds and the flowers are nice [we chose white and apricot alternating, the final effect should be lovely], but are wary of fast growing plants as the last native we planted - an acacia, grew enormous overnight then just as promptly dropped dead ... you get that apparently [did make copious seed pods that covered the lawn and caused forests of seedlings for years after].
The lunatic is on the grass
...so take 1200+ boys, mixed ages and athletic abilities, transport them to a playing field, add a beautiful sunny winter day and then give them a few minutes of activity followed by a lot of waiting and the result ... sunburn, snowcones and sitting around. Sport days are a bit of an anathama to me, particularly when you have so many staff on hand doing so little - I wonder if there is merit in giving the kids something to do inbetween events, rather than roaring at them when they take a football and get active in the downtime, but I am not a sports administrator, so i do not know what I am talking about. House sports days are all about getting in and having a go, getting involved and cheering for your house ... this seems a little difficult when events are so spread out but you get that [well, we have got that for as long as I can remember] ... mind you, coulda been worse ... last year the weather was cold, blowy and it rained in that sorta intermittent, squally sort of way so as to not be serious enough to call the whole thing off, but unpleasant enough to ensure everyone was damp and cold and looking for shelter. I recorded diligently the 8 point tallys for the 8 novelty events [quite a lot of tug-o-warring as it turns out, seems our boys like a bit of competitive tugging] and the 8 minutes of activity was complimented by the roaming yard duty ... thank goodness for the kids tho, hey, a bit of fun and getting them outside in natural light is a good thing [it hurts us, precious].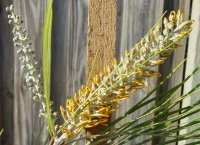 Remembering games and daisy chains and laughs
... so I was asked by the asylum to write an authoring system for them, a sort of CMS using Lotus Notes/Domino, and, given I had no skills in that development platform, they sent me off to training in school time [ how nice, altho it ate into my teaching time a little, you get that tho]. All the development I have done so far has been in my own time [what ever that is] as I cannae get a run at it whilst at the asylum [curse you phone], so when an opportunity to use what would be considered down time presented itself [a sports day], I asked and was told NO
...now I suppose I should understand the insanity of that decision, but I cannae get past the RAGE I feel over it just yet, particularly when I learnt that on the same day a workshop on a related topic WAS allowed to go ahead ... did I ask the wrong person or should I just accept that once again my own time is expected to be consumed on something that will become an asylum resource that most of the teachers in it will use ... I guess I should be used to it by now - how many other projects are there that have reached "critical mass" but wouldnae have even been started if I hadnae just done them? [ and yes, I guess I could ask for term time, but again, that eats into class time and I feel rather precious about that given the extraordinary number of disruptions that already erode the contact hours ... put it all online and they will learn by osmosis ... right? ] ... yeah, I know, build a bridge and get over it.
Got to keep the loonies on the path
... a big tonguey to those nice boys from Pink Floyd who have been responsible for some of the most thoughtful lyrics of our time ... which one is pink?