A colleague brought me back some Hanji paper from her visit to Korea, and I was wondering what to fold with it when I stumbled across a post on Facebook describing a modular money dragon fold.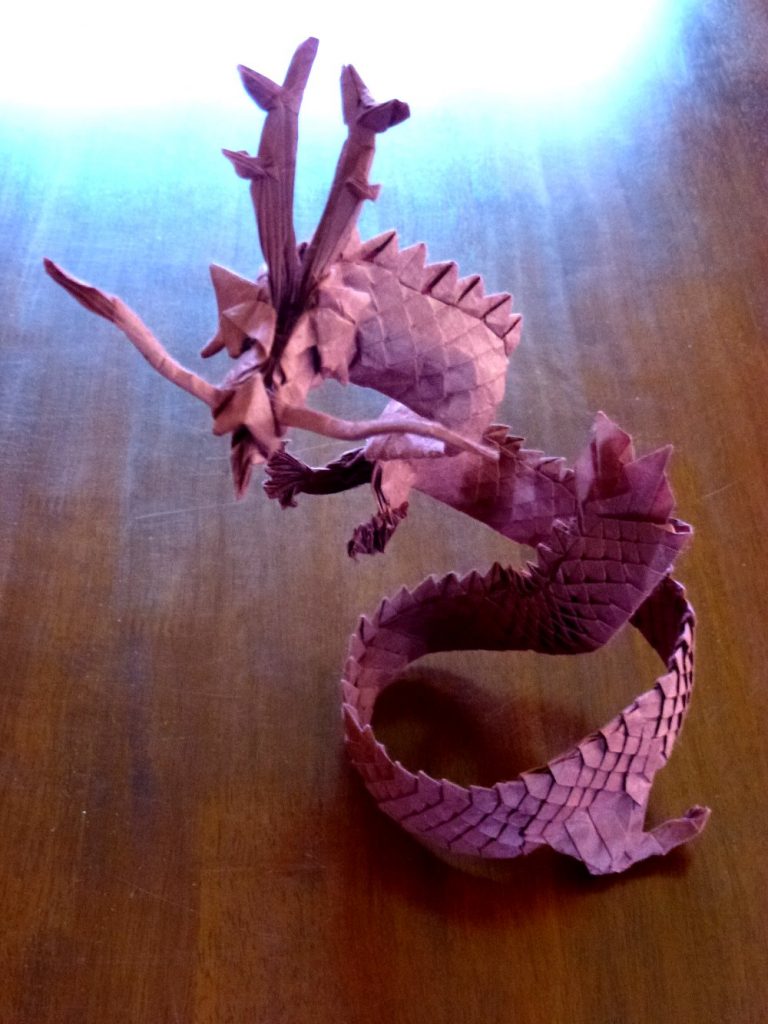 Designed by Hieu Dang, modified & diagrammed by Lien Quoc Dat ( tutorial: youtube.com/c/LQDchannel ) to be folded from 10 x bank notes, and thought it was worth a go. When I wrestled with an american dollar, deciding it too small for me to fold, I scaled up and cut 10 x 1:2 rectangles from a burgundy sheet of Hanji, and began folding.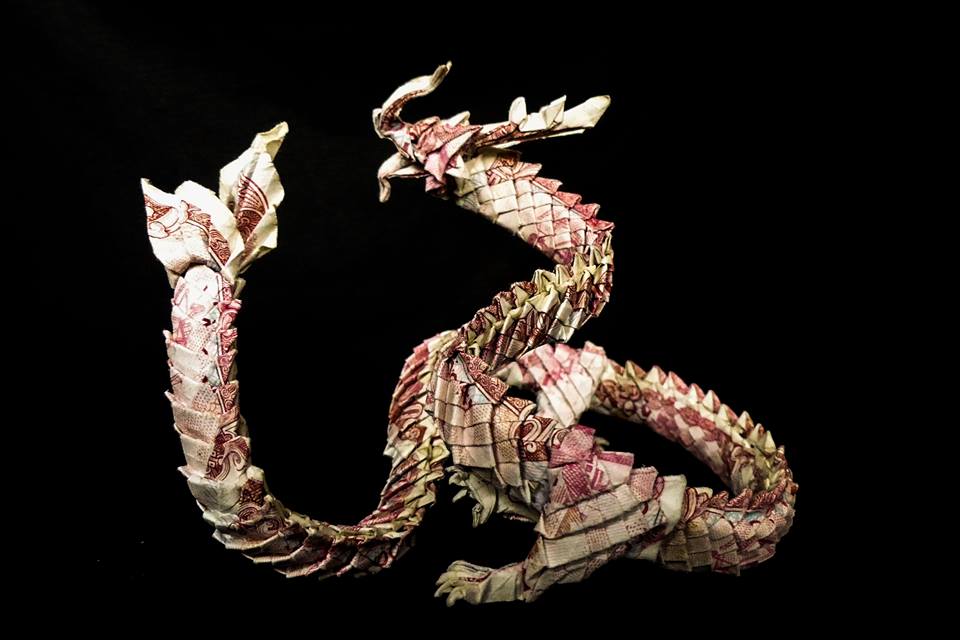 This reminds me a LOT of Satoshi Kamiya's Ryu Jin 3.5, but not as many scales, still, it s a time-consuming fold, and many of the techniques are repetitive, but manageable. I found the diagrams on the head really difficult to fathom, and the low resolution images made it difficult to to work out what's what. See for yourself.
Over a period of 4 days, I folded and folded (when I really should have been doing something else … but, you know…) and eventually had all the bits.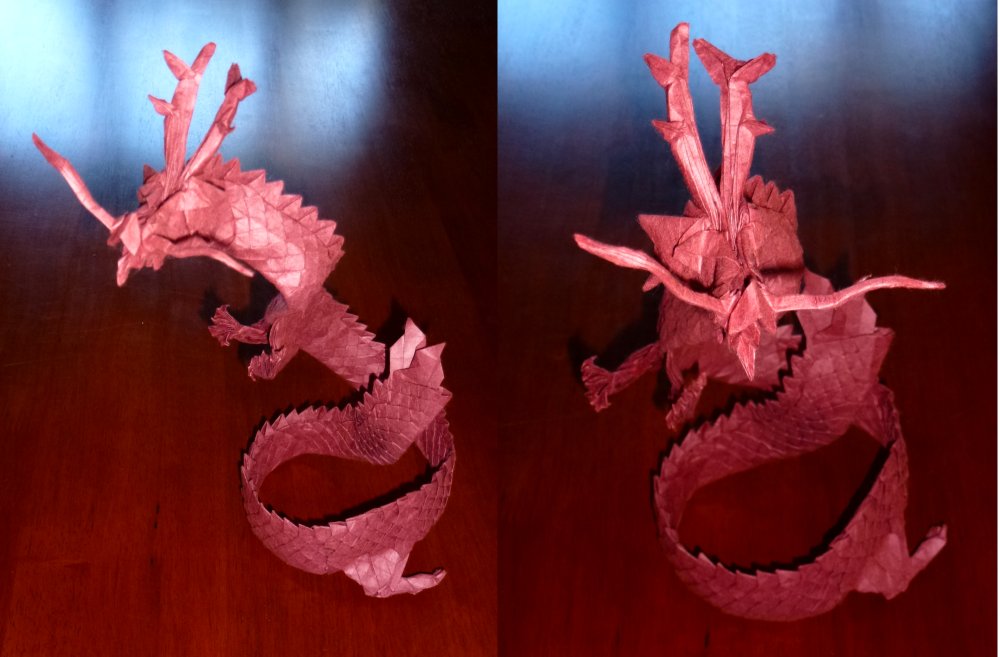 I bought some heavy gauge aluminium wire, covered it with paper trimmings, then used this as a glue axis to keep the segments together and give me some pose options.
As a modular, it is quite a clever, with lots of detail, but not achievable without wire and glue. That is not a criticism, and not that different from Satoshi Kamiya's masterpiece either. Multiple pieces of paper solve many problems in a complex model, but multiple pieces can also offer you shortcuts as a designer – that is both good and bad in my opinion.
I enjoyed folding this model, and the end result is beautiful – more beautiful because of the paper. I am so impressed with this Hanji – one piece easily withstood being folded – unfolded and re-folded 4 times because I kept buggering it up.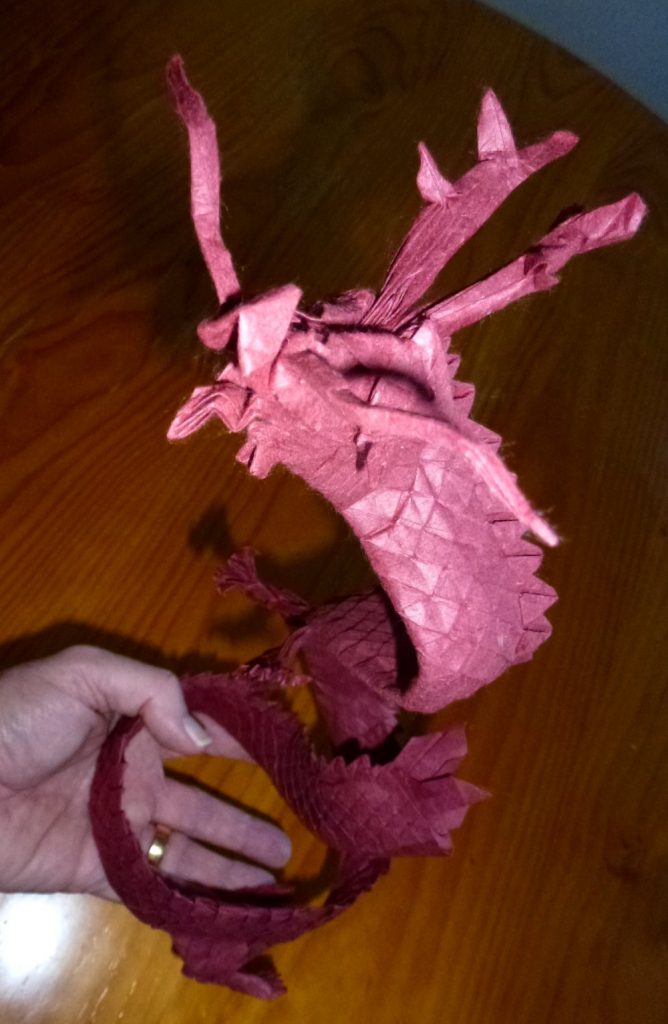 In retrospect, I would cut the pieces differently – I would fold each body segment in one piece (4:1, 4:1 and 6:1). Less joins would be better and fewer raggedy edges to hide. I cannot imagine folding this smaller – my fat, nerve damaged and clumsy fingers struggled at this scale but I imagine it is possible to use notes for this – the pattern on notes would be both interesting and distract from the joins.
Will I fold this again – not sure. Am I happy I folded it, yep – another Ryu to add to my collection.