When we travel, we establish a home base (usually in an apartment with a kitchen), then we explore from there. From Barcelona, so much of the surrounding countryside is available to explore via train and public transport (we did not want to drive in Spain), and Jo planned a day trip to Monserrat.
Another early up, toast and Vegemite (for me), raspberry conserve (for Jo), and tea, pack some freshly made Iberico pork salami rolls for lunch, water bottles filled and off to Estacio Espanya which is both a Metro and a regional train stop. Jo had previously purchased vouchers online, and we exchanged them at a cutesy little ticket office underground for regional train passes that also gave us unlimited funicular travel and a "there and back" cable car pass. We actually wanted to cable car up and cog railway back down but could find no package that let us mix our passage up the mountain.
We caught the R5 train (towards Manresa) which traveled the city underground and emerged in more rural regions, and followed the route to Aeri de Montserrat, the cable car stop. As we were early, there were not too many in the queue, and we could see the tiny yellow gondola of the cable car waaaaay in the distance as it made its way to the base station. We then played a game of sardines as they packed 30+ into the gondola for the awesome and scenic ascent to Monserrat mountain station.
It was a glorious sunny day, light winds and so clear, haze still clung to the distant mountain ranges but it was not cold, so we were stripping of layers pretty quickly. Our experience with Barcelona weather was that it was cold and lazy-breezy in the mornings (so coats were needed), but by 11 or so it was too warm for many layers. Add to this the metro was uncomfortably warm, and most shops were heated, making layer lotto the game we had to keep playing to stop from overheating/getting a chill.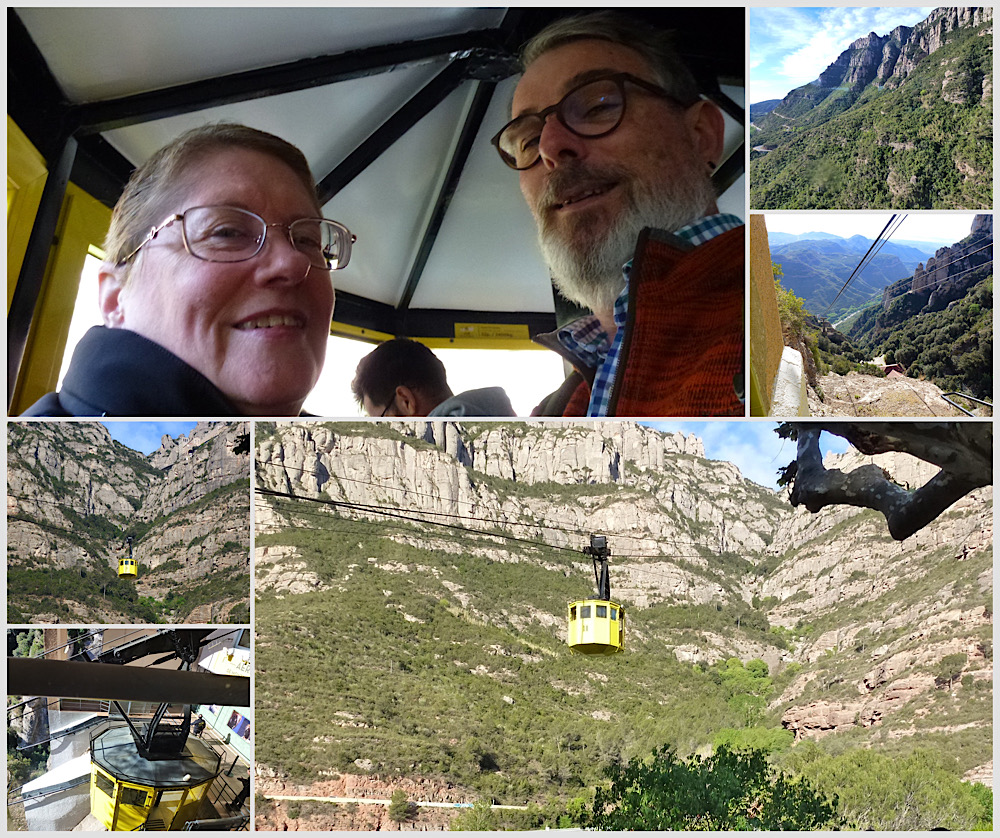 Before the crowds arrived via cog railway, we decided to visit Santa Maria de Montserrat Monastery, taking in the breathtaking mountainous views all around, and we sat in the church, watching from afar people venerating the "black Madonna", an ancient and much worshipped and touched religious iconic statue with a dark complexion. The ornate church (and all the buildings up on the mount for that matter) are amazing architecture, and must have been torture to build given the cliff-like slopes they perch on. There is evidence of pilgrimage sites all over this rocky outcrop that are centuries old.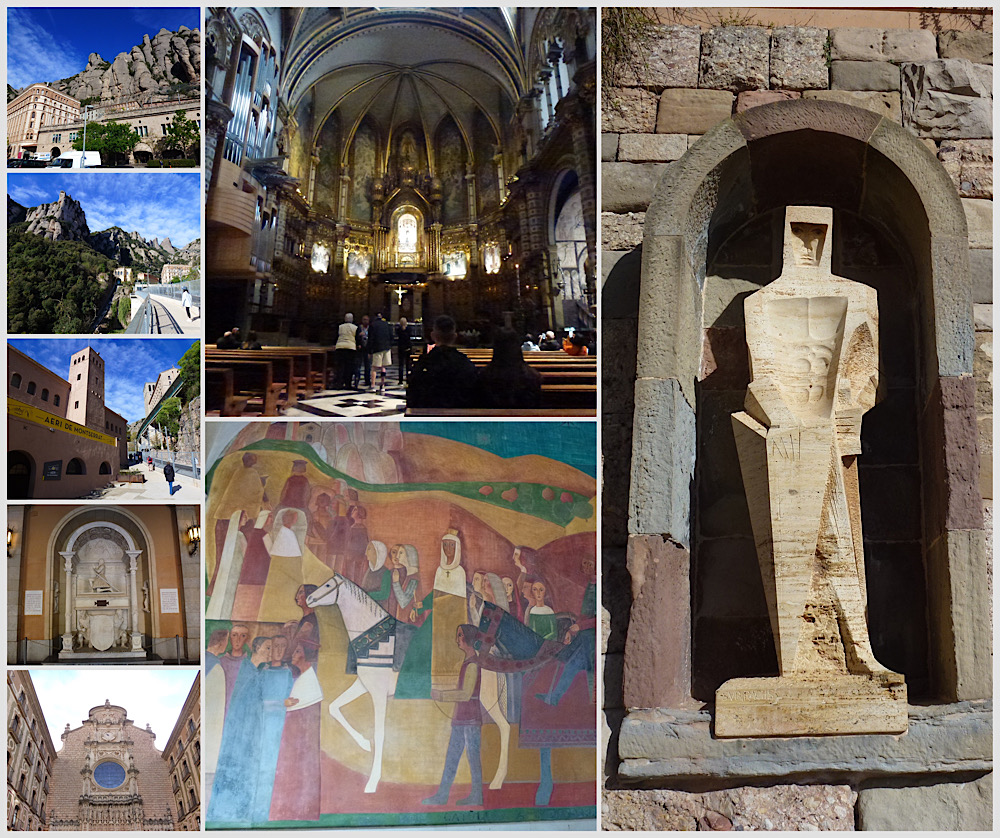 After a welcome tea/coffee at the café, we caught the Sant Joan funicular up, had a walk around and a gawk at the amazing conglomerate pinnacle dominated landscape, and looked at the Aula Natural exhibition and viewpoint at the top. It explained the geology and rich flora/fauna of the region. We then funiculared back down to township level.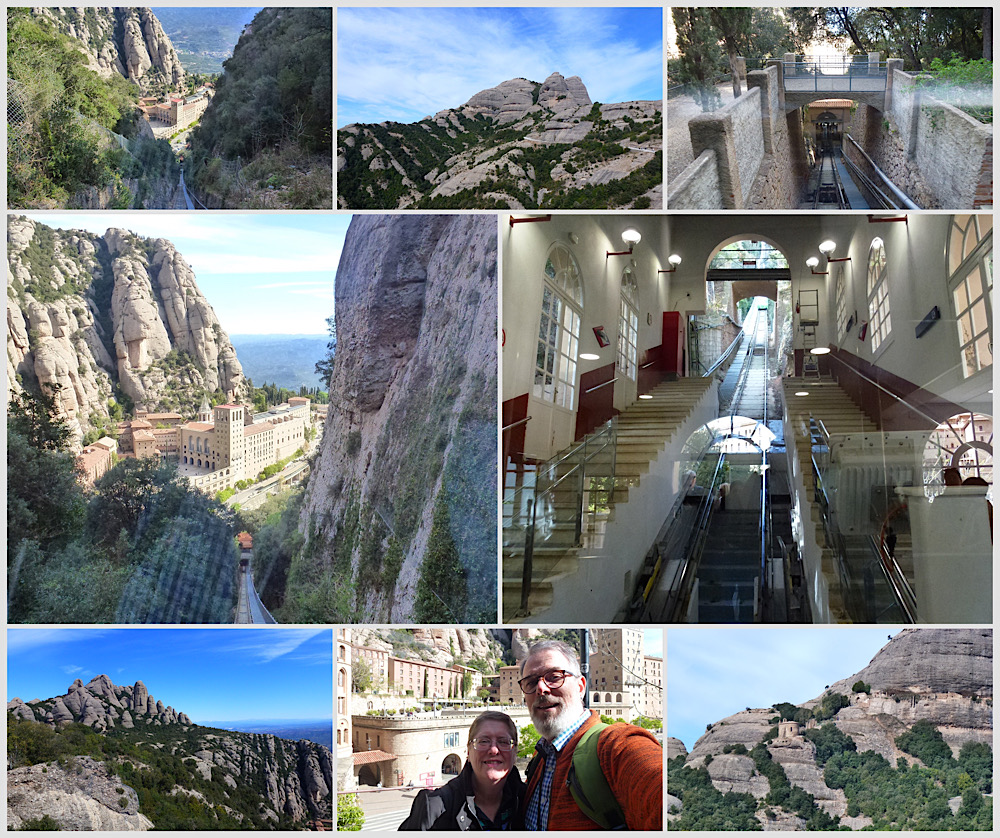 Next we rode Santa Cova funicular down to a windy windy mountainous path and walked around the pinnacles to St. Michaels Cross – such spectacular scenery and terrifying drops just off the path. At the cross we ate a late picnic lunch, and then wended our way back to the funicular, up again.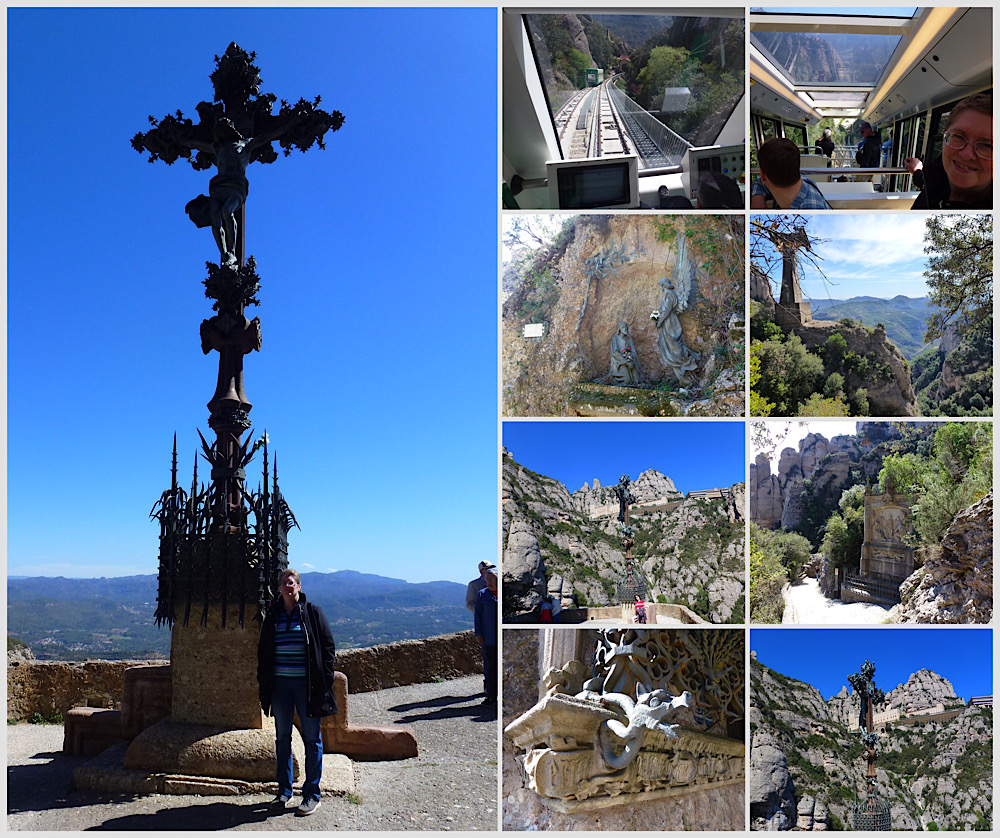 We visited the Espai Visual exhibition, a multimedia exploration of the monastry and famous boys choir from this parish – all very interesting (and a bit of propaganda to suggest the monks life could be for you). We then made our way back to the cable car for our trip down from the mountains, and then train home. Such a lovely day out.
With our time in Barcelona coming to an end, this visit has been a fabulous introduction to Spain (yes, I know Barcelona is Catalan). Our visit and experiences have made us interested to explore more. The food, particularly Tapas, has been something we have loved – little plates of fantastic tastes designed to share suit the way we like to eat. We have not come away from any restaurant feeling stuffed full, but always satisfied.
Following our sardine surprise in Lisbon, here we discovered fresh white anchovies, delicious fresh on tomato slices or fried crispy as a snack with beer. They were nothing like the fishy salty little things we have at home that people pick off their pizzas. Octopus, other seafood and snacking in bars , beer and sangria – you really could get used to this lifestyle.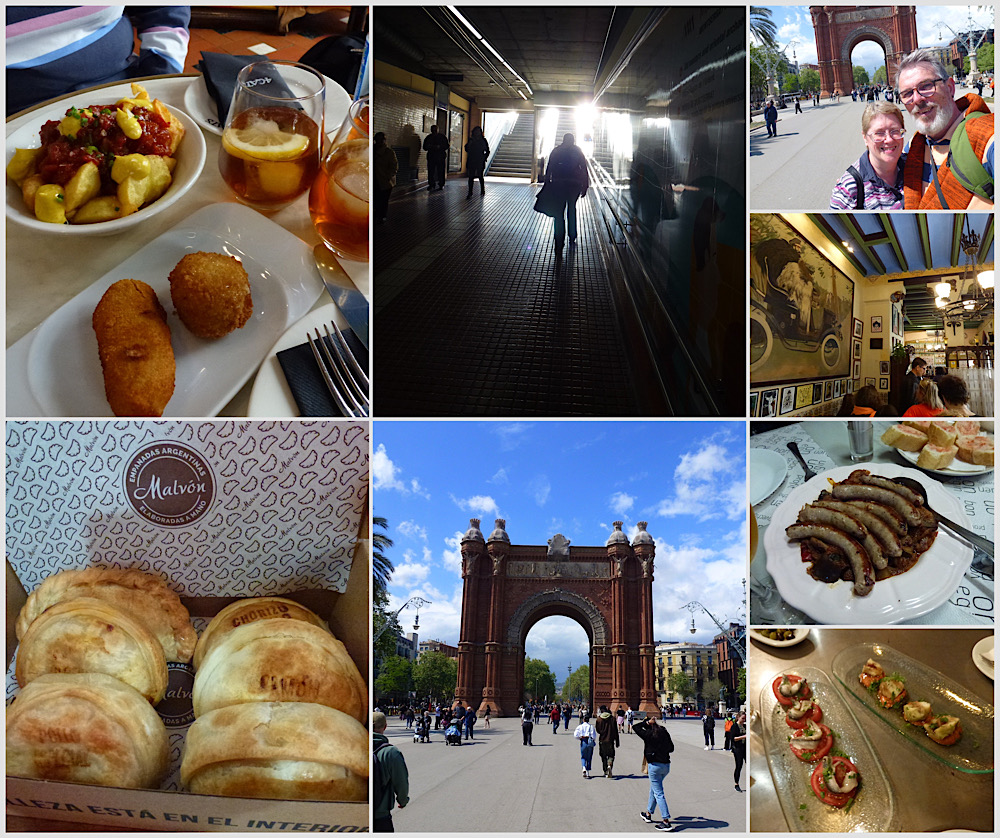 We got used to the Metro system pretty quickly, and the trains are clean, efficient, often packed and frequent. We never really mastered the entrances and exits. To us, it seemed like the lines, although accessible, were long distances apart underground, meaning if you picked the wrong entrance, or wanted to change from line 1 to line 3, you had a maze-like walk of 5 or more minutes to get to the new platform. The underground was (in our experience) stuffy and stale, making layer management also difficult as you would bake while commuting only to be snap frozen as you exited because the exit was a fresh air intake. We compared metros (French and Barcelona) and prefer the French Metro, purely from a platform proximity perspective.
Adiós Espanya! We have really enjoyed our first taster, and will consider visiting again, perhaps Madrid next time.