After a good sleep and leisurely breakfast, it was time to fire up the VDub and head towards Les Baux, a mountainous region accessible via terrifying narrow winding roads.
Our first stop was Carrières de Lumières, a repurposed underground limestone quarry that has been turned into a multimedia experience.
We saw something (a little bit) like this when we took in the "Van Gogh Experience" in Adelaide a couple of years back, but we have never seen anything of this scale or complexity. During our visit we took in two different shows: "Vermeer to Van Gogh, the Dutch Masters" and "Mondrian, artist architect".
The beauty of these sorts of art experiences is the massive moving projections of the original artworks, some animated, some morphing into others, and the booming soundtrack. With our tickets we gained entry to the main chamber which was a huge space with monstrous rectangular chunks taken out (from the mining process) in a maze of sheer walls, columns and side chambers. All surfaces were covered with projected art, quite dizzying to take it all in, at different depths and distances.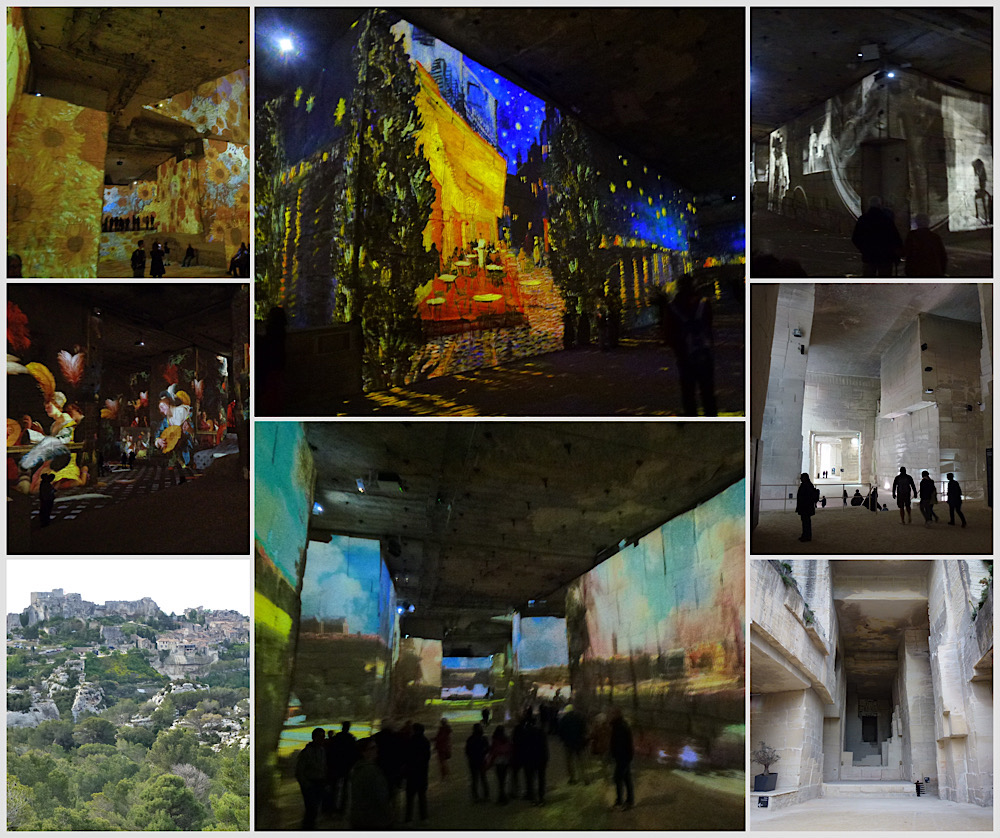 Both shows were wonderful, you really get up close and personal with the art, the Van Gogh section was particularly moving. After the second show we emerged into a huge limestone amphitheater and had caffeine, toiletted and then made our first mistake for the day. When we arrived at Carrières de Lumières we freaked an amazing parking space just at the time when the parking inspector announced the parking pay machine was broken and therefore parking here was free. We left that dream spot looking for one a little closer to the main township of Les Baux, only to end up on the other side of the range, what felt like a mile away uphill to the hilltop village we were next to explore.
After wrestling with a new parking machine, we headed up and were nearly there when we realised we should have left the newly purchased parking ticket on the dashboard of the VDub – grrrr. I went down and back again to do this with my Fitbit nearly calling an ambulance by the time I rejoined Jo.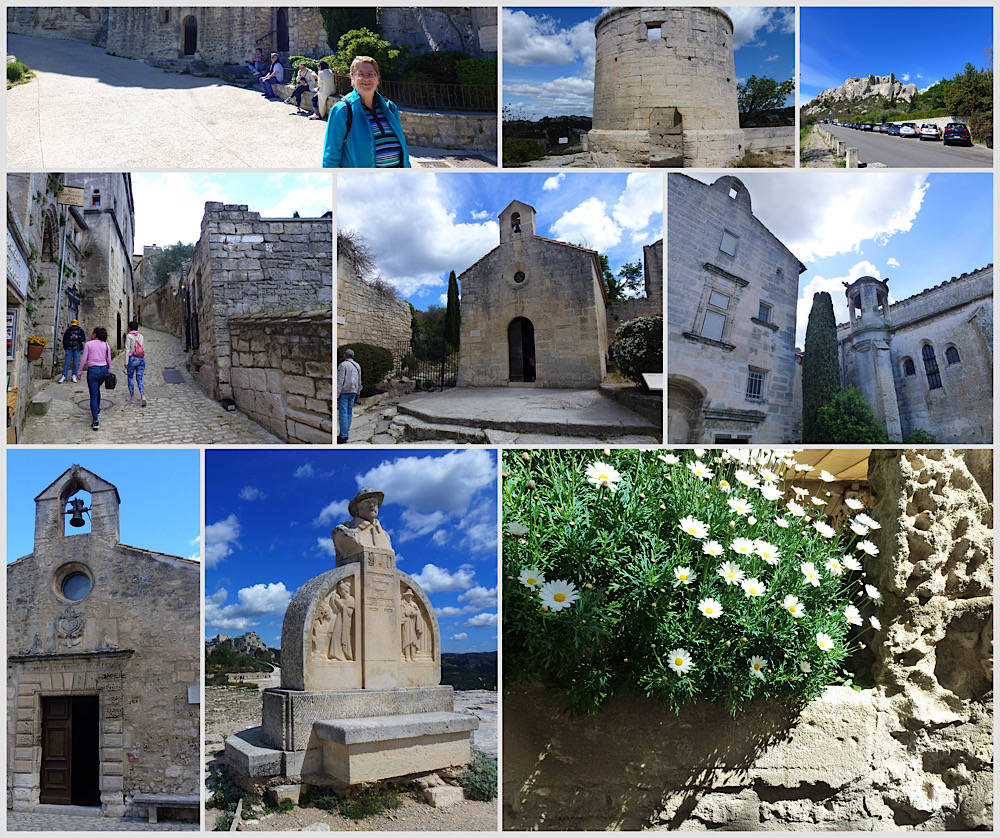 Catching our breath we then started exploring the hilltop village of Les Baux. I am not sure if there are many locals living here, it seemed pretty well entirely geared for tourists, but nice winding streets, interesting shops, waaaaay too much choice in biscuits and sweet treats. We stopped half way up for lunch at Le Petit Rocher, 5 Rue du Trencat, Jo had delicious stuffed vegetables and I had a succulent lamb in brick pastry, all very nice. Fortified we headed further up to the rocky outcrop near the top, got thoroughly windswept but found the views breathtaking.
We bought entry to "Chateau Le Baux" which granted us access to the highest part of the ridge, and the remains of historic battlements, walls and outbuildings of what must have been an epic castle. Among the ruins were historic recreations of siege weapons, examples of crafts and a sense of every day life. We climbed to the second highest building, squeezing up perilous rock stairs negotiating crowds of tourists and school kids (note to self: dickheads are an international phenomenon).
On our way back we stopped in the remains of cave dwellings once inhabited by Troglodytes (something I thought was made up), turns out they were alternative lifestylers from ancient times – a subclass certainly but definitely a way of life. All very interesting to see the phases of building and trying to work out how the dwellings worked.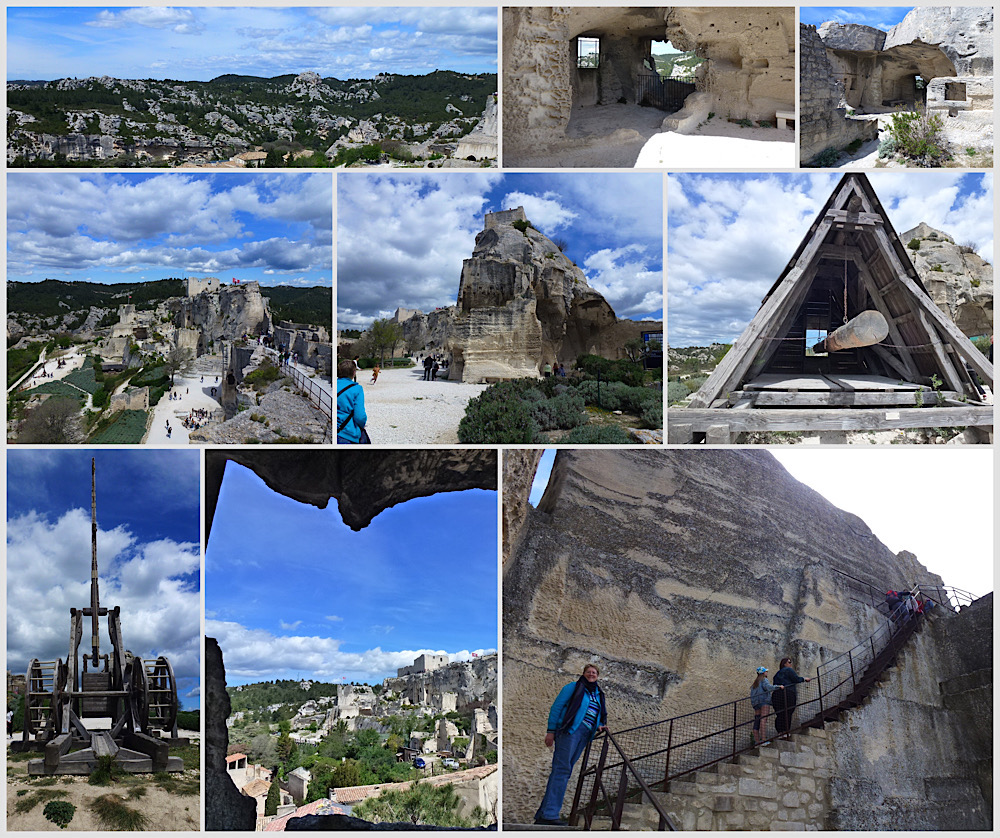 On our way back down the hill, we dropped into some interesting shops, then headed back to the VDub for a scenic and interestingly terrifying winding journey home. The scenery in the Les Baux region is really different, lots of rounded pinnacles jutting up from verdant green forests, so pretty, but so hilly that the the roads are really squiggly and narrow – fun on your own, not so fun when you meet trucks coming the other way. Interestingly "Bauxite", the ore that is refined into Aluminium, was given its name by someone from this region, apparently there were mineable seams of it locally.
I had made a pot of minestrone soup for dinner the night before so we finished that off for dinner, an exhausting day and one of our highest step counts so far.