As Provence is a varied and geographically large region, and because there is not an extensive public transportation network, having a car seemed to us the most logical way to best see it. Jo&PDub in the VDub became a thing and driving on the wrong side of the road eventually became second nature. (Just quietly, I am hoping returning to the correct lane will not prove troublesome as at the moment my mind is wired for the wrong)
Jo planned a diverse exploration over the region and I have grouped some days as, logically, they belong together. I have, however, preserved the order we did things to provide some continuity.
Given France was once occupied by Romans, who called it Gallia, and it has such a long history pre and post Roman, there is so much evidence of past habitation that an exploration of Provence naturally includes a vast archaeological mix of building periods and styles. We visited Vaison la Romaine and this was so evident. The modern township sits atop a Roman town, and the hilltop still has mostly medieval buildings, making it an historical treasure.
We drove to the central free parking and then walked through the modern village, grabbing refreshments and looking in shops along the way. We crossed a small river and began walking up into the medieval village that dominates the hill. The village is not in ruins but rather is, mostly, lived in.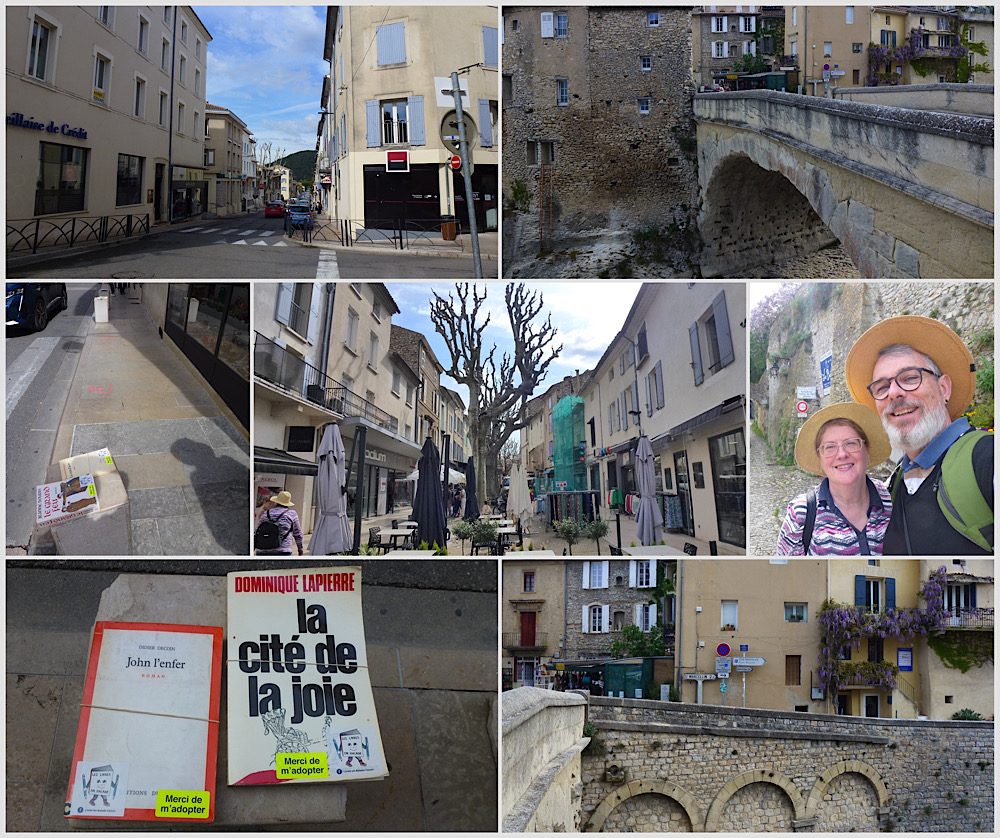 We wended through fantastically wiggly cobbled streets, passing brilliantly wobbly walls, odd doorways, buttresses and arches all holding up various houses and hotels, shops and public squares. It was enchanting, every corner presented a photographic vista, wisteria, ivy and grape vines covered walls (and looked like the only thing keeping them up in places).
We greatly enjoyed a walking circuit that took in most of the village, but avoided the final climb to the summit (medieval feet-fuckers, our name for cobbles in all their forms, are particularly brutal). There are many boutique hotels and restaurants among the dwellings, and lots of restoration being done to stabilise walls, de-leakify roofs and so on, but you really get a sense of how the village worked, it felt alive in ways that ruins do not, if that makes sense.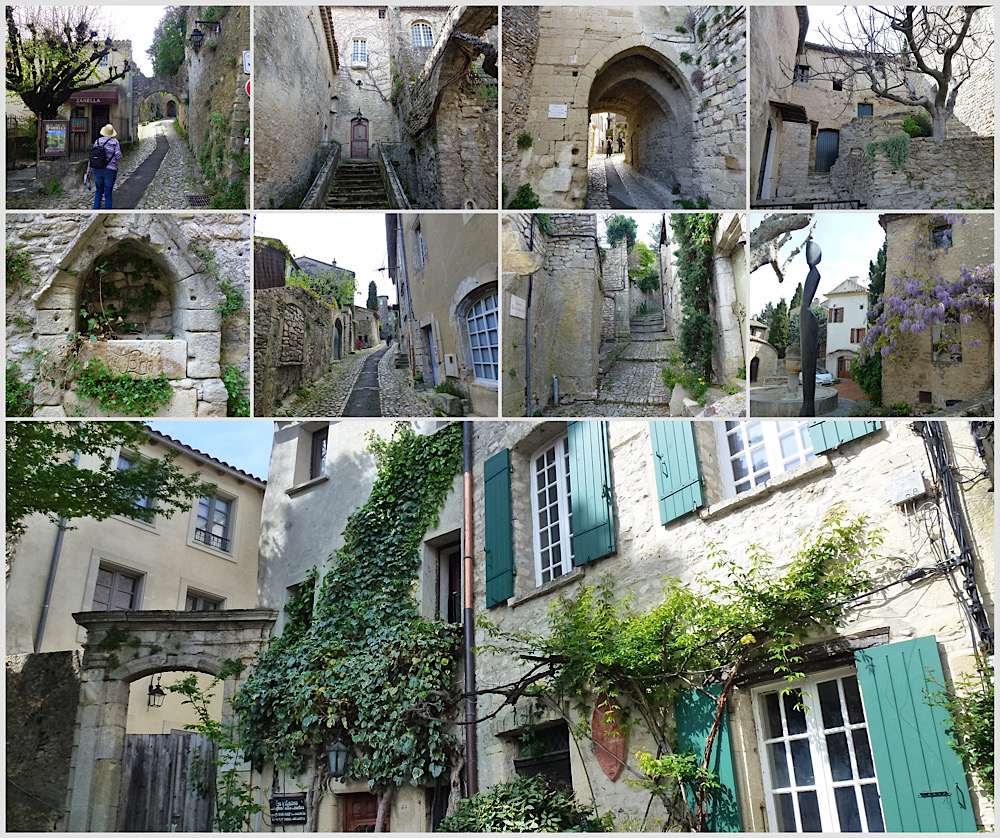 Buoyed by our time in medieval surrounds, we returned to the town centre and bought entry to the Roman ruins section. As I previously said, the modern village is built on top of a Roman village, with lots of high status dwellings, grand villas, public facilities and all the infrastructure that goes with a working community. 

Guided walks explain parts of buildings, navigate between sites and help you understand the scale of the original settlement. We think visiting Pompeii has ruined us a little regarding Roman Ruins, but there were some interesting domestic features, pretty mosaics and quite an area to explore.
We ascended the hilly site to see the near complete Amphitheater, a grand semi-circular set of raked stone seating that had modern numbers and scaffolding for a stage at ground level. It is wonderful to think they are using it as a performance space again. We also visited the museum which houses an extensive collection of rescued statues, precious objects, a beautifully restored peacock mosaic floor and large collection of funeral/grave goods – really interesting indeed.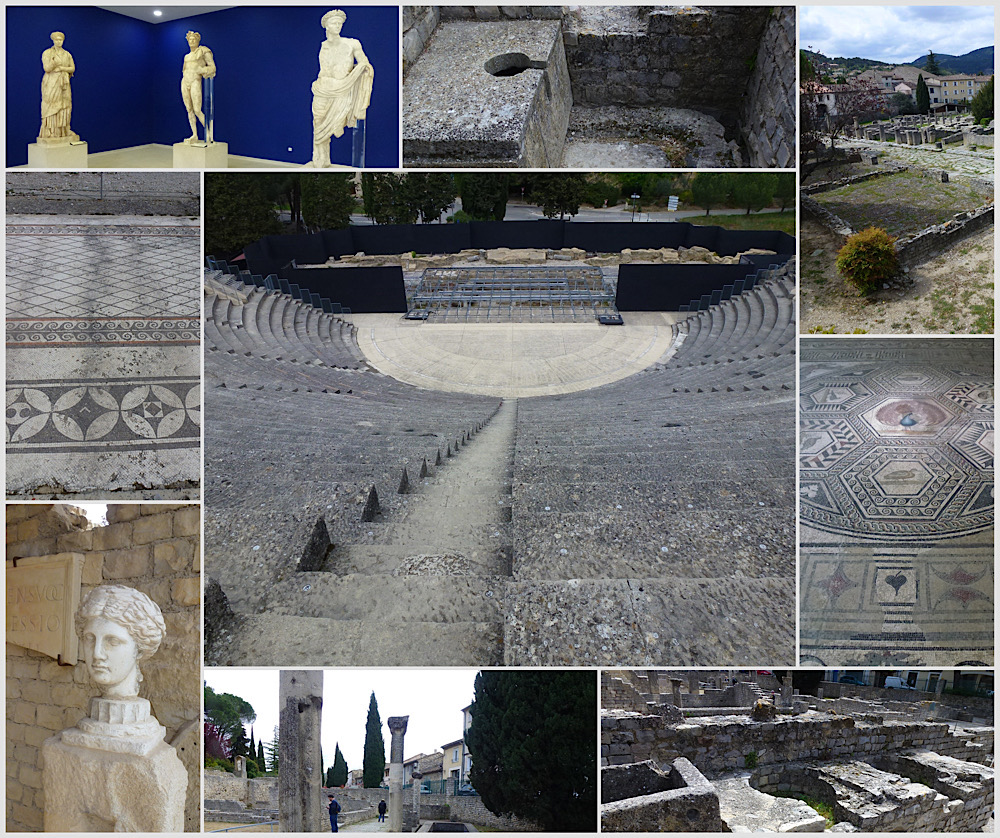 After a picnic lunch and use of the local facilities, we drove roughly in the direction of home, deviating to visit a wine museum run by the Brotte company, deep in the heart of the Châteauneuf-du-Pape wine region. Through an audio guide and interactive series of displays, we learned about the region, wine characteristics and varieties. This region makes some of the much loved wines made famous by historical romantics, and has a strictly controlled AOC to ensure stability and consistency of vintage.
We learned about the (terrible, mostly) soils, and the techniques for growing hardy vines with deep roots and small yields that make possible the classic, complex, flavour profiles that typify Châteauneuf-du-Pape. The wine-making traditions in this region are centuries old and we got to taste some very expensive vintages. Unfortunately the sweetest of their wines was still too dry for Jo, although she did try a dessert wine. We bought a modest vintage as a working bottle for the next couple of nights for me (because life is too short not to drink wine, right?).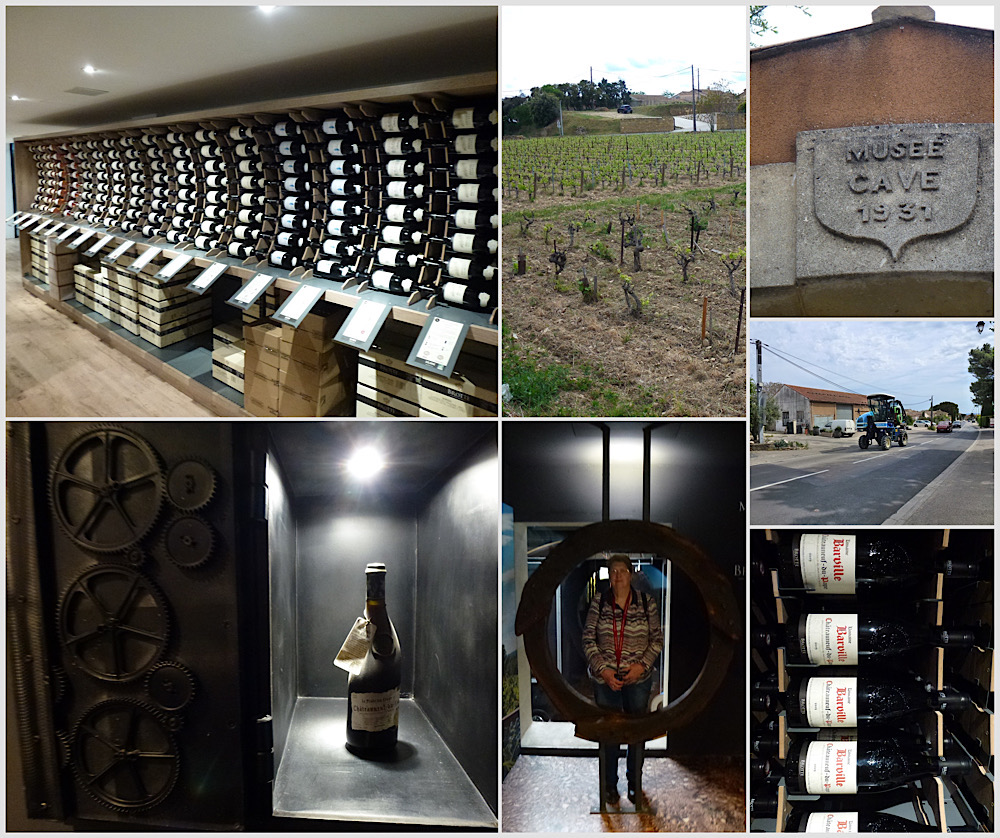 The next day, rested and refreshed (what a difference a good bed, great meal at a local Lyonnaise-style restaurant, and lush shower can make), we headed off again in our VDub towards Aix en Provence, or rather a large parking station in the outskirts of the city. Aix, like lots of provincial centres, has little parking or vehicular access in the town centres. Aix runs shuttle bus services from parking stations, so we donned our backpacks, purchased return tickets and bussed into town.
Jo was strategic. Aix is usually rich as a shopping and food location, but Saturday is market day with many of the squares packed out with themed stalls selling local produce. We walked through the packed streets, visiting the flower markets, fruit and veggie, clothing, craft and ready to eat markets.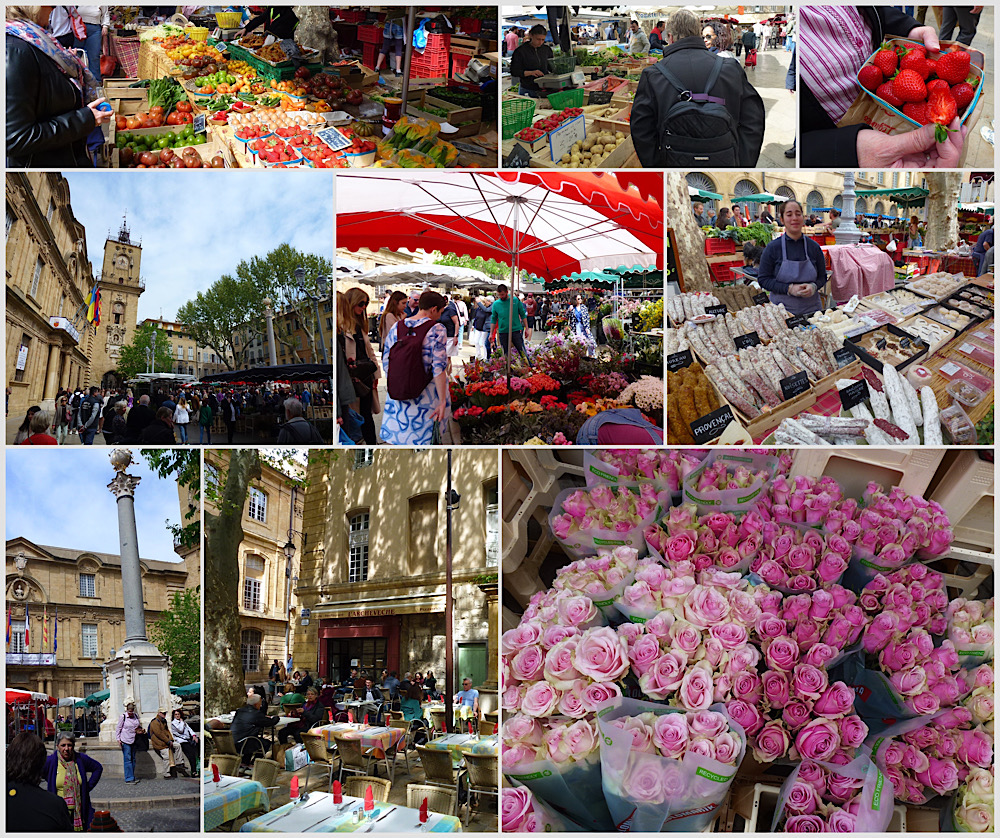 One of our plans was to purchase a rotisserie chook with potatoes cooked in the dripping (a provincial specialty) and we did for a reasonably good price. Triple bagged for the continued marketeering and journey home.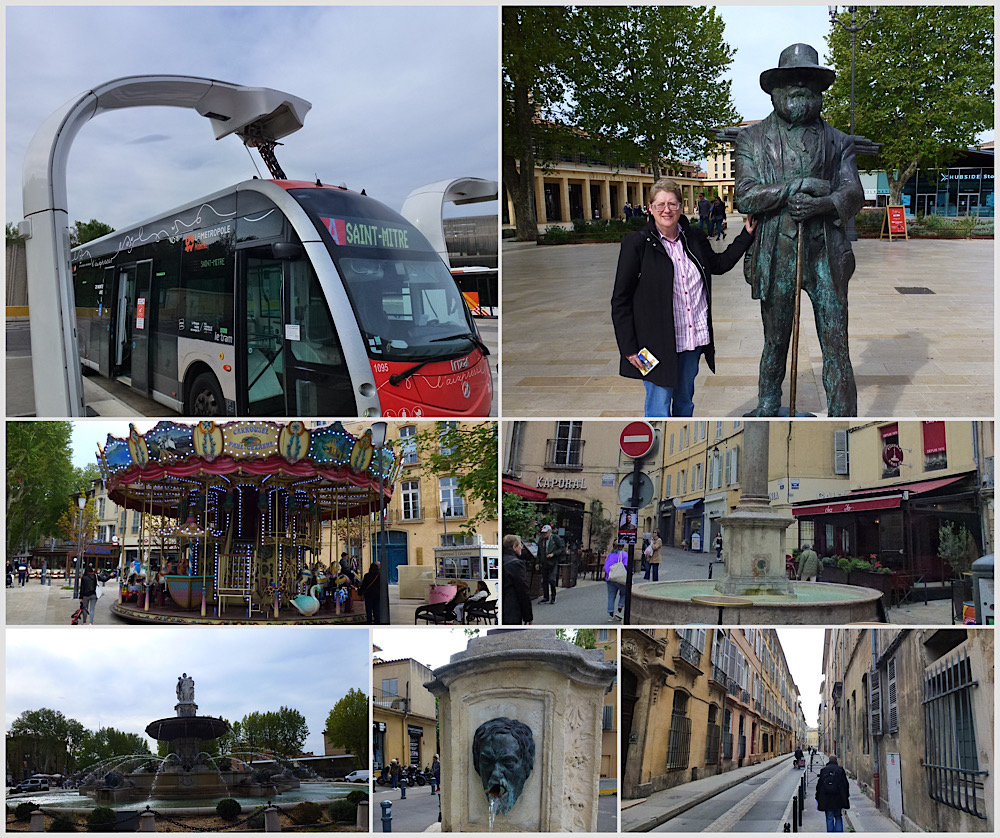 Aix en Provence is also known for its fountains, one of our walk navigators was to visit as many of them as we could. Some grand, some obscure or missing, some important sources of fresh water, others merely decorative. One of many things we have noticed about Provence as a region is the abundance of water – maybe it is this time of the year? Streams and channels beside roads run full and most towns have fountains of potable (drinkable) water.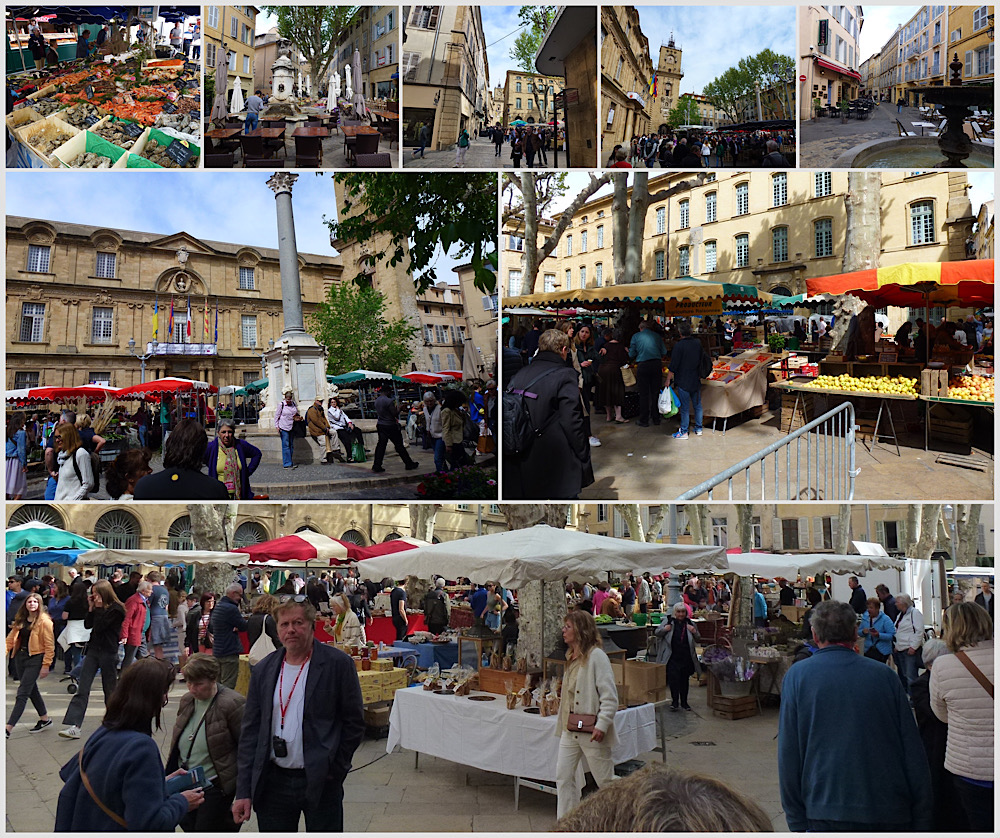 We shopped, lunched, wandered and really enjoyed our time in Aix, then bussed back to the parking station, argued with the ticket pay machine, gained exit and were on our way to home base again.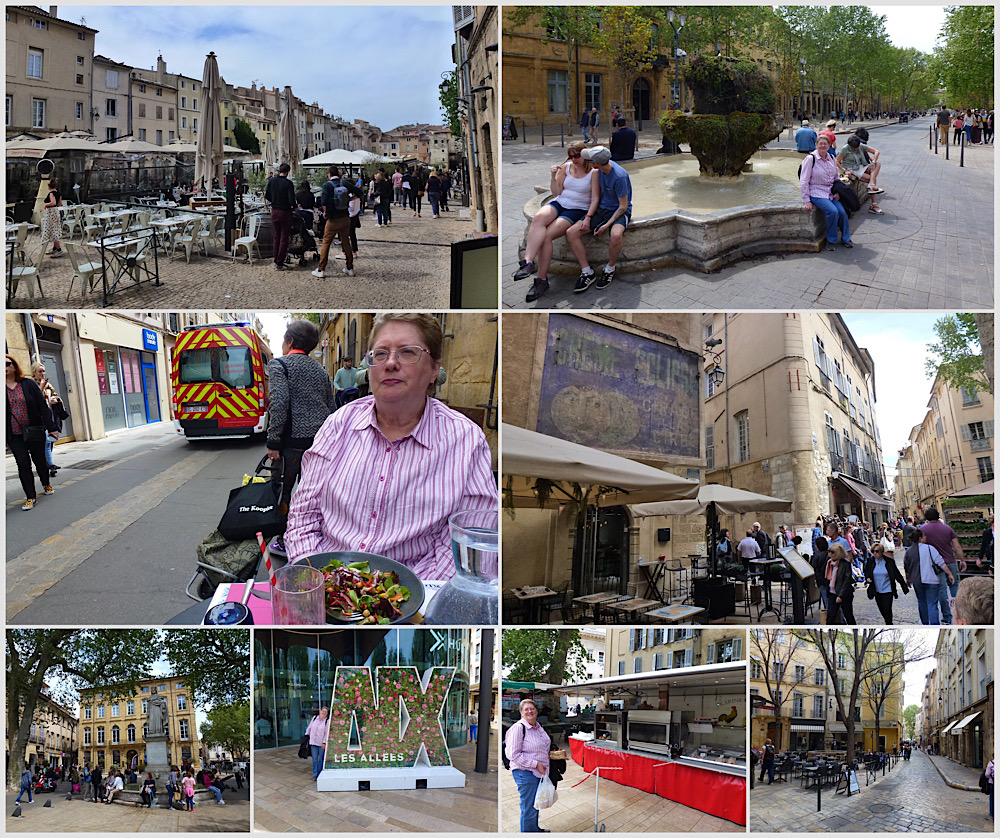 Warmed up rotisserie chook and potatoes for dinner (with a lovely glass of wine), leftover chook for sandwiches the next day, a master stroke in planning. Our feet and legs glad to stop walking, our fitbits holding off calling an ambulance but congratulating us on achieving our weekly fitness goals again in a couple of days.