A tool in many origamist's toolbox is a goopy substance called "Methyl Cellulose" (MC) – it is a chemical that is used as a size (keeps paper crisp/stiff), gelling agent (it is the stuff that makes KY Jelly so slimy – no kids, that is NOT a new aeroplane flavour) and there is even a food grade MC used in cooking (although I think only the Japanese truly like the slimy textures it produces).
I have had enormous difficulty finding this stuff – Oxylades (a local art shop) ordered some stuff, turned out to be Ethyl Cellulose which is not PH neutral and will, eventually discolour and degrade, taking whatever is coated with it.
Digging through my cupboards, as you do, I chanced upon a tub of powdered adhesive goop that we used to use to make finger paint for the kids when they were little tackers. A tiny amount dissolved in warm water makes the most delightful goopy gel-like liquid (that we used to add powdered pigment to to make the best finger paint in the world).
Educational Colours "Mix-A-Paste", it seems, is Methyl Cellulose – we had some in the house for over 20 years and I did not realise – *Face Palm*
Origamists use it to re-stiffen paper, laminate it with other paper (double tissue is something I must now try), pose models and so on and it was not really until the last 2 models I folded that I realised the appearance of the model would be improved if it did NOT splay open – a common problem with very dense folds and domestic (non tissue-foil) papers.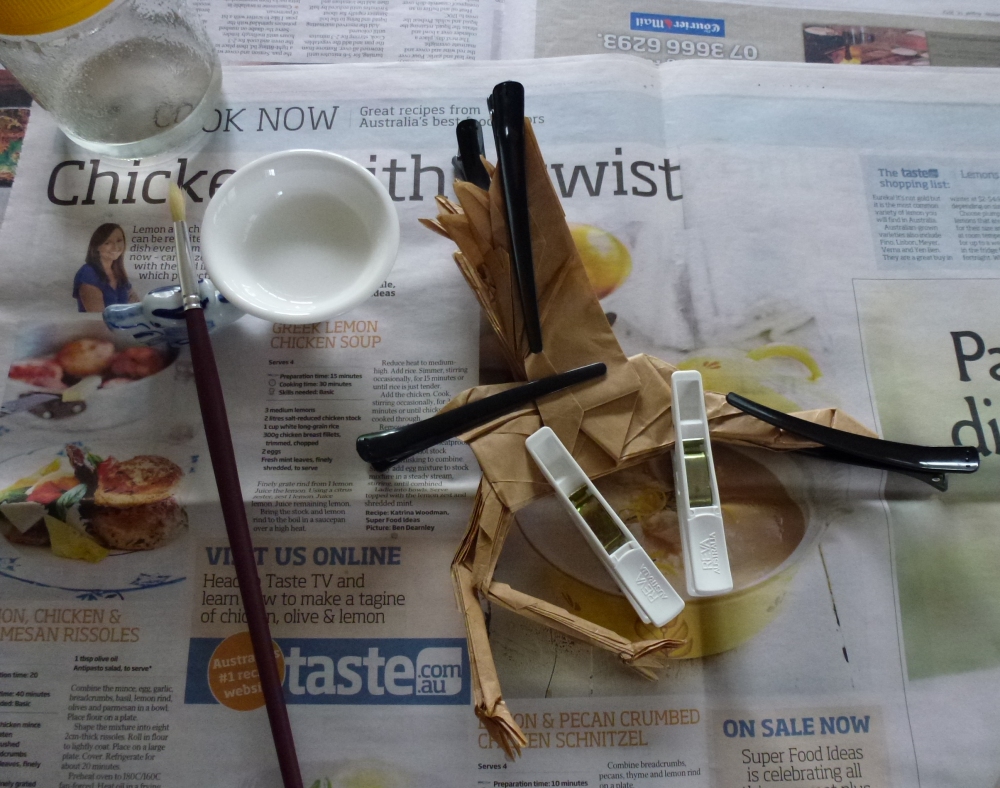 Up until now, I have been creasing, then while the creases were sharp spraying the models with a clear, matt, lacquer – this at least prevents the folds from unfurling due to humidity but does little to tidy many layers and dense seams.
The last time I tried a bird similar – the Great Egret – when I say similar, the legs and neck/head were similar – very dense, lots of wrangling resulting in limp, broken joints and an un-poseable mess in the end.  The model was relegated to the bin as it almost entirely failed to stand up or stay together. I suspect I could have "saved" the model with MC.
I will let it dry, see how it turns out – I dislike models that do not look after themselves – ie need assistance to stay together, I steer clear of models that are generally not possible with all but specialist papers – the foil cored tissue foil is something I have yet to use – lots of models work only if the folds you place stay folded.