Now I know you are thinking this is not green, but the design is named "Green Dragon" by Piotr Pluta: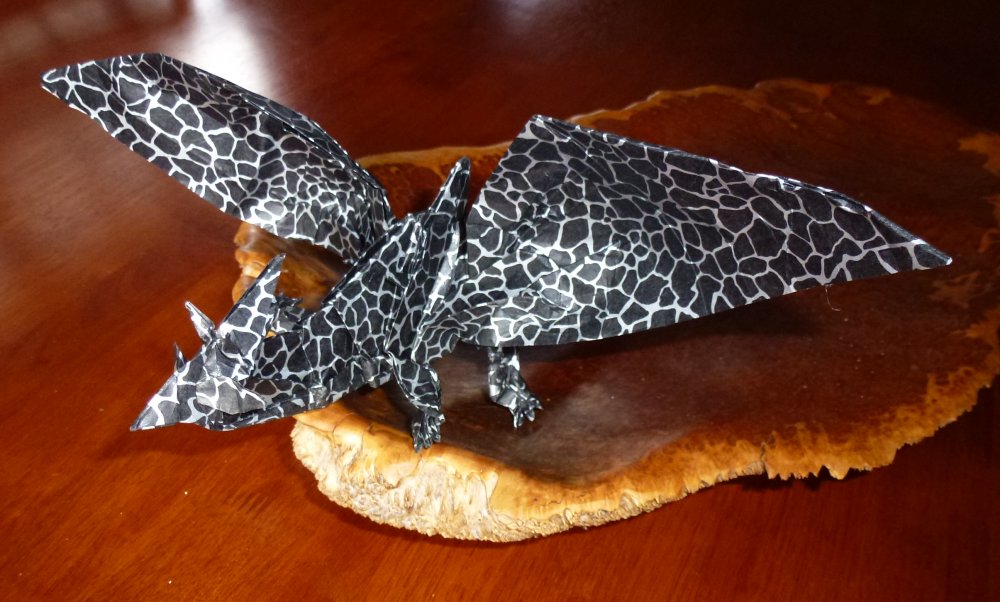 After I made the double-sided double tissue I had been looking for a fold that would suit such a busy paper – it sort of looks like dragon skin/scales so the idea took.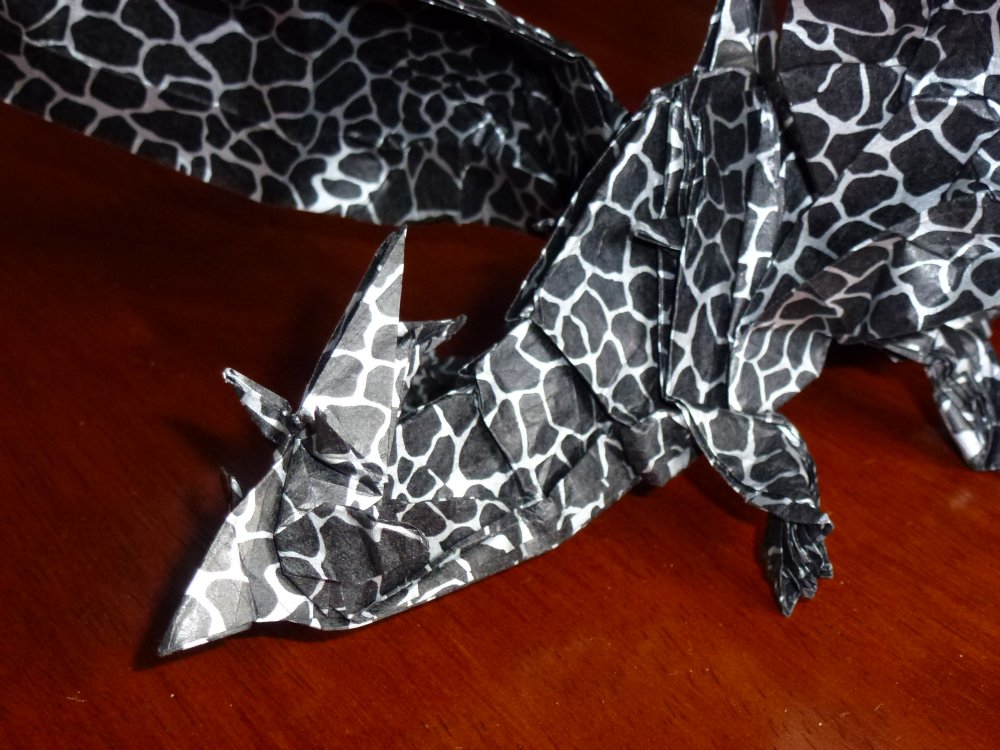 I want to tell you this is the first time I have folded this – in truth this is the first fold of this design that I am happy to publish – the other THREE times resulted in a scrumpled up mess in the bin. I have no "development photos" because I was not convinced it was not going to fail again. Soz.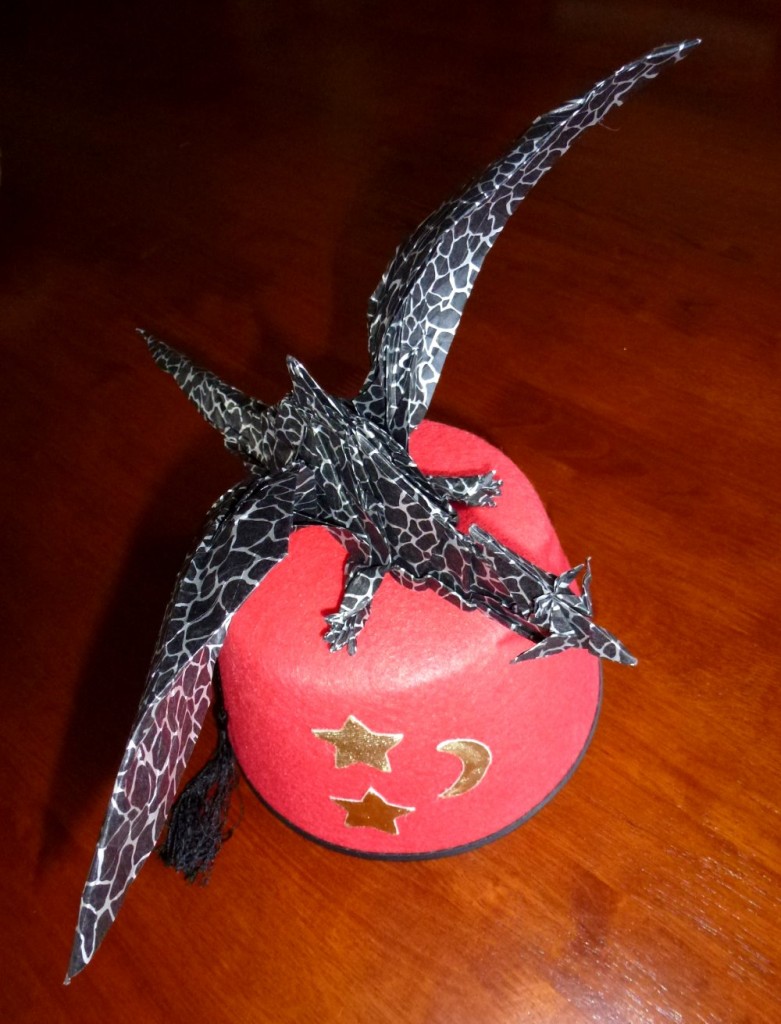 Definitely a "horn-back" (Potter geeks rejoice), the central back horn is the middle of the page, 4 feet with toes (you can sort of see them), lovely wings, tail and a confusing head.
I struggled to photograph the model, and again I think I need a light box to better capture the layers and detail – natural light and flash fill seem not to really represent it adequately.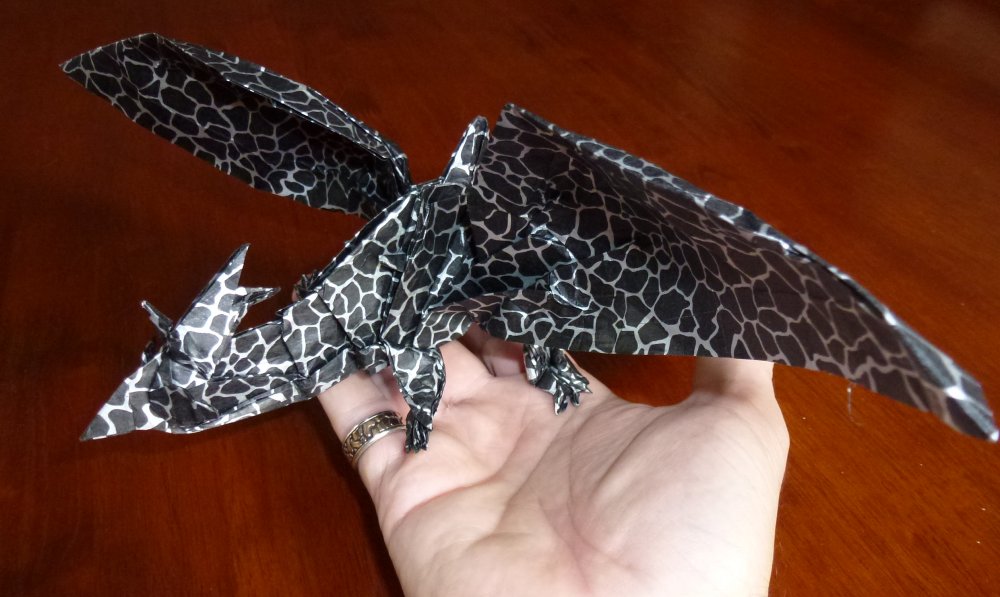 I am happy not to say I have managed to complete this model – the paper indeed helped as some of the collapses and manipulations do not work with thicker paper. Models where toes are formed from within the sheet (as opposed to from edges) are a nightmare in pleat management and accuracy if they are to work at all.
I am enjoying my experiments with double tissue. The paper was thin, crisp and strong. Because it is so busy (the pattern is distracting), laying creases in it is troublesome – the paper takes the creases really well (even ignoring the imperfections and wrinkles that result from the stretching/brush work in making it) BUT you cannot then SEE then – problematic when pre-creasing as things like REFERENCE points vanish midst the pattern – I found natural light was not enough and needed to work under a reading light also. the back/horn collapse is complicated – a "do this all at once" move that took me ages to line up and then it just sort of happened which was nice.