After our time in Ireland, a return to "normality" seemed in order. As a gateway drug to Scotland, we decided to visit Yorkshire again with the added benefit of being able to visit our good friends, Mike and Colette in Boroughbridge.
After the flight into Leeds Bradford, we picked up a hire car (a rather gutless Fiat Tipo) and managed to fit all our goods and chattels in, set up the cockpit, revive the phone and check the maps worked, then set off for Skipton. After an uneventful car orientating drive and a flummoxing parking adventure we went on a lovely ramble along a canal through forest parklands in Skipton Castle woods.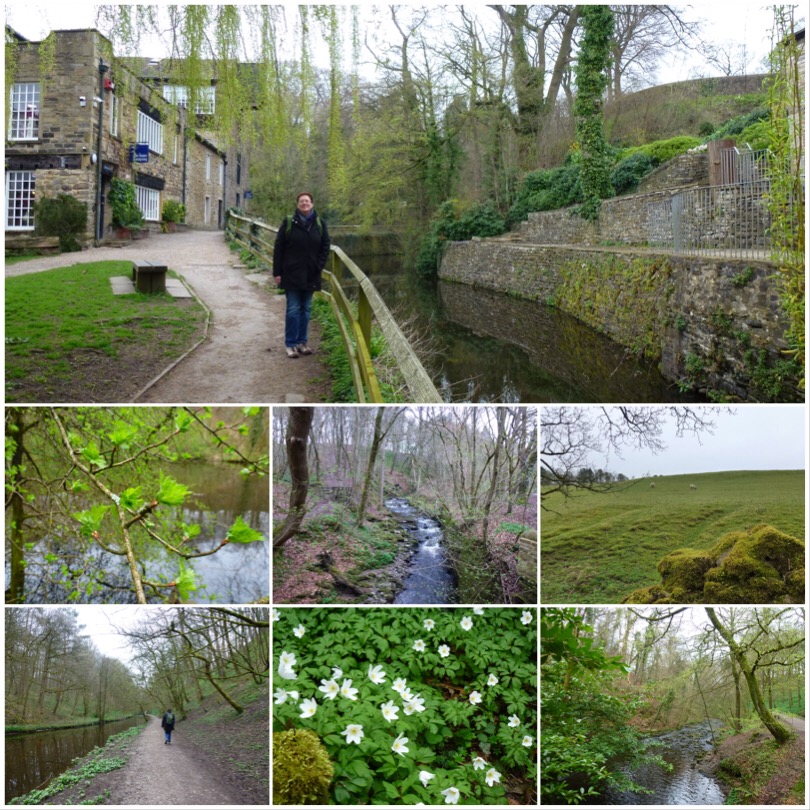 We then headed on to Linton for a pub lunch (Fish and Chip Friday) and a pint of local ale – a flat, warm pale ale that was hand-pumped meaning the barkeep essentially filled the glass twice. Lovely bit of fish, light lunch and then on the road again. We passed a quarry and turned into mystery (to me) location, Jo said "you will need your camera", we puffed up a hill to a massive stone maze-like structure on top. Called the Coldstones Cut, a mega sculpture overlooking a huge quarry (or Diggosaurus hive), it is brilliant.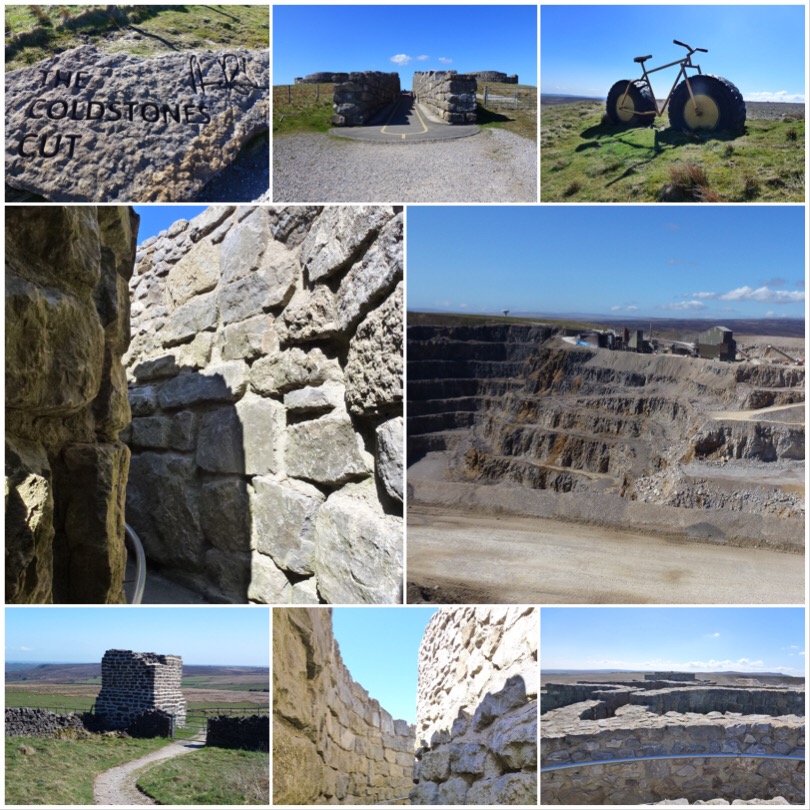 Suitably brisked (underestimating the windchill factor and ambient temperature), we drove on to Ripon to meet up with Mike and explore the cathedral (which is what you do in Ripon as a day visitor). Suitably cathedraled, we walked to find our in-town accommodation (a renovated apartment in an old stone building, fabulously quirky, more levels than should be allowed) and checked what was supplied before going provision shopping to set us up for a couple of days. We then went over to Boroughbridge for catchups and a bang-up Indian feast at a local restaurant, brilliant end to a busy day.
Next morning we were up and on the road fairly early, on route to Harrogate and a date with cake. When last in Yorkshire, Mike and Colette introduced us to "Betty's Tearooms", a wonderful chain of outlets specialising in proper tea, cake and all the trimmings. They also do savoury meals and usually also sell their baked goods direct. We had the most amazing tea and cakes for morning tea (I had hazelnut and marzipan torte, Jo had lemon torte), we then bought a chunk of fruit cake for Jo and  chunk of Simnel Cake for me for later in the trip. A visit to Betty's is not easy because EVERYTHING on their menu looks wonderful.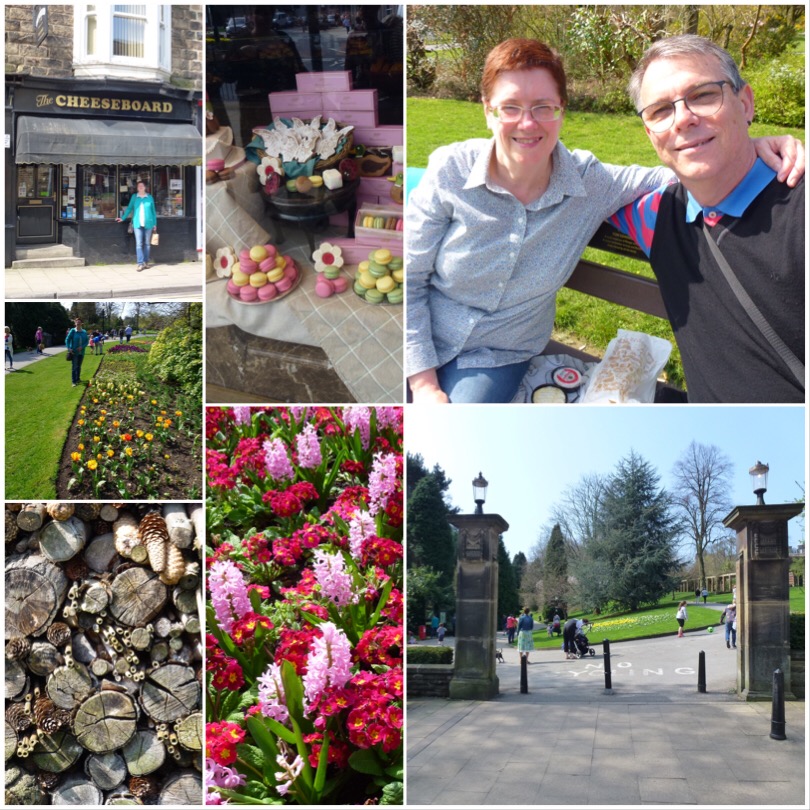 We then went walking Harrogate. Jo had hatched a plan months earlier and asked "The Cheeseboard", a Harrogate cheese emporium, to import some of our beloved St Marcelin Cheese from France (we have given up trying the persuade an importer in Australia to being it in for us, raw milk cheeses are not something Oz importers want to touch, sadly), she then surprised me by casually suggesting we go into said cheese shop and purchase some cheese for lunch – such a wonderful ambush that it seems everyone but me was in on.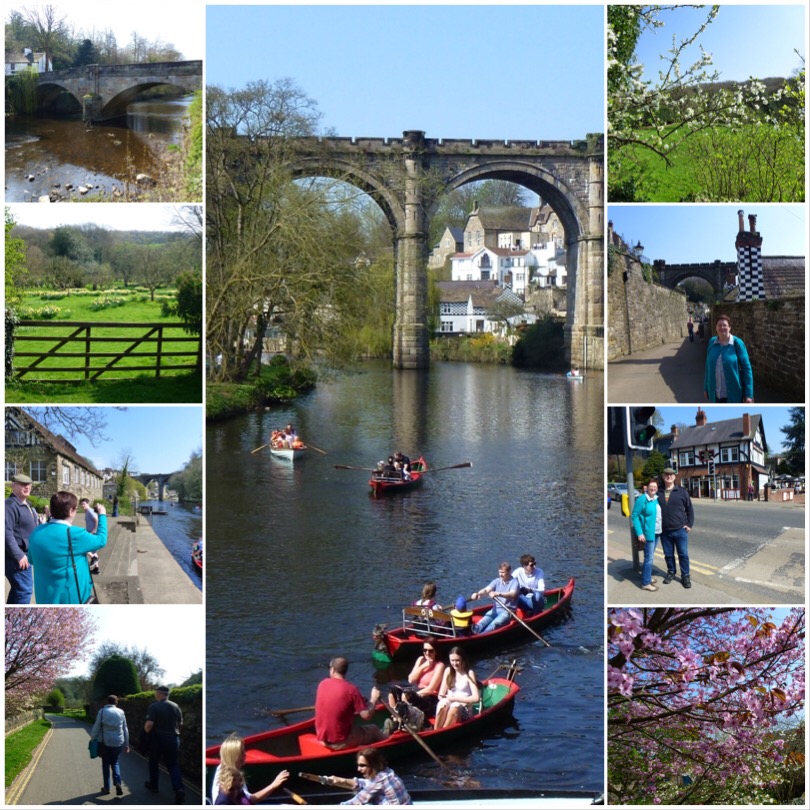 We walked to a local park, the sun was out, the flowers were all in bloom and we sat and had St Marcelin cheese on a torn baguette (well, as close as Yorkshire gets to a baguette) – heavenly. Suitably supped, we then motored to Knaresborough to meet up with Mike for a lovely walk by the River Nidd. The sun was out and so were the picnickers, row boaters, sunbathers and dog walkers.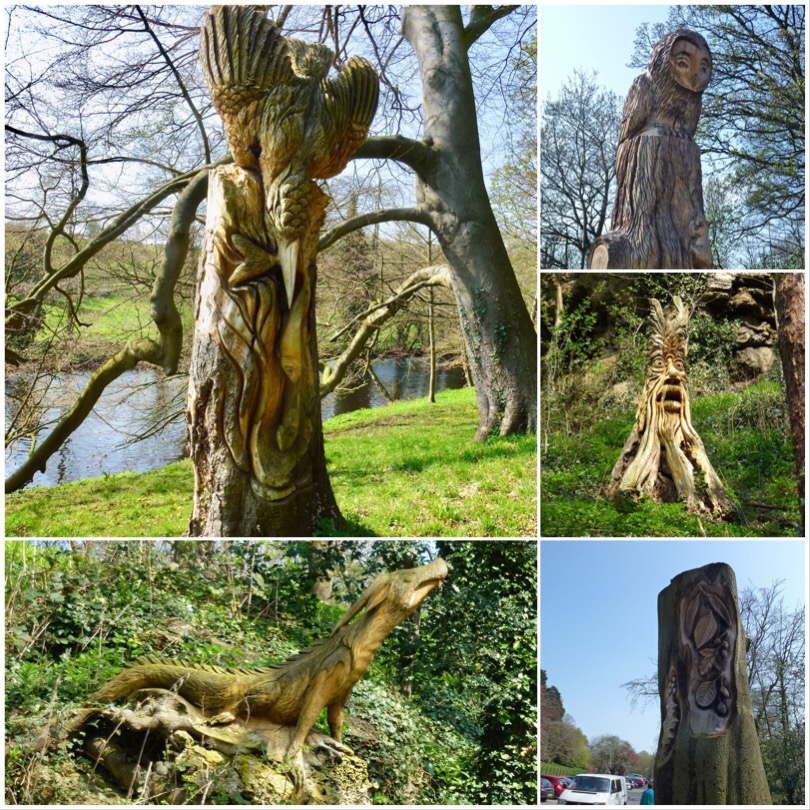 We walked for ages, had a good natter and saw how Yorkshire people celebrate a sunny spring day. Along the path we followed the council had been really clever with trees that had died or broken off, it seems they commissioned artists to turn the stumps into sculptures and these startling beautiful works pepper the greenways we walked.


Up early the next morning and a bit of a drive up the steepest bit of road so far (25+ degree slope) into the Sutton Bank National Park for a short bushwalking and lookout – reputedly the best view in England. It was fairly clear and we could see for miles and miles, the rich green patchwork that is rural countryside. Back in the car, we pootled along the ranges to a lovely little town called Hutton Le Hole, stopping for a well earned cup of tea and slices of the freshest cakes. We are noticing rural areas let sheep wander, it is lambing season and there is an abundance of the cutest little lambs on wobbly legs, all sheep here have tails also, not docked and crutches like back home.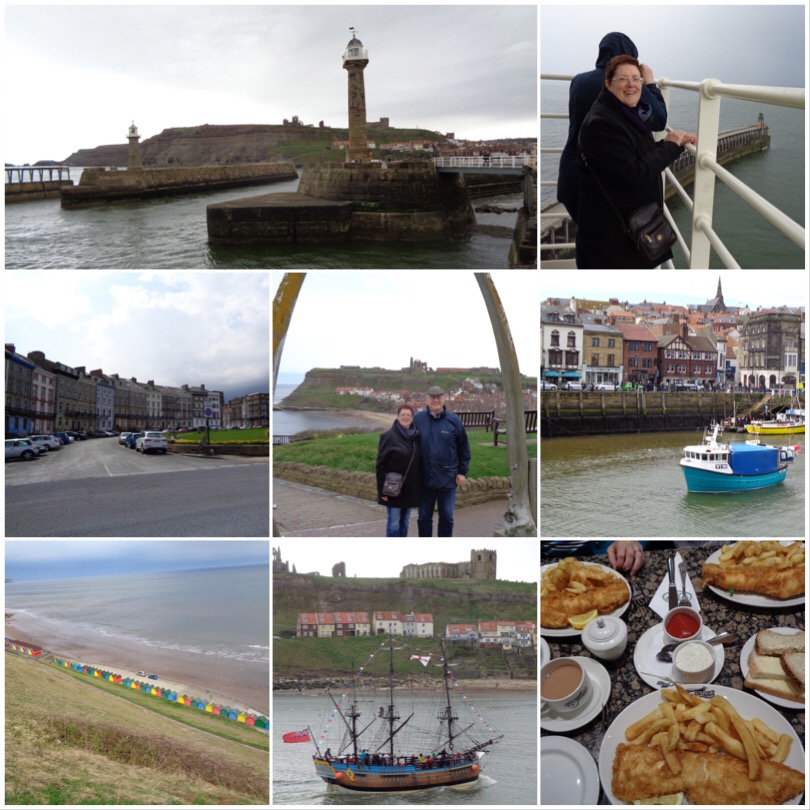 After a wander we drove across the Yorkshire Moors to Whitby, parked and met Mike before bussing into the seaside town. As seaside towns go, this is pretty nice. Coloured change huts along a freezing stretch of beach (we were assured it is lovely in summer), sea walls and protected inlet, wharves, jetties, fish and chip shops and Jet shops. Whitby Jet is an odd but lovely black stone, somewhere between coal and petrified wood that is as black as … well … jet black. It was raining on and off, cold but a great time was had by all regardless. For a late lunch we had a terrific feed of fish and chips, brown bread and tea – yum. No idea how they get the batter like that, so thin and crisp.
We returned to the car and then motored home to Ripon via the scenic route via Hole of Holcum- again stunningly scenic and good roads over hill and dale. We returned home tired but happy after a long day and fond farewell, snacked for dinner, then just before 9pm we walked to the city centre to witness an ancient ritual – Ripon's Watchman/Hornblower. At precisely 9.00pm, as has been done continuously since 886AD (!!!), a horn was sounded from 3 stations around the town square to signal a set watch.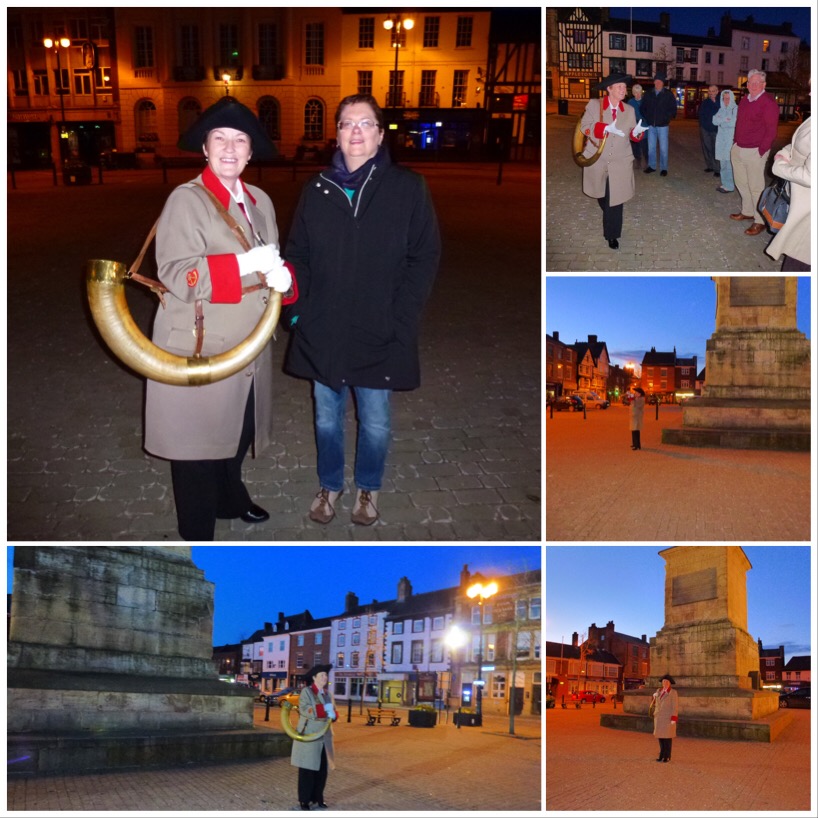 We love Yorkshire, and must return again as the people and the place are friendly and welcoming