We awoke bleary, I picked up some fresh pork pies, we packed and motored away from Ripon on our way to the border region as our bridge to Scotland. Our first stop for the day was High Force Waterfall, in the Area of Natural Beauty in the North Pennines. Due to poor signage and our poor sense of direction we walked off in the wrong direction (without rain gear) and had to rush back because of rain (quite predictably). We then found the correct path and a forceful waterfall, obviously bolstered by recent rains.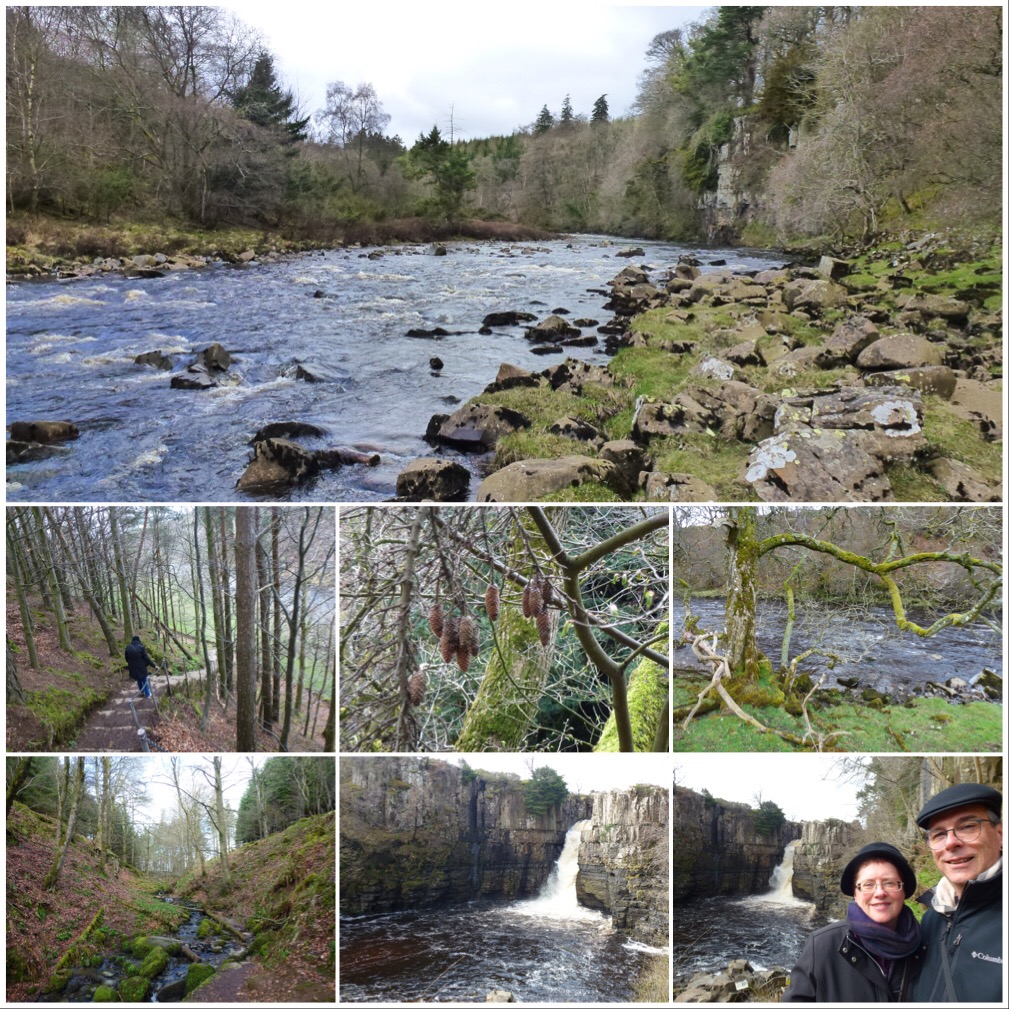 We then motored on to Chester's Roman Fort. Built as part of the fortifications connected to Hadrian's wall, this fort lay buried until a farmer chanced upon it when digging a drain. Quite complete and fairly well preserved, we wandered among barracks (each tiny room was designed for 3 guards and their horses to conserve heat, imagine the smell), houses and a rather splendid bathhouse with intact hypercaust (thanks Timeteam) floors. We originally were going to picnic here, but the weather once again was cold and wet so we ate lunch in the warmth of the car – our take on a ploughmans.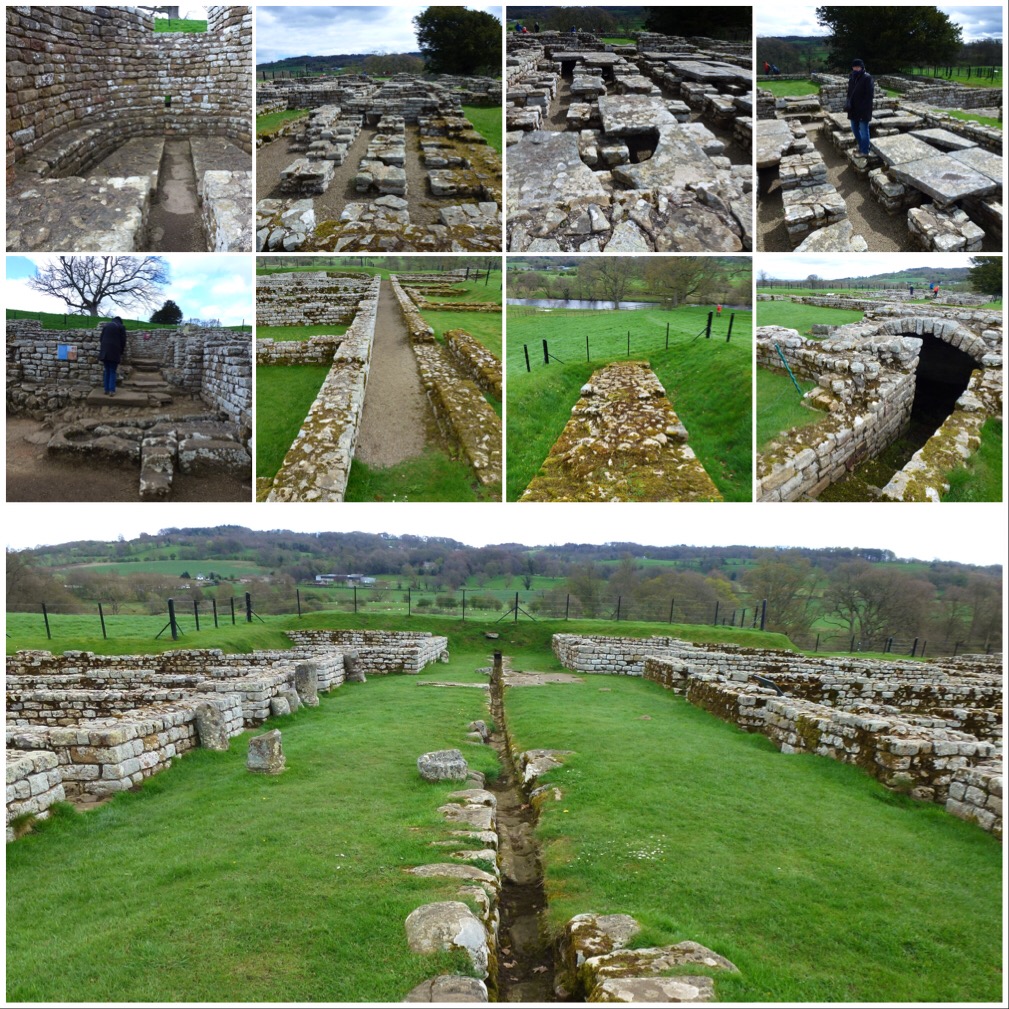 Once across the border, we were in Scotland and not a lot felt different, not sure why it would.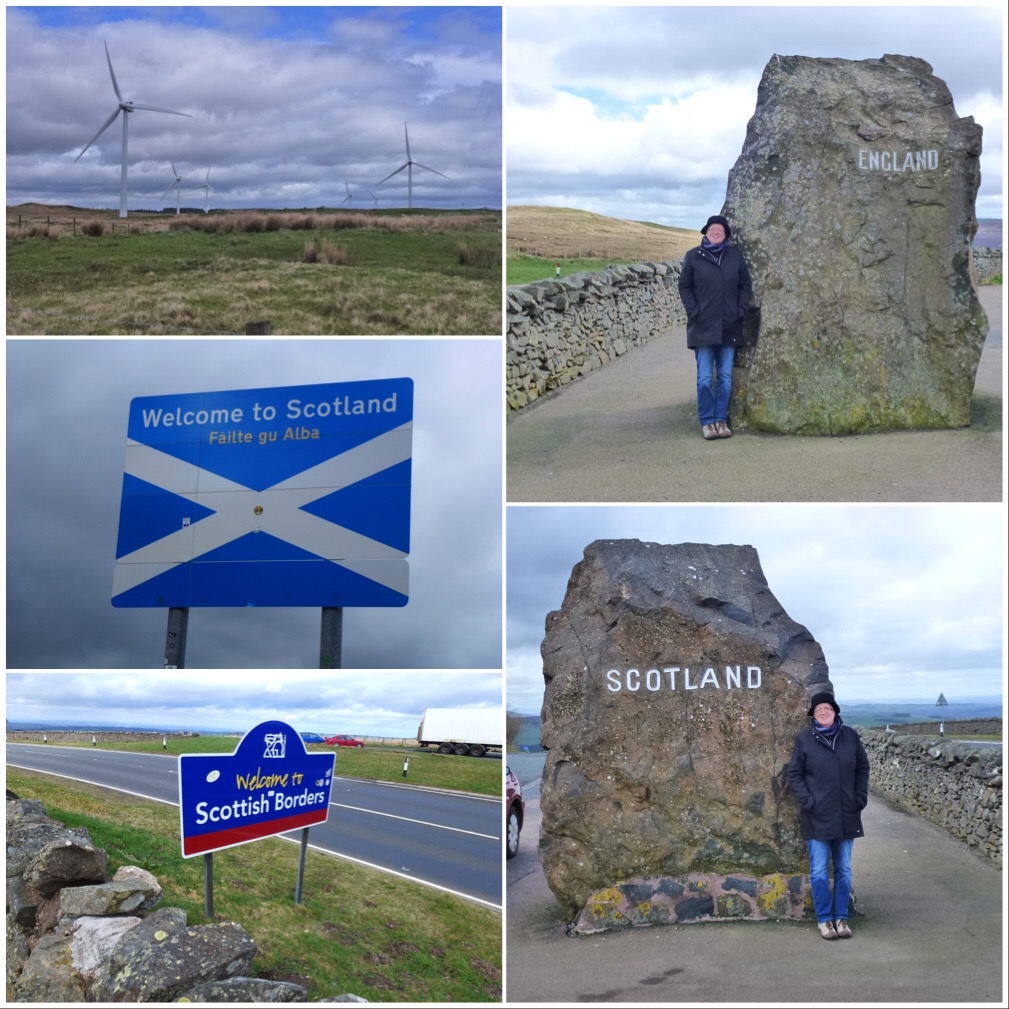 On the road again we made our way to Traquir House – a grand estate. We were charged full entry fee by an elderly gatekeeper with a glorious but impenetrable Scottish accent (even though we arrived 1/2 hour before closing and only wanted to do the maze) but we were more interested in the hedge maze – a "Trafalgar" design, with 4 demi-centres you must visit in the right order before you can get to the centre centre. We have a maze-solving algorithm: when faced with a choice, always turn left. Worked a charm, we found a demi-centre, then re-found it, then decided to mark them with leaves so we could detect a revisit, then found all others. The centre centre had spiral steps so you could see up and over the maze – very cool. The weather was freezing, it was raining but we thought "why not", happy to have solved another maze.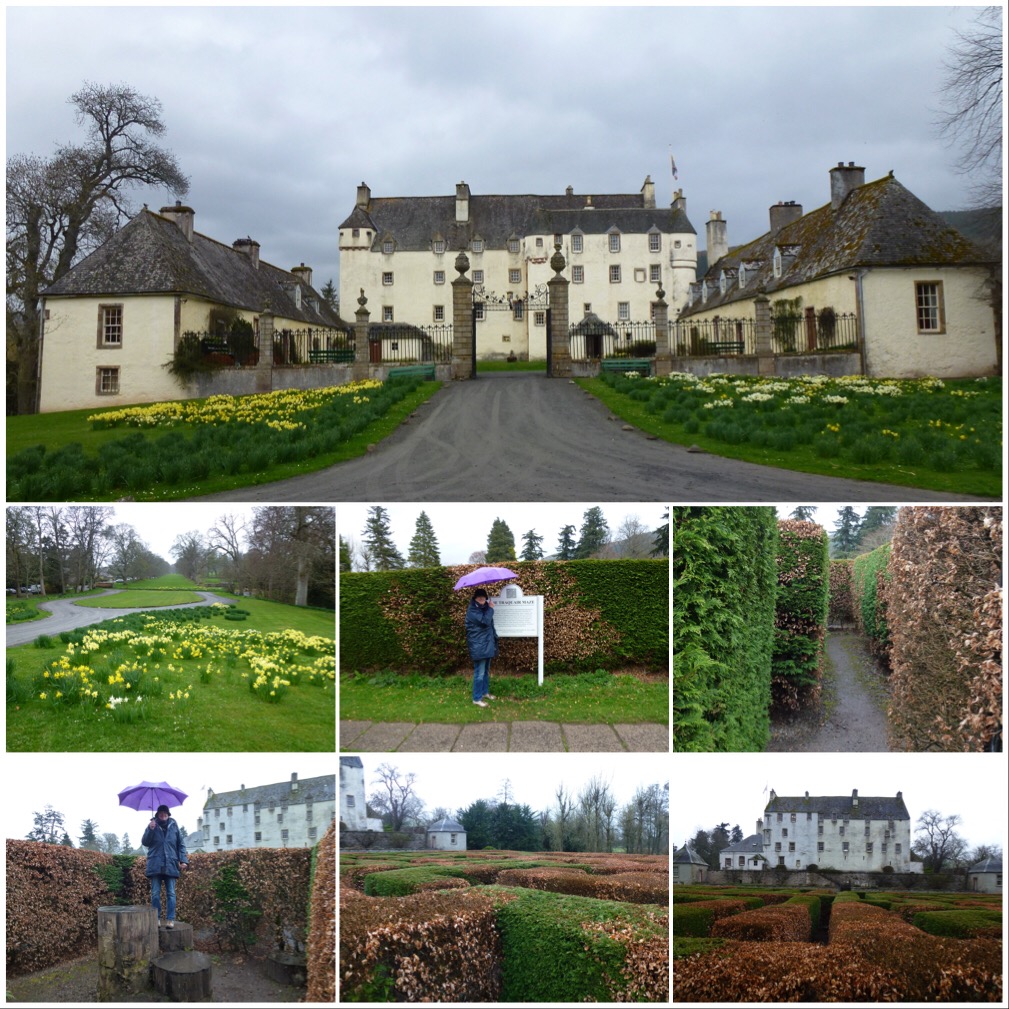 Our driving brought us to Peebles and our first B&B for the trip, a charming grand mansion called Kingsmuir House. Malcolm (no trace of a Scottish accent, sadly), our host, helped us wrestle our suitcases up, then brought us fresh scones, home made jam and we had a late and rather posh afternoon tea. After settling in and noticing we had chandeliers in every room, we walked into town, into a hotel bistro and had dinner (Jo had Haggis Neeps and Tatties, I had beef and ale pie, both filling and pretty nice. We realised that we should, next stop rearrange our suitcases so we only need to bring in one in the non-self catering stays, save all that lugging.
The next day we began the long drive to get to Oban. We made a deliberate deviation to pass through  Motherwell, Jo's Grandmothers home town but we failed to locate a "Welcome to Motherwell" sign as it had been swallowed by suburban sprawl into just another suburb, sadly.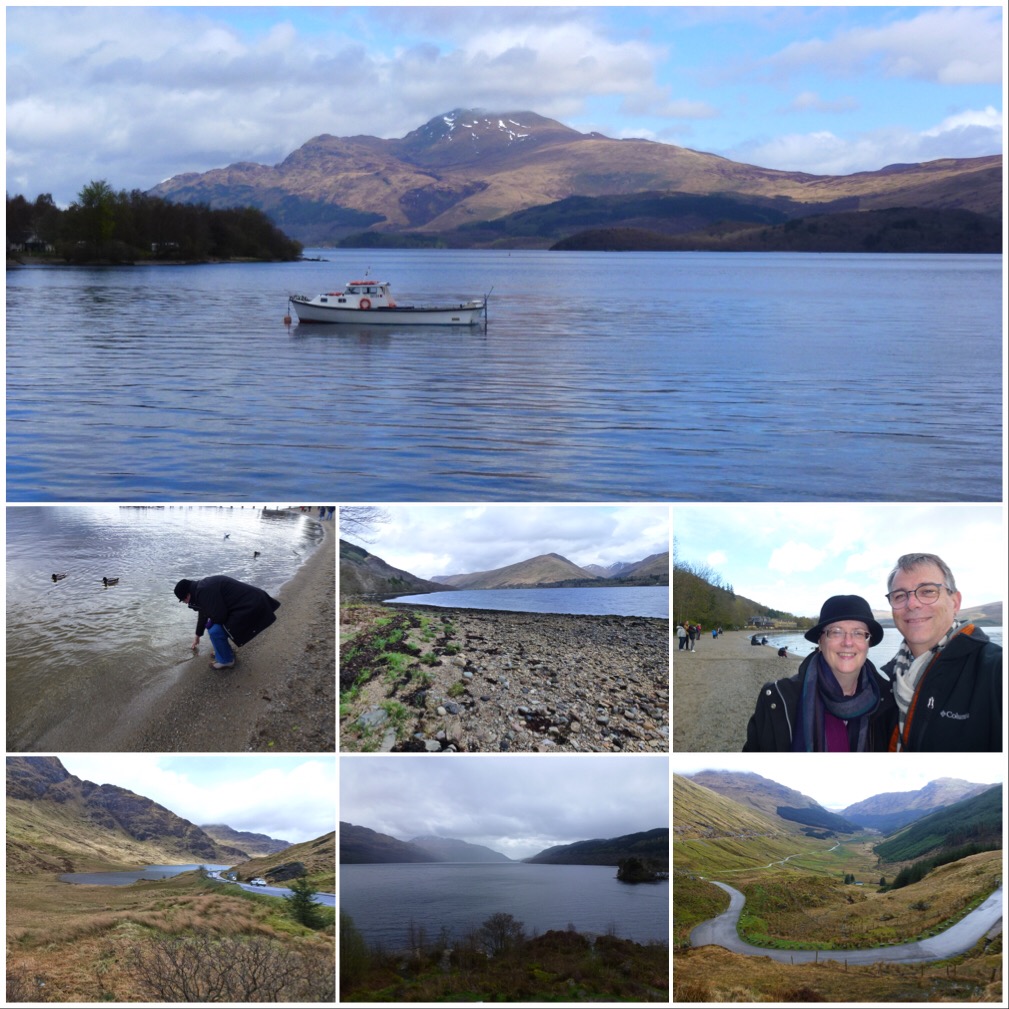 We then headed inland to Luss and our first Loch – Loch Lomond. It seems to me that the Scottish are very liberal with their definition of what is and isn't a Loch. We saw tiny puddles, vast enclosed lakes and oceanic inlets all labelled lochs which I think is a tad confusing.
We headed onwards and upwards into the mountains, saw hydro electric schemes fed of high lochs, got squirmy at the winding roads and ogled at the snow capped mountains that came in and out of view as the weather totally changed every 15 minutes or so.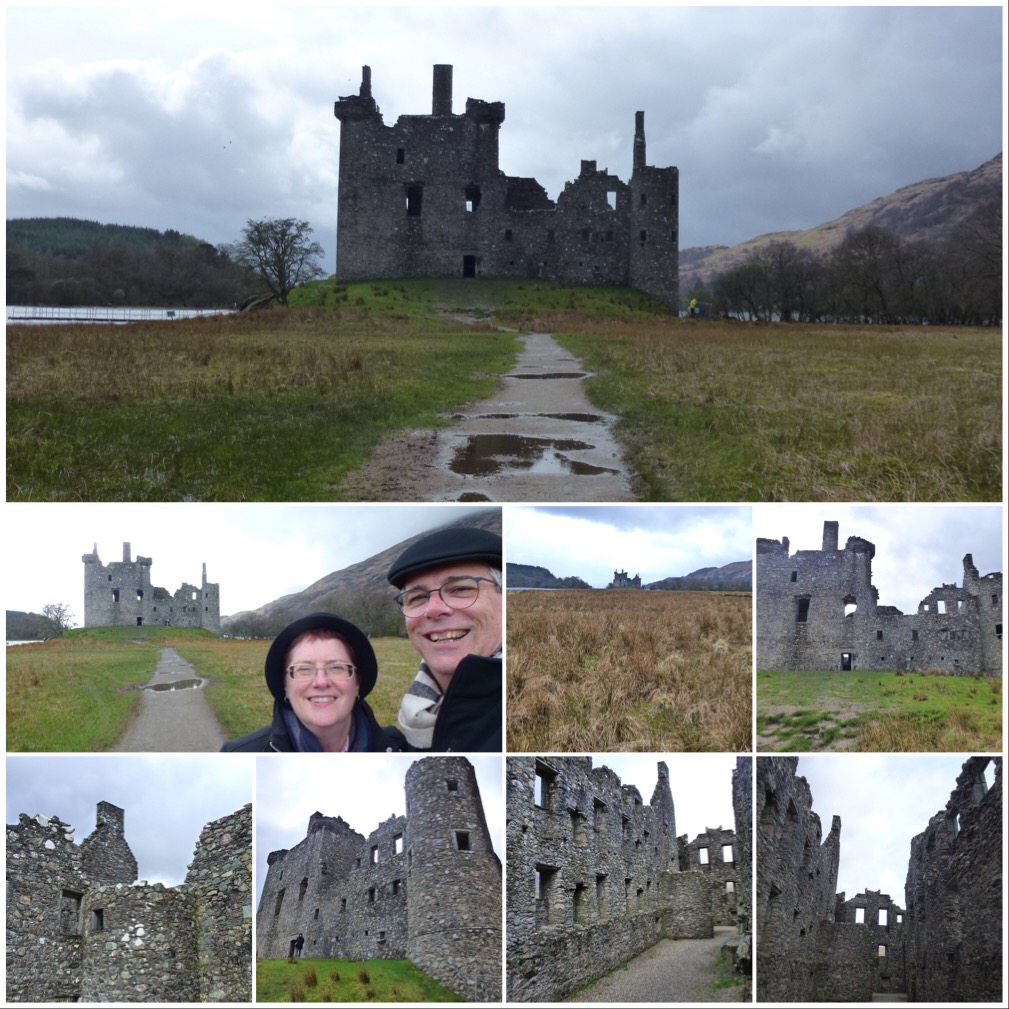 In her research, Jo had found our first Scottish Castle, off the main drag  in an obscure unmarked carpark. We rugged up and, rather naively, clutching umbrellas we set off on the path towards the castle. In 20 minutes, we experienced 3 weather changes but gradually came upon the Kilchurn Castle remains. It was awesome, this stark castle poking up out of nowhere, lord knows why they wanted to defend this desolate bog land- had it been me I would have gladly handed it over. The castle ruins were in pretty good shape, lots of the structure was still in place. I like to try and make sense of the buildings, how people would have lived there, what was used for what and I think it was fairly easy to do that here. The 20min+ walk back got us cold and wet again but the car was warm and soon  the scenery gave way to the more urban trappings of Oban, our next home base.
In Oban, we filled up with petrol, did some provisions shopping and then negotiated the maze of terrifying narrow oneway streets to find our apartment and some street parking nearby. After disgorging the car we walked down to wharves and bought a platter of fresh cooked seafood. Hot smoked salmon, mussels, squid, langostines, prawns, scallops, whelks and more – a feast of fresh seafood was our dinner, then a well earned rest.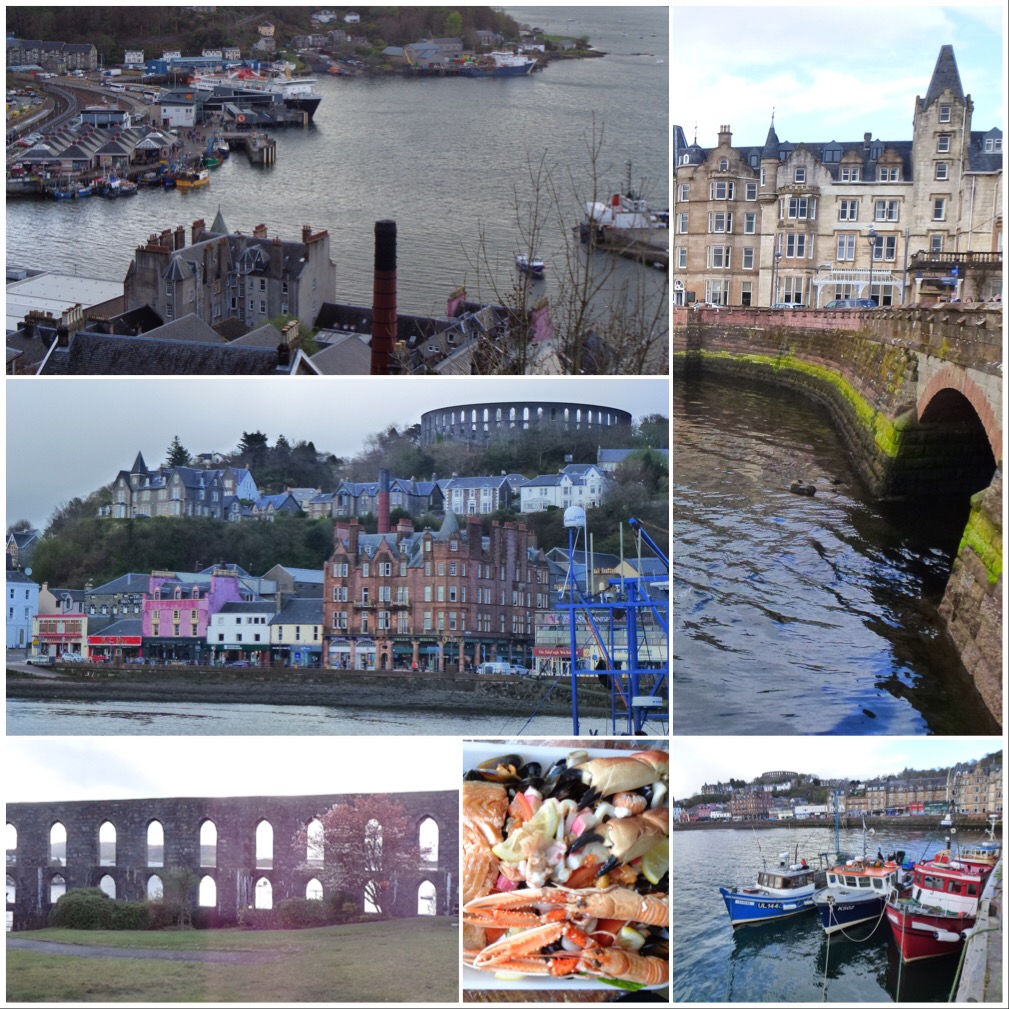 The next day, after waking the whole street by making toast and setting off the fire alarms (lol, smoke detector above toaster in enclosed room…should have seen it coming), we planned to travel to the Nevis Ranges,  but we detoured via Boiran Dubh  caravan park to get a glimpse of Castle Stalker (Castle Aargh from MontyPythons Holy Grail). This castle is on a tiny island in a tidal salt marsh, almost completely inaccessible but is famous for its use in Monty Python's Holy Grail movie. It was the castle where Cleese as a French soldier taunted Arthur, also used as backdrop of Camelot (tis a sill place) and many more castley bits in that movie.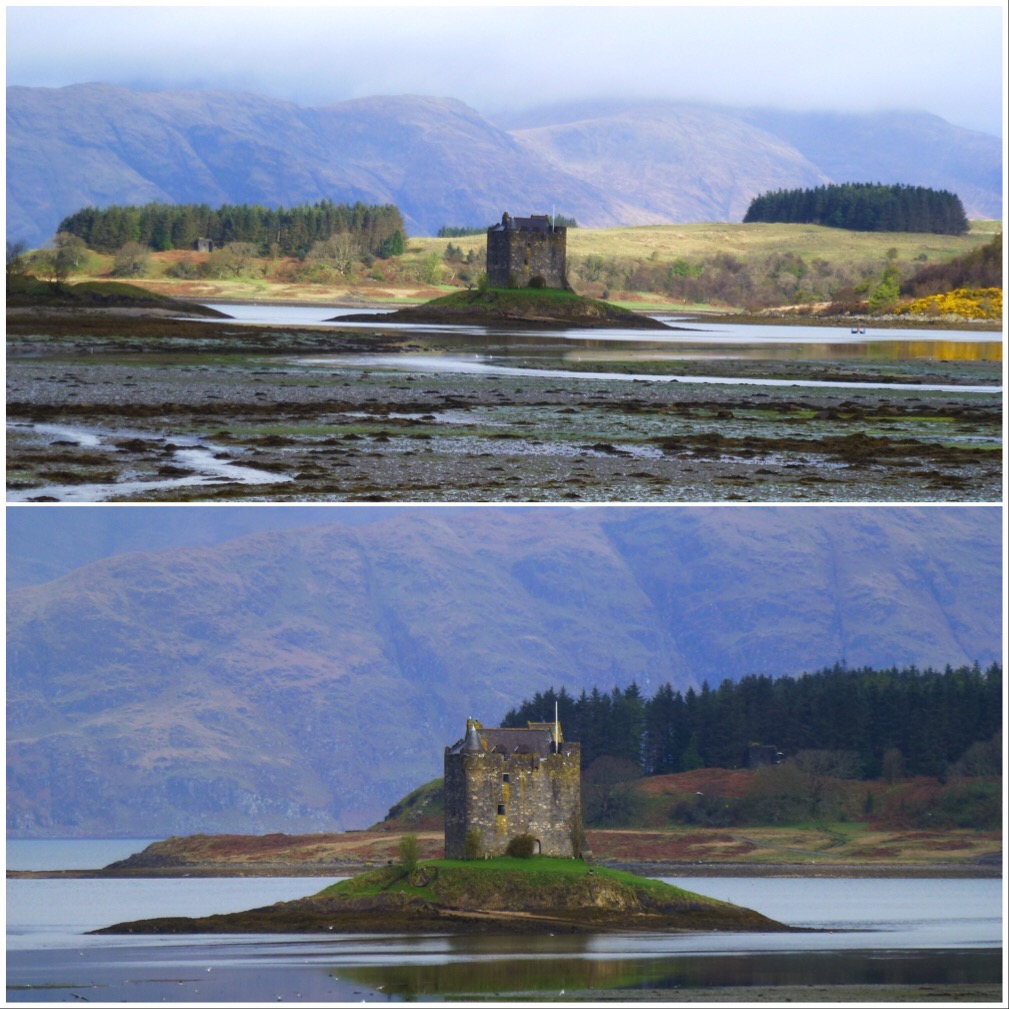 After some scenic driving, we arrived at the Nevis Mountain Experience and, tempting fate, we ignored the weather (howling winds, icy rain) and boarded a gondola for a trip to the summit. along the way we saw sun (briefly), rain and then were sleeted on. Our ice-crusted gondola arrived at the cafe level and we retired to the cafe for warm drinks and a sit while the weather changed around us. We went from horizontal rain, to sleet, to calm, to sunshine in the time it took to leisurely enjoy a hot beverage. Sneaking out on the viewing platforms between blizzards, the amazing scenery surrounded us, just awesome. The gondola ride back down was stomach churning as the fierce icy winds were blowing the goldolas sideways and crooked. There was a time we stopped and were convinced we were going to die, but you get that apparently.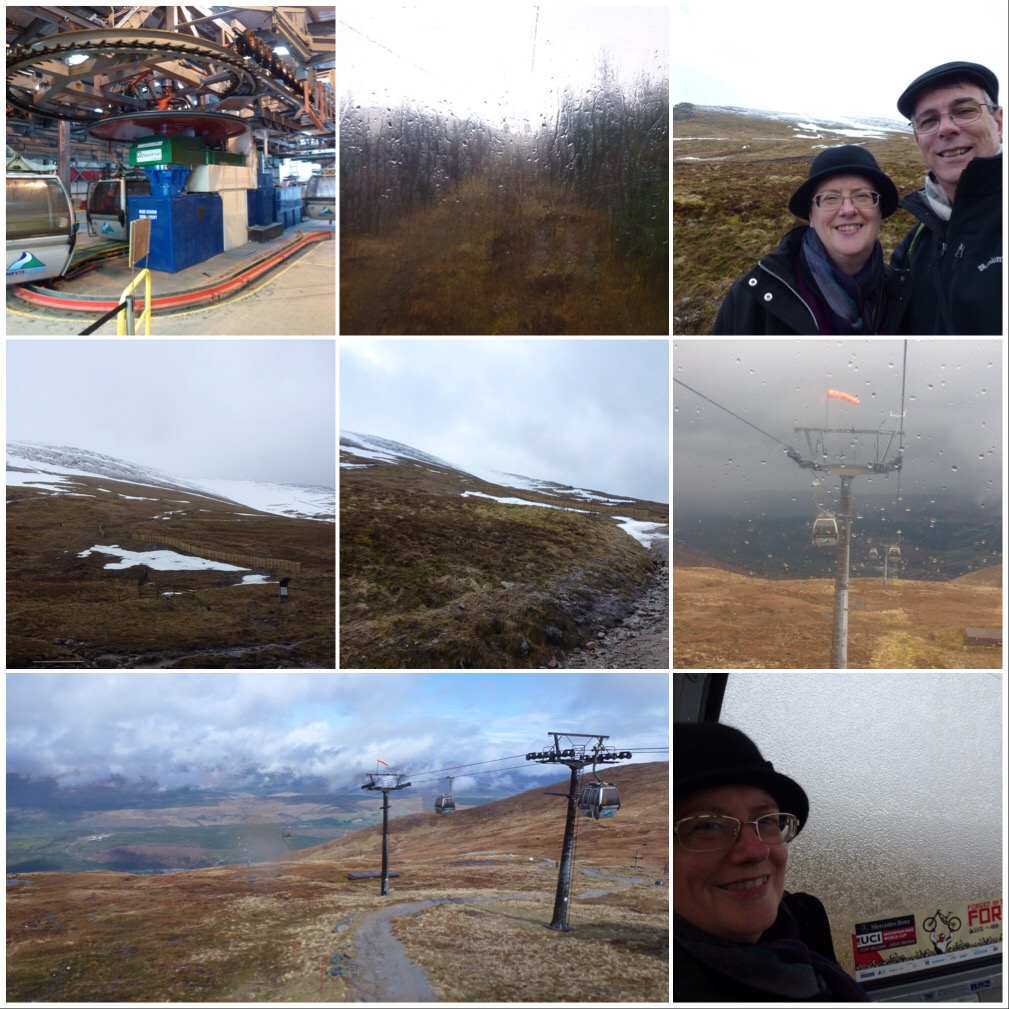 Back on the road, thawing out gradually, we stopped at Banavie Locks -a system of 10 locks used to navigate boats up and down hill, fascinating. We lunched here, again abandoning hopes of a picnic and eating in the car due to being rained on again.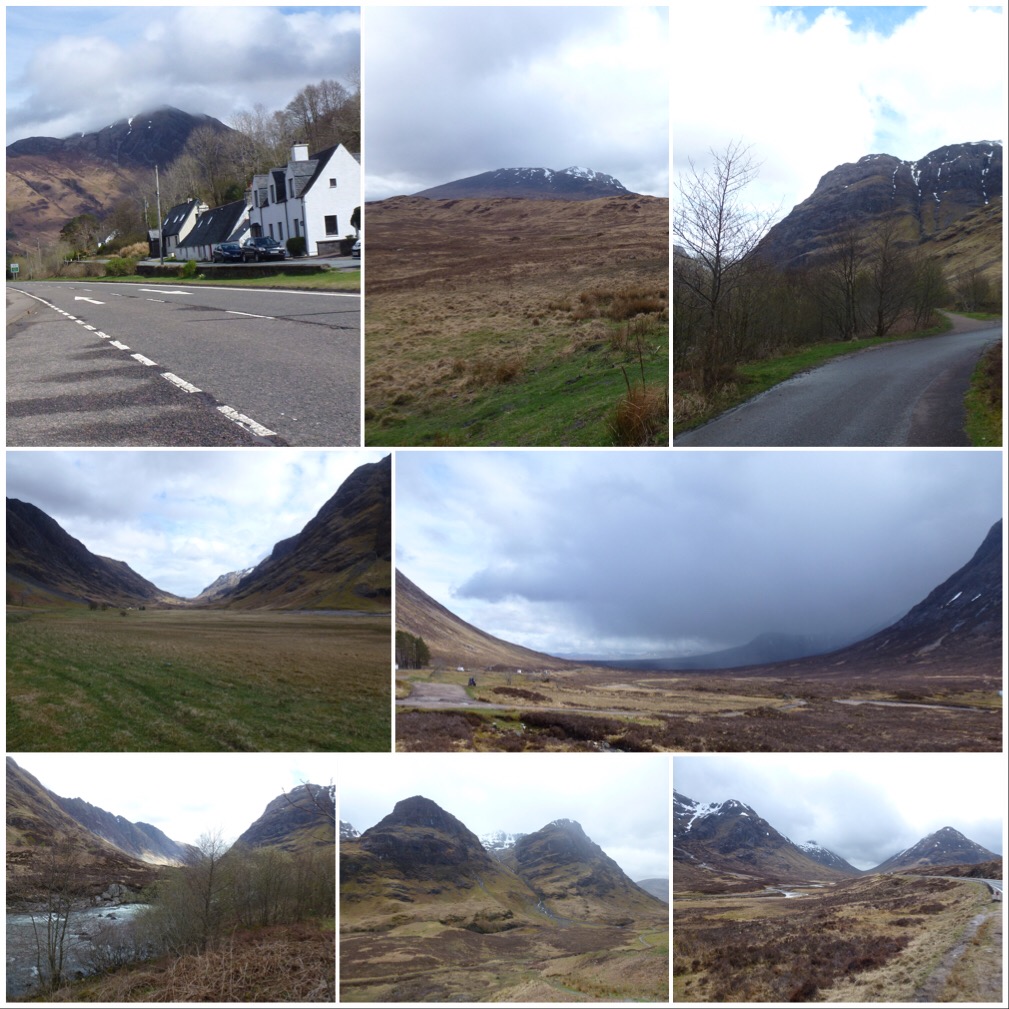 Our route back home was via Glencoe, stunning scenic mountains in every shape, lots of evidence of glacier action and many of the mou gains were snow capped. It was a long day but we made it back to Oban for a well earned nights rest before heading to the Isle of Mull on the morning tide.