We awoke at stupid o'clock, finished packing,  breakfasted (this time not setting off the fire alarm thankfully) and wended our way on largely empty back streets to the vehicular ferry station for our trip to The Isle of Mull. The morning was grey, it was raining and a little windy, meaning the seas would be rougher than my tummy would like (thank goodness for Travelcalm).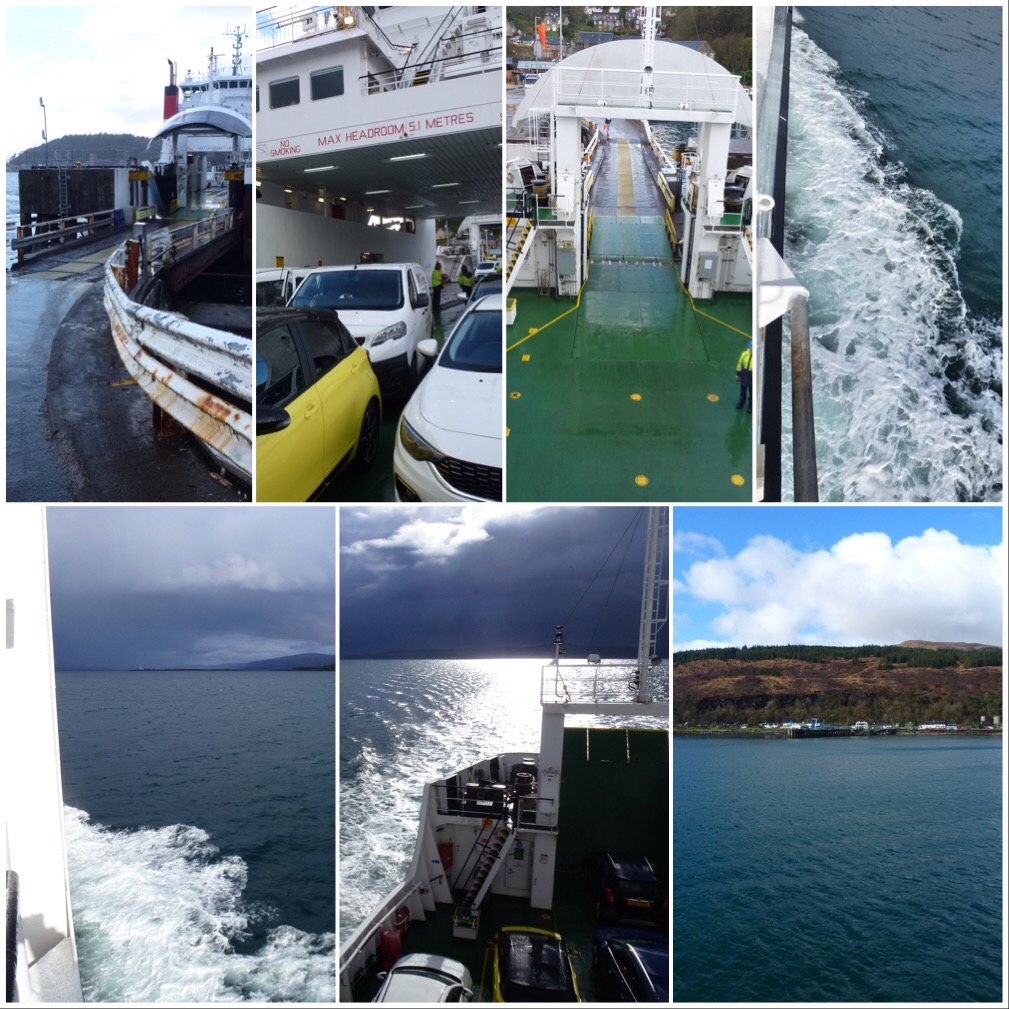 We lined up, were shepherded aboard and retired to the poop deck (well, in truth a rather comfortable and mostly stable cabin) for cups of tea and sympathy. The trip was fairly uneventful, we broke through the rain a few times and had sun, then got rained on again but arrived on the island in the dry.
We had previously received information about "passing places" on the island, necessary protocol while driving there as nearly every road is a single lane, with regular pull-overs alternating side to side. After meeting a few drivers, and infuriating at least one local, we realised we totally misunderstood what the instructions said, used common sense and got it right, mostly from there on – mind you when you are pootling up a hill and out of a blind crest some bastard hurtles towards you it is everyone for themselves sometimes.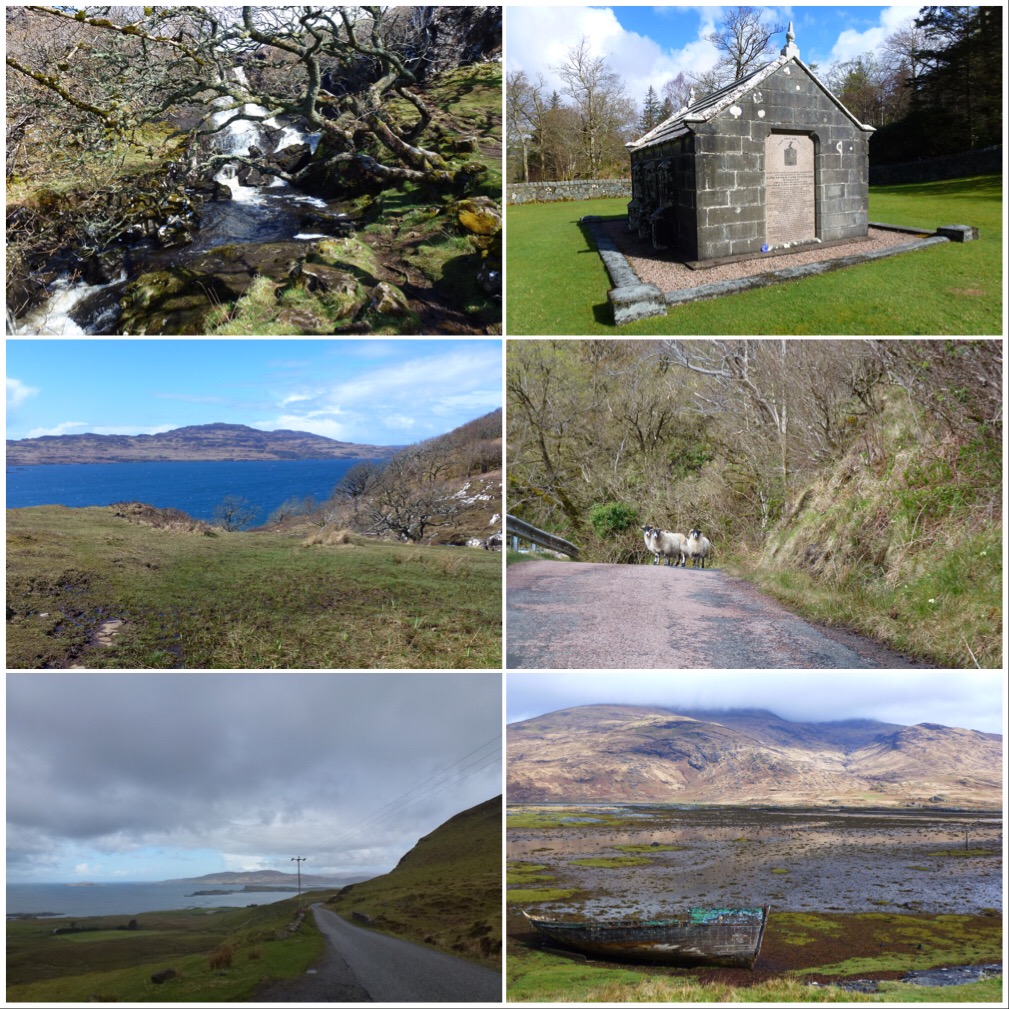 We drove from Craigmuir to Macquarie's Mausoleum- interestingly one of Australia's early Governors is interred on Mull, with most of his immediate family. After a look around we drove on to Eas Fors waterfalls as a break from a long commute. We then went on to Calgary, had a freezing picnic near a beach (well in truth huddled on a picnic bench behind the foredune), then motored on to the gallery for a warming cup of tea before exploring the sculpture walk in the grounds.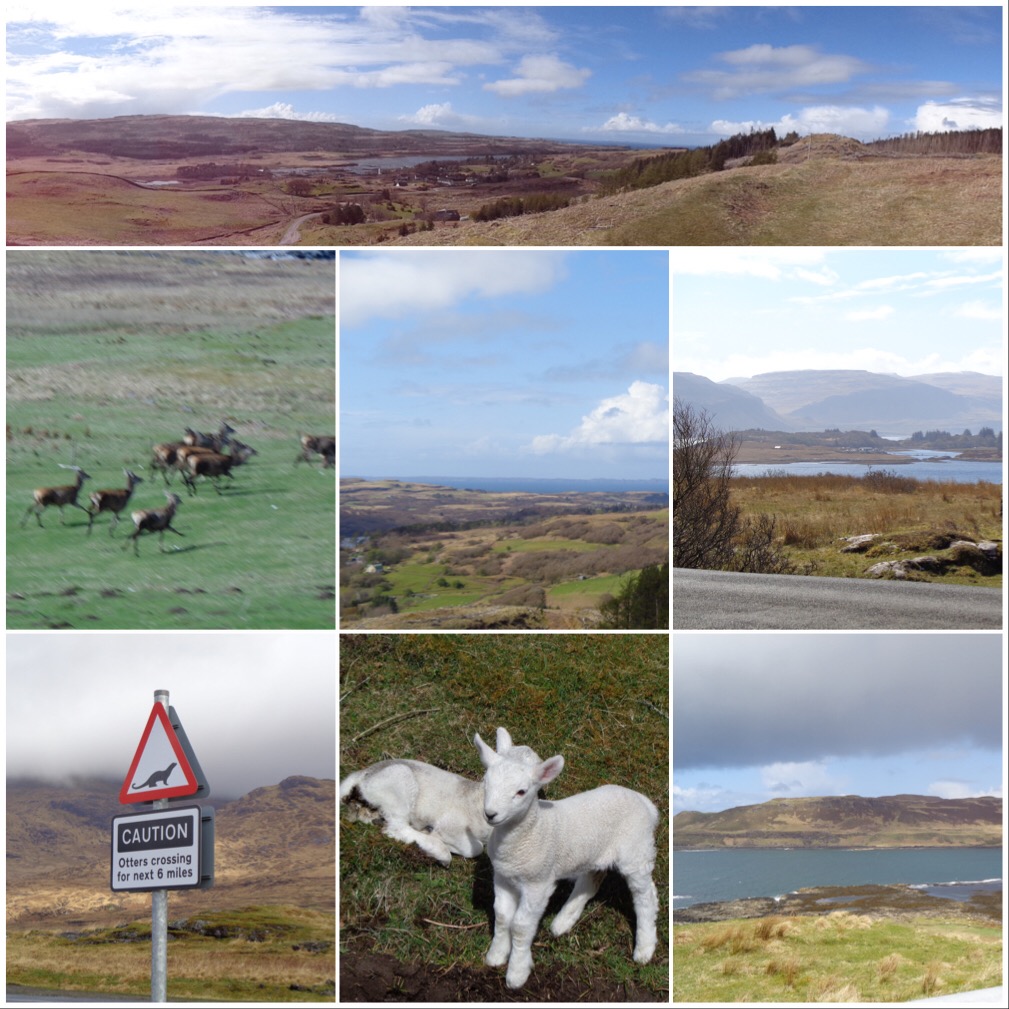 After some more gruelling driving we headed towards our home base for the next few days – Glengorm Castle. Built in the 1800s as a Victorian folly, it is now a treasure full of antiques, creaky timber floors, turrets and old world charm. We were shown up to our room, as well as the dining room, whisky/library room, sitting room and facilities – so grand. Our room was spacious and lush, views from the windows to the ocean and islands beyond – wow, just wow.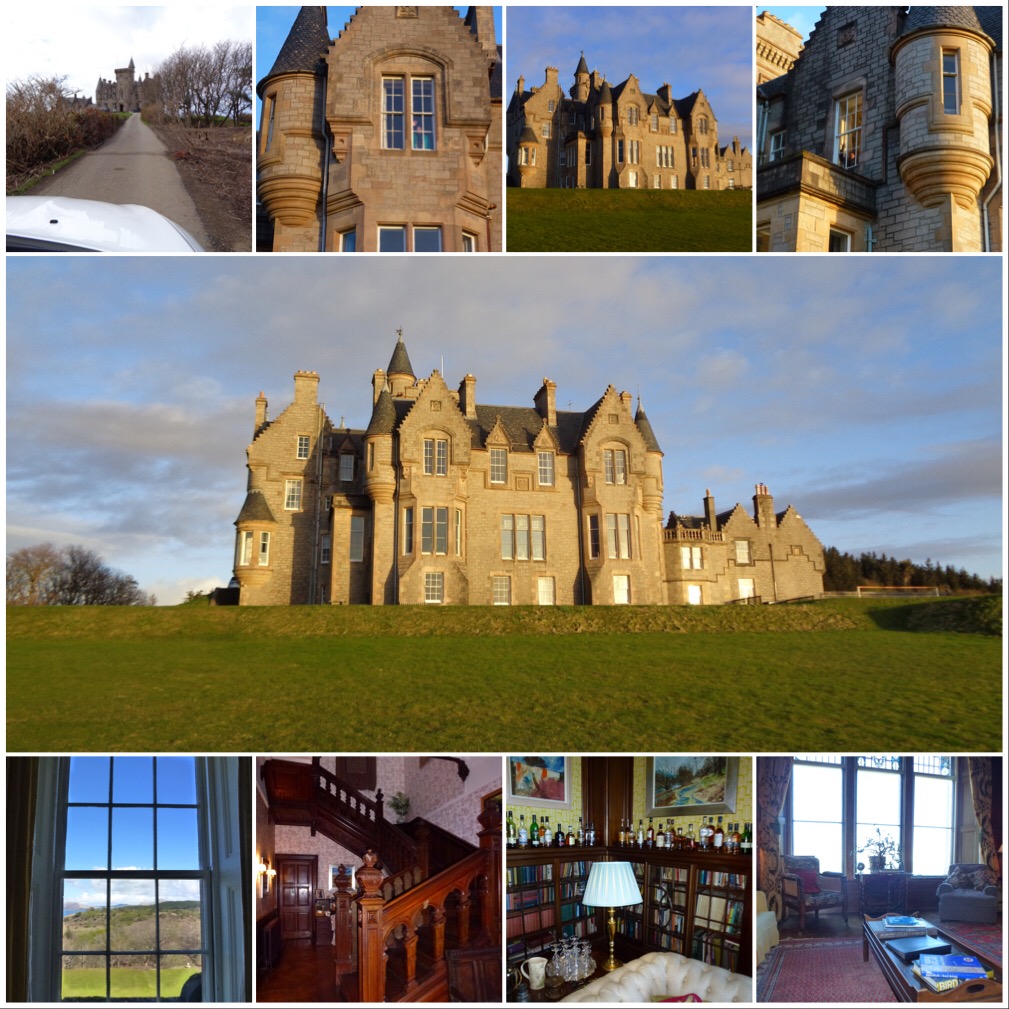 After settling in (we had reorganised suitcases so we only needed to bring in the small one, making checkin so simple), we located the farm shop then drove into Tobermory for our dinner booking at Cafe Fish. We both started with langostines cooked in garlic butter, then I had seafood stew (delicious) and Jo had fish pie (also delicious). Suitably seafooded, we returned to our castle, discovering that driving with a setting sun in your eyes is really terrifying – narrow roads, Scotland's entire collection of potholes and inconsiderate oncoming traffic made the journey home an adventure.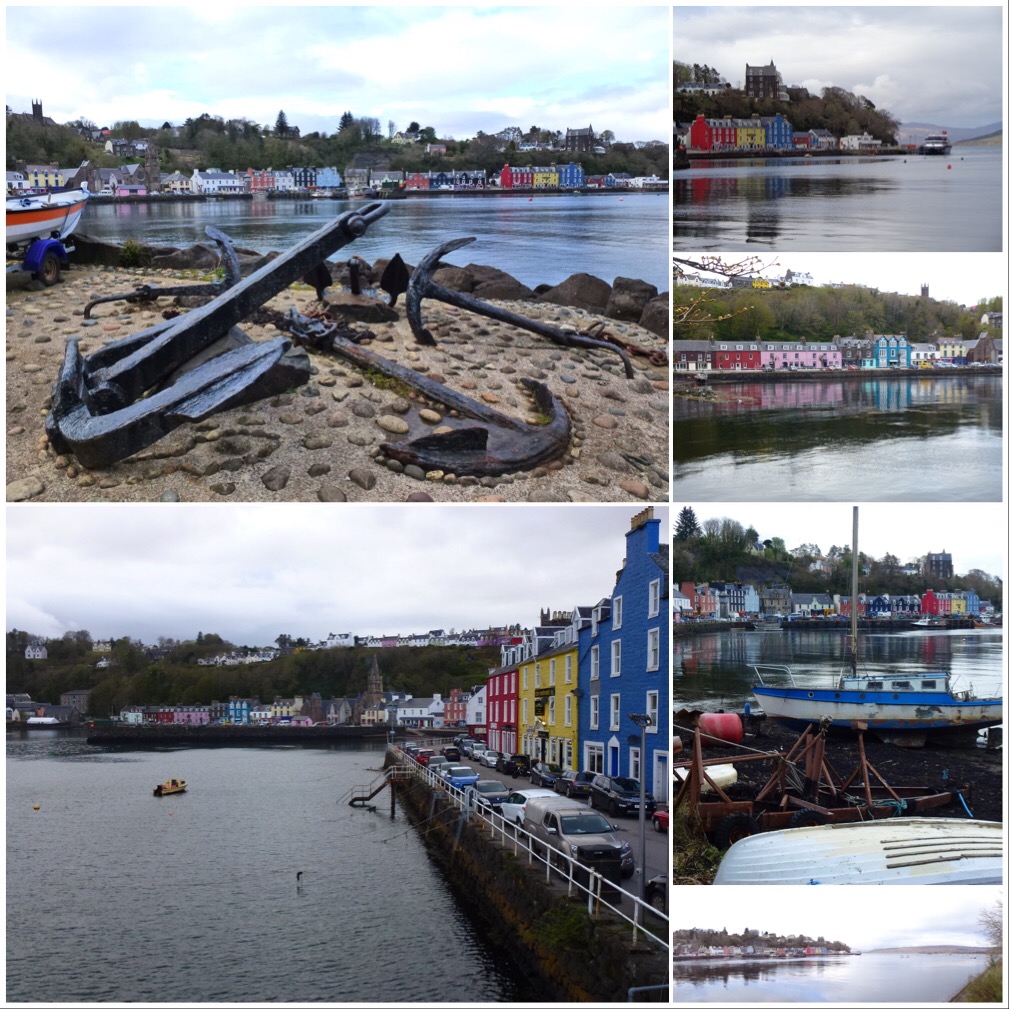 When safely ensconced in our castle, we retired to the whisky room to try a few drams (complimentary collection of local and important Scottish single malts), reinforcing in our mind that we are not really whisky people. I found that they are drinkable with melted ice in them (purists, look away!) but probably would not choose whisky in a bar. I accept I must be a heathen.
After a welcome nights sleep in a huge bed, we awoke to a glorious day – blue skies, sun, warm, nearly no wind, and enjoyed an abundant breakfast at leisure on a rest day. Well, I say rest day, in truth we had booked on a 2hr guided wildlife walk. We rendezvoused with Cian (pronounced kee-an, we googled it to be sure), a lovely young ecologist who had a passion for birds of prey – especially sea eagles. Apparently Mull has a fair share of the UK breeding pairs of very rare species. We rambled around the coast, saw birds of all shapes and sizes. We saw eider ducks (not enough to fill a quilt), metapippins, wrens, ravens and a glimpse of a sea eagle.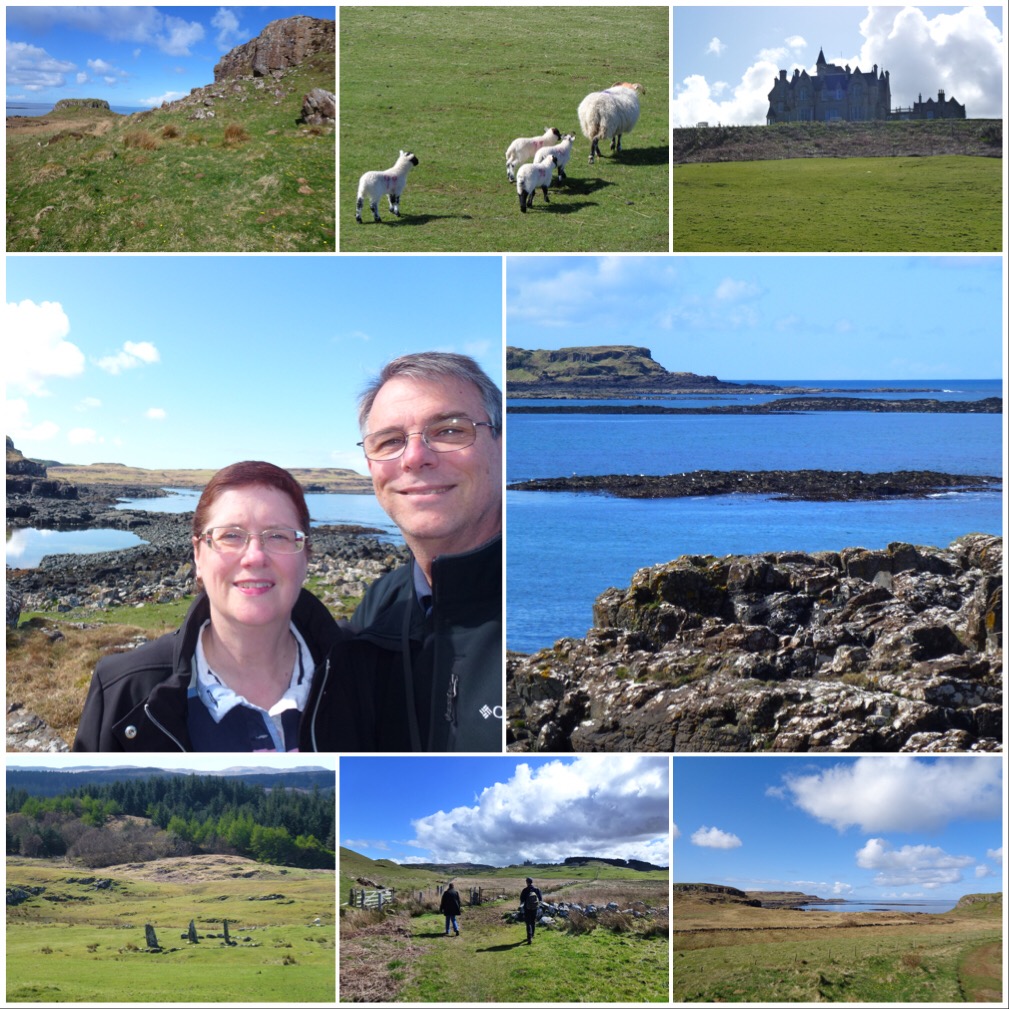 We settled at the shore front and through binoculars spotted basking seals. Excitingly we also saw a pair of otters playing in the kelp around a small island covered in gulls. They teased the gulls, went swimming and generally lazed about – amazing to see and apparently fairly elusive. Cian was really chatty and informative, we stayed out for over 2 hours as the conditions were amazing.
We returned to the farm shop for a late lunch (because the castle did not offer dinner) and picked up some cheese and cake for supper later on. Such a brilliant day.
Up fairly early, breakfasted, packed and headed for the ferry at Tobermory, and a return to the mainland, weather fine again (2 days in a row, how wonderful) … but that is another story.