Up early on our final day on the Isle of Mull, lovely cooked breakfast and then car packed, we were off to catch a vehicular ferry at Tobermory. The local bakery made up some fantastic fresh rolls for us for lunch, then it was on to the water for a quick and spectacular journey to the mainland.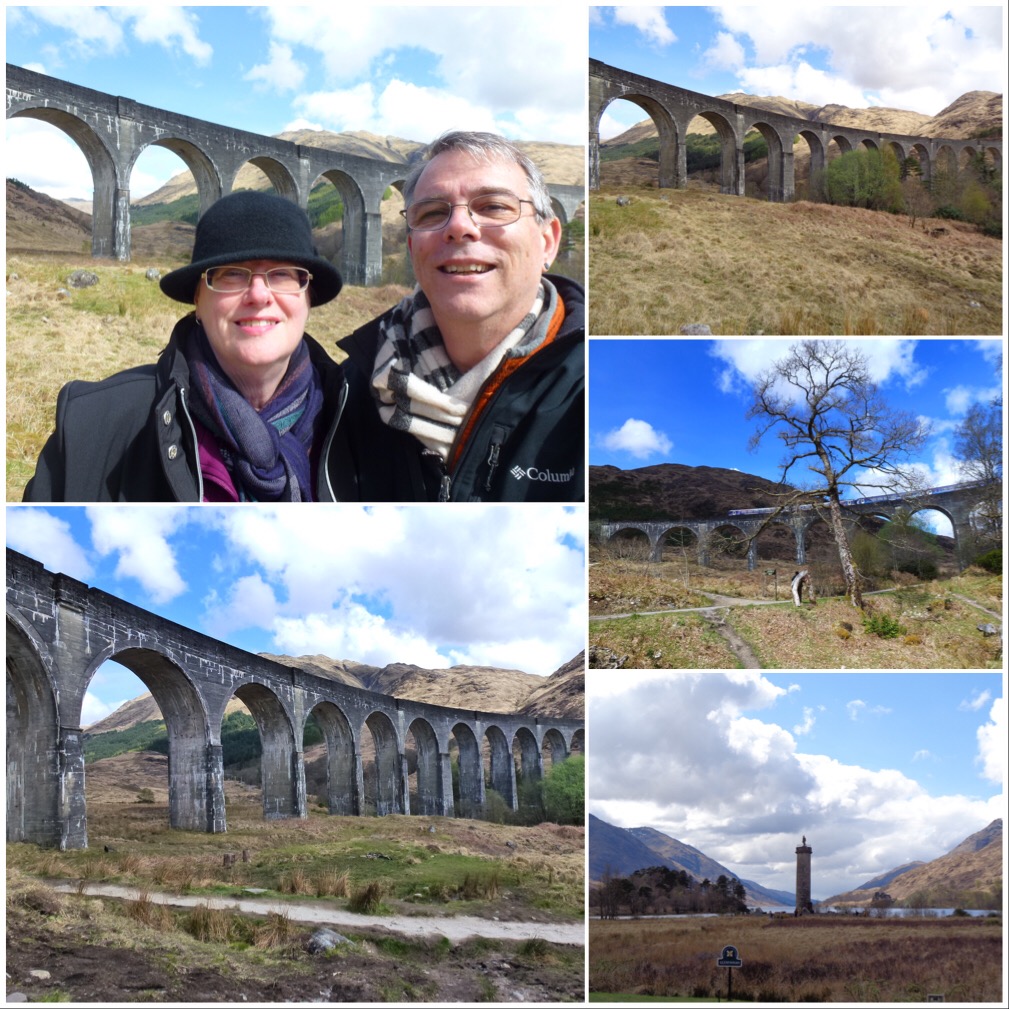 Beautifiul blue skies, water as still as glass, wow! We landed at Kilchoan and then set the satnav to point us to Glenfinnan and a view into the scenic world of Harry Potter, with a walk up to view the wonderful old viaduct used in the movie to transport the Hogwarts Express closer to its destination. Apparently some days a steam train still crosses it, we saw a couple of trains but they were more modern and seemed to be full of muggles.
After a look around, cup of tea and a bit of a refresh we hit the road again and headed to Loch Oich. Let me put it out there, I do not think Scottish are very particular about what they call a Loch. We saw puddles, huge land locked bodies of water and coastal inlets all called lochs so I am officially confused (Jo says it is not that hard to confuse me, she may be right). Some of the lochs have sensible names, others downright silly – who would call something Loch Lochie – it is like they are not even trying.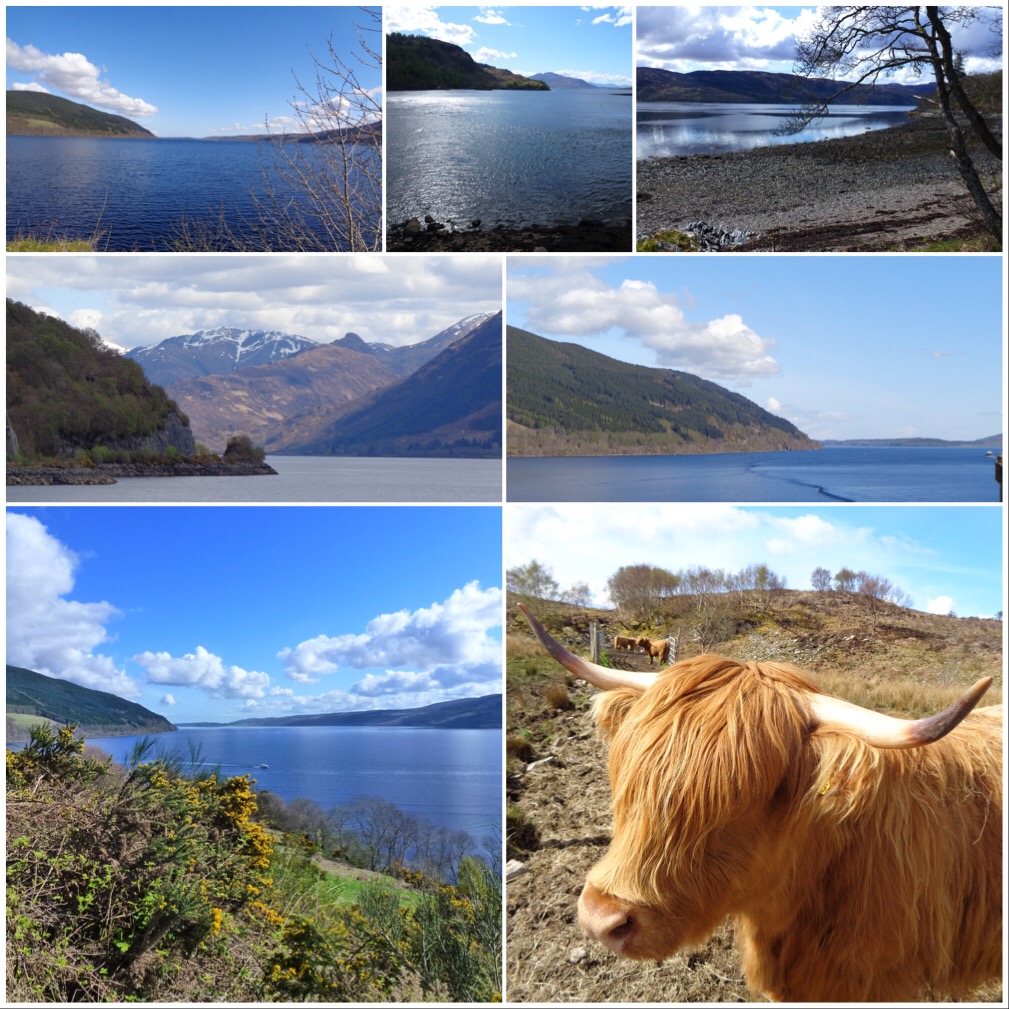 After a long day driving, we approached Kyle of Lochalsh, our homebase for the next 3 nights, but stopped to take in a lookout that showed us Castle Eileen Donan, a magnificent restored castle we would get up close and personal with on the morrow. We then headed to our unit, checked the kitchen (always a good idea before shopping as stuff may be supplied already), then walked, cold bags in hand to the local Co-op (a grocery chain) and provisioned. Tea, meal, cake (we still have cake from Betty's Tea Rooms) and a well earned nights sleep.
Next morn, we were on the road and hankering for some castle. We had scheduling problems. It seems regional bicycle races are following us around, this morning (Sunday) there was a big cycle race around Loch Ness, our first destination for the day, but a slightly late breakfast and a long drive meant we had the roads largely to ourselves and the roadblocks were gone just as we got near our first castle for the day- Urquhart Castle, well, what is left of it that is.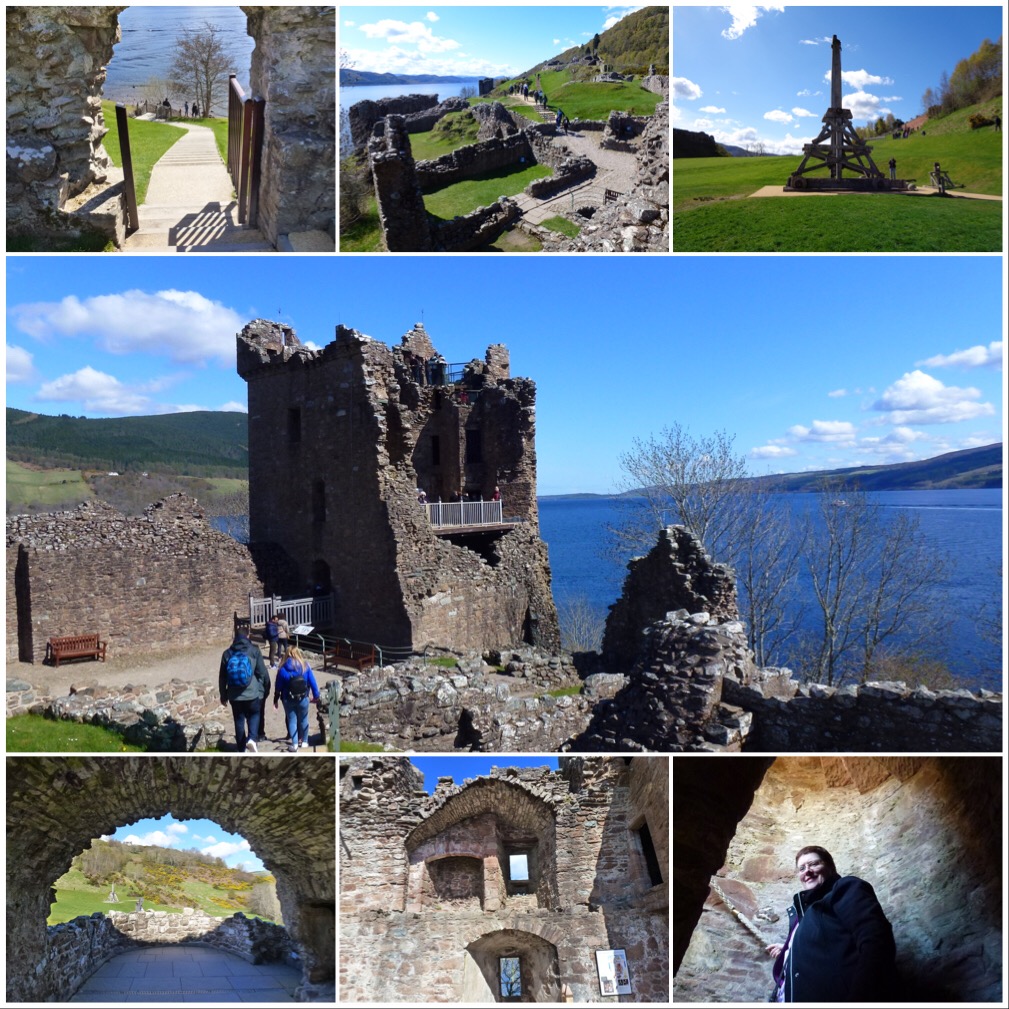 Seems this castle, half way along Loch Ness, is the sight of siege after siege, with clans coming and going, squabbling over property, money and other things that seemed so important to ancient, angry, warring men in skirts. Do not get me wrong, the Scots and their ancient forces were terrifying and really good at war, I just have no idea how kilts became a thing, it still confuses me.
We wandered through carefully stabilised remains of a multi-stage castle, learned about the development of the site and the eventual abandonment and subsequent destruction (presumably so no other clan could use it). Much of the castle we "recognised" and could figure out form and function. The splendid remains of the towerhouse was interesting to explore – amused by a group of elderly American women who were winging about "how crap" it was there was only one spiral staircase to get up and down, failing to realise the other was destroyed in the 16th century, not merely as an inconvenience to them.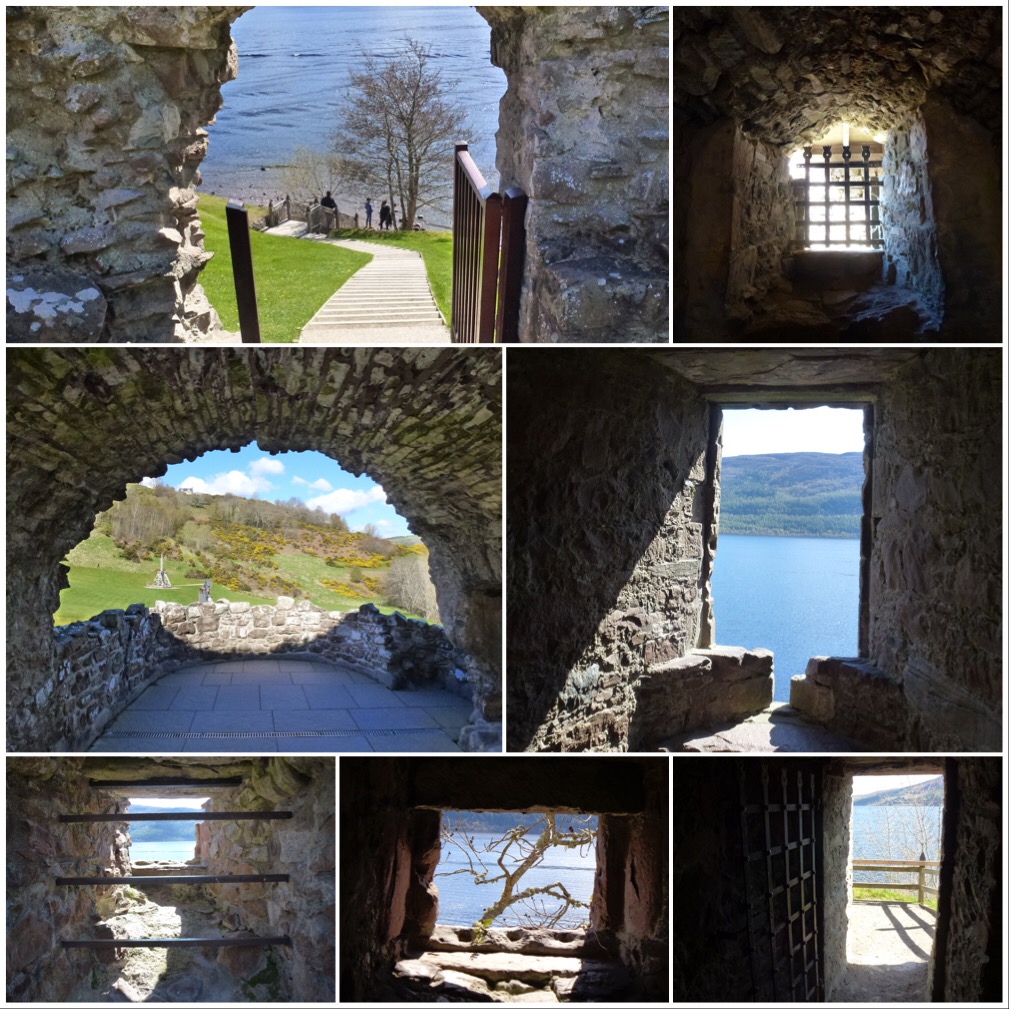 They have done lot to make the castle accessible and provided a lot of info on the associated clans and development history. A man was dressed in full Scottish armor and gave really interesting insights into the miserable and dangerous life of a grunt soldier.
Nearing lunchtime, we drove to Fort Augustus and walked the River Oich and canal system that makes it possible, via a series of locks, to navigate from Ness to Oich and beyond (now there is a holiday idea). We walked back down towards Loch Ness and found a park bench in the sun and lunched, attended to by a pair of Muscovy ducks ever hopeful of a crisp or crust. After lunch we explored what we thought were canal-side craft shops but ended up being pubs and food shops. There were heaps of people around, business opportunities abound here I think.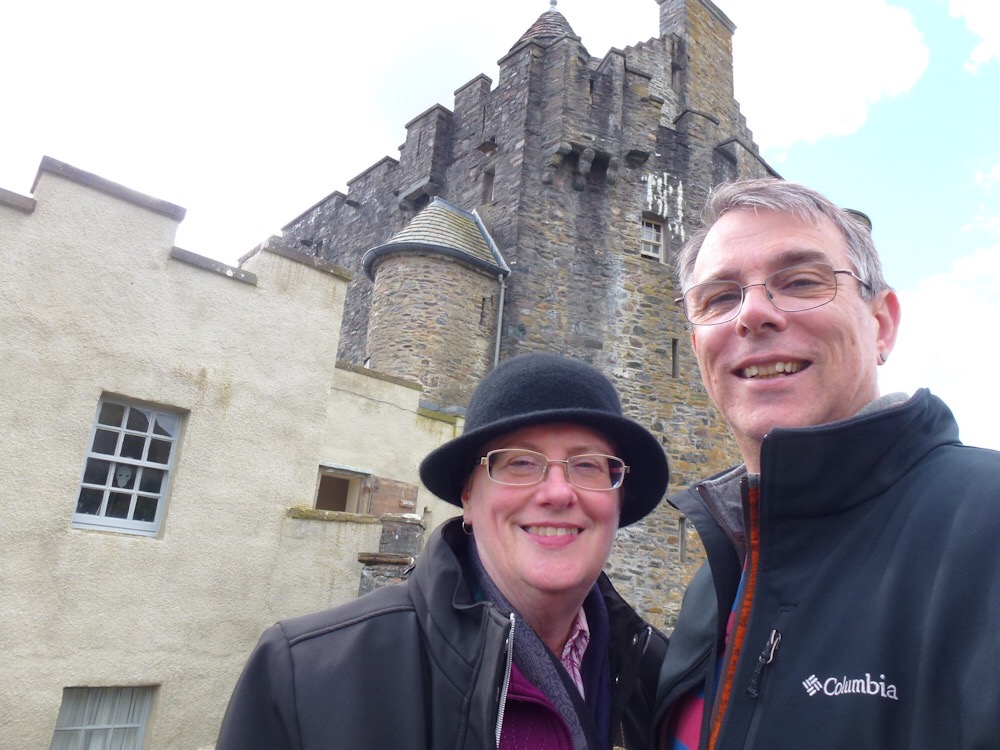 Suitably lunched, we hopped back in the whitey-mobile and motored back to Kyle of Lochalsh to explore Eileen Donan Castle. This castle was really well set up with a cafe, information centre, shop and the castle itself was sensitively restored, many of the rooms re-furnished to give what I thought was a fairly authentic view of what it was like to live in a castle.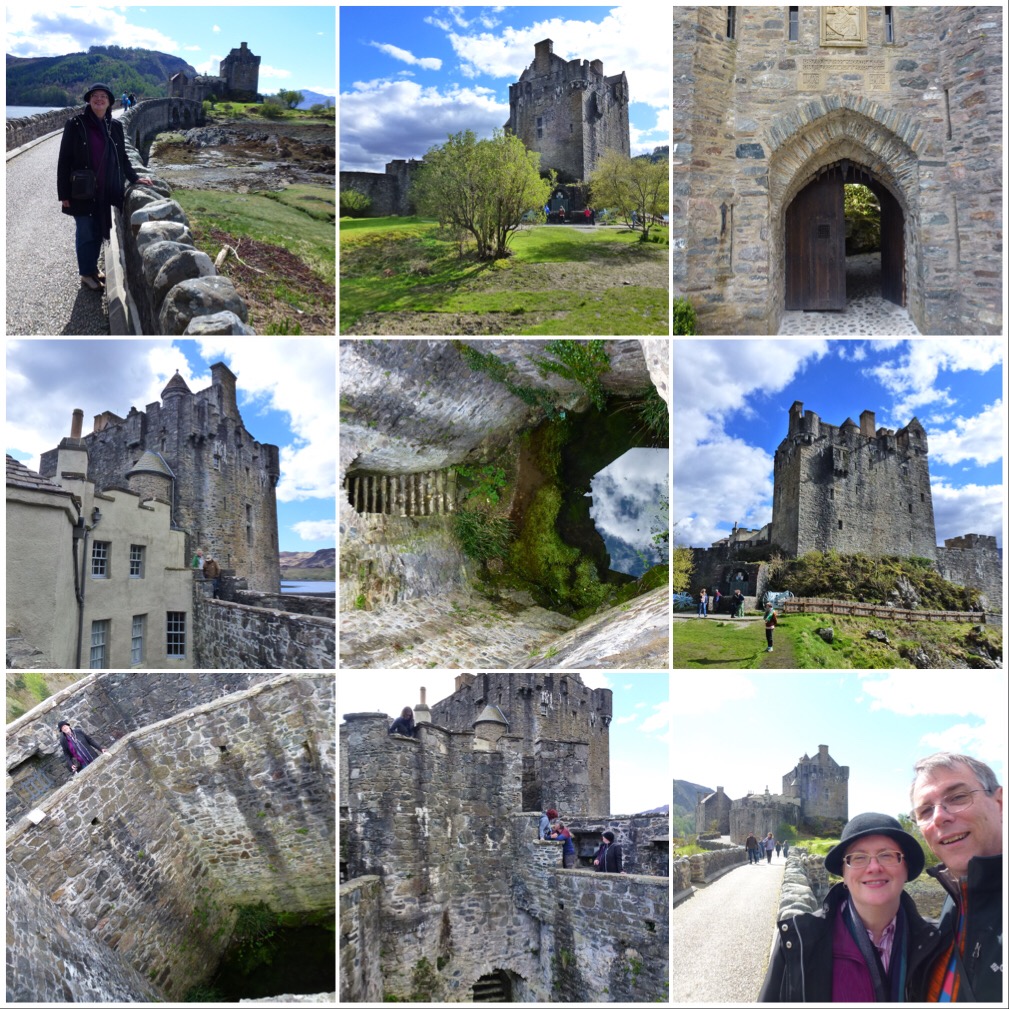 We loved exploring the staircases, passageways, tunnels, and rooms and think the restorers have done a good job, considering the pile of rubble many parts of the castle were beforehand. The mix of audio-visual presentations, period furniture and chap in a military kilt combined for a terrific visit, but the no photography in any of the rooms was a bit of a pain. So many unique features here – the crawl spaces between rooms, the fortified well, portcullis and causeway are all really interesting.
After a long day on the road, we retired home for dinner and a rest, Isle of Skye on the morrow.