Based as we are at Kyle of Lochalsh, the bridge to the Isle of Skye is basically walking distance from us. This morning we packaged morning tea, a couple of bottles of water and set off for the island with the view to do a little bit of exploring.
As we were on the road fairly early, traffic was light and we drove half way across the isle to stop for a stretch and photo at Sligachan Bridge, a popular camping site at the base of a mountain range oft thought of as the birthplace of modern mountain climbing. Snow covered peaks in the distance were spectacular.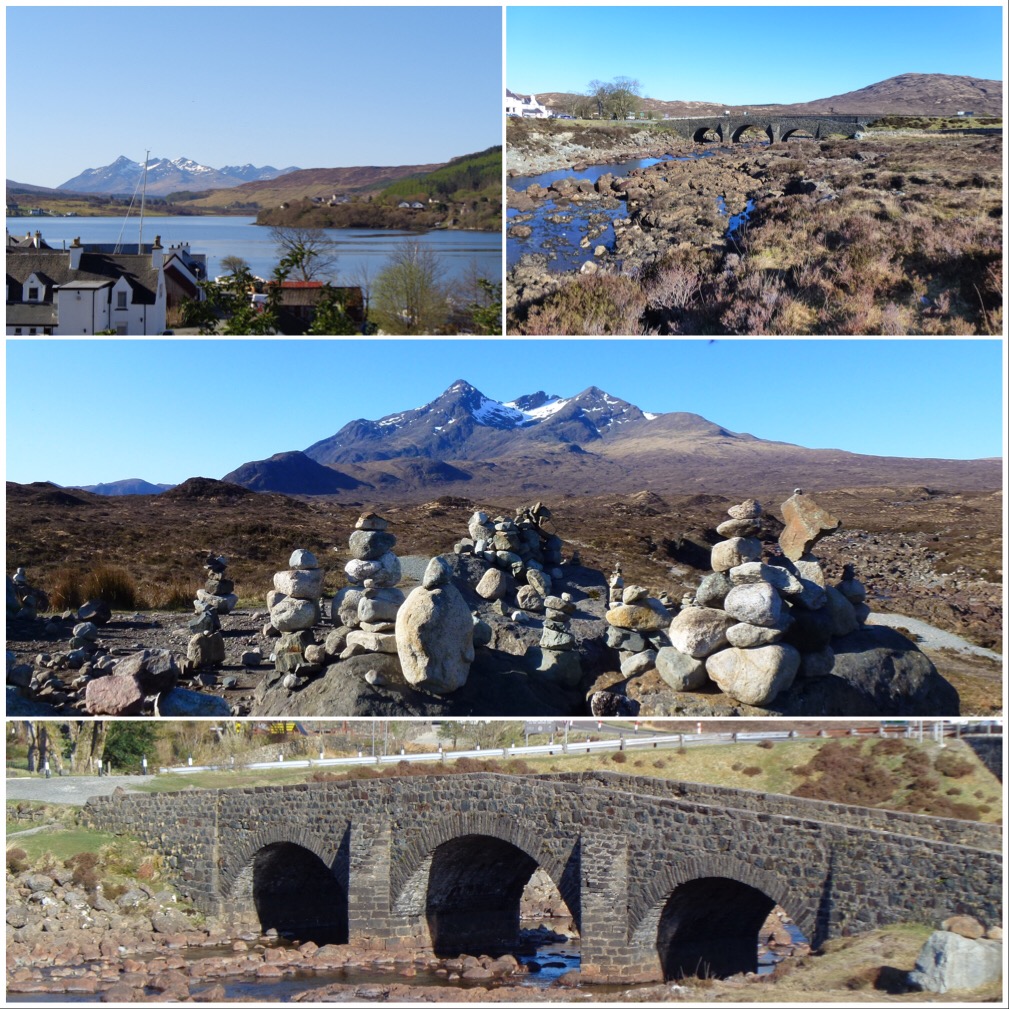 We then motored on to Portree for a pit stop  before heading for our primary destination for the day – Storr. Approaching our destination, a monumental rocky outcrop emerged from a large mountainous lump, with multiple crags and spires evident, Jo then said "we are going to climb that"…. another look up and tentatively I said ok.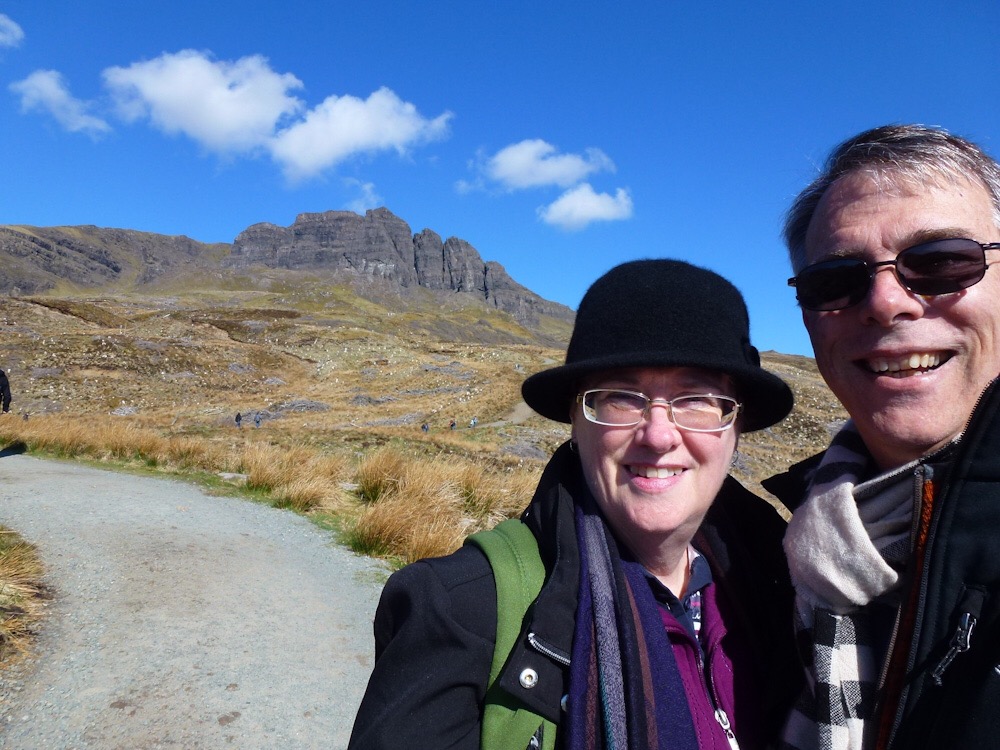 We were advised to park in the carpark adjacent to the entry gate, as the off season (we are sort of still in it due to unseasonal cold wet weather still) the site is likely to be less busy. Being a beautiful sunny day, every man and his dog was there, we parked a half a mile (so it seemed) away, packed some chocolate biscuits (never a need for an excuse), water bottles, rain gear (because … Scotland) in the backpack, layered up because the lazy light wind was brisk and set off.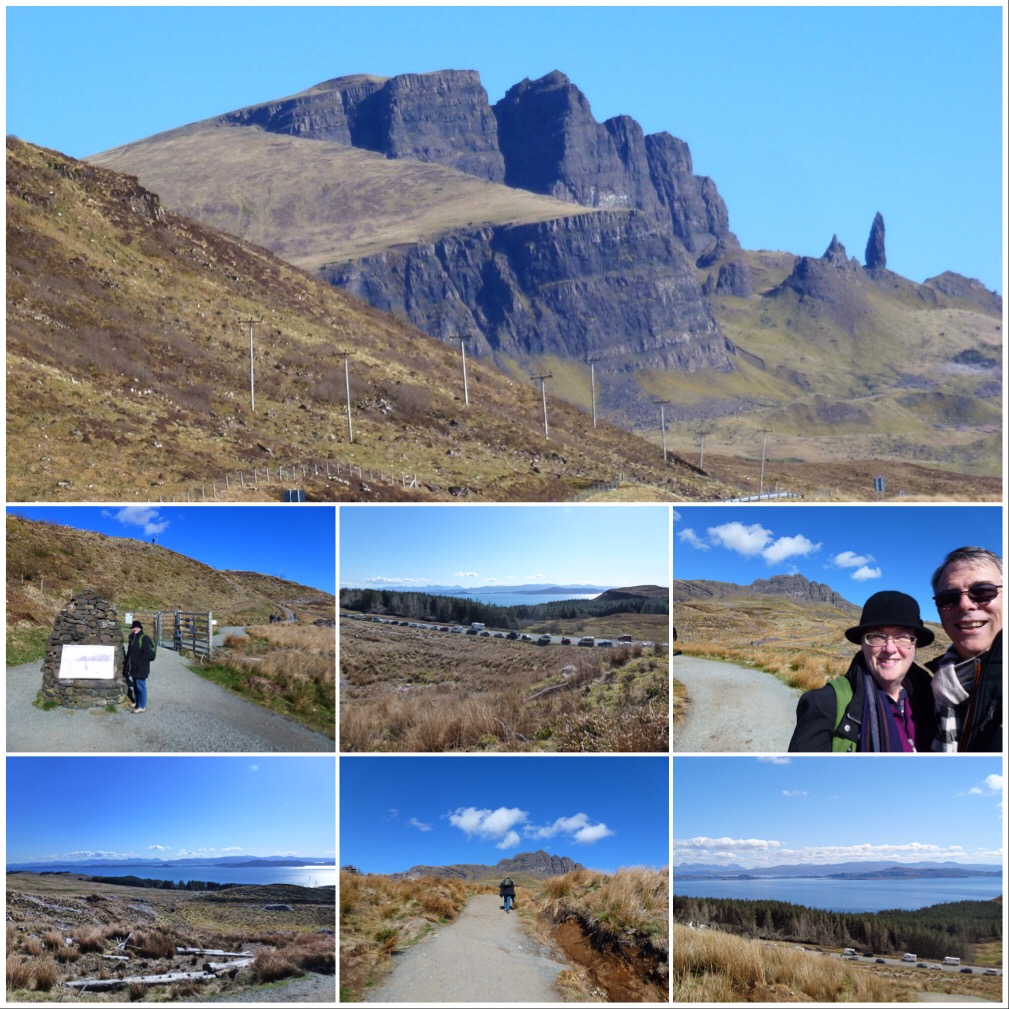 We had NO IDEA what was ahead. We cutely stopped at a cairn (pile of rocks) at the entry gate for a photo, gingerly went in and around and then the first of an increasingly vertical series of uphill climbs. The first stage was mostly gravel, fairly well compacted but oh so steep. We took our time, getting to the first gate being passed (in both directions) by floods of people of all ages, sizes and shapes.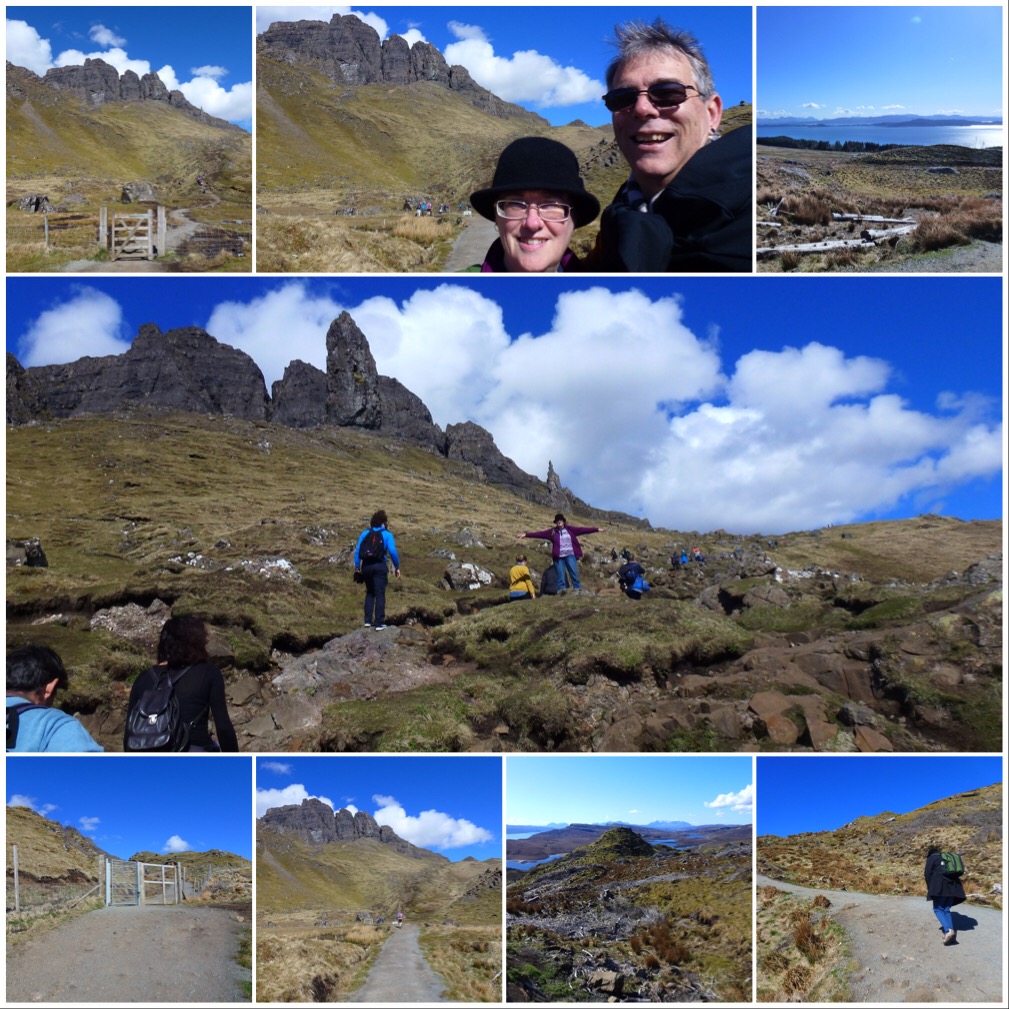 The next stage, through more gates was a mixture of turf, boulders and a sort of path that had been washed out by rain. Looking around the evolving scenery was breathtaking- not merely because we were already puffed but the scale of the view was extreme. At times we could see trails of ants that turned out to be walkers on the paths below us snaking down to where we had parked our car – a tiny dot in the distance.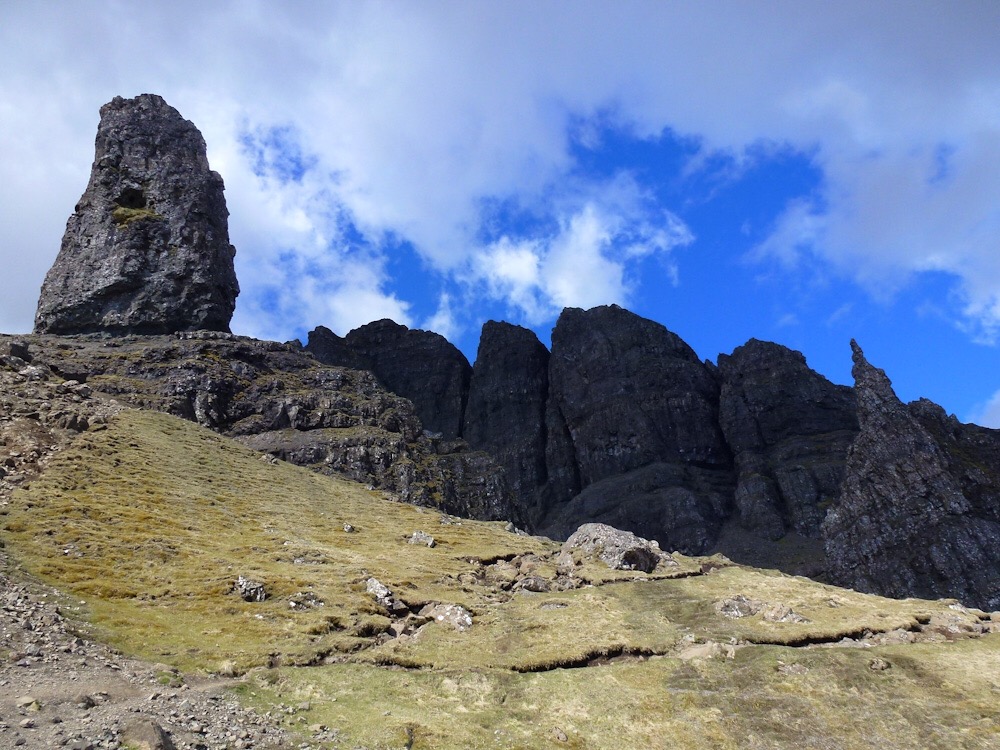 The final stage of our climb up to a rock formation known as "The Old Man of Storr" was over a boulder field, difficult going particularly given how tired we now were. The old man is a stickey-uppey pinacle that sort of looks like a face … from the right perspective … abusing the right sort of drugs, I suppose. It and the ragged bits around it were none the less spectacular.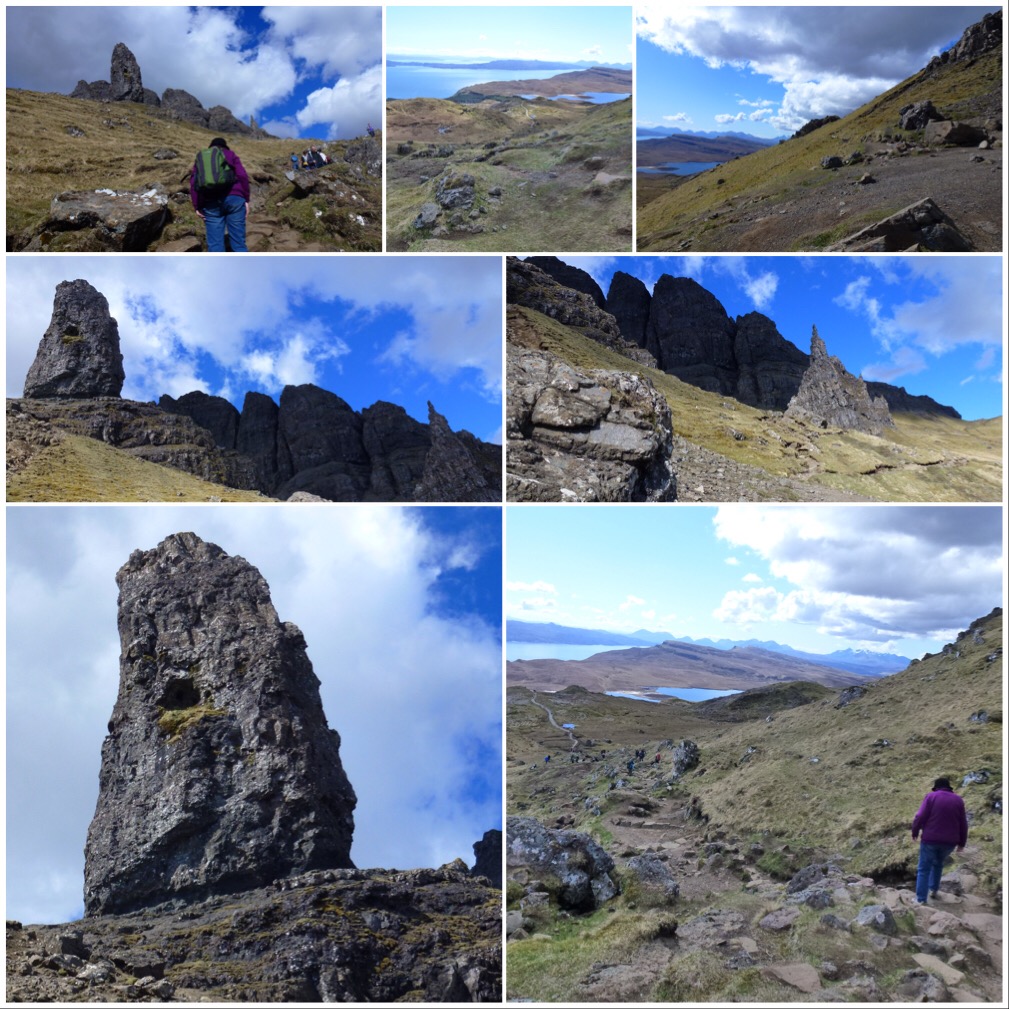 Younger, sillier people headed off long the ridge we had reached to a distant toor, for a view along the ridge but we were tired, my legs had gone to jelly and chocolate biscuits were to be had. We found a comfortable rock, sat to take it all in and rest our punished muscles. The one problem with mountain climbing is you exhaust yourself going up, only to have to turn around and come back down.
My knees and the muscles in my legs do not much like dragging my body up, but goi g down is much less enjoyable. We had been climbing for the best part of an hour and a half, and that was in bright sunshine, gradually peeling layers but being careful not to get a chill from the even lazier winds that whistle through at altitude. The journey down took an hour and we were both done in by the time we reached the car, needing to sit a while before being able to do anything. I do not think it is because we are unfit – indeed we have both picked up quite an endurance from our 4 and a half weeks of go go go so far, the climb was heavy going. Indeed we passed many people who had decided they had gone as far as they could. We were both very proud of our efforts on the mountain.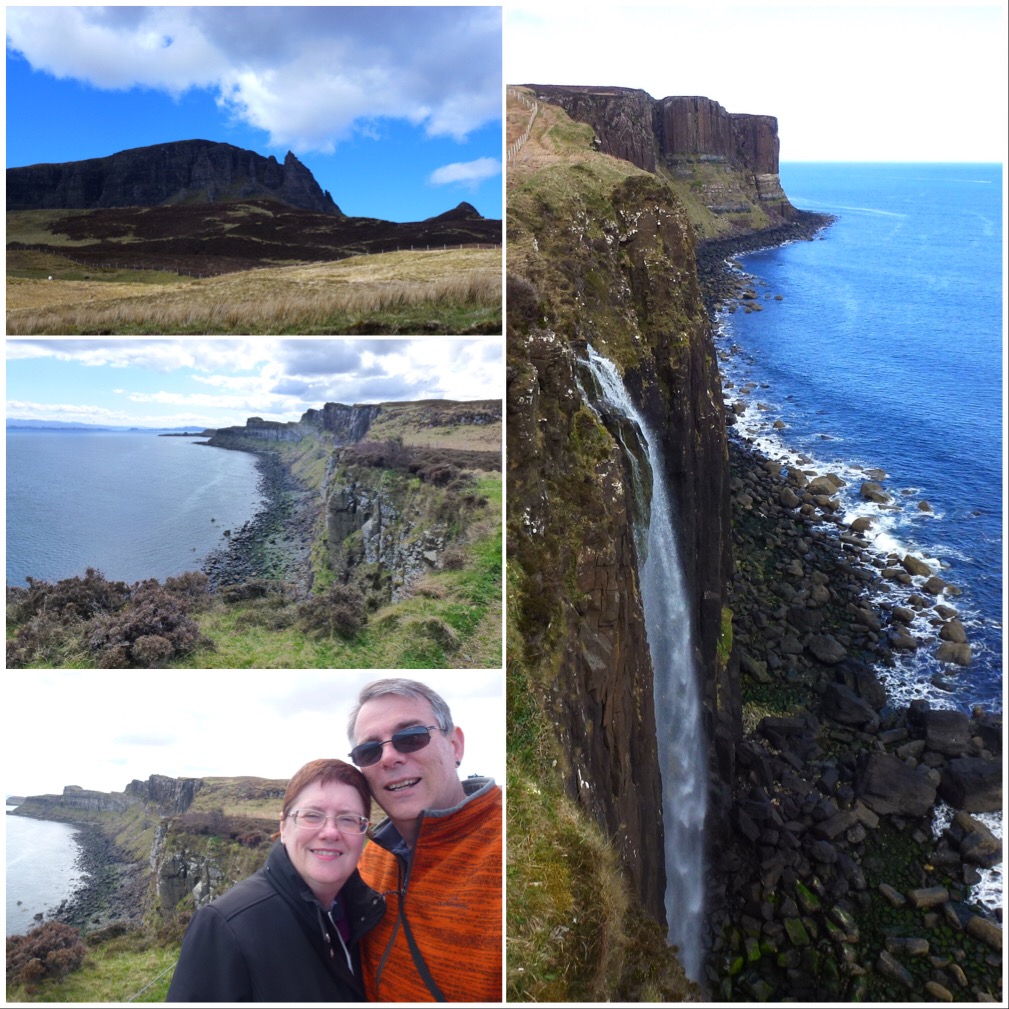 When suitably rested, we fired up the car and drove to Kilt Rock, a set of rugged cliffs (one with a spectacular waterfall). I thought it odd that there were not seabirds nesting on them, like there was on the cliffs of Moher. They were not as large, but opening to the sea I thought they would flock there (I secretly wanted to see puffins, but we were on the wrong side of the island apparently and it was the wrong time in the season for them as well – you can't have everything I guess.
Hungry, we drove t9 a nearby weaving gallery and cafe and enjoyed a warming bowl of roast vegetable soup followed by delicious cakes and tea/ coffee because we thought we had earned them.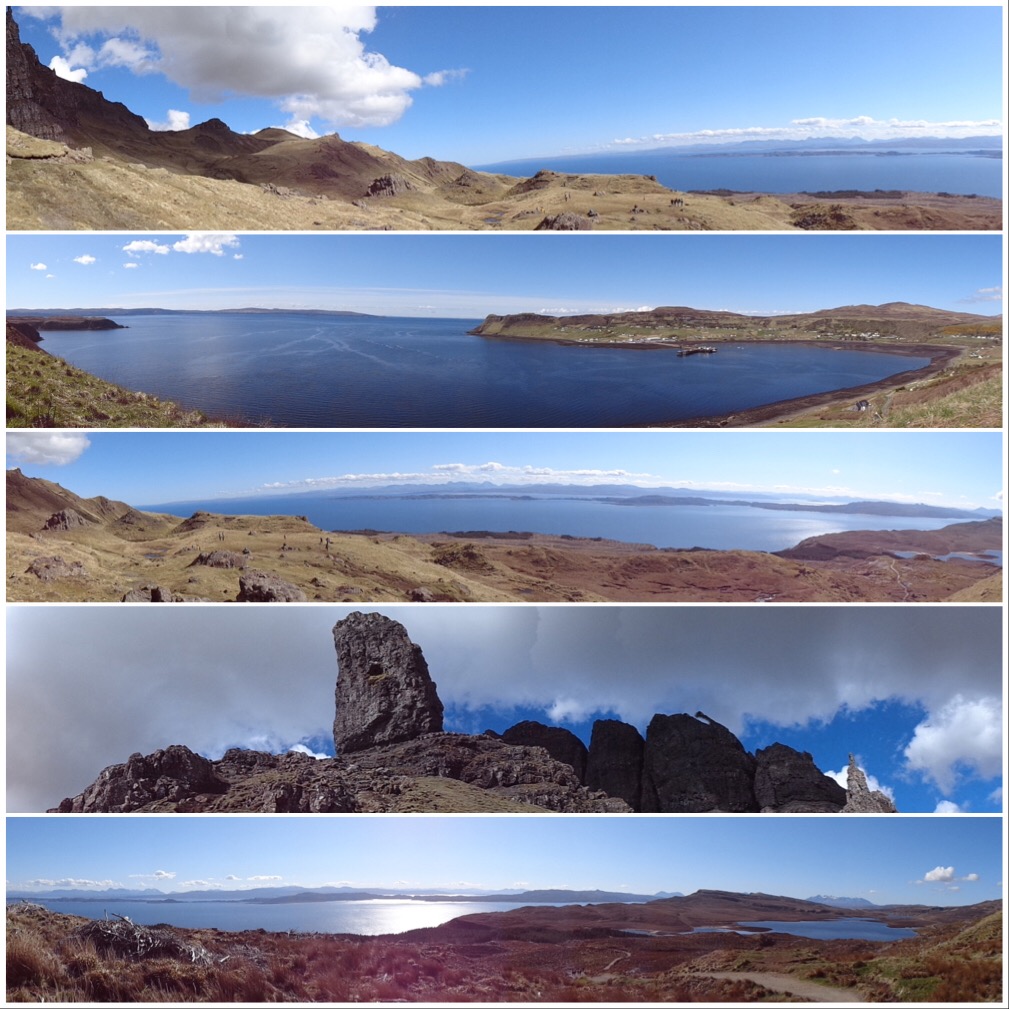 Our drive back to Portree was scenic (the satnav is stuck in "torment the tourist" mode so we travelled miles of single lane (with passing places) back roads up hill and down dale as we circled lochs, coast lines and mountain ranges. From Portree we headed for home thoroughly tired and had an afternoon nap to let our joints and muscles properly seize up.
Such a brilliant day, we merely scratched the surface of The Isle of Skye – there is lots more to expore and a really vibrant arts and crafts scene on the island also. Maybe next time.