Day tripping in Scotland is such a rich experience, and although at times the driving on single lane (with passing places) can be really hairy, there is so much worth exploring.
The countryside is ancient, with evidence of habitation going back to Neolithic times, we visited Culloden battlefields, learned of historic battles between Scottish nationals and the English. This seems to be a recurring theme in Scottish history, independence seems to continue to be relevant. Although I do not have any photos of the Culloden centre, we spent much longer there than we originally planned because it was so interesting. The visitor centre tells the history using personal stories – we loved that approach at the Irish Immigrant centre in Dublin and were swept up in it here also.
After Culloden we had a "Scottish Picnic" as we have begun to call them -we plan picnic food but when we get to the spot it is either raining, blowy or freezing – at Clava Cairns it was all three, so we ate in the car as the windows fogged over (our Scottish Picnic). Clava Cairns are a Neolithic burial and ceremonial site with fascinating piles of stones, standing stones and an atmosphere that was accentuated by a local lady who was in one of the stone circles playing a whistle "for the spirits"she said, nice.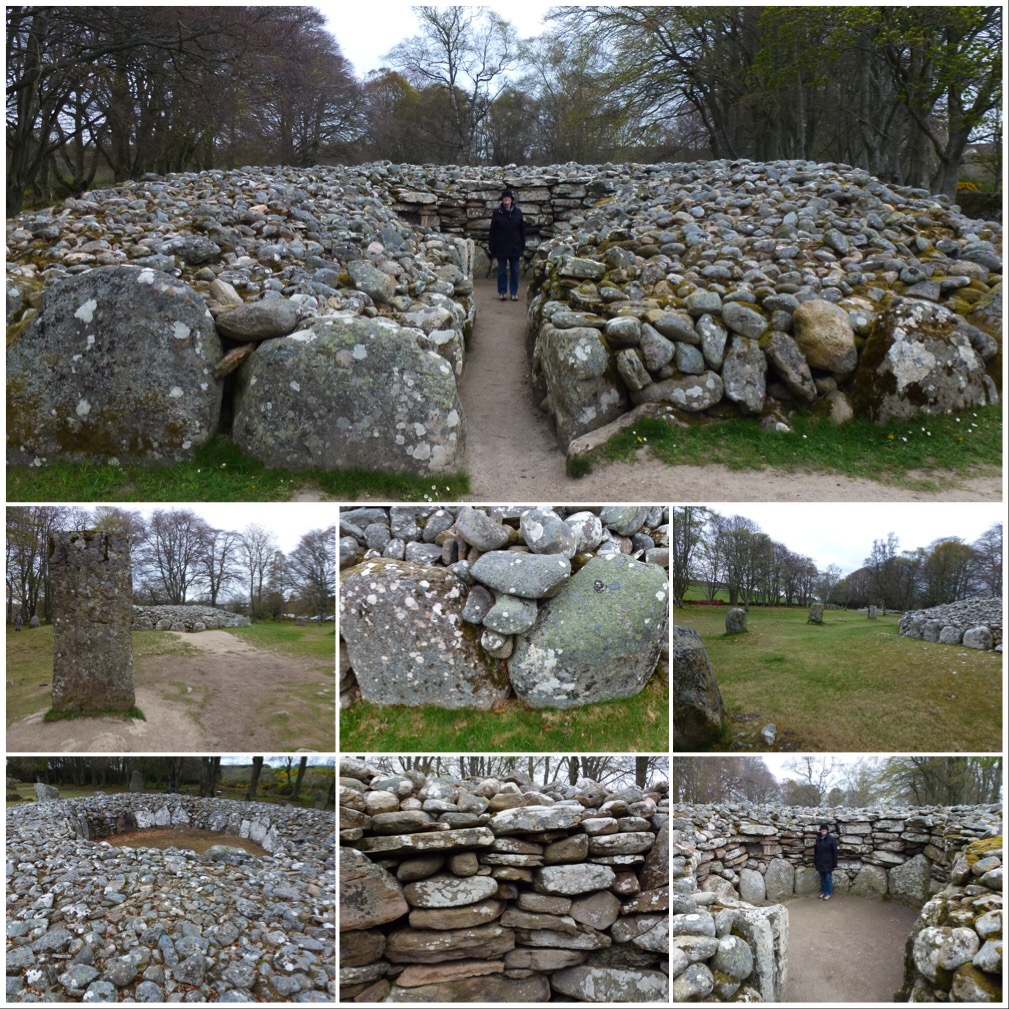 Throughly cold, we then travelled to Glenfarcas whiskey distillery. Now to be fair, neither Jo or myself are actually whisky drinkers, but when in Scotland it seemed like we should at least try it. When on Mull I had tried 6 different whiskies and learned that with a little water or ice allows you to taste the different characters. As I understand it, the whiskey making process starts with a strong beer, then they distil the spirit alcohol from the beer, purify it and then blend it to ensure it is not lethally alcoholic then flavour it by storing it in second-hand wooden barrels that have had other booze in them before (like sherry or port) – this seems a little cheaty to me as the whisky takes on the flavour of the barrel, the longer in the more drinkable it becomes and more it costs. Wine seems to me a little more honest in this respect as the grape juice merely takes on the wood character.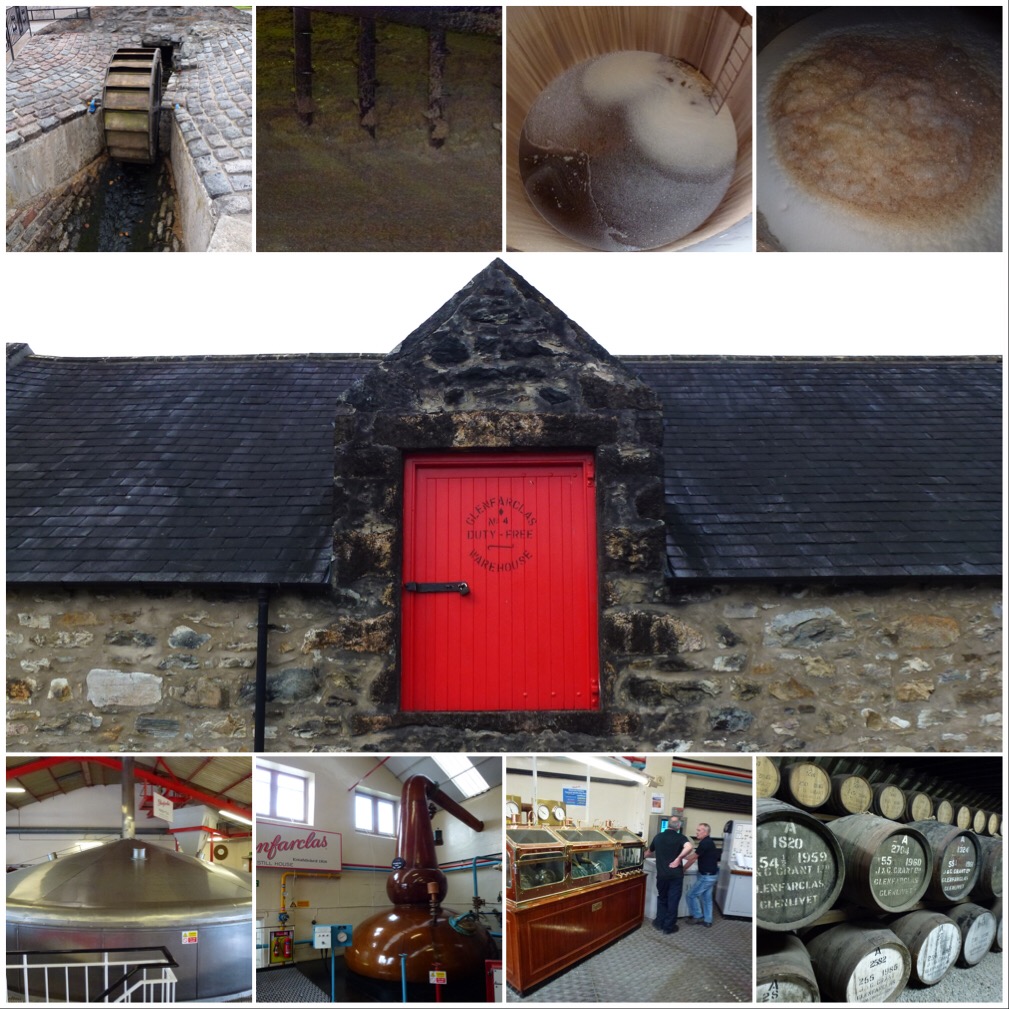 We toured the Whisky factory, saw the process, saw the storage and rather nicely a vintage system that saw a 1960 barrel (our birth year) but sadly put a bottle of that slightly outside our price range (at £3650 per bottle, this seems an expensive tipple in anyone's language – strangely Jo said no when I suggested we take home a bottle).
Over 6 months ago Jo, as part of her research, discovered a unique experience she decided she really wanted to take part in. She followed the Cairngorm Reindeer Centre on Facebook and, regularly, showed me the blizzard-plagued videos of cold people searching for a herd of reindeer among the mountains, and we were keyed up to do this. The morning we were booked to go was grey, freezing and wet – a good start, still we headed up the mountain and registered for the mid-morning expedition.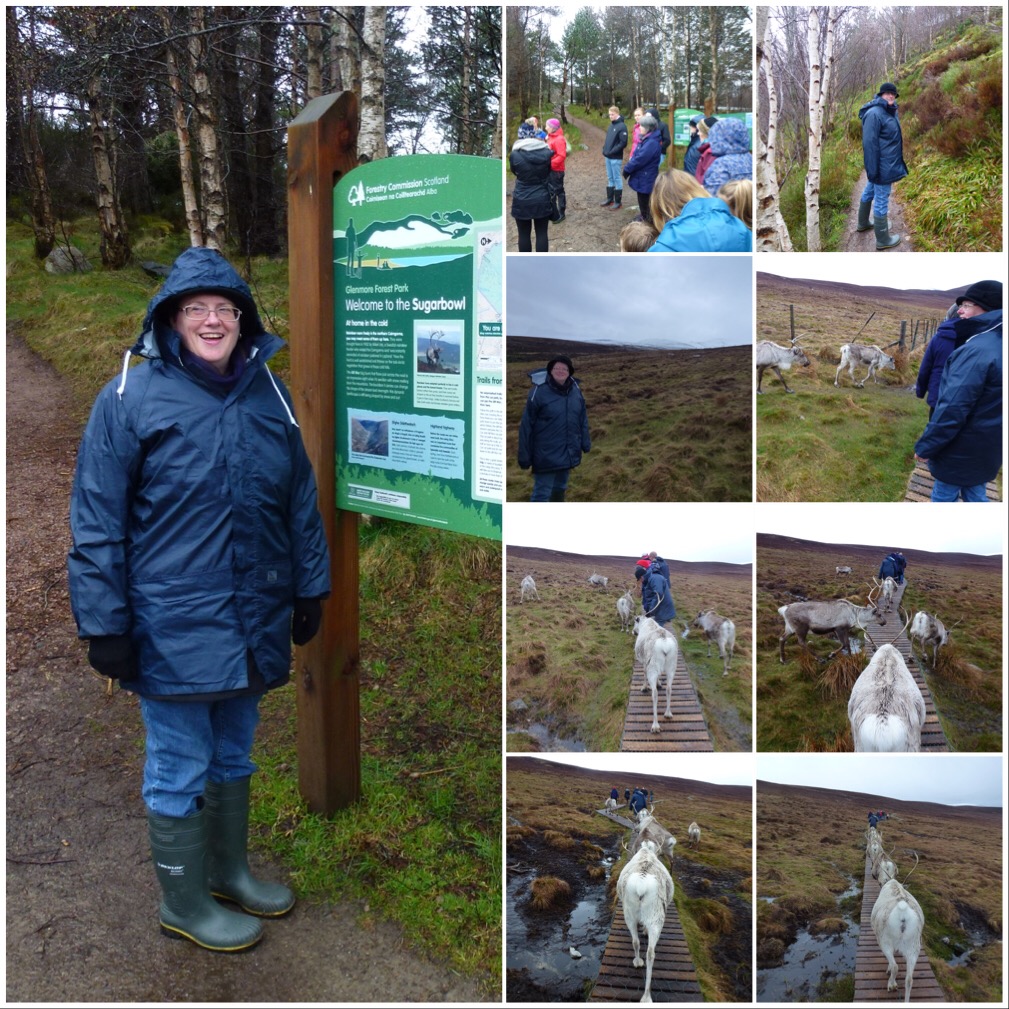 Wearing nearly everything we brought, and raincoats, we drove to the upper carpark and it was snowing/sleeting … good … we were joined by the guide and a fair crowd, then walked up the mountain through waves of drizzle and icy winds. We were told there were fresh snow falls just above us but that seemed rather unimportant as we entered a paddock and was joined by a friendly group of reindeer who walked among us looking for food. We walked on raised boardwalks and the reindeer were so quiet we barely heard them as they joined us – quite magical really.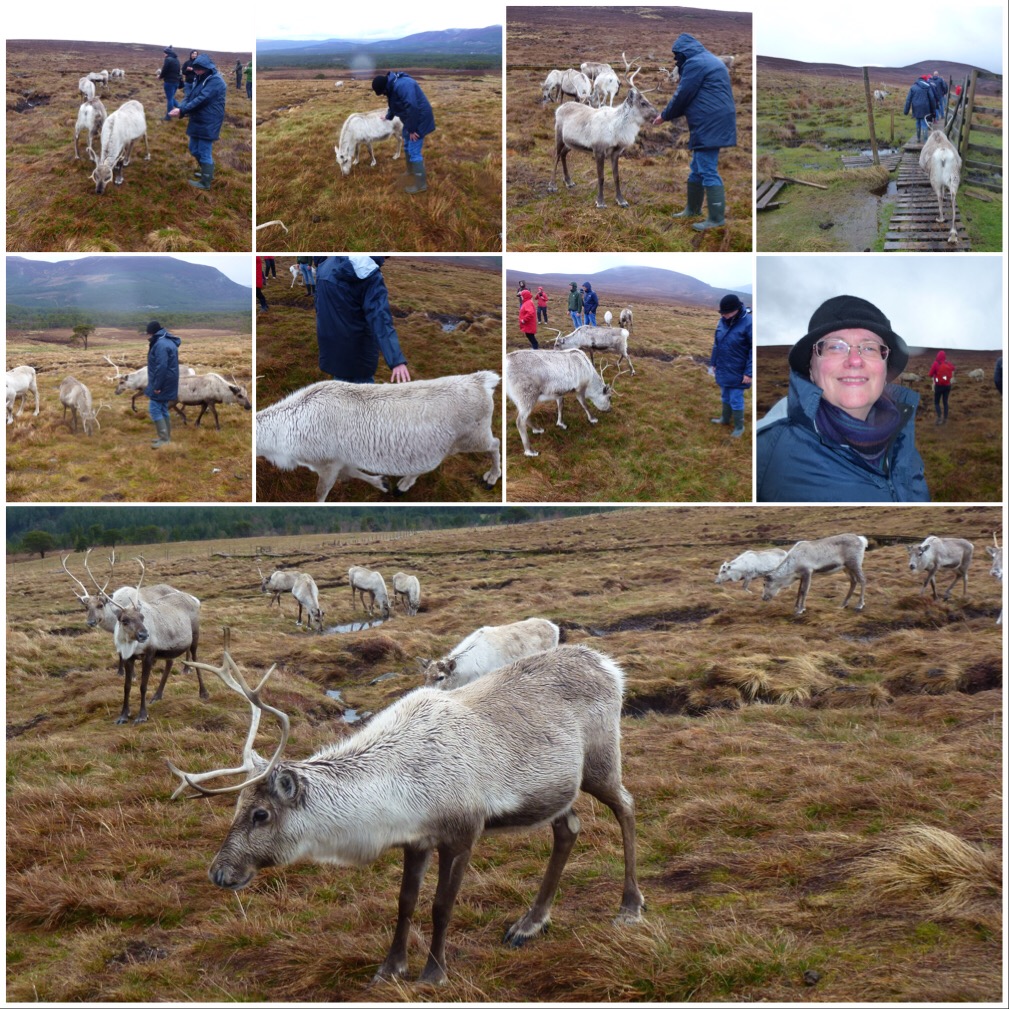 Jo got to feed and pat a bunch of them, as they chose to be among us. Seems they are adapted to grazing on really poor vegetation (mostly moss, lichen and berries) rather than grass and hay, so the treats brought for them were a couple of types of sparse muesli. I was amazed how gentle and quiet they were. The only real sounds we heard were a gentle clicking of their feet. Jo was surprised how small they were, how velvety their nose was and how friendly.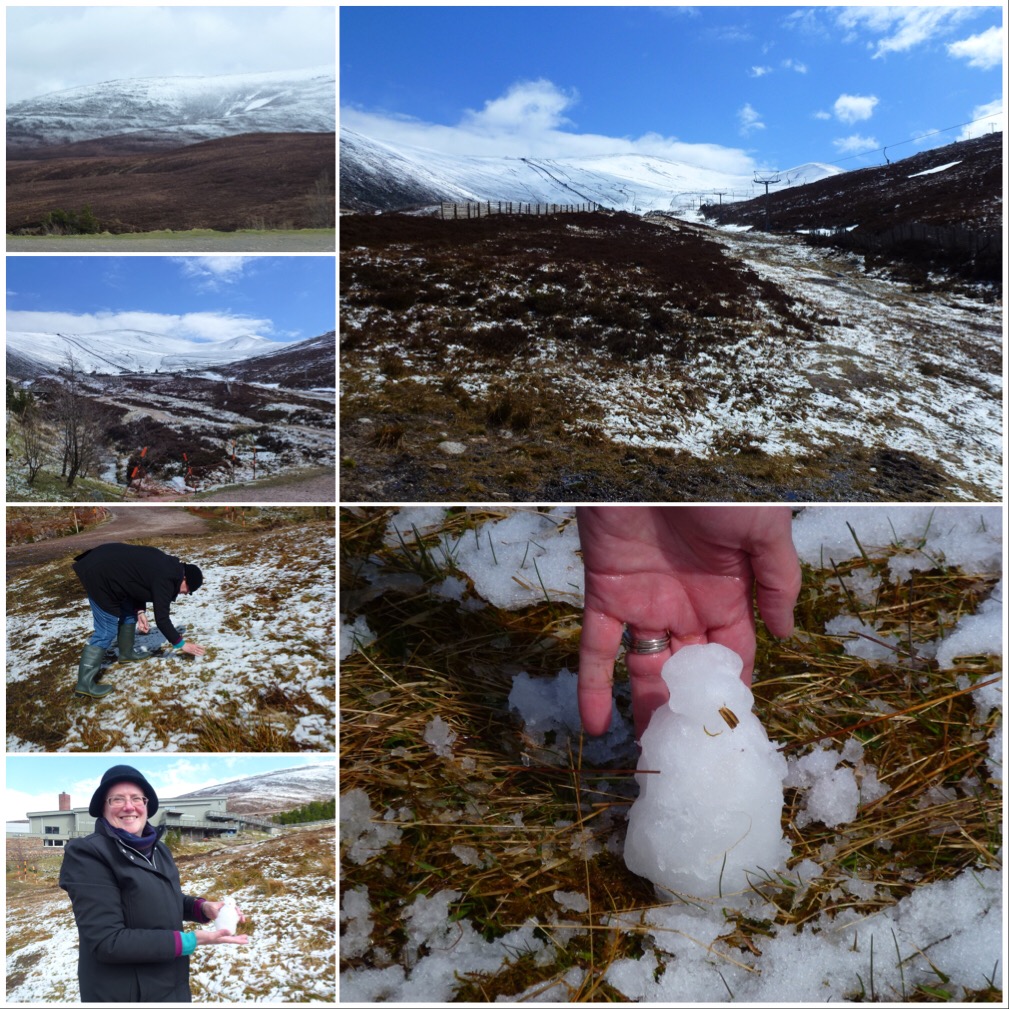 Bouyed by our encounter, we decided to drive up above the snow line and discovered one of many ski resorts on the mountains of the highlands. Snow had turned to ice but it was none the less pretty. Jo decided she wanted to make a snowman, but struggled to make any thing bigger than a micro one.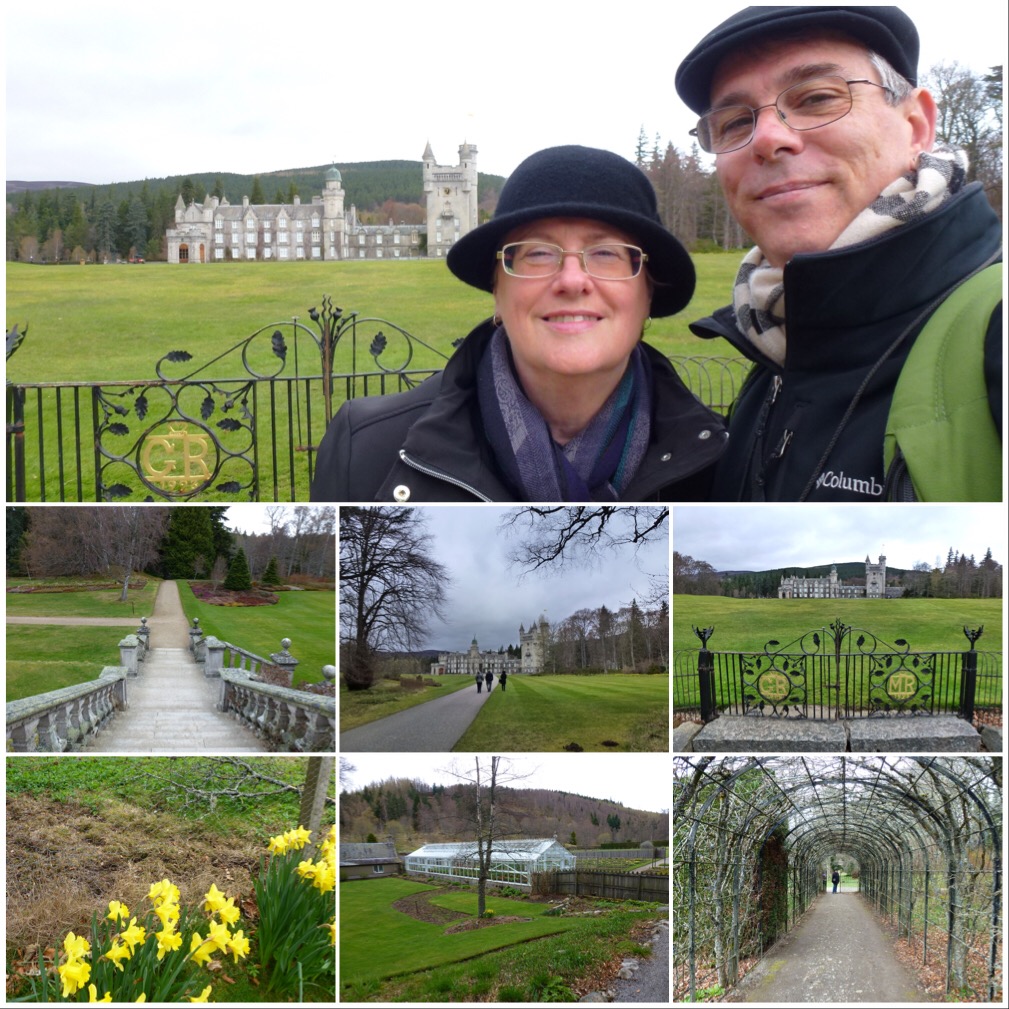 While in the area, we decided we had to visit Balmoral Castle, one of the favourite summer residences of the royal family. The castle and grounds are in "early spring" mode due to the unusually late cold and wet winter. We strolled through the woods, gardens and were interested by the detail in the audio guide and self-guided walks.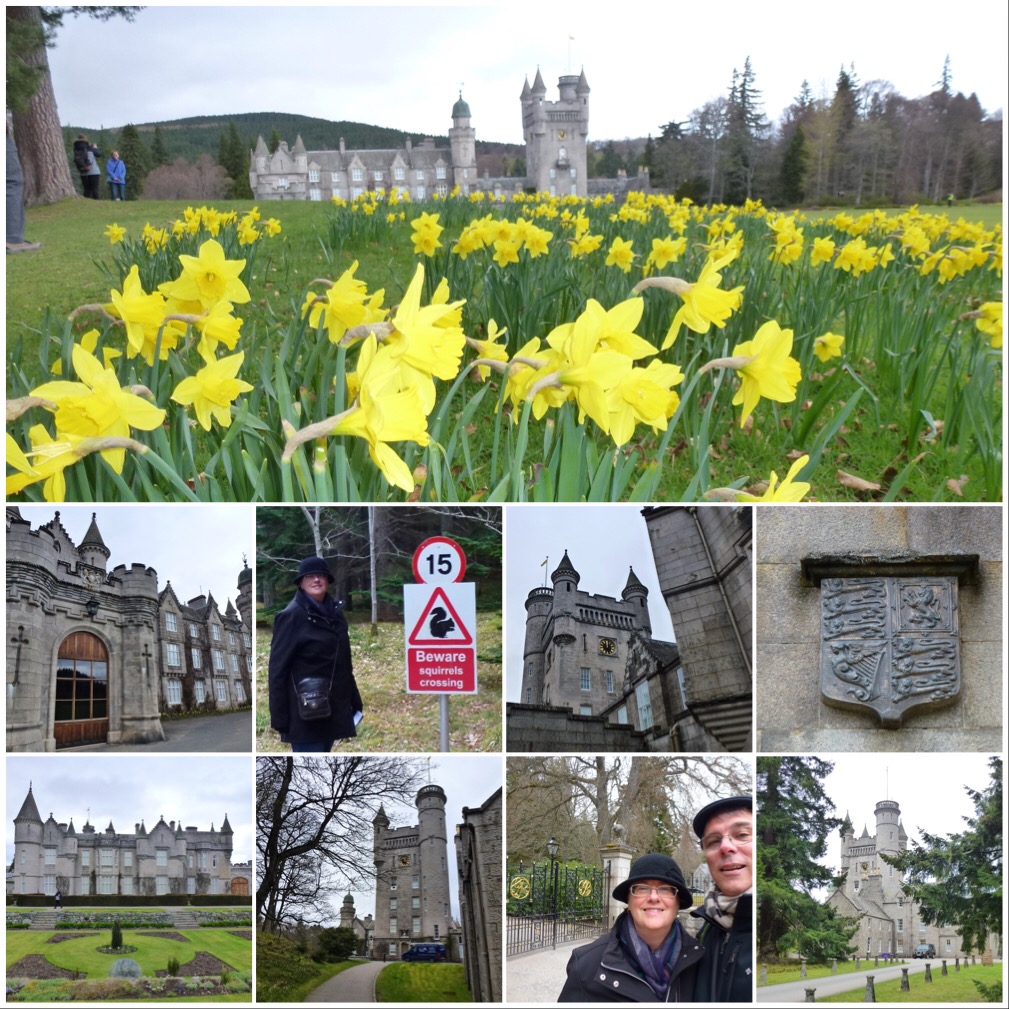 The castle itself is beautiful, the grounds impeccable and the staff aplenty. We also got to see inside the ballroom, a lavish room full of shiny and lush. We were unable to see any red squirrels but loved the kitchen gardens and glasshouses particularly. The castle is really well set up when open for visitors, you can imagine why the queen so loves it there, particularly when the roads are closed to the public as there is an outdoor wonderland for them to play in. It also seems that Land Rover has shares in the place.