Stirling is in the heart of the Scottish countryside and we find ourself surrounded by little towns and lochs. We spent a day exploring the many and varied environs of Queen Elizabeth Forest Park, a part of a larger forest reserve. We drove to The Lodge Forest Visitors Centre and walked a gently undulating oak coppice trail that took us through mossy bogs, beside a stream and among oak that were just springing back into life after a long winter.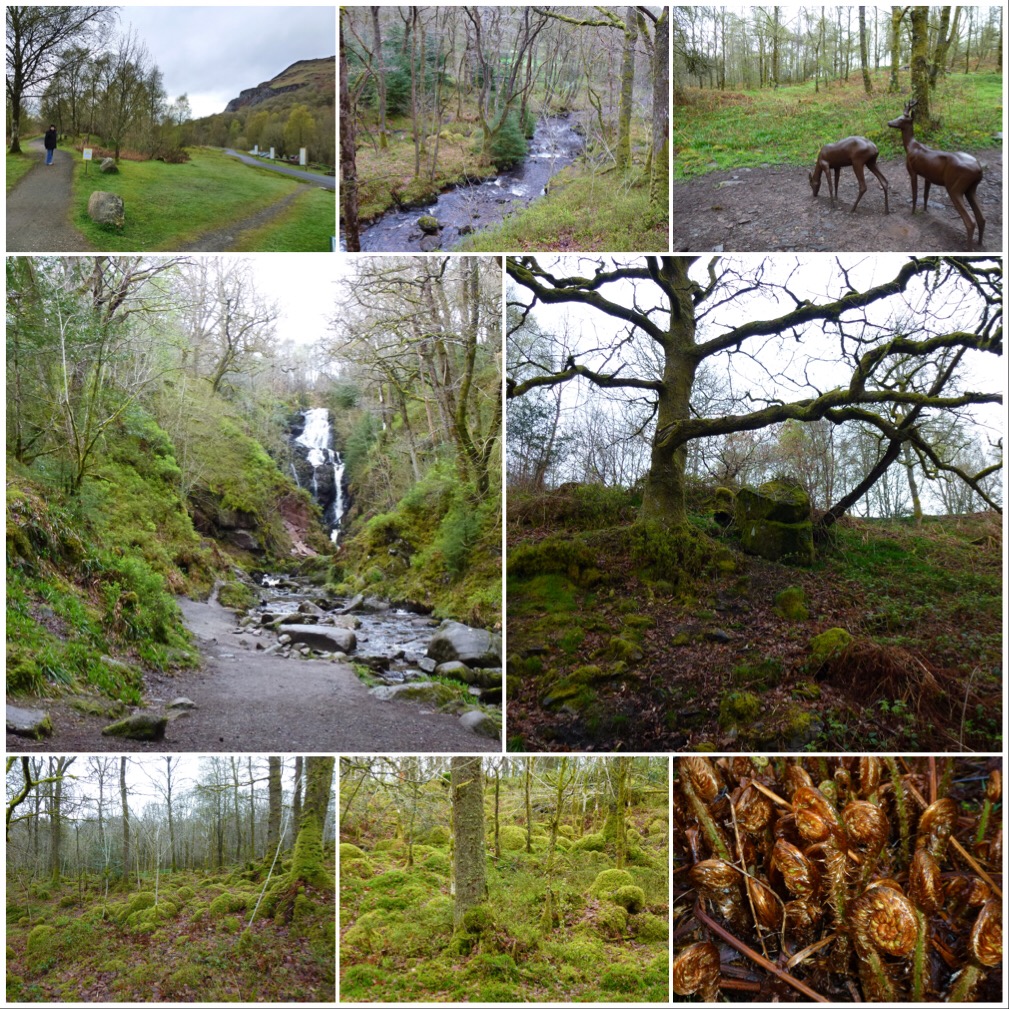 The path circuit was a good warm up for our legs and very scenic. We then drove the "Three Lochs" trail, a lovely scenic track in fair condition that weaves (thankfully one way) over mountains, around lochs and through beautiful lush forests.
We parked at Loch Drunkie (names for lochs get increasingly silly) and did part of the wrong walk before finding the correct (green) track that looped around beside the Loch through beautiful green trees, mossy slopes and water views. There is water everywhere here, so much so it is evident the large trees never sink deep roots (I would guess the ground is so sodden they do not need to bother) with the result that when they get huge they seem not very stable. We saw lots of tumble over trees that lifted huge plugs of peat with them as they fell, presumably from strong winds.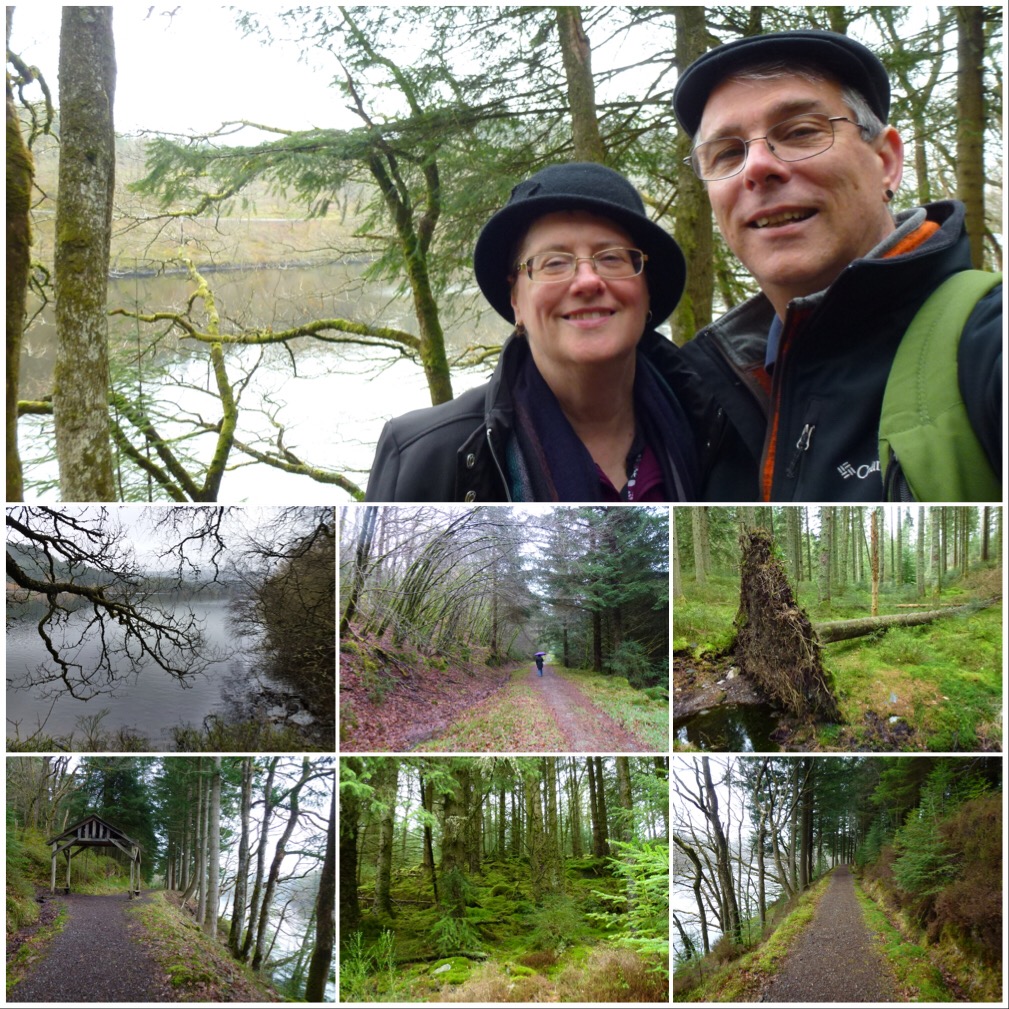 We looked for squirrels, saw lots of birds but alas Jo's squirrel quest is yet to be fulfilled. I liked that the park had engaged artists to place musical sculptures on the walk, nice interactive pieces that allow walkers to join in with the bird chorus in interesting ways. Although for much of the walk we were enveloped in "Scotch Mist" – the most pervasive sort of superfine drizzle that seems to float rather than fall, the scenery was stunning and the distance resembled an abstract watercolour painting.
After our walk we had a Scottish Picnic (the rain increased) and we feasted on provisions secured from a farm shop the day before. Scotch egg, smoked haddock and leek quiche went down a treat. After lunch and a pit stop we headed off to Loch Katrine for a rendezvous with a steamship.
Loch Katrine is the main watersource for Glasgow, a huge and insanely deep Loch surrounded by mountains and forest. Some days there is a steamer that takes passengers much of the length of the Loch and we were booked to do this. The water was glass-like calm and black, we were joined on the water by another tiny 2-3 person steamer with the cutest little boiler, clearly lovingly restored by its elderly captain. We were greeted onboard by a deckhand wearing a cotton shirt and trousers – how is it possible he did not even look cold we thought.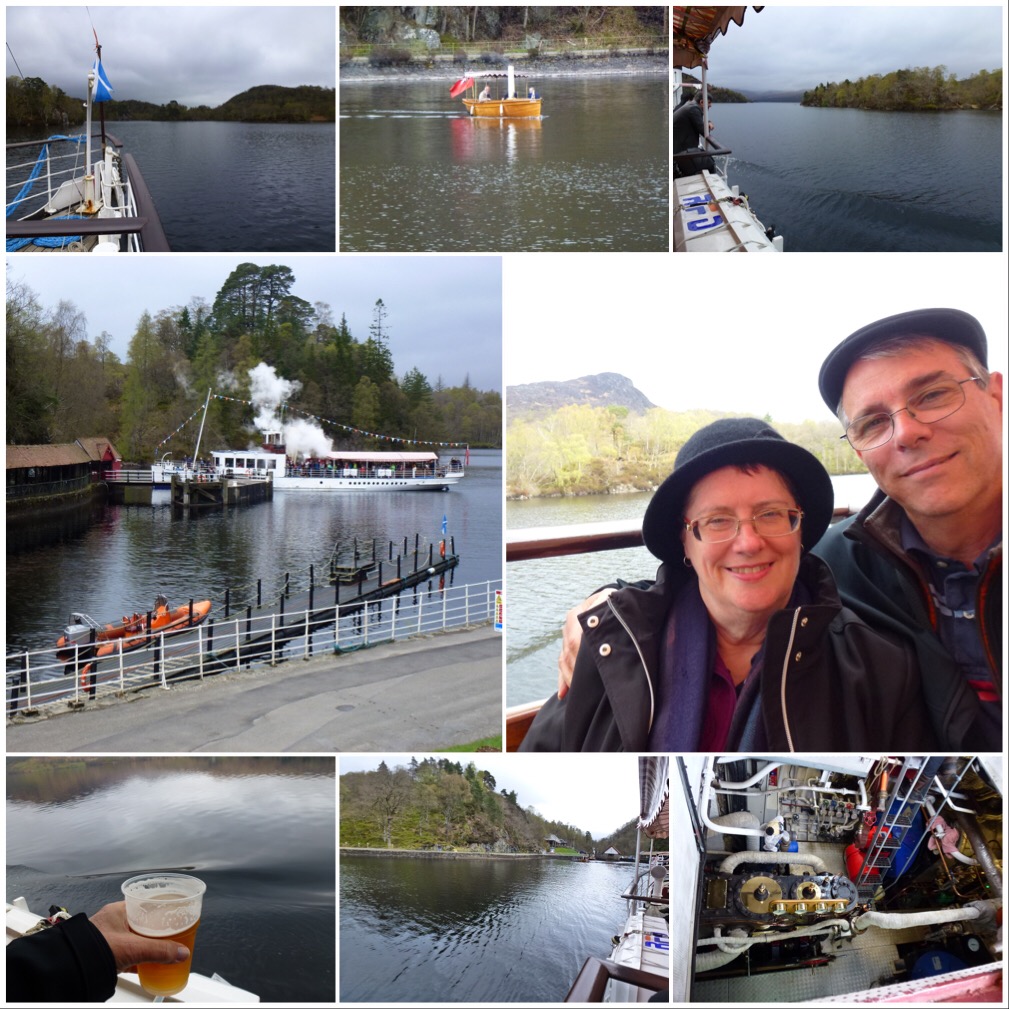 Underway and we were offered refreshments, I chose a pint of Tennants (a delicious cold local lager that seemed to get colder in contact with the air, brewed from  water taken from Loch Katrine, so circle of life really as the first law of fluid dynamics states a pint in means slightly more than a pint out, usually at the most inconvenient moment). Jo chose a hot chocolate laced with baileys and found it warming. We puttered about for about an hour, it was a very relaxing way to see the land surrounding the Loch.
On making landfall we then motored home, tired and cold but happy we had walked the woods. I have always found there is something cleansing, mentally, walking through lush forest. Driving roads that have woodland surrounds (better still, woodland canopies) is my favourite road time also and the surrounds of Stirling did not disappoint.