This will be our "last post" for this trip, and I am determined for it not to become our "lost post" like when I ran out of steam 3 years ago, so here goes (you gotta kill the hours of airtime somehow, and I do not sleep on planes annoyingly).
The day we drove towards Edinburgh we had a couple of spectacular stop-offs along the way. The first was some of my favourite public art, ever. The Kelpies (no, not wee doggies, but supposedly reminiscent of a mythical beast called a kelpie – part horse, part serpent) are monumental sculptures that I think beautifully capture the energy and movement of proud horses. You first see them from the motorway, an ear here, muzzle there but nothing quite prepares you for their size and grace. The artist, and engineers that translated the designs into stable structures have made a stunning tribute to hard working horses that helped establish this land also. Just so impressive.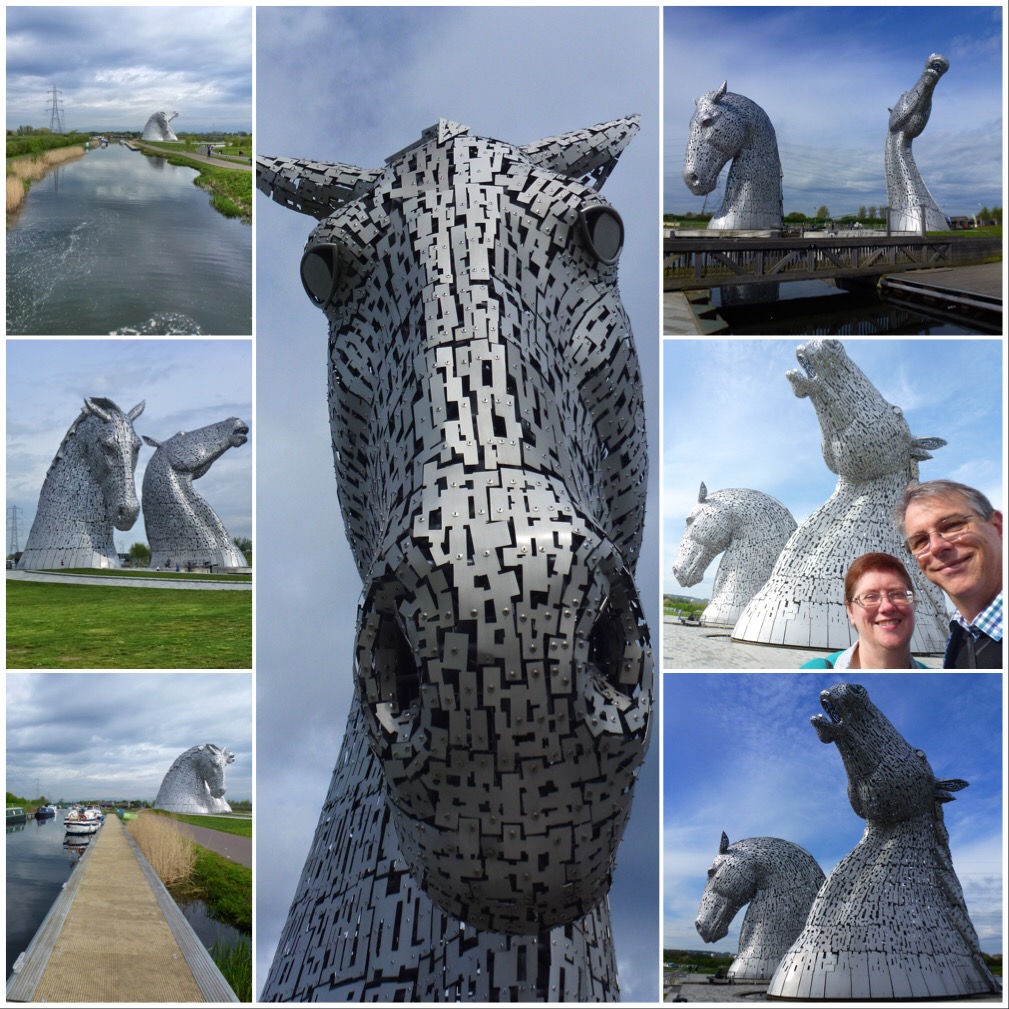 After being sculpturally wowed, we headed over to Falkirk nearby to be wowed by some plain crazy engineering. Much of the UK used to be criss-crossed by a network of canals, veins of trade for the nation where barges were used to transport cargo and people. When rail became a thing, many of the canal networks fell into disuse and relatively recently there has been a revival in interest, particularly for pleasure craft (a future holiday idea Jo ?). One of the biggest problems with canals is that unless they are LEVEL all the water runs away (and they become a river) so when there is differences in height one solution is to put in stepped locks.  Falkirk used to be a series of 11 locks that were needed to raise boats from the lower canal system to the one 25m higher, engineers came up with a "Ferris wheel" lock that is genius design. We watched boats enter, be sealed in a box full of water then the whole mechanism swivelled to raise one water box (gondola) and lower another in its place. We then, for shits and giggles, got aboard a barge and took the trip up and down ourselves – nifty really.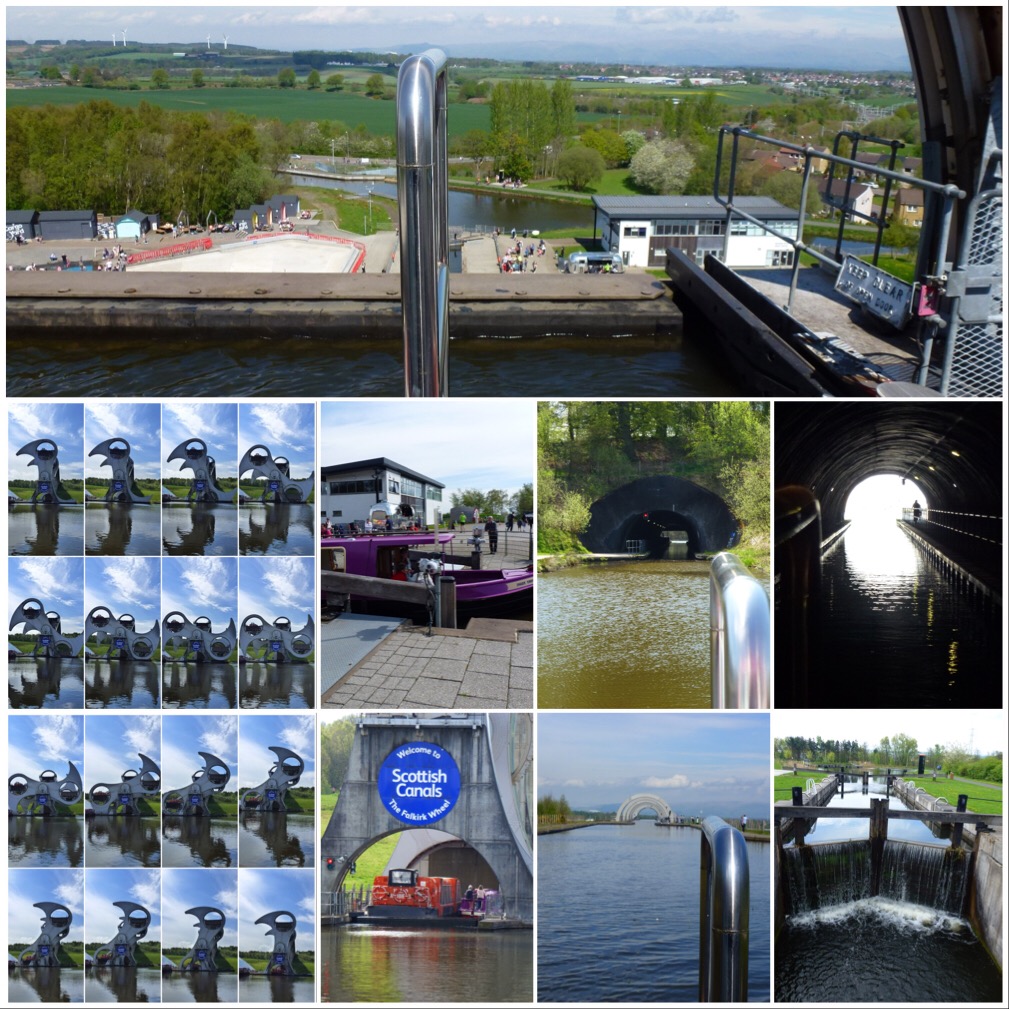 Artistically and Engineeringly wowed (and successfully achieving an outside picnic in the beautiful weather) we headed to the satnav nightmare that was locating the hire car return place under Edinburgh's railway station). A few tense moments and terse words but we managed it – driving in Edinburgh city is NOT fun, the outlying roads are fine but it gets crazy close in.
Unusually for us we were stationed in a hotel for our final time in Edinburgh. We would normally go for self catering trip-advisor or airbnb apartment but as we lead up to going home it is time to shed gear and our roving pantry and accumulated detritus needs to re-condense into 2 suitcases and a pair of backpacks and (hopefully) not exceed our baggage allowance. We are not really into souvenirs so are returning with very little but the best of memories, and some good ones were formed during our stay in Edinburgh.
On arrival in Edinburgh, we dumped our gear in our room (another Premier Inn, hopefully this one will not also include a fire drill) and sought caffeine – we were near a "Costas" so tea/latte it was. We were being met by a walking tour guide Gareth, a Pom who is a long term resident of this city, and we asked to see a bit of history and some explanation of the "Old Town" and "Royal Mile". The hotel was on a side street just off from the mile so a quick walk uphill and we were there.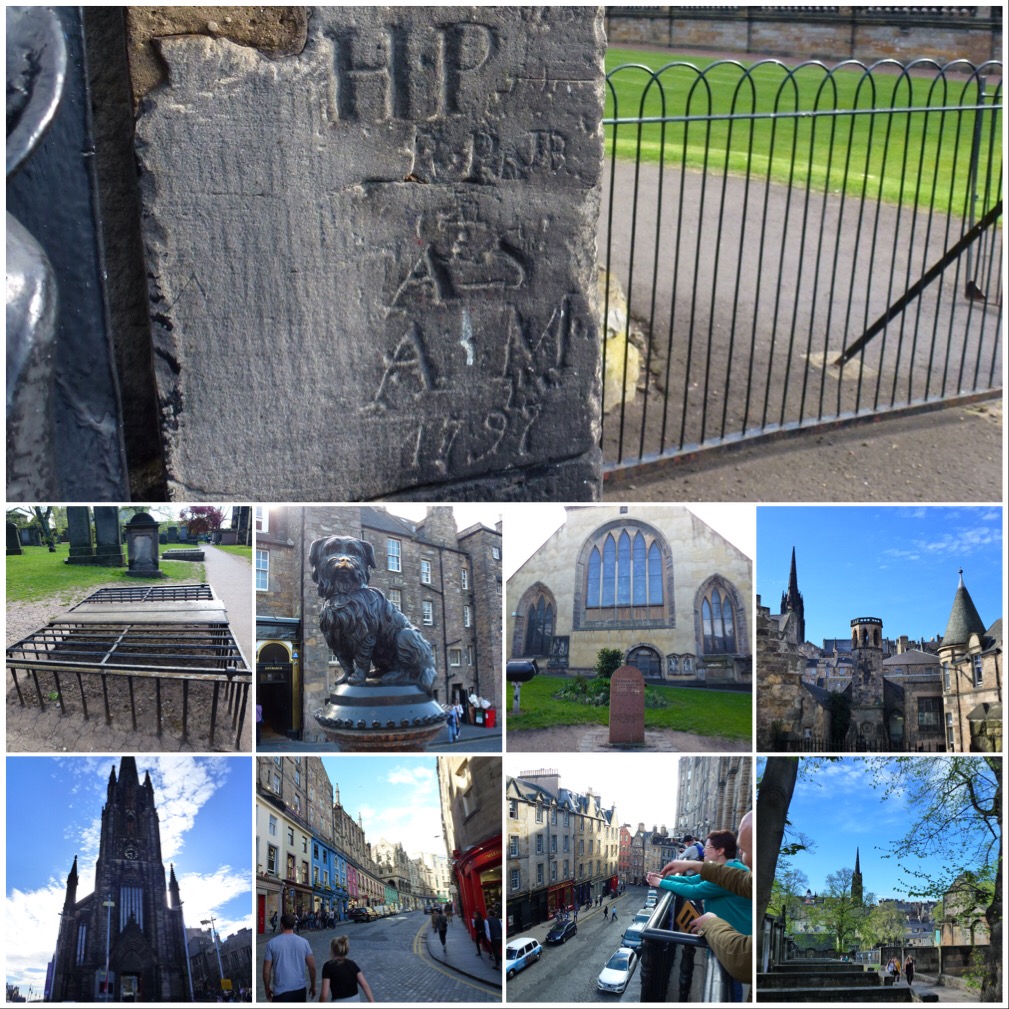 I had done no research on Edinburgh and had no idea that it is a city built over a series of valleys.  Few visitors realise for instance the significance of "streets" called Northbridge and Southbridge, but we walked down below the main level of old town to see the city suspended above us. We walked an ancient street called Cowgate and looked up, there are a couple of breaks in the buildings and you can see a bridge section way above you that seems to join into the surrounding buildings. Seems engineers decided to bridge the main valley the city is built on, a half a mile or so, and build shops atop the bridge. Built of arches, the huge bridge then afforded storage, slum housing and worse until the surrounding domestic landscapes rose around it. Many buildings built alongside still have access to the arches underneath.
Old town is mainly a Victorian re-working of the slums that used to be there, horrific tales of hundreds of people living in squalid large rooms, one old survey before redevelopment put the resident count in a small section of Blackfriars Alley in the thousands. Much of Oldtown looks tumbledown higglety pigglty but historically is not very old. I am amazed that they had a chance to fix the crazy quilt layout of the streets and alleys but left much of it intact. Ironically, apparently much of "Newtown" is not that new, although it does follow a more modern grid street system.
The Royal Mile is a mile and a bit (Scottish miles were slightly longer than English miles, just as their Pints were nearly 3 times the size of a pommy one) "high street" that runs up hill and ends at Edinburgh Castle which sits atop a volcanic plug. Cobbles the whole way, when we returned our hire car we had to drive a terrifying rough as guts section of it. True bravery is riding that street on a bike, you would be lucky to get to the bottom without being rattled to bits.
We wove through alleys, closes and wynds into older quieter sections, through historic churchyards (learned of the romanticised/made up legend of "Greyfriars Bobby") and learned why places are called Haymarket (A public square where feed was traded and criminals hung for light entertainment), Cowgate (where cows were driven into the city) and I think we got a really good deal – Gareth was really informative and fielded our questions well. We finished walking at the plaza in front of Edinburgh Castle, the site of the Military Tattoo (the marchy, bagpipey, military parade my Mum loves to watch each year) and we then walked to "The Worlds End" pub for some food. Called "Worlds End" because it was the last inn just inside the city walls, to pass outside you paid a fee, to return you did also, for many of the poorest folk, this was literally where their world ended as they could not afford to leave).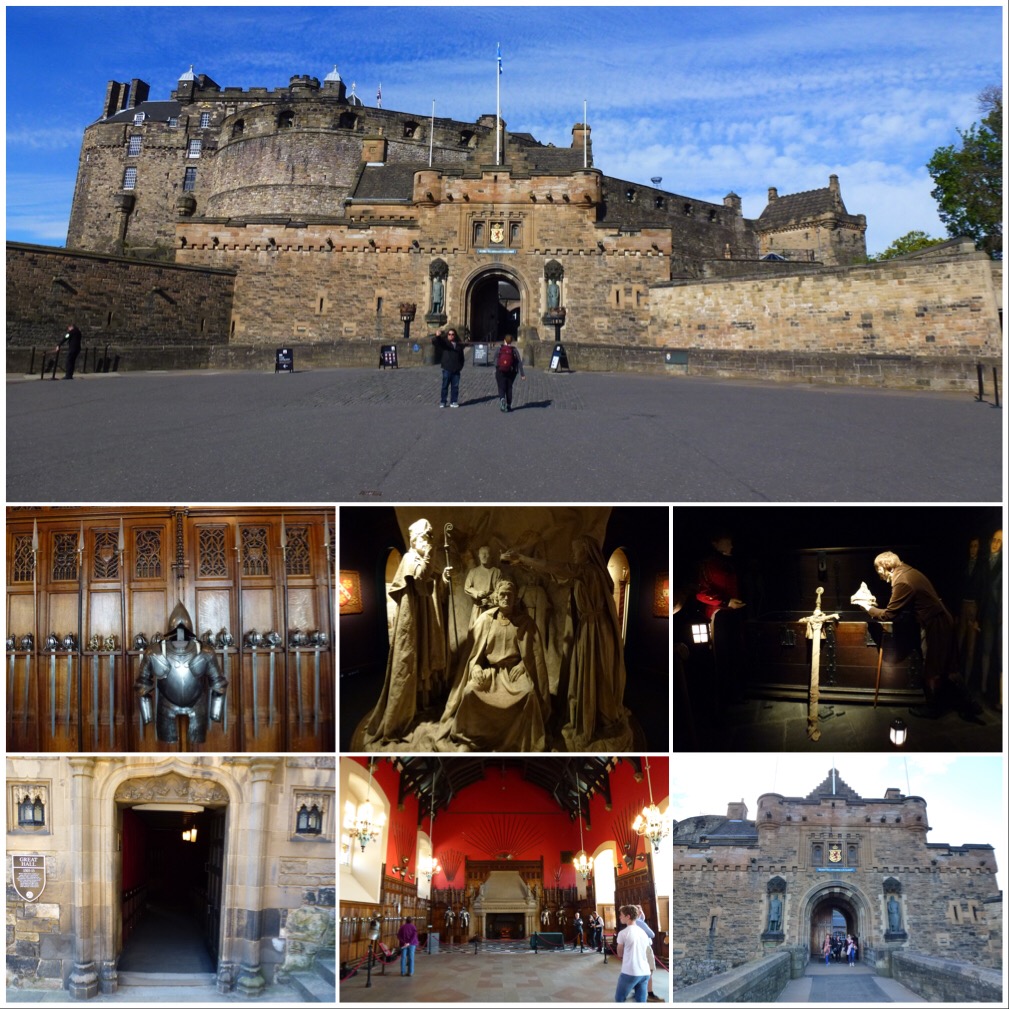 Nice sleep (no fire alarm) and we leisurely breakfasted before helping to establish a queue awaiting bag search prior to entry to Edinburgh Castle, our main exploratory for the day. The entry is relatively modern (apparently Queen Victoria thought the stone shed at the base of the entry was not grand and inviting enough and would not listen to military counsel) but the castle is a working military base so much of it is not open to the public.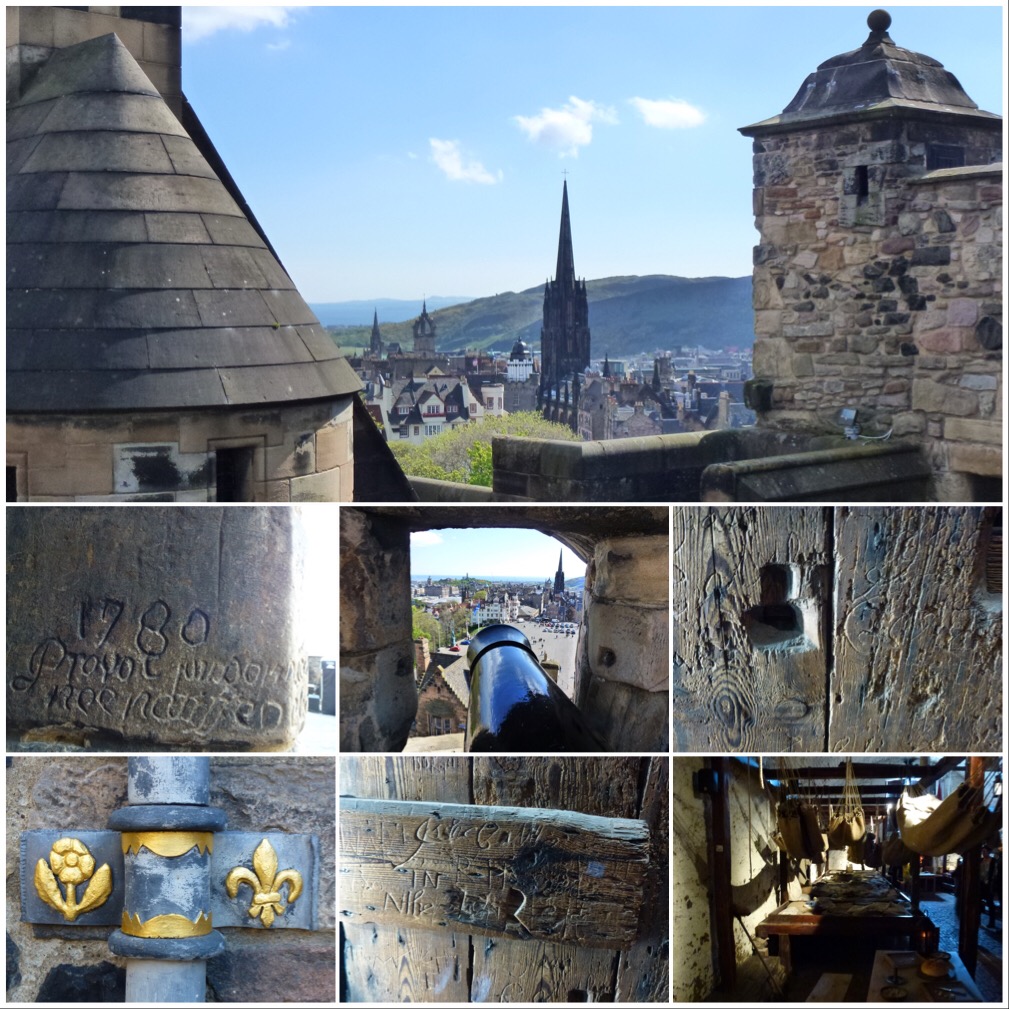 Our plan at The Tower of London (yes, I know, different castle) was to go straight to the Crown Jewels and work back from there, we decided this would work for Edinburgh also. The ??? and the "Stone of Destiny" are arguably Scotland's most precious symbols of nationhood and it seems for ages they were literally hidden away in a bricked up chamber while conflict with England raged. In the highest and most secure part of the castle, in a vault, the crown, sceptre and sword along with an unassuming block of stone that has been used as a seat for Scottish Kings to be crowned on, is housed.
We then wended among buildings of many purposes and vintages, saw evidence of hundreds of years of redevelopment, military installations, prisons and barracks. We thought, independently, that there was not a lot to explore here (compared to Stirling) and ran out of things that interested us fairly quickly, even with the audio guide.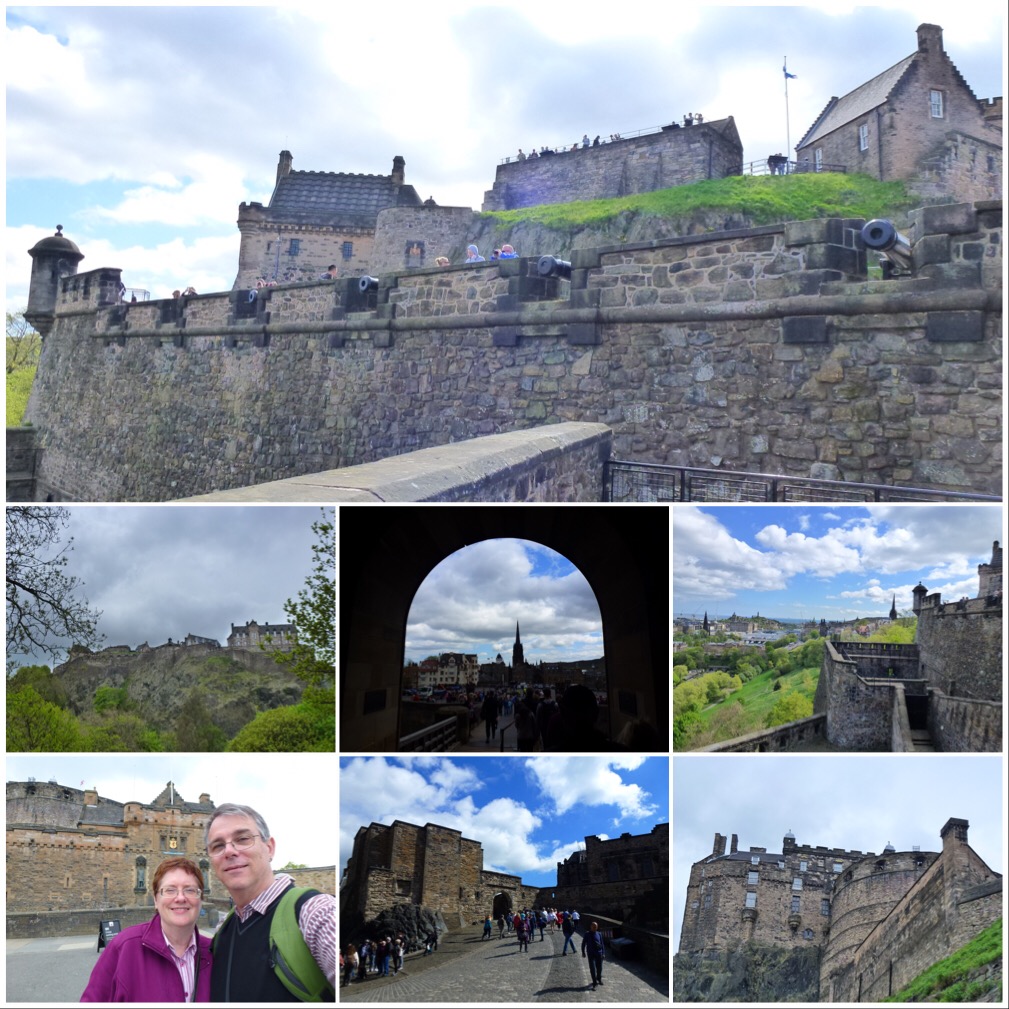 We had a light lunch in the castle and then walked down and around the hill atop which it is perched to the surrounding gardens. Spring has well and truly sprung here with drifts of daffodils past their prime, tulips and other bulbs and the most amazing mass planting's of blossom trees – cherries, apples and pears, just spectacular. We returned to the Royal Mile for a deep fried mars bar snack as afternoon tea (no, I am not sure why, but there you go). We spent the rest of the afternoon exploring the Royal Mile and lanes that lead off of it. So many charming places, parks, squares and gardens are completely missed by visitors to the city because they do not go down the lanes, off the main street. We had a dinner reservation at a restaurant called "Dine", a lovely posh meal that ranked amongst the best this trip. With wine and liqueurs to follow, the walk home was easy and a good sleep resulted.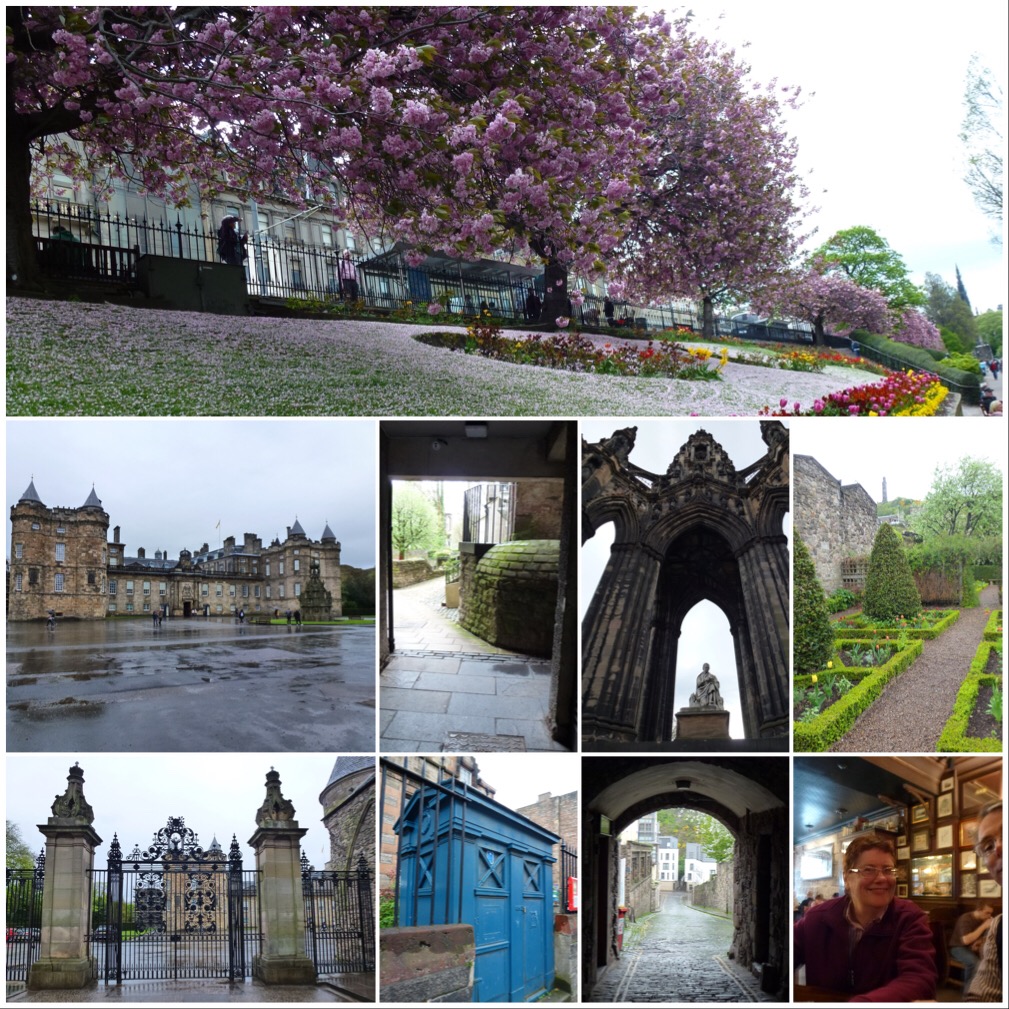 Next day we had a lovely breakfast and then caught a bus to Roslin with the view to visit Rosslyn Chapel, an ornate little church that was supposed to part of a much larger church but was never finished. After a period in ruin, it has been restored for decades and is a most curious collection of carved detail and intricate design. Mentioned as a key venue in "The Da Vinci Code", we were both keen to visit, feeling like we were part of that story for a little while. It was cold and grey but none the less interesting.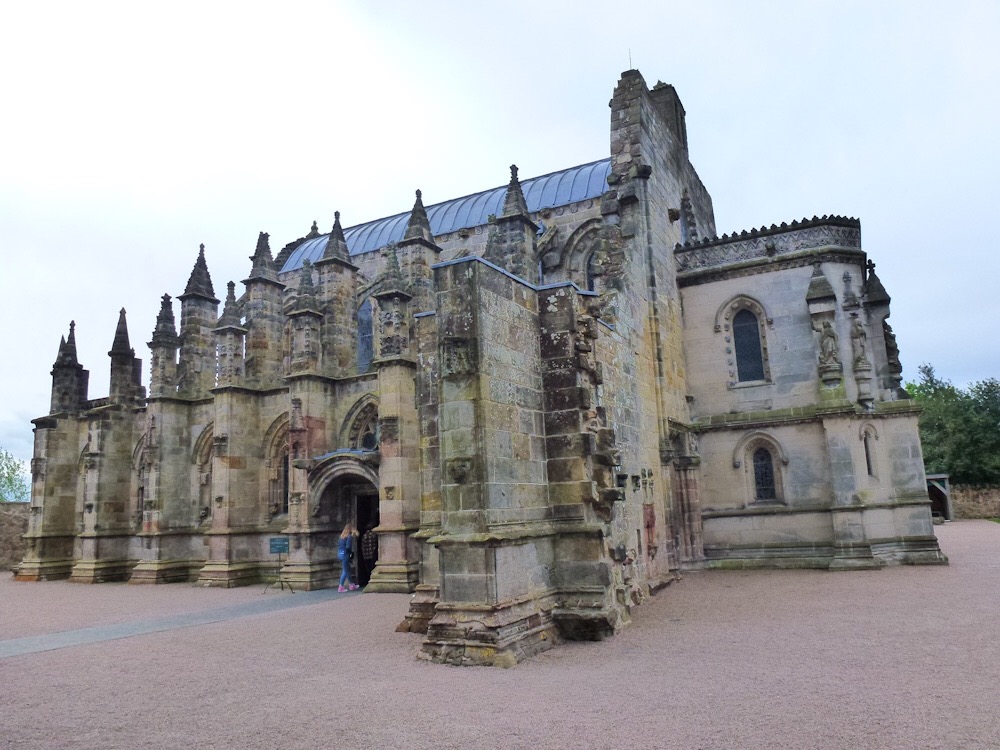 We had all types of weather when in Edinburgh, driving rain, icy winds and hot sun – apparently the day and a half of sun we experienced was considered by many locals we met as their summer – I am not sure I would be happy living somewhere that spends so much of its time grey and cold. That said, we enjoyed our stay and can now tick the city off our "must explore"list.
Transit time: 7 hour flight to Abu Dhabi, we currently have a couple of hours layover before a long haul home and this adventure is physically over. The tyranny of distance make much overseas travel difficult. Fortunately when we both think of our time away we both smile, and look forward to the next adventure. I hope readers have enjoyed reading of our travels even a tiny bit as much as we have had doing them.