Feeling hungry (if a little bloaty from airline food), we waited in the lobby for our walking tour guide Chris. We thought we had booked a private tour, but were accompanied by an English couple and a pair of gents for Sydney. This mix turned out to be fun regardless and off we trekked.
Spring rolls. Our first stop was really close, a small family in an alcove adjacent to a large hotel were deep frying ricepaper bundles filled with carrot, rice noodle, pork and other fresh ingredients, wrapped and fried in front of us, delicious as an appetiser.
After a brisk walk through crowded streets we stopped at a small family restaurant, white tiled, busy, and tried a dried beef salad. A delicious combination of green papaya, rice noodle, dried beef, jerky, peanuts and Vietnamese mint dressed in a dipping sauce. Little chillies on the side as garnish, such yummy tastes, fresh and crunchy.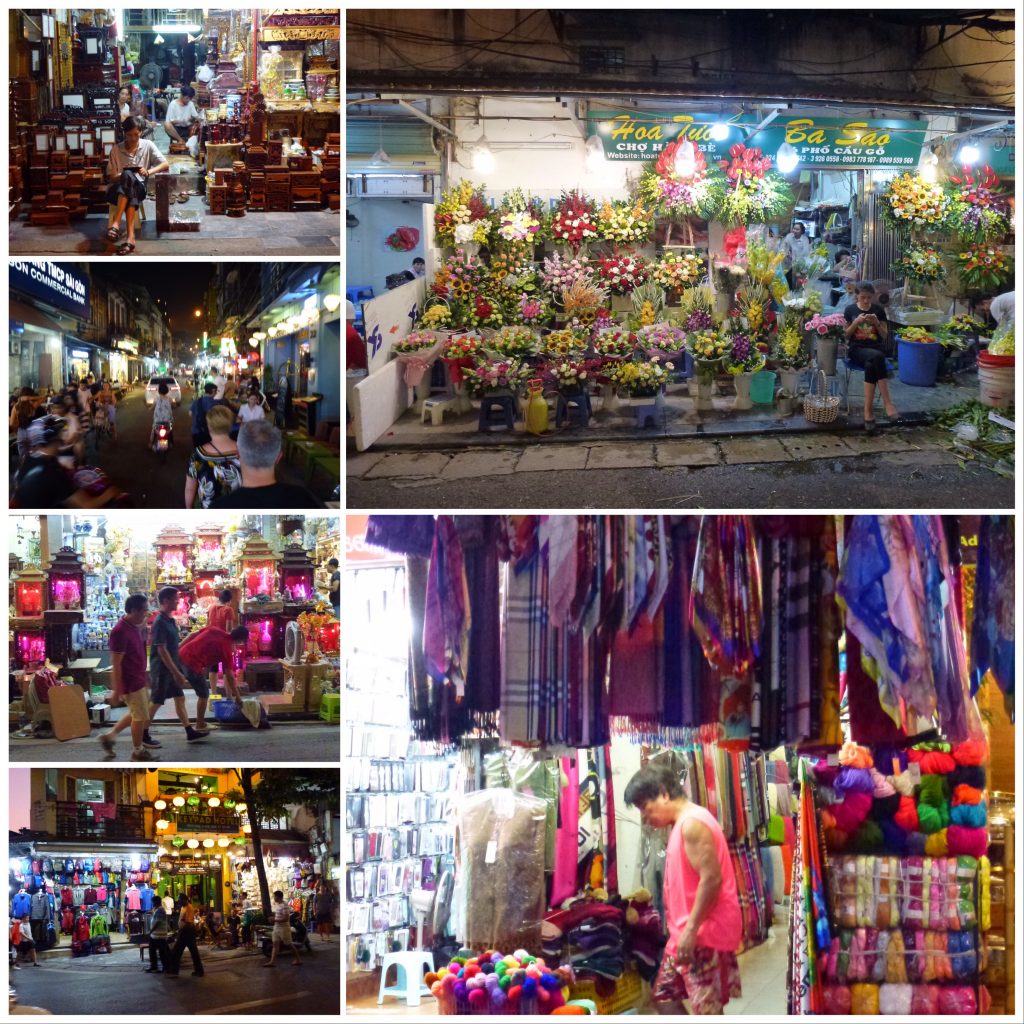 We were told we would visit many "family" restaurants, and had no real idea what that meant. Turns out the restaurant is part of their house, kitchen out front to show the freshness of the wares, living space above (we saw trap doors, ladders and lofts above us where the family lives). Real estate in Hanoi is prohibitively expensive, these shops have been owned by generations of families, handed down, generally specialising in a few dishes, cooking just them to a faithful clientele. We learned the hallmark of a good streetfood vendor also, common sense regarding cleanliness, preparing fresh and a strong local patronage ensure a good turnover and likely freshness. All useful information for the days ahead.
We were then taken to a family restaurant to try Bun Cha, a bowl of dipping sauce with pork shoulder ground to make char grilled meatballs and slices of belly pork. Accompanying it was a mound of rice noodles and salad of herbs. The instructions: mix it all in together, add chilli if you like and eat it any way you like. We are adept with chopsticks and had no trouble demolishing it. We had bottled Hanoi beer with this, apparently it was called "The Obama Special" as it was what was had by a visiting president a few years back – I can see why, just so delicious.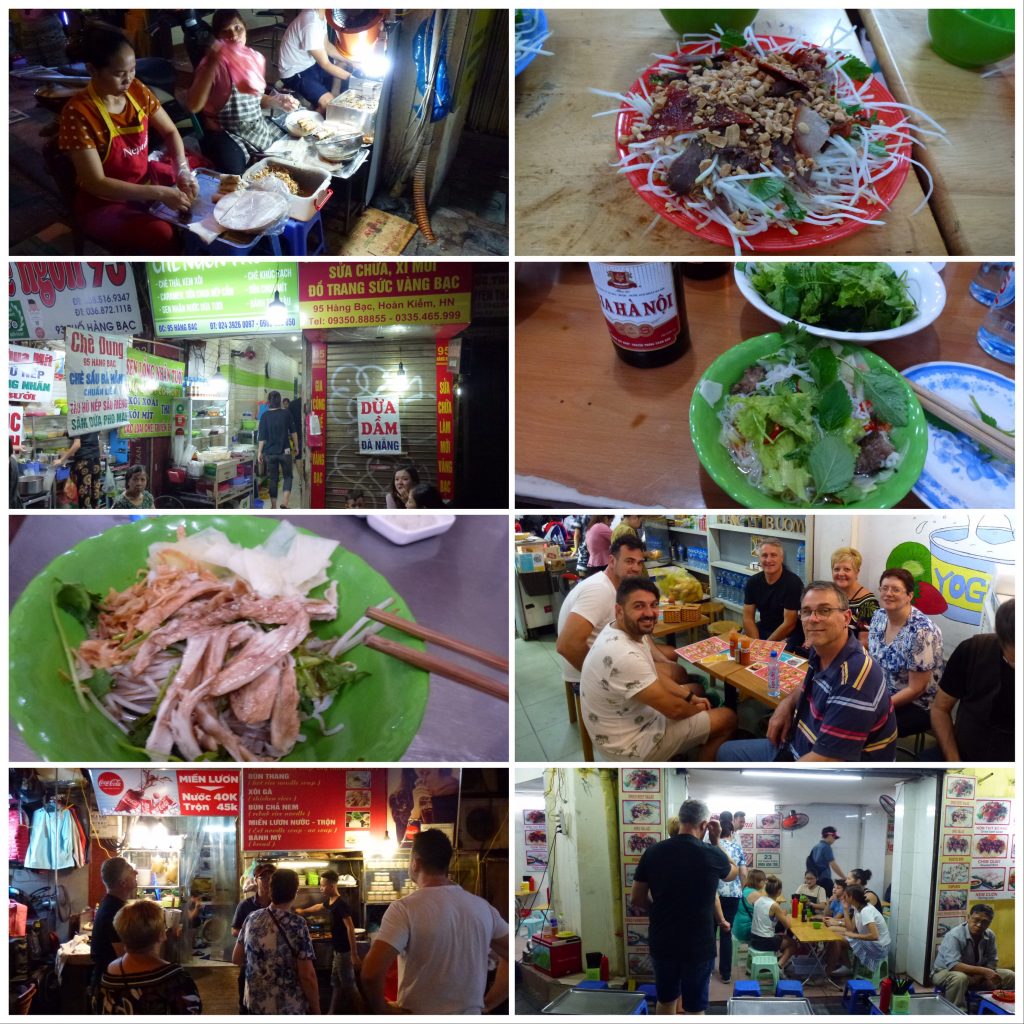 From there, en route to another shop we passed a tropical fruit stall and sampled mangosteen, sweet and sour little beauty it was as well. We then went to a Pho family restaurant and had a "dry" pho. Pho is the name of the noodle used, and this came with chicken, herbs and soy sauce instead of the ubiquitous fish sauce – quite delicious and different to the big bowl of broth and rare beef we have had before.
We stopped off at a local coffee vendor to try weasel poo coffee, well, Jo did as I do not drink coffee. The store owner prepared it several ways, Jo preferred the frothy variety with condensed milk but I think coffee snobs would have probably liked the first pressing black. It was difficult for them to understand I did not like coffee and could not drink it. We also got introduced to a bong-like smoking pipe locals use for tobacco.
Next on to a Banh Mi family restaurant, with the grandma watching Vietnamese general hospital (or days of our lives, episodic teledrama seems universally badly acted and loved by their viewers) while we supped on goose Banh mi with some savage but yummy home made chilli sauce. Toasted in a charcoal stove, the combination of crunchy baguette, fragrant herbs, crunchy salad and lush meat topped off with condiments made for a tasty end to our savoury journey.
Next on to a dessert restaurant, we chose pandan sticky rice topped with coconut ice cream, cooling and delicious. Seems lots of things are served in "sweet soup", essentially sugar syrup, including poached fruits, seeds and other mystery objects. Nearly full, we then headed off to the coffee house that invented "Egg Coffee". Born of necessity, when fresh milk is not common, a cappuccino like beverage is topped with a sabayon (whisked egg yolks, honey cooked gently to make a foamy stable egg foam). Jo had coffee, I had chocolate (interestingly I think it was Milo), a suitable topping off for what was a diverse and interesting culinary journey.
I want to say it was cooler as we walked back to our hotel, but the humidity was oppressive and we returned as tired and cooked sweatballs, ready for sleep. Too tired to blog, or even check photos taken, we set an alarm and went almost immediately to sleep. Such a terrific, busy, diverse, hectic, perfect day. More to come…