Hanoi is a city of over 15 million. It breaks my brain to imagine in that number of people in such a small area but there you have it. Today we had booked a walking tour with some university students from "Hanoi Kids" – a volunteer tour service where the kids get to practice English in exchange for being shown around and refreshments.
Our tour guides were Le and Evan, a couple of 20ish year olds, Le is a native Hanoian and Nathan was from the country further out. Both had fairly good understanding and we said we wanted to see the old quarter, French quarter and generally get to know the city a little better. We walked, and we walked, through throngs, back alleys, through hidden bookshops, across impossibly busy streets – it was fun, and really interesting talking to some locals about life in Vietnam generally.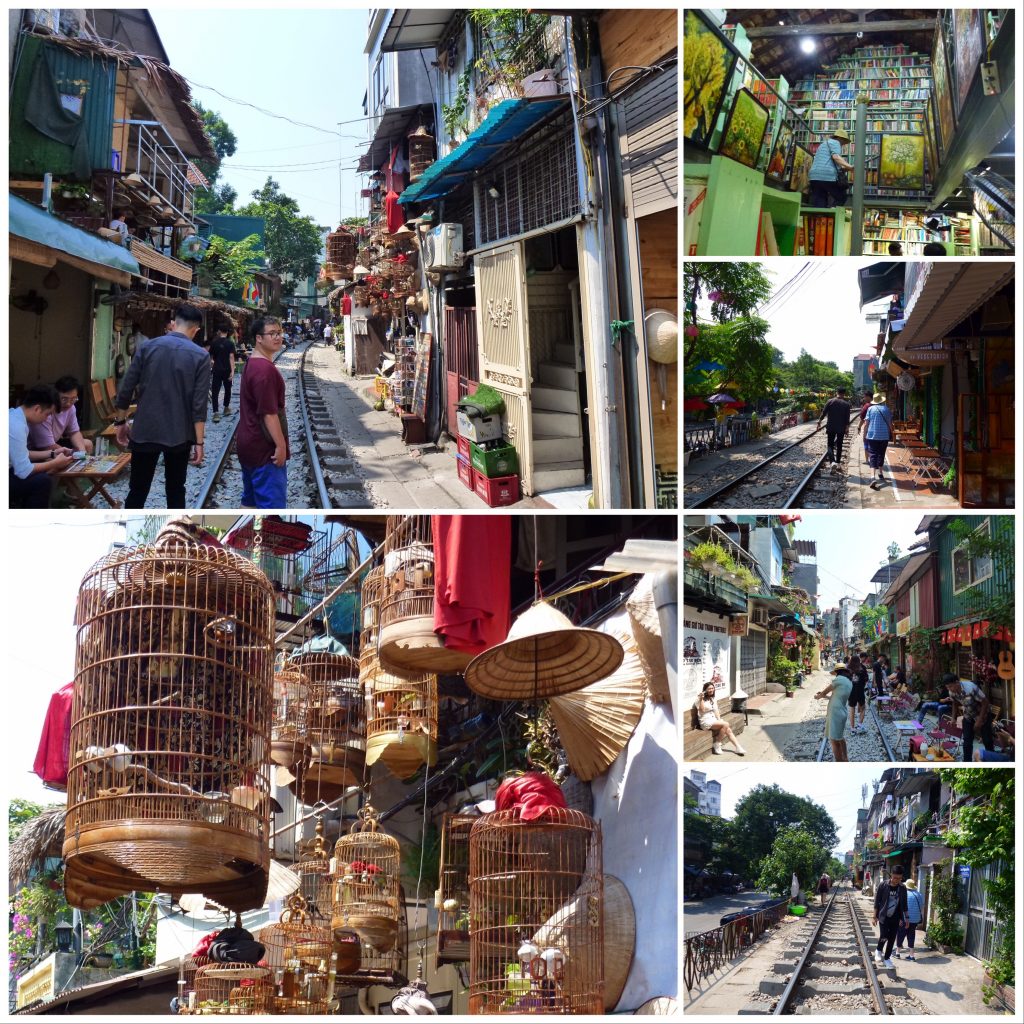 We learned, for example, that young people volunteer 2 years national service in a military capacity, either straight from secondary school or delayed by university study. We learned that families stay close, it is rare for family members not to all live together, we sensed the family ties were strong across the generations, the mother ruled the house and that it was possible to get lots of people into terrifyingly small houses and still be happy. We also learned of the love people have for "Uncle Ho", and how invested they are in communism. They could not get their heads around our democracy, interesting perspectives.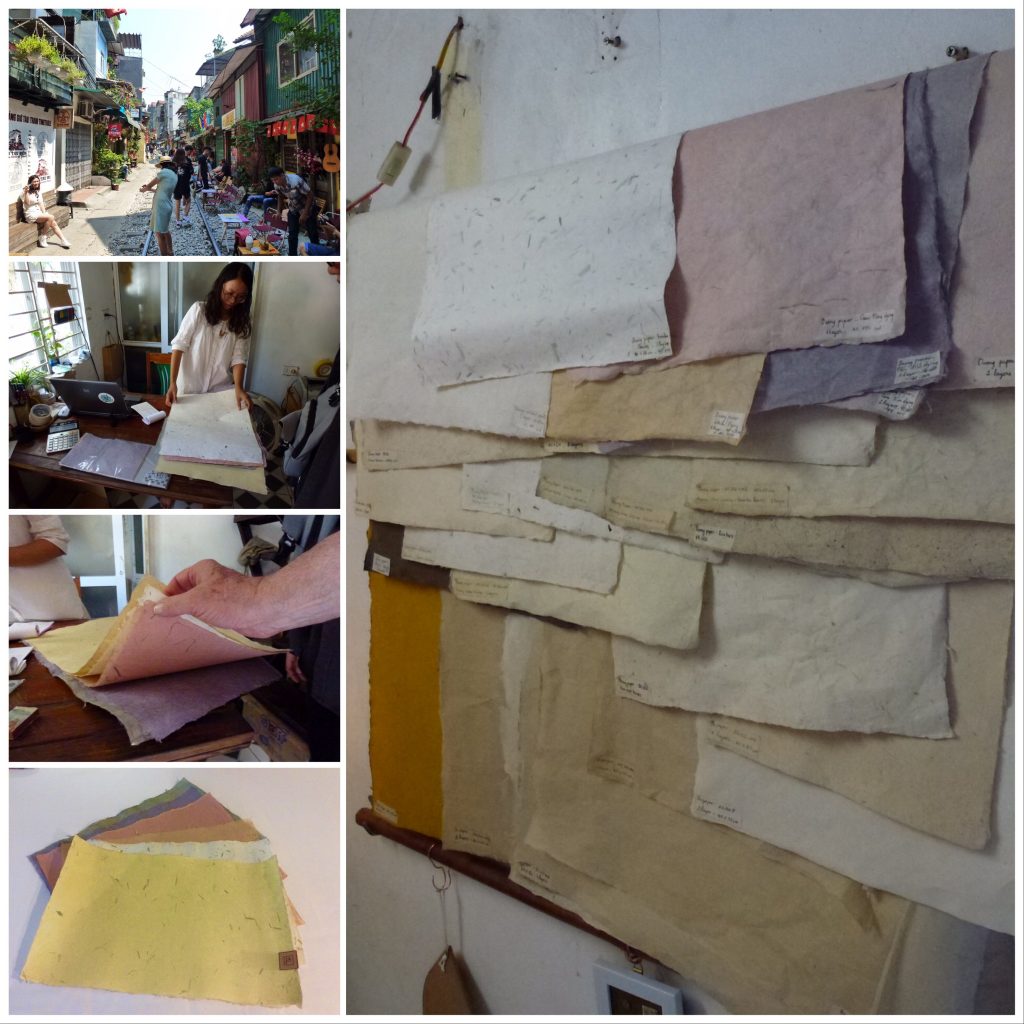 One of my goals, when visiting Hanoi, was to acquire some of the local handmade paper. After some research I found a village driven paper making collective called Zo Project, who had a store on Train Street (so named because it is both a residential and thriving market street and train line) so we asked the boys to head us in that direction as part of our ramble. I managed to purchase some lovely thin sheets of duong paper and have rolled it and ensconced it in a tube for travel home – I cannot wait to try it.
Our return journey, we asked to be taken to a recommended place for Banh Mi (a baguette with various fillings, we chose bbq pork, but no liver pate – added to most Banh Mi apparently). A delicious and light lunch before returning to our room for a cool off.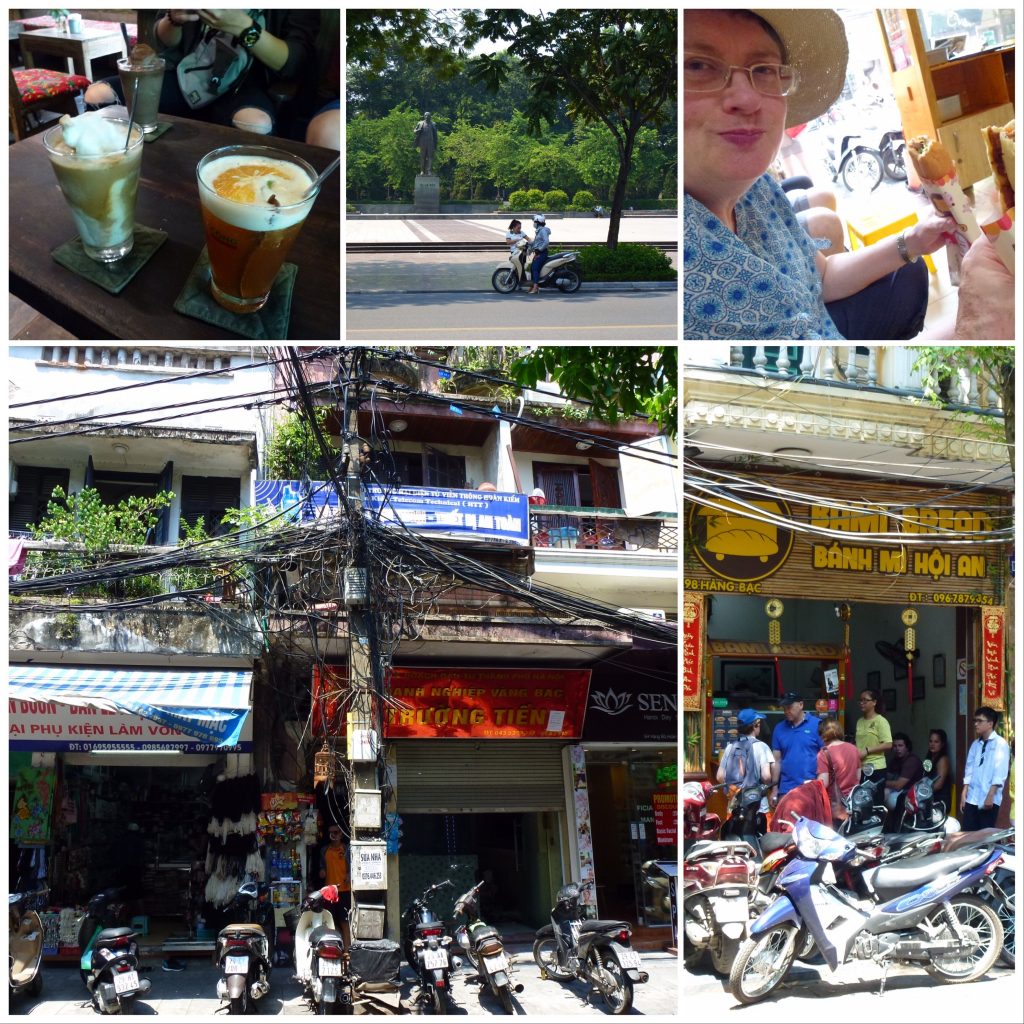 When we were in Venice, we visited the Opera House but could not get tickets to the show. Jo did some research and found a show at the Hanoi Opera House so off we went. Entitled "Our Village" it was a brilliant cultural rendering of village life, seen through the eyes of circus. Everything was bamboo, performers used it as props, fastened it together into towering structures they then did gymnastics on. There were contortionists, acrobats, jugglers, an active orchestra that spent some time in the pit, the rest on stage. The music was mesmerising, a total soundscape with traditional instruments. We both were really wowed by the show, and the Opera House was a grand old building also.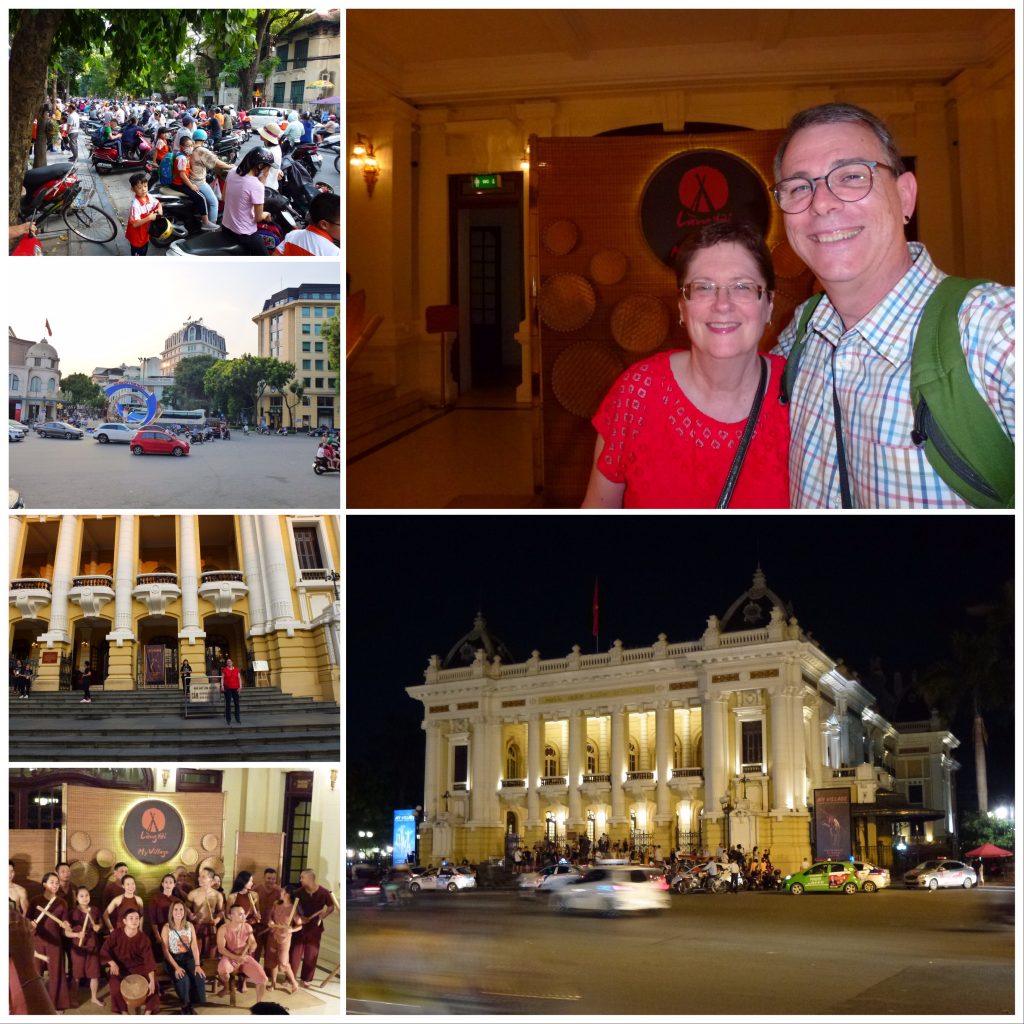 After the performance we trekked to the other side of the lake for a meal. We started with fresh spring rolls (ricepaper filled with prawns, noodles, herbs and a dipping sauce we must find a recipe for. Delicious. We followed it by steaming bowls of crab noodle soup (the signature dish of the restaurant) which proved delicious and entertaining to eat (the noodles were slippery little suckers indeed).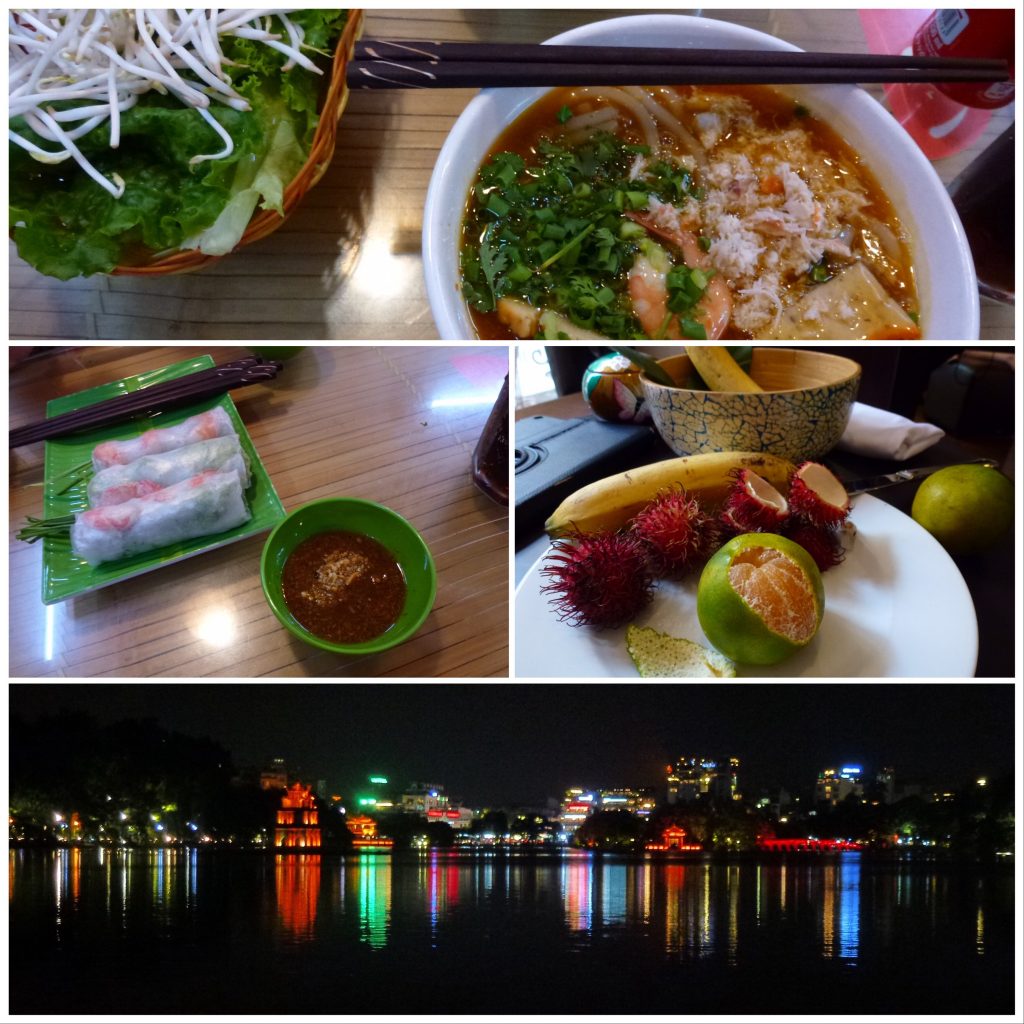 Returning via the lake, beautiful reflections and hilarious/odd groups of ladies in exercise groups, sort of line dancing to various musics in the cool breezes from the water. Apparently this, and morning tai chi are common group exercise regimes for lots of the city and there must be agreed rosters of friends, neighbours, work colleagues and so on.
We staggered home, having got our step count up to 18600 steps, and we had to pack and reorganise for the trip to Halong Bay on the morrow. We are taking one bag, leaving our other luggage and some laundry for the hotel when we return. More to come…