One of the "must do" locations, from all Jos research was a visit to Halong Bay.
There are a number of options for this out of Hanoi, a day trip, overnight on a cruise ship or 2 nights with island hopping on the second day. We opted for the overnight, and our hotel organised it for us. The only real issue was this form of organisation left us with no paperwork. In the morning we waited for our transport for an hour before learning the bus was full and had already left, they sent a private car for us and that got us to the docks in time, but there was a little anxiousness until that was sorted, with reassurance from the hotel staff, in the end it worked out ok.
The journey to the docks was interesting, after a small amount of time in city traffic, we joined an arterial and were in farming land almost straight away. Banana plantations opened out to vast areas of rice, fish farms mixed crops, punctuated with little shrines and family burial plots, so different and picturesque.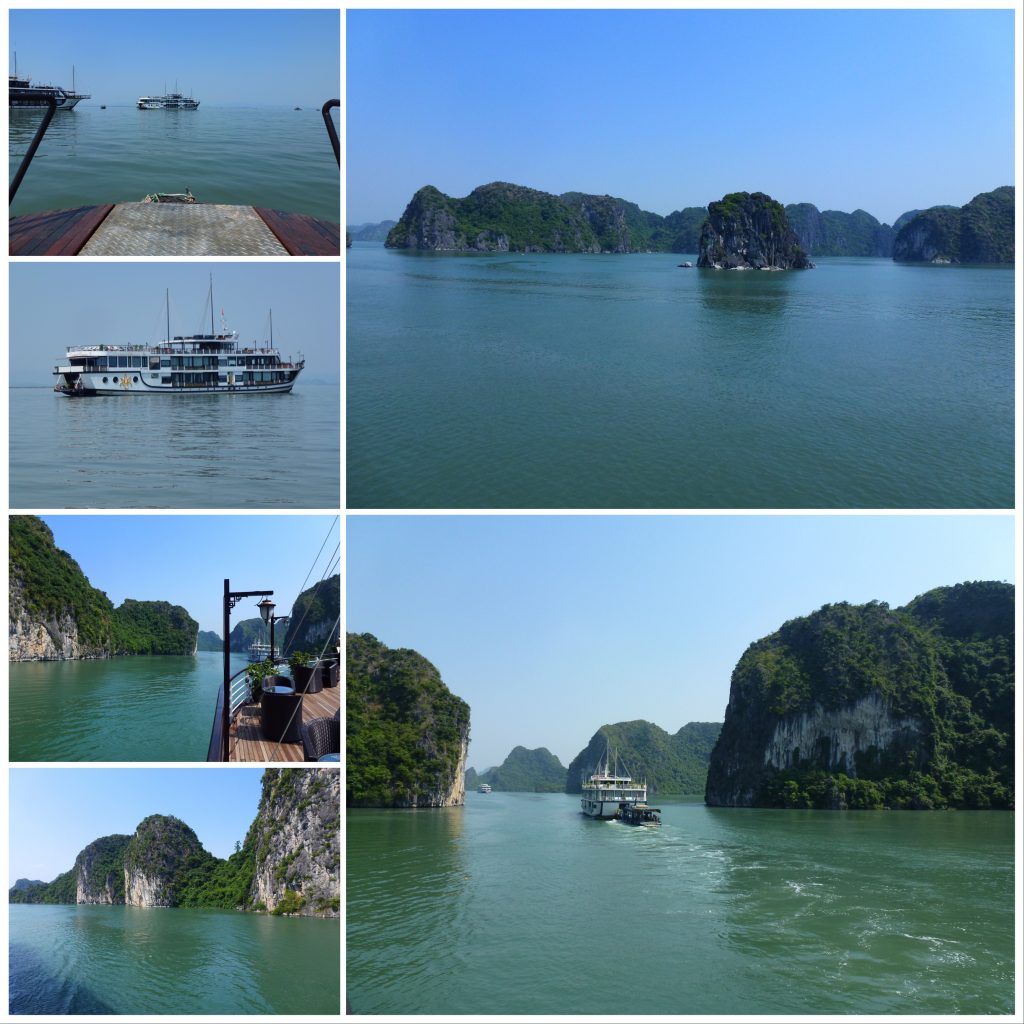 On arrival to the docks, we joined the general hubbub and checked in, having our booked room confused twice, but eventually were lead, with luggage to a motor launch that took us out to the Orchid 3, a lush 3 deck cruise liner designed for about 30 people all up. Our room had been conquest with a father and son booking, so we found 2 single beds and they quickly re-jigged them to be a king double, all good, time to settle in as the ship began motoring down the coast towards the inlet that takes you into the system of bays, part of which is Hanlong.
The landscape was amazing, with stark limestone tors and bluffs rising dramatically out of the blue green water, fringed and topped with shrubby growth, more the more you look. I could imagine e it would be really easy to get lost, each shipping line taking varied routes to spread out among the thousands of islands.
After a many course lunch we had some relax time before being offered to explore limestone caves on one of the islands. We were warned there were lots of steps and narrow, low parts but decided to give it a go. Our launch took us over to the island, apparently inhabited with 13000 people, not sure how as there seemed little infrastructure, perhaps on the part we did not visit. After a wild and woolly drive on snakey narrow roads we reached the start of the cave walk and set off.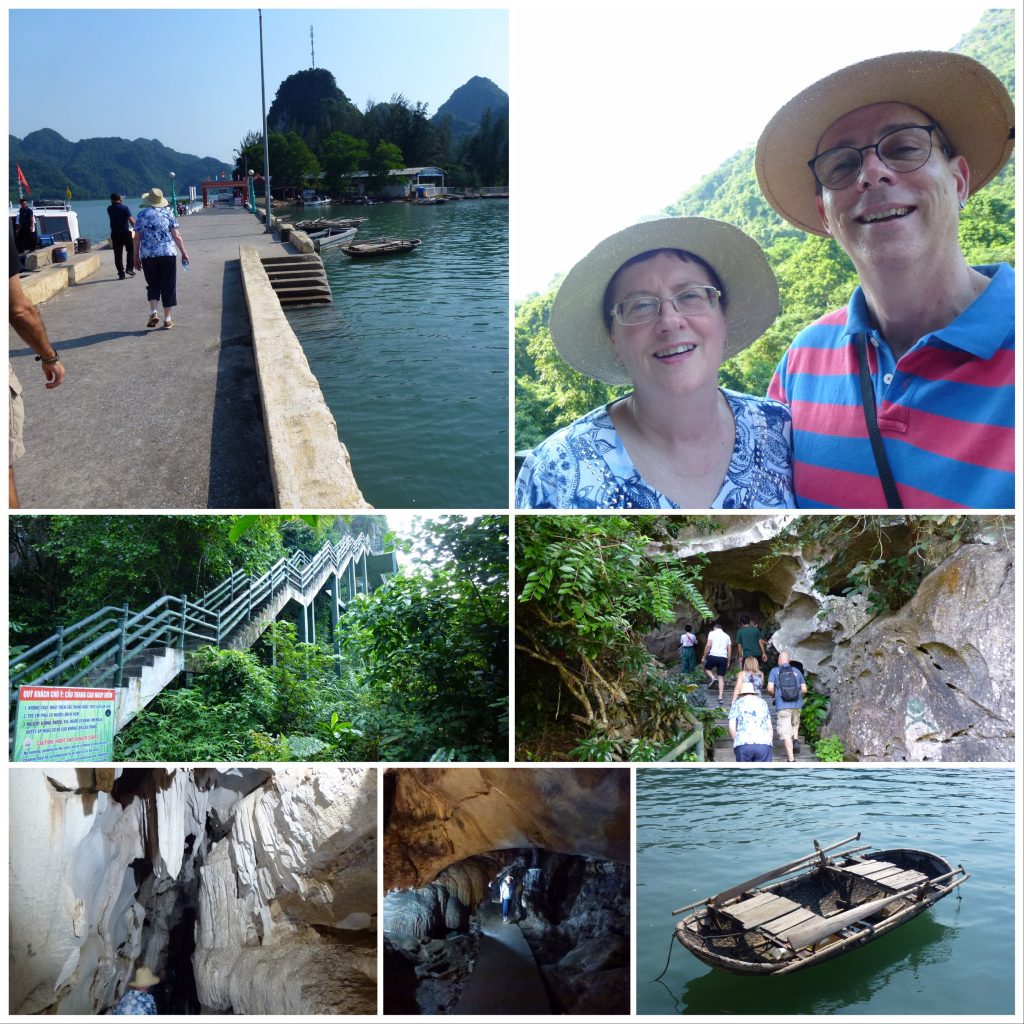 It was hot, really humid, but we climbed the concrete stairs, hundreds of them up to the cave entrance. The cave is now part of a newly formed national park, designed to help preserve the endangered local monkey population (whose only fault is that they are, apparently, delicious). We scrambled though low, tight passageways into vast chasms, low caves, dogging stalactites and stalagmites (who can tell the difference?), dodged a cluster of startled bats and generally felt cooked and claustrophobic until the cave system opened out into jungle, and a short path to a jungle bar. Oddly we had been advised only to bring cameras, so no one had money for drinks. The bus picked us up (sparing us the need for a return cave experience) and we were back aboard in no time.
Rest, relaxation and happy hour were all greatly appreciated, then we joined in a cooking class (fried ricepaper spring rolls) which was a nice appetiser. Sunset among the mountains is breathtaking, looking back, one of our photos do the colour or scale justice, just magic.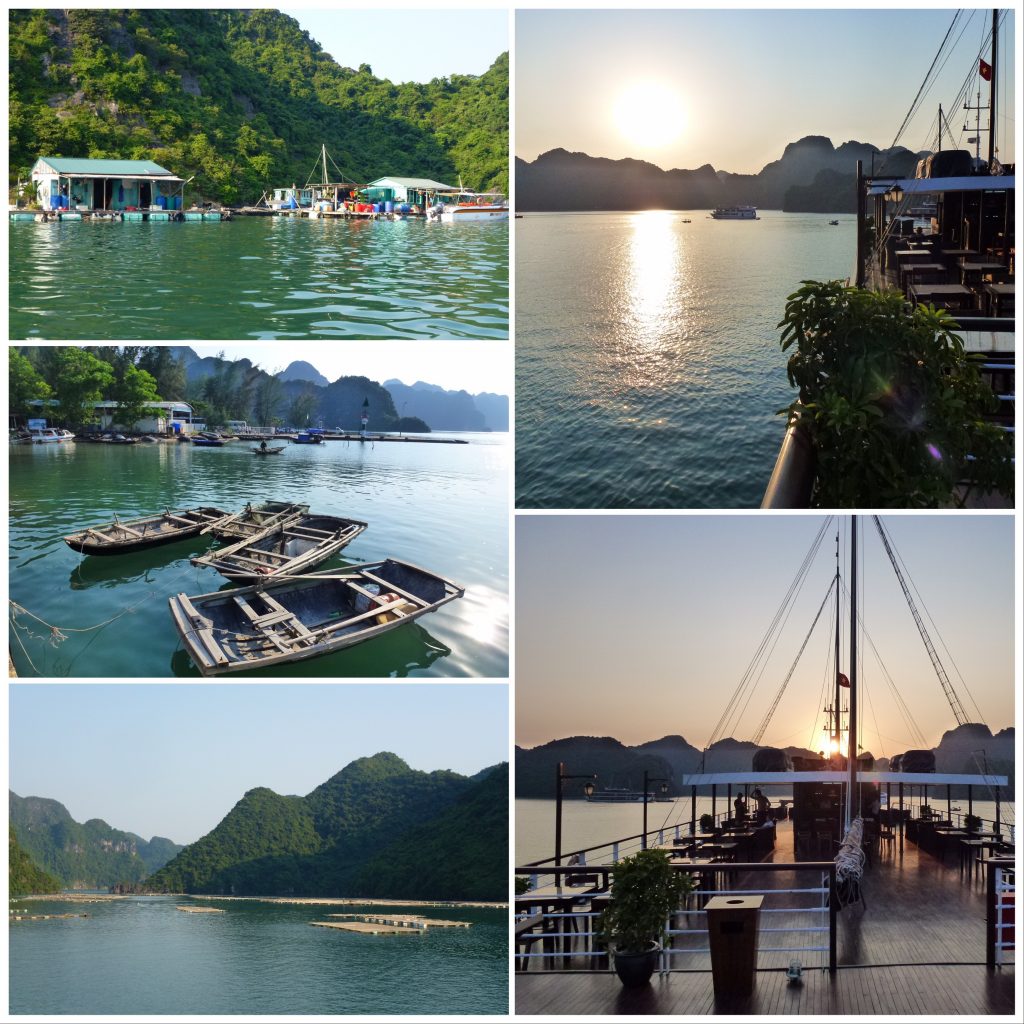 There was a many course dinner, lots of yummy things, but we were pretty done in and retired to the air conditioned comfort of our room. Apparently they offered late night squid fishing, not sure if there were any takers. We had a relatively early night and slept really solidly. I get motion sick in a bath, but felt no ill effects of the ocean, I am guessing the myriad of islands keep the water really calm.
Awaking refreshed and recharged, we opted for the sunrise tai chi class, and really enjoyed the slow-motion ninja poses, giving our muscles a thorough but gentle workout. We have no idea if we did it right, but it was fun trying. We then had an early breakfast as we wanted to go kayaking. Donning togs, shirt, hat, sunscreen, life jacket and signing last will and testament, our launch took us to a rickety pontoon, and, somehow, we got into kayaks -Jo in the front and me in the back.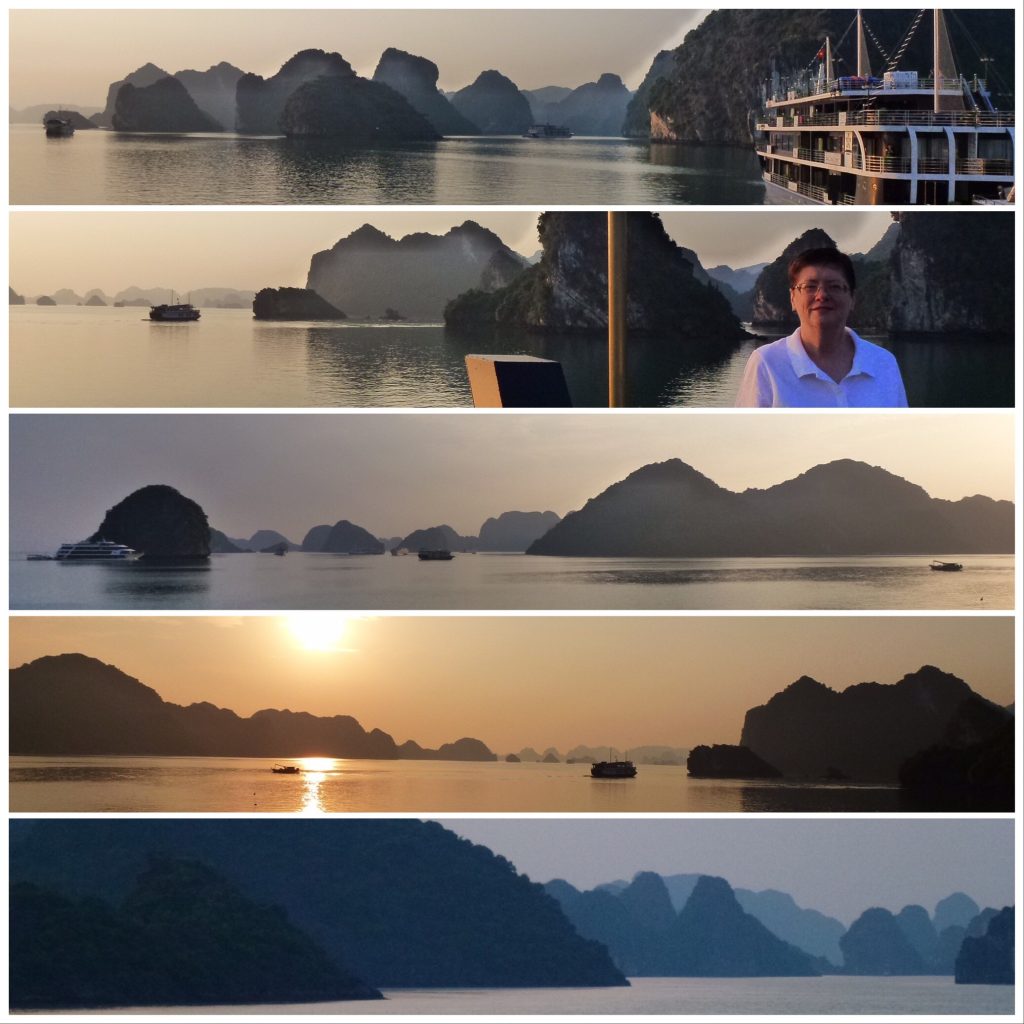 The experience of paddling among the limestone monoliths was breathtaking. We circled some, paddles under overhangs of others, all the time in awe of the scenery. Over an hour flew by and then we made our way back to the pontoon, concerned we would be last and they would have to come looking for us. Fortunately that privilege fell to an American couple who paddled off in a direction and that was the last we saw of them until we were leaving, when we went looking for our lost couple. All good fun.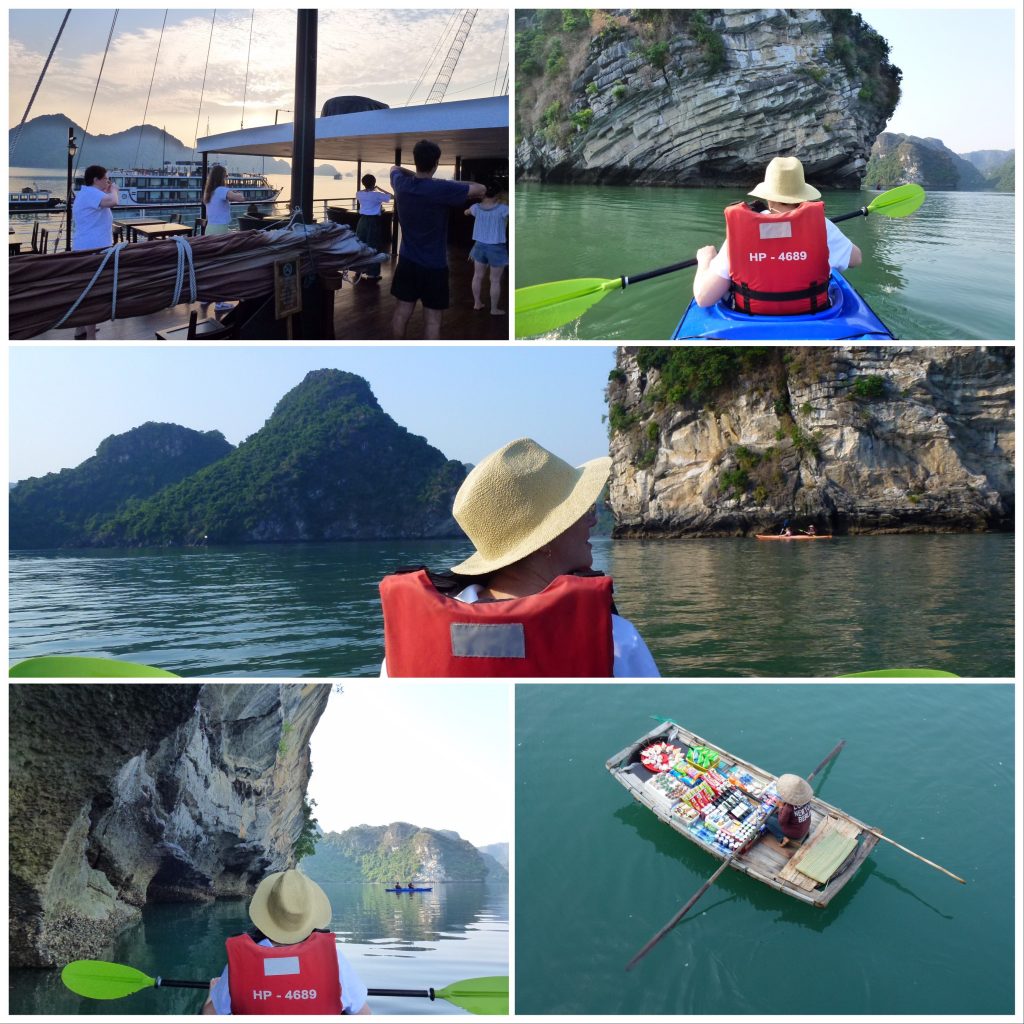 Back on board, showered and fresh, time for the boat to return to port, open bar, lunch and the experience was largely over. I could not imagine you would see very much if you did it as a day trip, and I am sure that would be even more exhausting than our 2 day adventure. We would highly recommend the experience.
On return to Hanoi, the hotel staff were amazing, welcoming us "home". We had a health spa massage booked and it turned out to be a perfect way to unwind and relax before cocktails (I had a Manhattan, Jo a Pina Colada) on the roof bar followed by dinner and drinks at The Street Food Cafe (justly highly recommended on TripAdvisor). The owner was really friendly, topping off our meal with cups of his favourite coconut rice wine – terrifyingly potent but yummy (it reminded me of some of the smoother sake I have had). Walking through Hanoi fairly pickled is an surreal experience but we safely found our way back and were asleep soon after. What a huge day. More to come…..