We had a day of walking around Hanoi, with the intent of exploring temples and pagodas. Knowing nothing we thought these were interchangeable, they are not. A "Temple" is a shrine honouring important dead people – kings, scholars, prophets and so on. The Viet people are really devoted to family and ancestors, believing in you visit a temple, with an offering, gives you the right to ask for something in return. They are also highly insistent on respect. Ladies need to cover their knees and shoulders, hats and sunglasses off. We saw them cringe at tourists that arrived in shorty shorts, offering them skirts for inside the temple complex. Inside they are richly adorned, oddly with mostly Chinese calligraphy (one of our guides said Viet think the Chinese characters have more meaning than traditional viet calligraphy), offering tables, statues and likenesses, shoes off, high step in to force you to bow as you enter.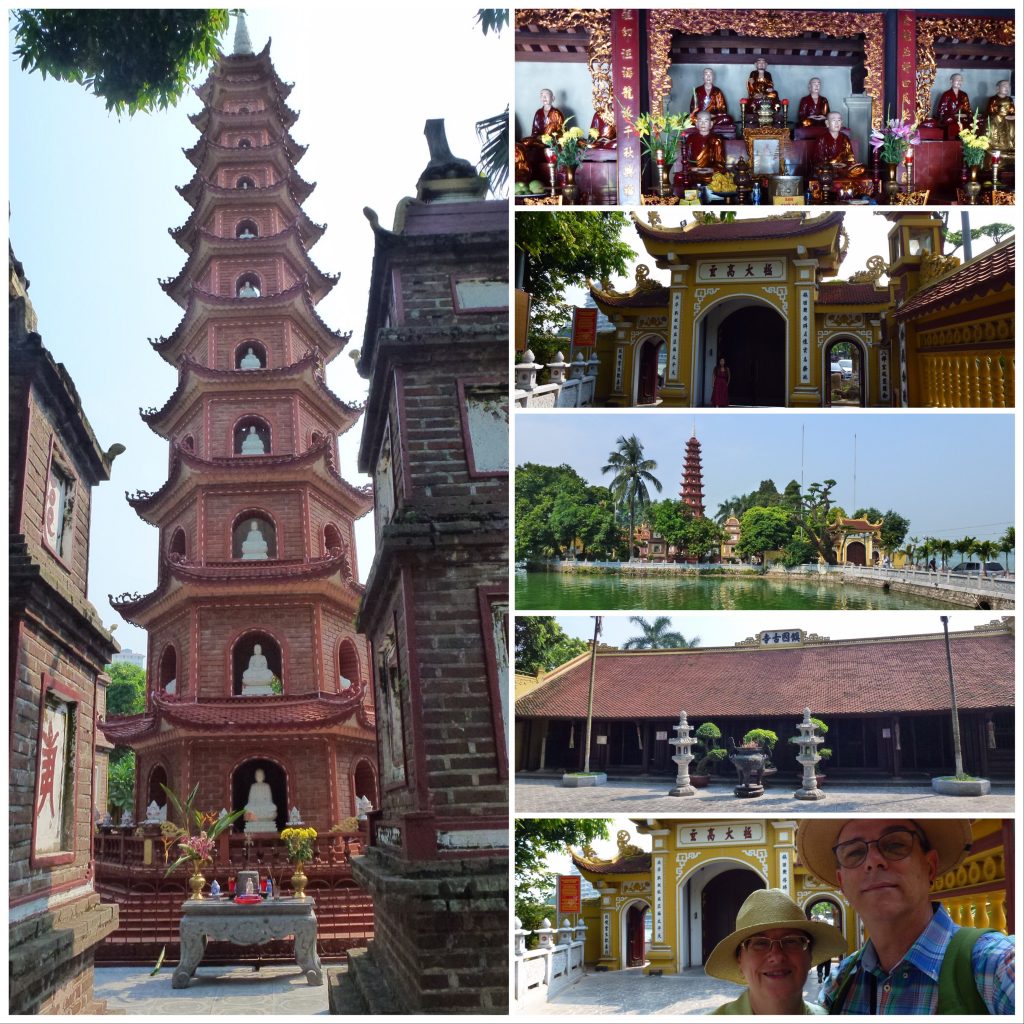 Pagodas are associated with Buddhist faith and spiritual worship, and are quite different to Temples. We saw a couple of pagodas, both with likenesses of Buddha and (odd to us) female Buddha (maybe he was much more comfortable in a dress?). The pagodas are usually surrounded by gardens, walled compounds and are meant to be havens of peace and reflection. It is clear to us that the Viet are, on the whole, very spiritual and most shops have shrines piled with offerings tucked away in a corner. They also use flags to signify the presence of a temple or shrine (different ones for each) as some are unassumingly tucked away behind unremarkable facades.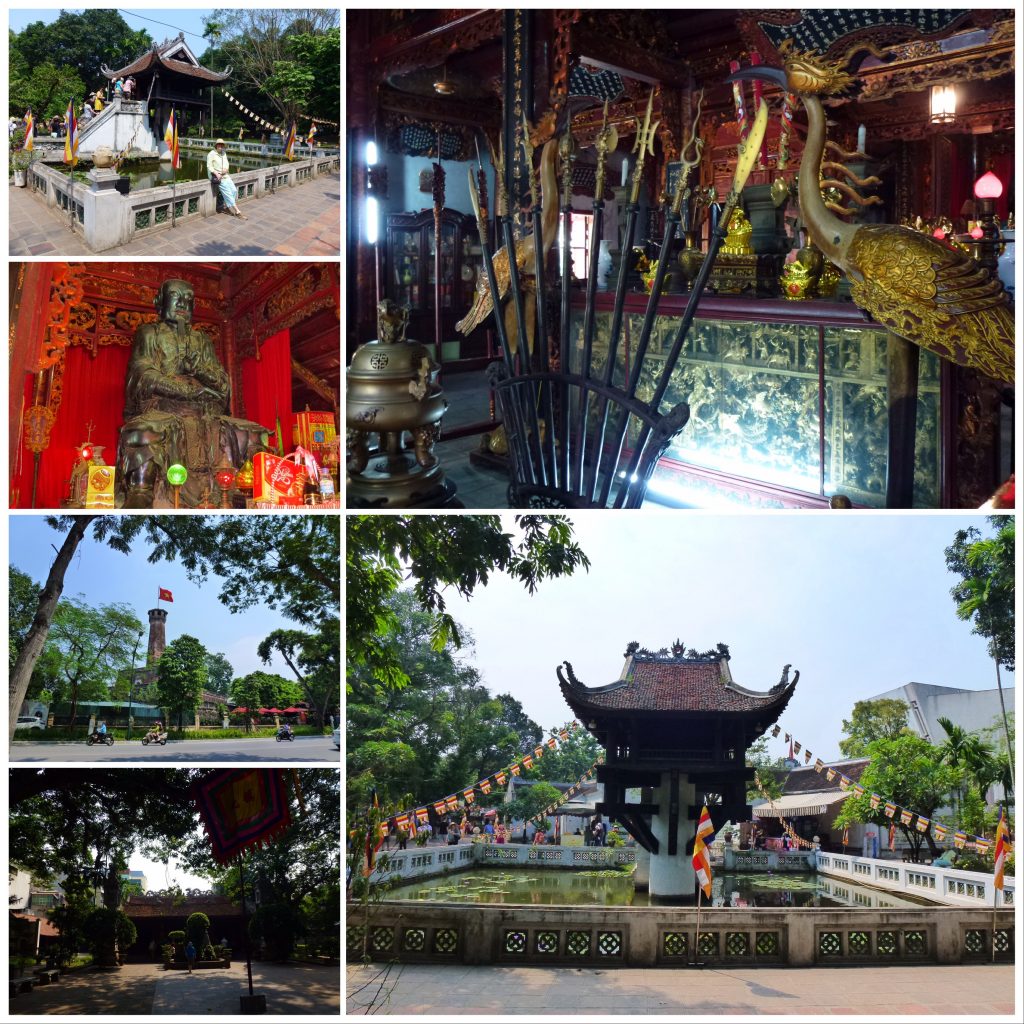 The one pillar pagoda was charming, but had a narrow stairway up and a queue of tourists waiting to gawk. We trekked there after walking past Uncle Ho's mausoleum on what turned out to be a blistering hot and humid day. The parklands around the mausoleum are huge, a fitting show of respect for a much loved leader. We were on our way to the Temple Of Literature.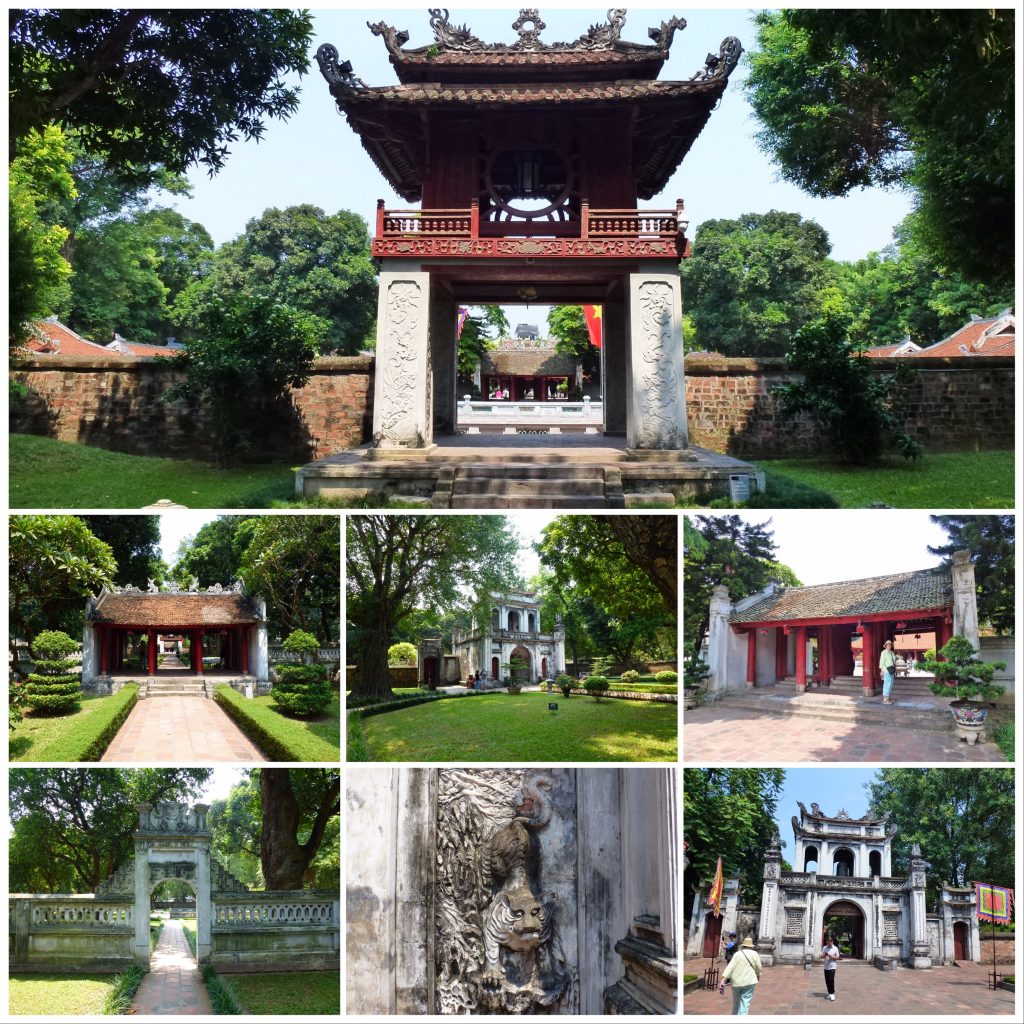 The Temple of Literature complex is Vietnam's oldest university. Scholars would come here to be in the presence of masters, doctors of all disciplines to learn and take exams. The compound is set out as a series of gated courtyards, each more esteemed, each accessible by more and more learned people. The gardens were cool and shaded, quiet and contemplative, an oasis from the tropical heat.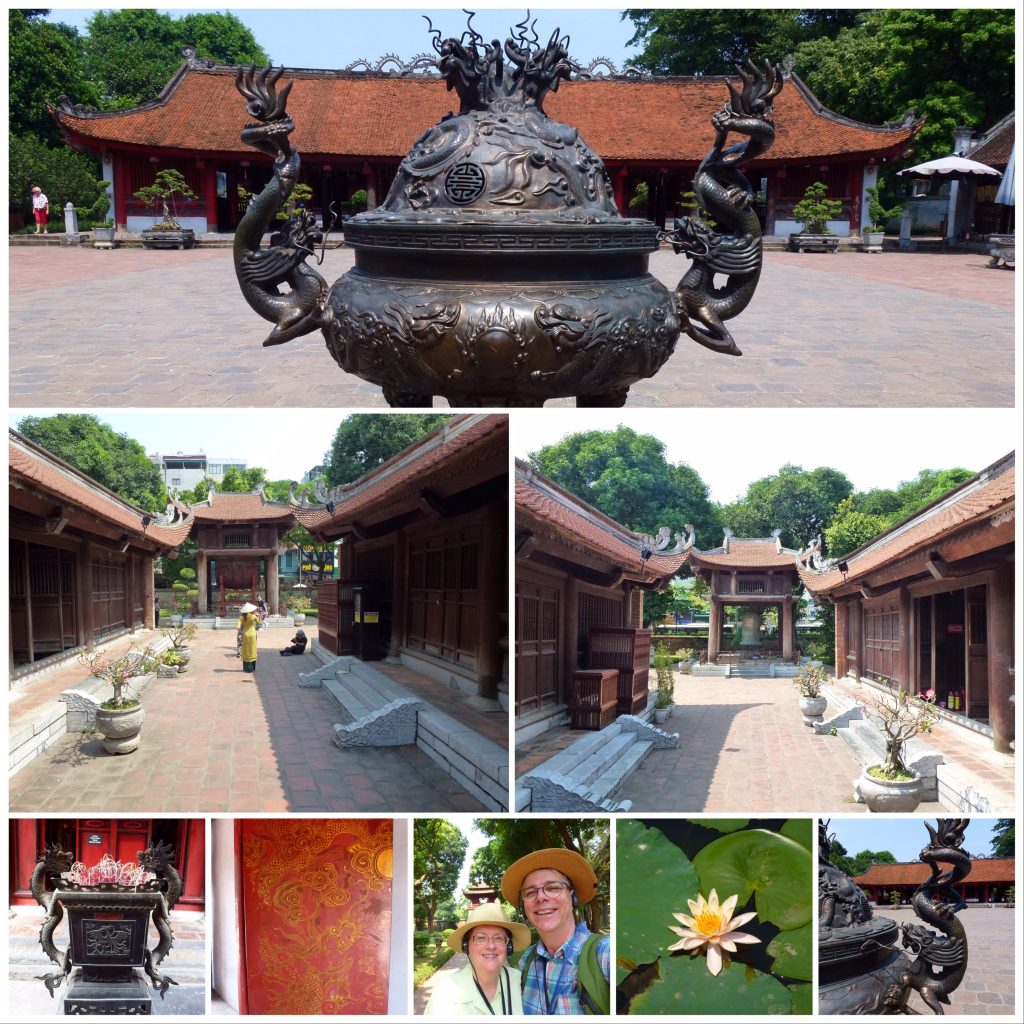 Dragons feature heavily in imagery and legend, indeed Vietnamese say their country is shaped like a dragon. Legend says the carp turns into a dragon, and the adornment of all buildings and planters, incense holders, door gateways are all "guarded" by dragons. The deepest most sanctum had a crossways pair of courtyards, one lead to a pavilion containing a huge drum, the other a massive bell. We really liked this temple complex, the audio guide was a wealth of information and really made the visit.
After the Temple of Literature, we had lunch in a training restaurant, similar to the one we have dined in at TAFE, trainees under the direction of instructors made our meals, delicious set menus featuring fresh and zingy salads, delicious grilled meats and lush desserts. We hope feeding and serving us was as instructive as it was delicious. Well fed, we returned to our hotel for a cool down.
That afternoon we had booked for us tickets to see a water puppet theatre experience. The show takes place in a theatre, with a pool as the stage, traditional musicians on either side of the pool, and wooden articulated puppets on long poles manipulated and moved under water by the puppeteers who are behind screens. It was weird and wonderful in equal measure. We both came out wondering wtf we had just seen. Perhaps an English translation might have made it less guesswork as we tried to work out what was happening. We did notice, however, many charming vignettes of village life o and around the river and rice paddies. The mythical critters were cure also, who knew dragons breathing fire would work underwater. This was unique, and since we have been walking around we have seen cute "water puppet" objects for same also in shops.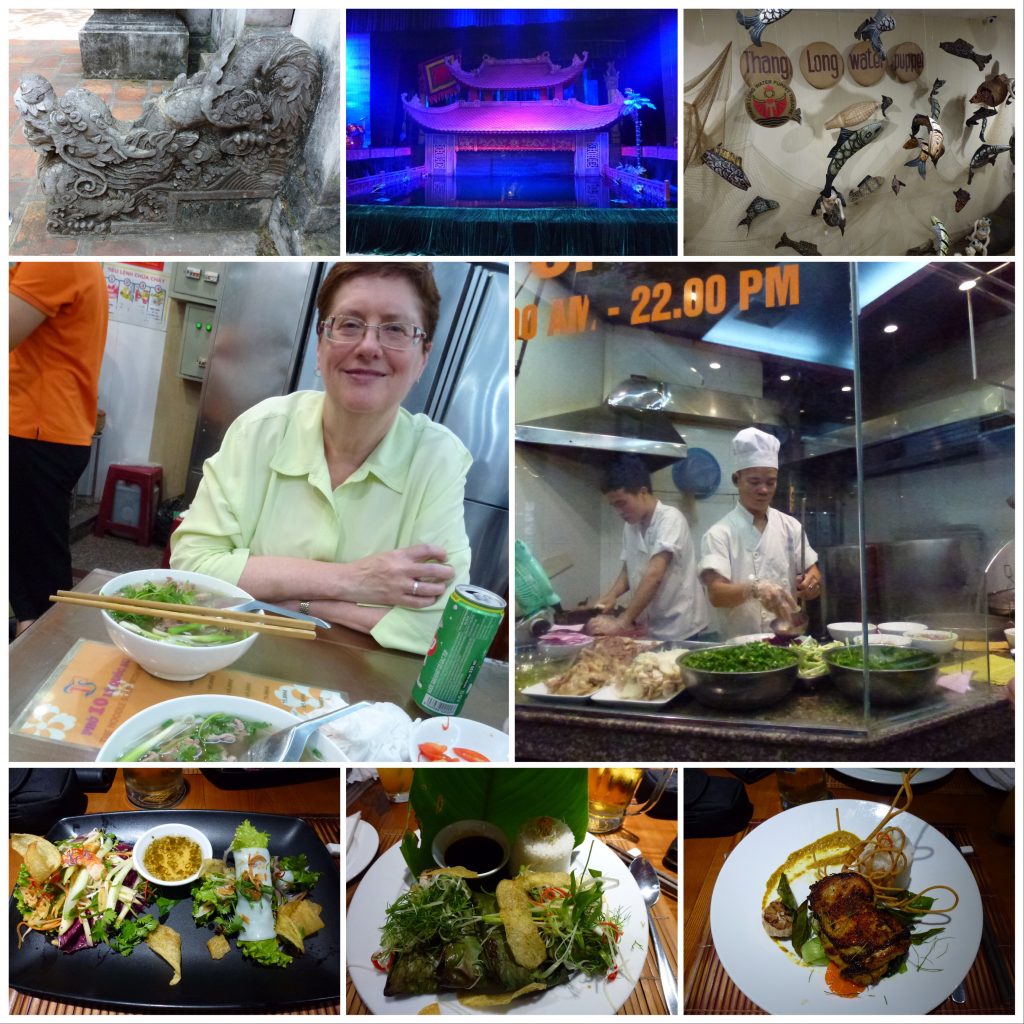 After the show we headed across to Pho10, a popular restaurant that serves one of our favourite dishes, we ordered a pair of steaming broth with rare beef, well cooked brisket, noodles, herbs and then adjusted the condiments to suit. Just delicious and I think one of the best Phos we have had.
We then set out to explore the "night markets", where around the lake the close many streets to motor bikes and cars, causing even more transport chaos, and the streets fill with vendors selling everything you can imagine, and even more that you would never think of. It is bewildering, crazy busy and you have to search really hard for an actual bargain as the quality is not great on most things. We bought sweet buns, briefly searched for further paper shops and returned home sweatballs. Shower and bed for an early wake up call and another huge day ahead…