Today we had an early start as we were being picked up for a day trip to Ninh Binh, the district that used to be the site of the original capital city of Vietnam, in Hoa Lu. Otherwise known as "Halong Bay on land" because of the maze of limestone mountains found there. We boarded a small passenger bus and, after collecting the other passengers from their hotels we were off on an arterial and pretty quickly was in farmland. The journey of about 2 hours took us through rice farm land and other agricultural areas. It became clear why there was a smoke pall all around: rice in this area has just been harvested. We saw it spread out to dry on pavements and driveways, locals raking and sweeping it into piles. Apparently after 3 days drying it is ready to husk and winnow. Other places we saw fires, rice straw being burned and the smoke was choking.
Our first stop, a restroom break, was at a handicraft barn, where disabled artists wares were for sale. Glorious silk embroidery paintings, clothing, other bits and bobs and a welcome restroom. Suitable refreshed, we headed on to Hoa Lu, the old capital.
Not a lot of the old capital is left, certainly nearly one of the original city. It was Vietnam's first capital city, a relatively small area, bounded by limestone bluffs, on a single river. It was deemed in-developable but was defensible. Population pressure and developing army meany they had other options, eventually settling in the area now known as Hanoi. We visited a temple for the first King, saw his "dragon bed" – a carved relief stone platform that I can o lay assume was padded to make it comfortable. Most of the remains were a result of a refurb in the 17th century, all of the original city had long been robbed as building material by the locals.
We learned that the biggest local industry was cement making. They use the limestone to make it, one wonders how they decide which mountains to grind up for cement, given the natural beauty of the area, but is certainly lucrative, evidenced by the largest and most extravagant private residence owned by a cement mogul in the area.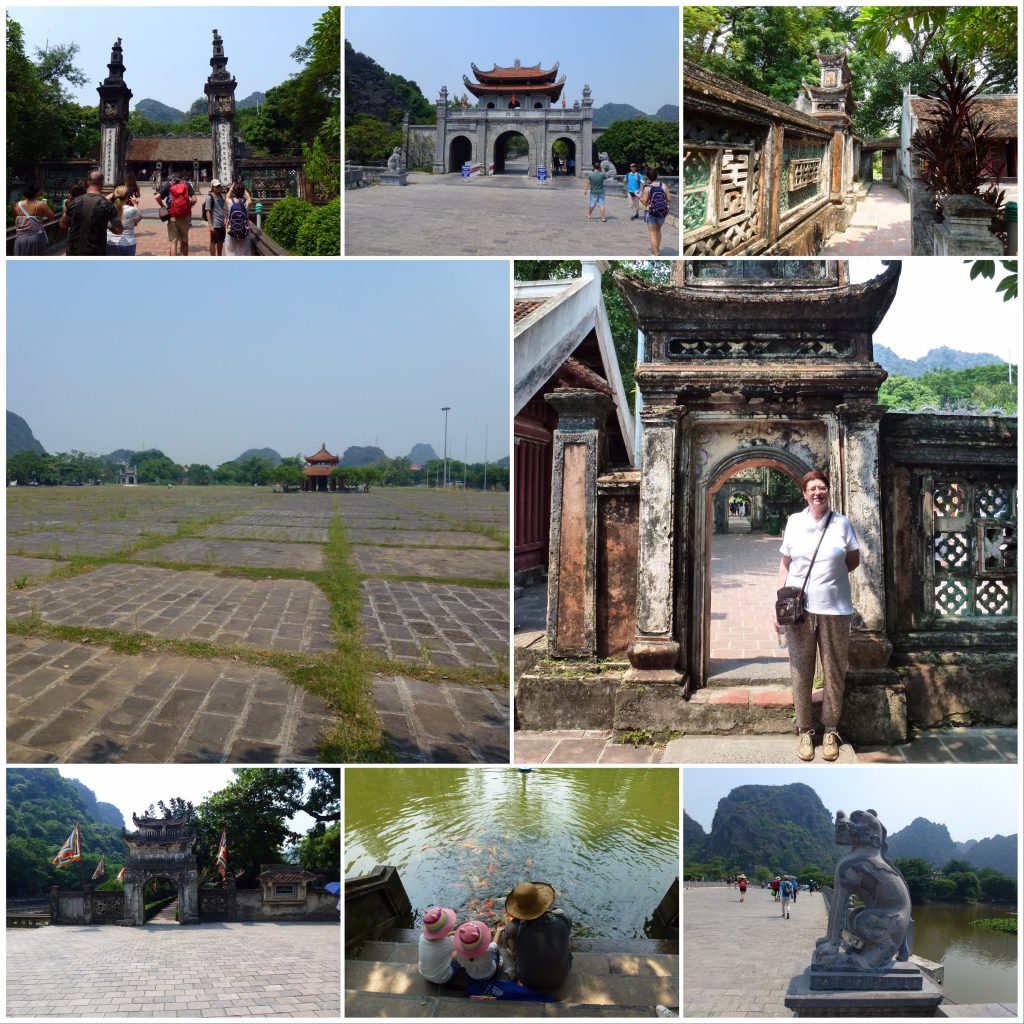 We then travelled to the main village in Ninh Binh and made our way through a cultural village to the base of a mountain containing Mua Cave. From there we began the 500 step climb up the dragon stairs to the T junction 2/3 of the way up the mountain. Here paths lead to either the pagoda or higher to the dragon and lady Buddha. I chose the dragon, Jo chose the pagoda. It was blistering hot, humid and the climb was really hard work for both of us. Uneven, steep steps, with a zig zag up and little shade, the comical sun hats we were lent seemed more of a liability than an asset. At my summit, the final clamber to get to the dragon was terrifying but the views were breathtaking (possibly because I was exhausted and out of puff), but I reached the dragon and managed to touch it (it felt like an achievement). I met Jo on the way back down and we staggered back to the bus pretty well on schedule, but hot, thirsty and totally done in.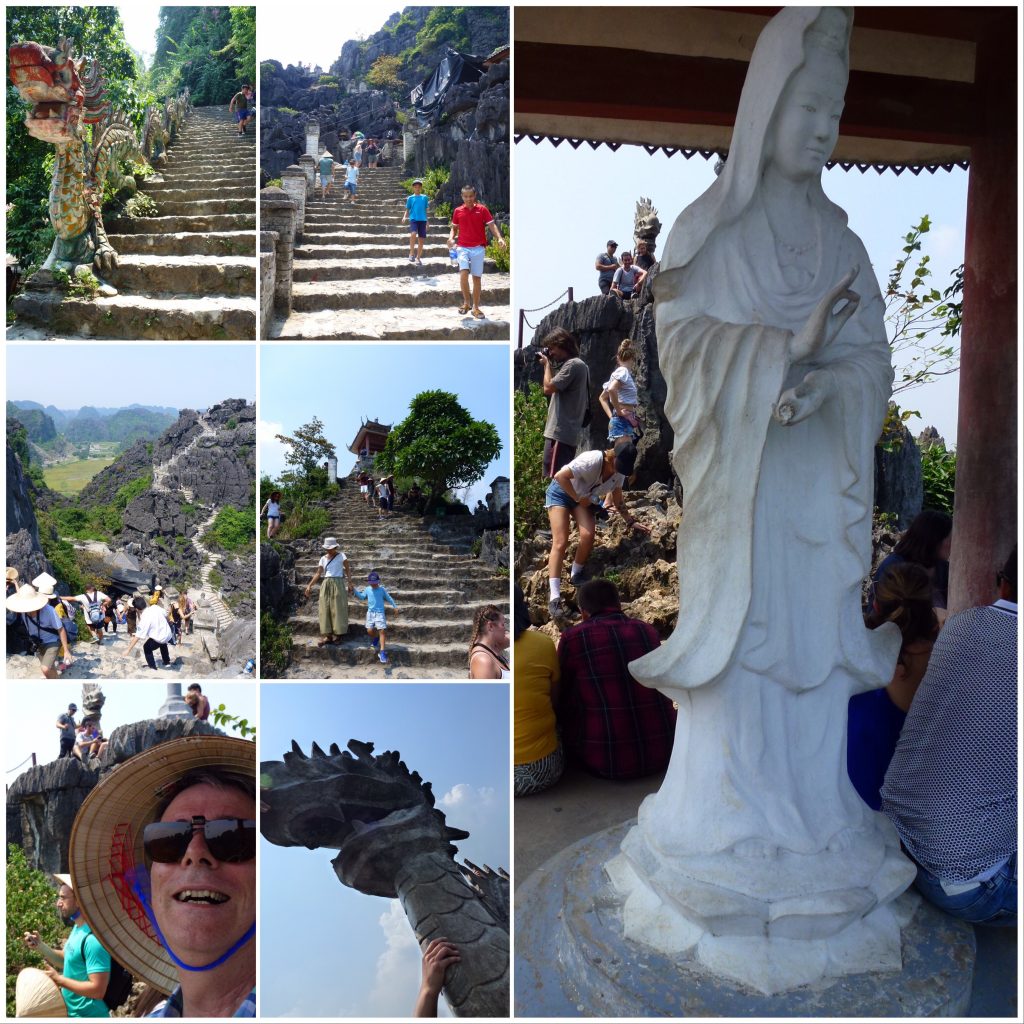 The surrounding area was really picturesque, with a lotus pond planted and timber walkway woven through it. Really pretty Japanese lotus, planted for the flowers. Vietnamese lotus are used as a food source, with pretty well all of the plant edible.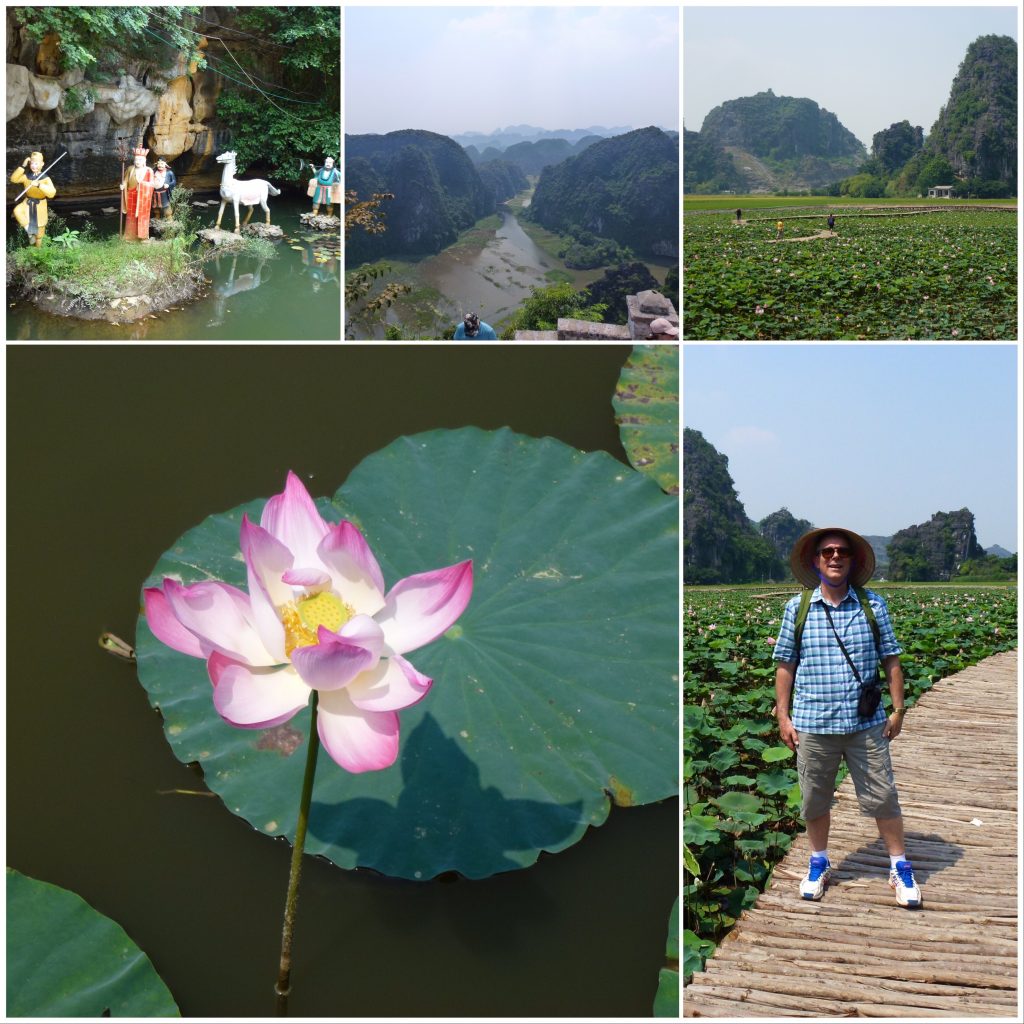 We were bussed to our lunch venue, a large buffet style restaurant offering a myriad of Vietnamese dishes. There were cool drinks and aircon, this served to revive us, to an extent. We were then taken to Tam Coc and Jo and I boarded a boat as passengers, our driver skilfully paddled us up the river, under 3 mountains and between limestone monoliths that were amazing. The way the light filtered through the gaps, and the snaking waterway were magic, a real treat. Our paddler paddled with his feet – fairly unusual but typical for this area. We were on the water for about 1.5 hours, surrounded by stunning scenery, just amazing.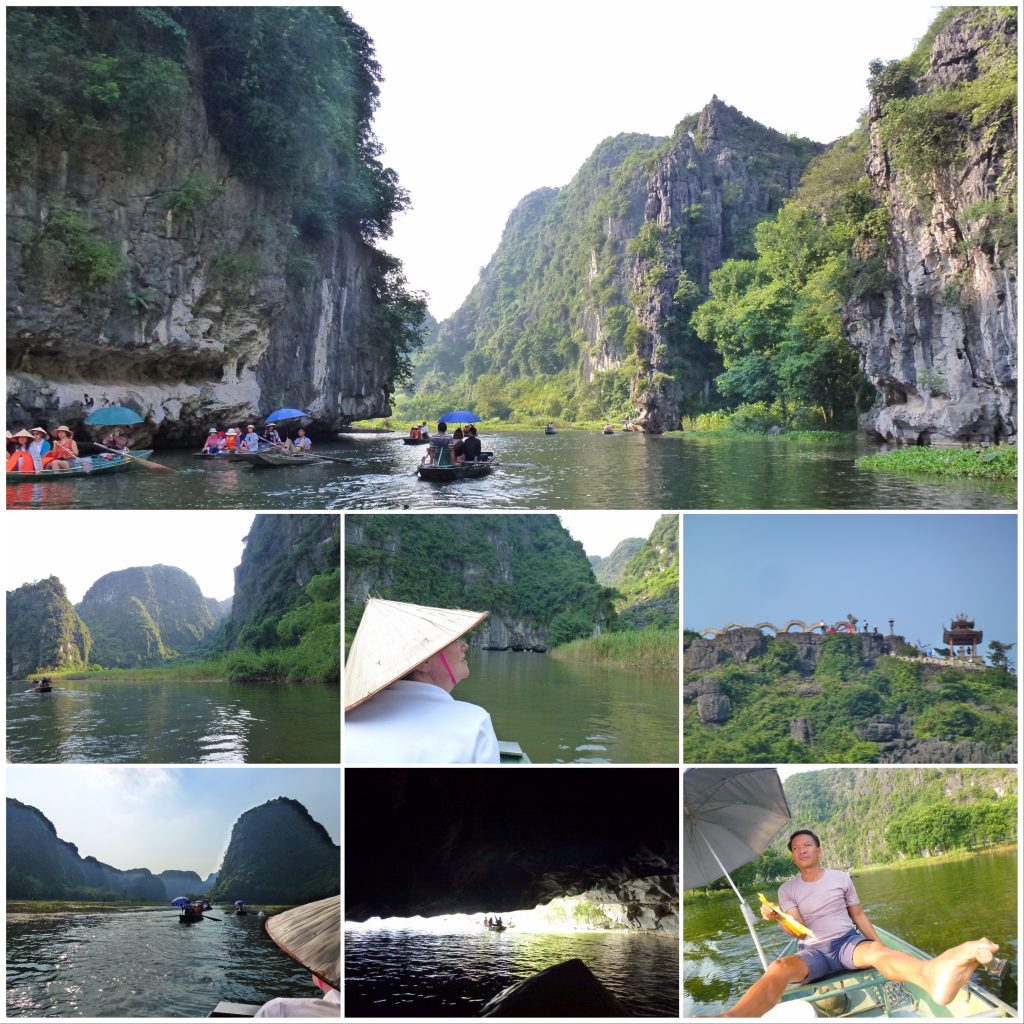 After our boat ride, we were given the option of cycling around the village. I decided I could manage it, Jo was tuckered out and found somewhere shady overlooking the river while I cycled. It was fun and fairly flat, so not too exhausting. I had not been on a bike since Lyon, so took a moment to get less wobbly then I was off. I had previously developed a technique of riding and photographing at the same time, which in traffic was hilarious (I have discovered I laugh in terrifying traffic situations, not sure why, must be a coping mechanism). We cycled past rice paddies, fish ponds, and through the back streets and the workings of a typical village – really interesting and a fabulous end to the day.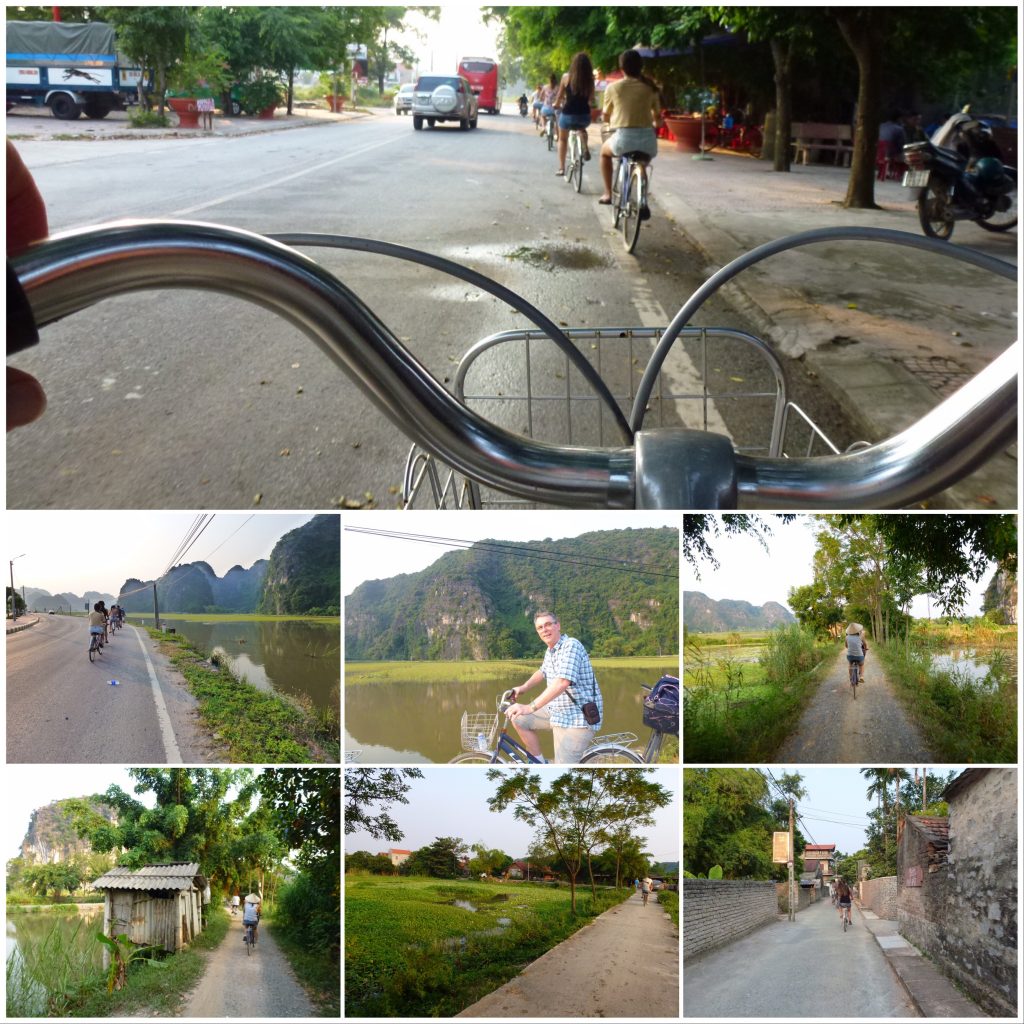 The trip back was long, dark (few streets are lit in regional centres) but punctuated by more rice straw fires (so do not expect a view tomorrow) and afforded some a nap. The night markets had once again closed many streets so we had to be creative finding our way back in to the city and our accommodation.
Totally buggered, but hungry, we decided to go street food, and returned to a family restaurant that served dried beef salad (so saucy, tangy, crunchy green papaya and more) and some crispy spring rolls from the lady in the alcove we visited on our food tour – so delicious. We finished off the evening with iced coffee/tea at a Cong Cafe (a local franchise) before staggering home for a shower and welcome bed. We expect not to be able to move tomorrow, our "rest" day …we shall see.