As part of our holiday planning, Jo usually adds "rest" days, which are less frantic, giving us a chance to slow down and recharge. Today was our rest day, starting with a sleep in, leisurely breakfast then some low stress souvenir shopping. We are not much for souvenirs but decided to look for some uniquely Vietnamese bits and bobs. We also tried the AHA coffee house for a dose of caffeine and enjoyed people watching in the cool.
Jo had found a cooking class that offered to teach us how to make signature Vietnamese dishes (which have turned out to be some of our favourites) and our tour guide arrived and asked how we wanted to travel. Quick as a flash I said motorbike and the deal was done (much to Jo's surprise). I was keen to try, Jo less so but off we launched into crazy busy traffic – in the end so much fun and mostly fatality free. "Grab" is south east Asian Uber, we have been using it for car travel but they also do motorbike, good to remember. The service is really responsive, you agree up front on the price, I do not know why people still use taxis.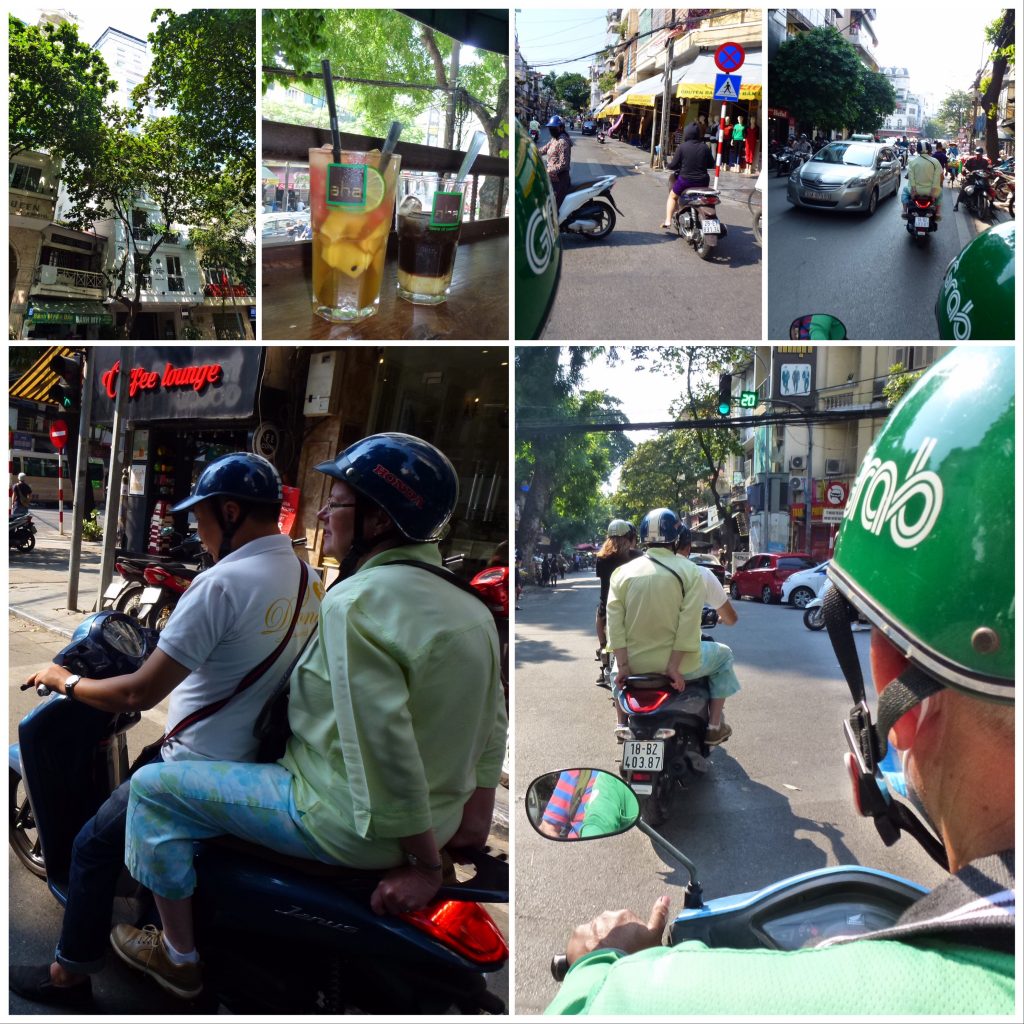 We arrived windswept and exhilarated, and were greeted by Chef Peter who took us through the first stages in the preparation of Pho broth. Oddly the big marrow bones were washed, boiled in salted water for 15 min to clean/disgorge them, then placed in a large pot of clean water. We roasted onion shallots, red onion and ginger root unpeeled until blackened, then washed/peeled them and placed them in with the soup. We also dry roasted salt, black cardamom, star anise and cinnamon quills until quite toasted, but these would not be added to the broth for 2.5 hours (just the last half hour of cooking, else their taste is too strong). We also added dried sand worm for deep sweet umami (but were told we could substitute dried squid). 3 hours of cooking and the broth was seasoned before using.
While the broth was bubbling, we headed out on bicycle rickshaw to the markets.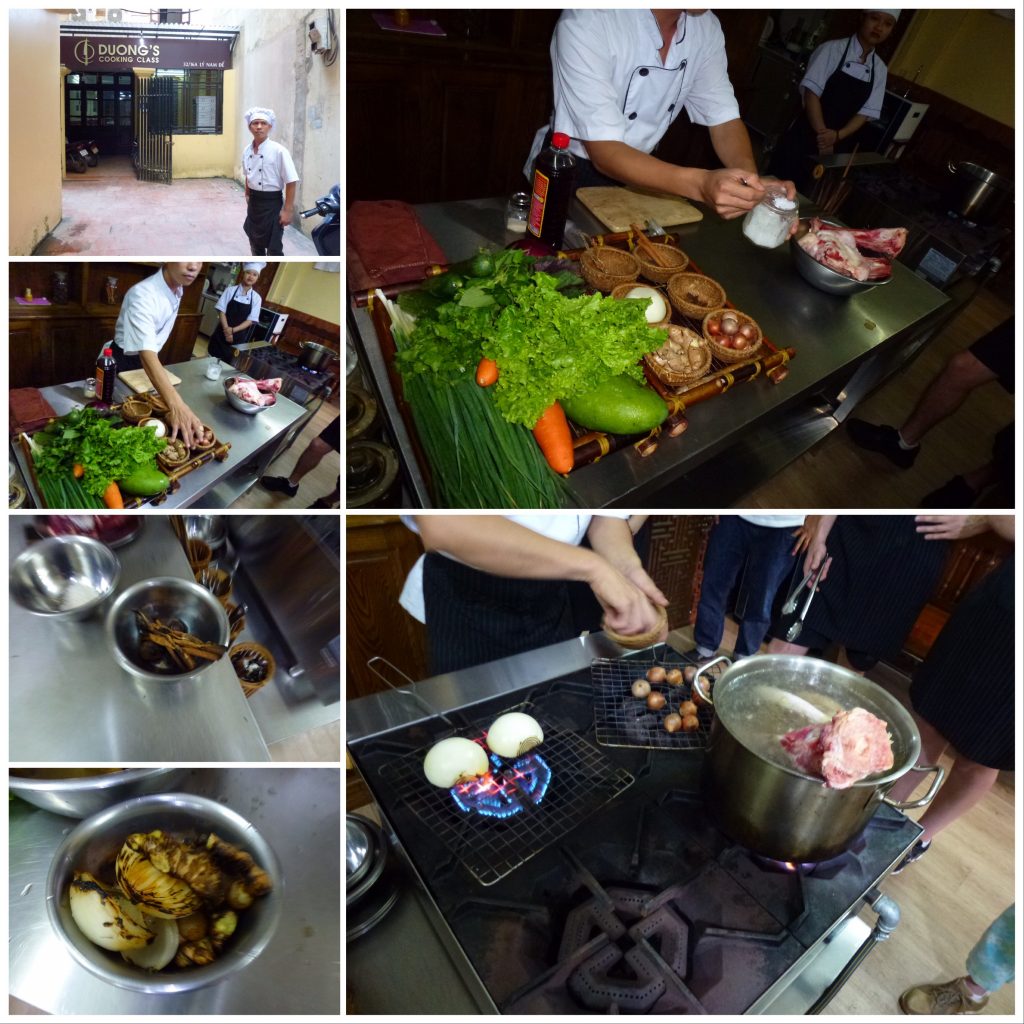 In our research we had not really found a central fresh food market, but there was one and we headed there through crowded streets, the pedal cars are a fun way to travel for the passenger, could imagine they are a nightmare for the driver. Everything you could imagine was on sale, all fresh that morning, colours and smells were a sensory riot. Meat, seafood still alive, penned live soft shell turtles (I had to fight the urge to set them free), innards, eggs – some with unhatched chicks inside (local remedy for headache, it would replace headache for nausea with me). Everything fresh, nearly no smell, even in the corner they were making fresh shrimp and crab pastes.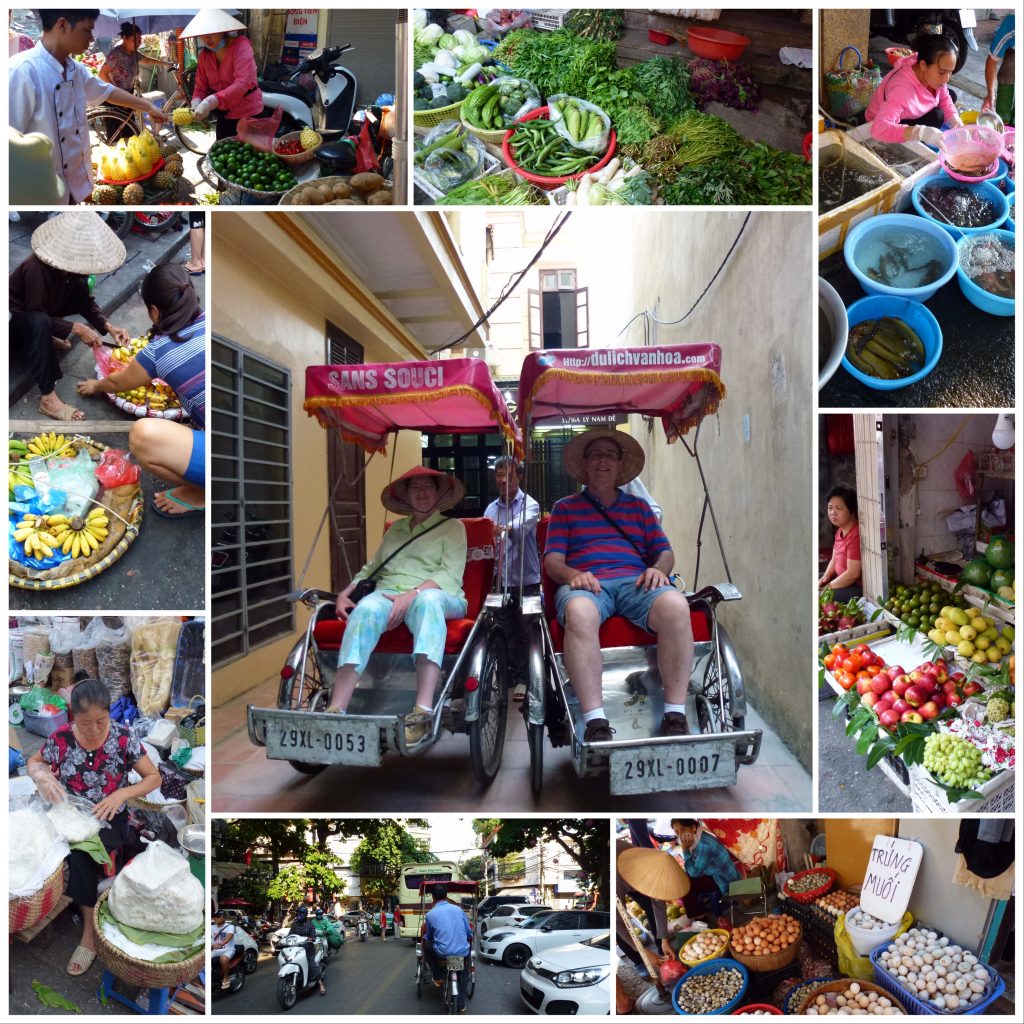 We bought fruit, noodles (vermicelli and Pho), shoulder and belly pork, herbs, live prawns, pineapple, sugar bananas (wow are the bananas different here, they have flavour, and are not starchy, more juicy and delicious, and nothing like the boring cavendish or ladyfingers back home) and other ingredients for our coming feast. The chef talked to us about how to spot freshness and things to avoid. Most families visit markets each morning when apparently it is even busier but everything comes in from local farmlands fresh each day. It was a wonderful experience, so much to see as we walked back to the kitchen.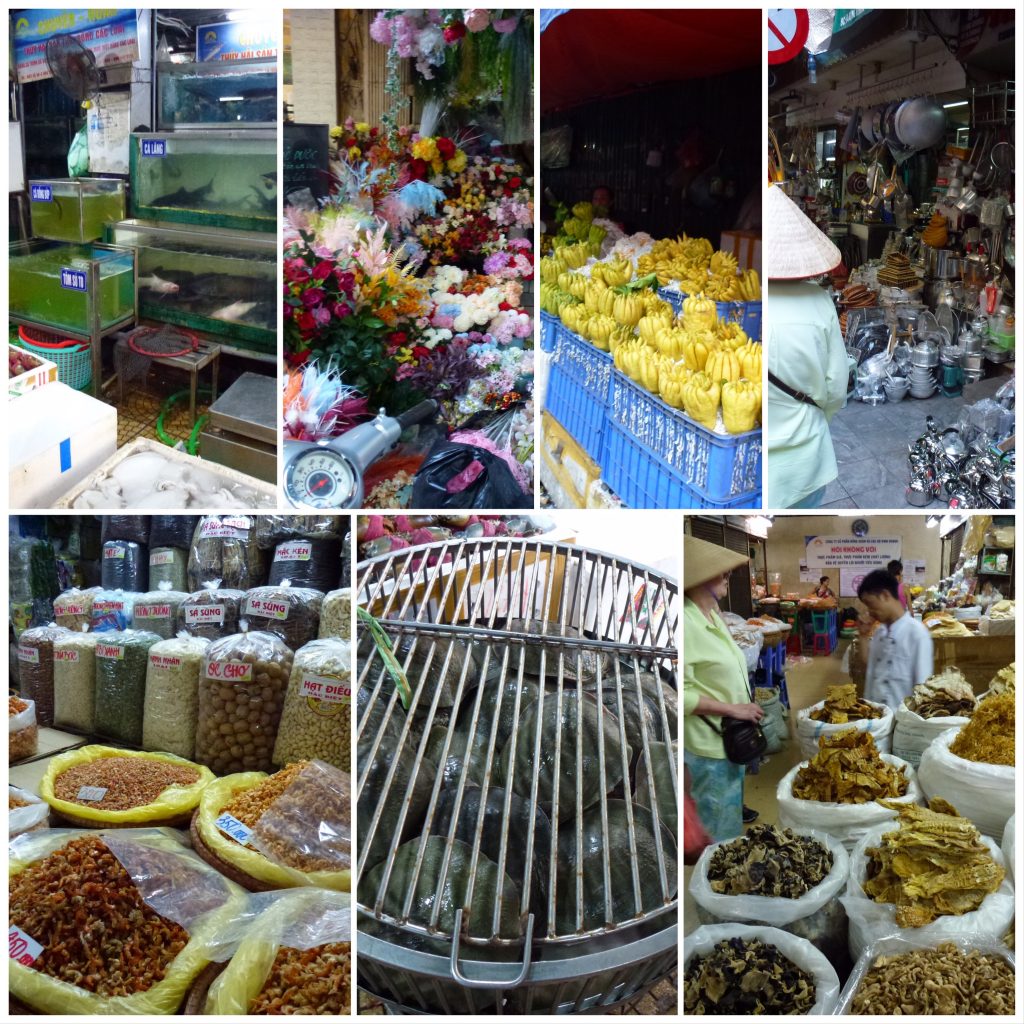 Back in the kitchen we learned how to chop and marinate pork for bun cha, make dipping sauces for bbq pork and spring rolls, how to stuff and roll fresh spring rolls and how to finish off the pho prior to service.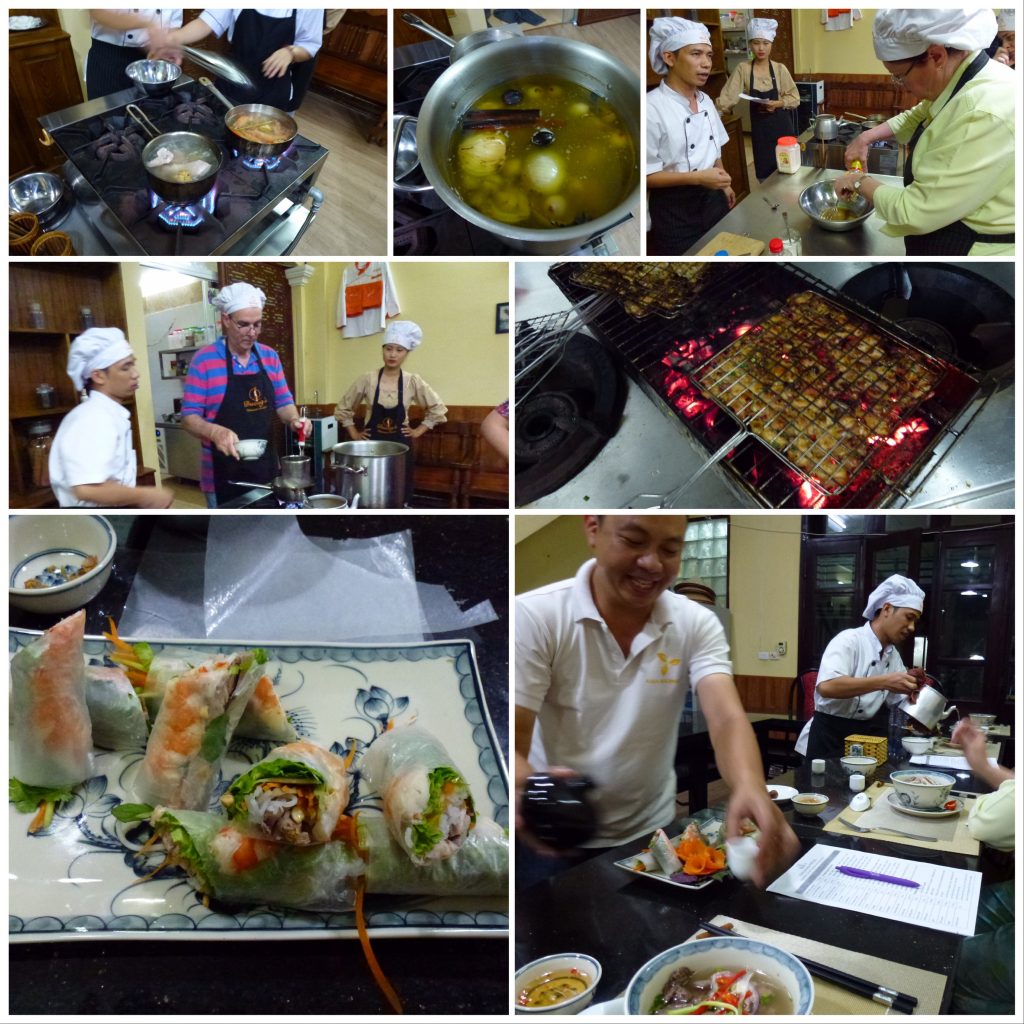 Then it was time to eat what we had cooked, so delicious, so abundant – probably the biggest meal so far, but fresh, familiar flavours (as in we had these dishes from street vendors and they tasted the same). Our host also poured many cups of his homemade rice wine (this one was darker in colour and sweet, a little like a Madeira). Stuffed full to exploding, we got a grab car back to the hotel for a welcome sleep, happy tummies and tired other bits.
We had a welcome sleep-in before a leisurely late breakfast, finished packing then went out to our nearest Cong Cafe for Jo to get her coffee fix – she has fallen in love with Vietnamese Iced Coffee, and we now have all the gear to make it ourselves at home. We have loved our time in Hanoi. The food, the people, the sights – just an amazing destination, and I think the perfect amount of time here to see it. Next stop Siem Reap in Cambodia…. hope you are enjoying the commentary so far as much as we are enjoying the trip.