We had a tour booked today in the afternoon, so after a sleep in and leisurely breakfast, we decided to head into town to see what we could see. It is clear this is a hotel and party zone, hundreds of hotels and a bunch of blocks dedicated to bars, more to restaurants. We had a "Tuk tuk" (a motorcycle with a passenger compartment as a sort of trailer) take us to a destination, sort of. I am not sure the driver spoke English and we seemed to go around and around until, by luck, we found something close to where we wanted to go. It was then that we realised we did not have our card of the hotel for the return journey, but assumed all would work out.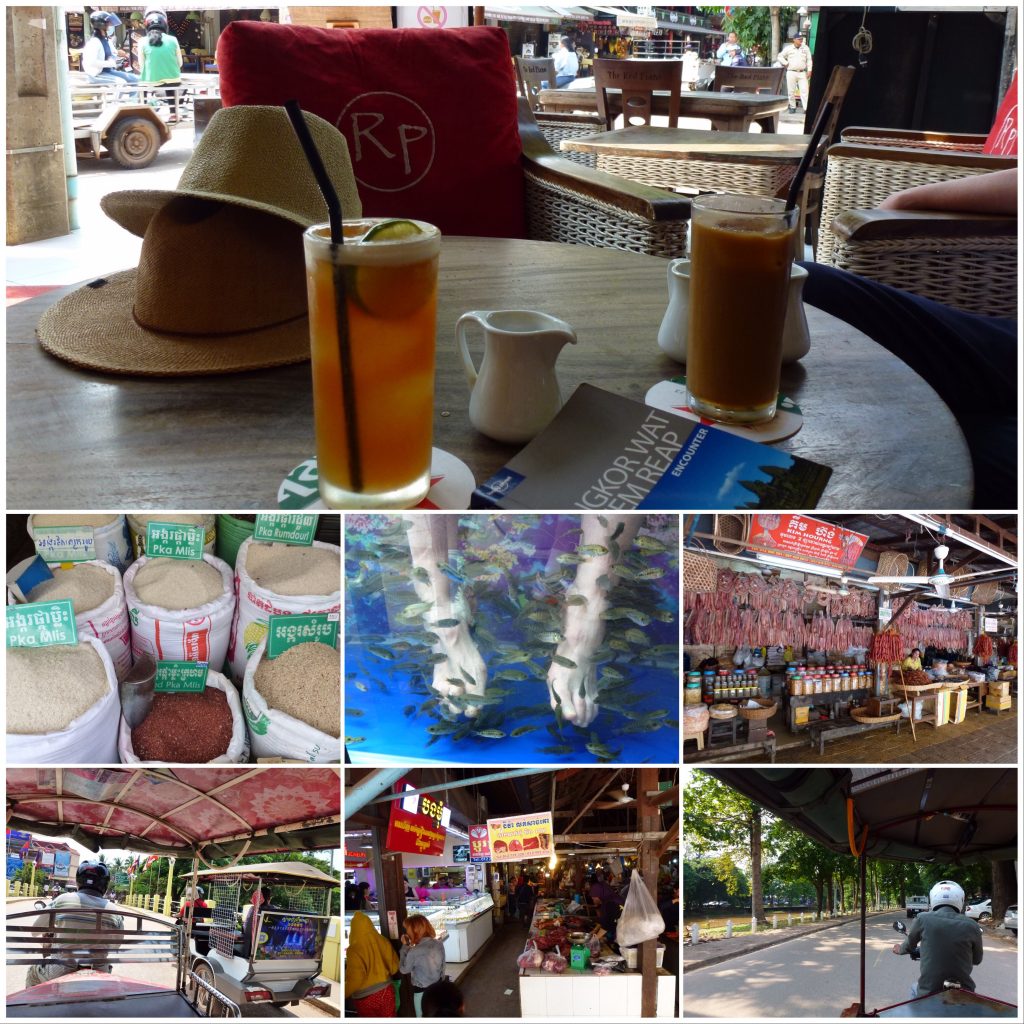 We looked around, firstly Genevieve's Fair Trade village (on recommendation) and then various "made in Vietnam" craft collectives, community projects and the like. It is clear the Cambodian people are gentle, polite to extraordinary lengths and quiet spoken (except in markets and road stops where they are trying to hawk their wares.
We then went to cool off, and chose The Red Piano, a famous local location, Jo got an iced coffee fix and I got a lime tea – very refreshing and cooler under a fan in the shade. Nothing prepares you for the humidity here, it is like a wall that hits you when you enter it from an air conditioned room and saps your strength almost immediately. The early mornings are coolest, with the peak of discomfort in the afternoon. We have taken to carrying water – heavy but really necessary for rehydration. After Jo had her coffee hit, she decided a "fish massage" was just the thing, and dangled her tootsies in a tank full of attentive fish, who proceeded to nibble for a half an hour – she thought they did a good job. Let us hope they are fed more than tourist feet.
We then wandered around the central market, stiflingly hot, narrow passageways with fine silver jewellery right next to a pork butcher cleaving with abandon. Live fish beside durian candy, tea with tobacco, spices with patent leather shoes, Noisy, colourful, an olfactory assault but so interesting. We purchased some bits and bobs then caught a Tuk tuk to lunch at "Tevys Place", a local restaurant that featured in Jos food research.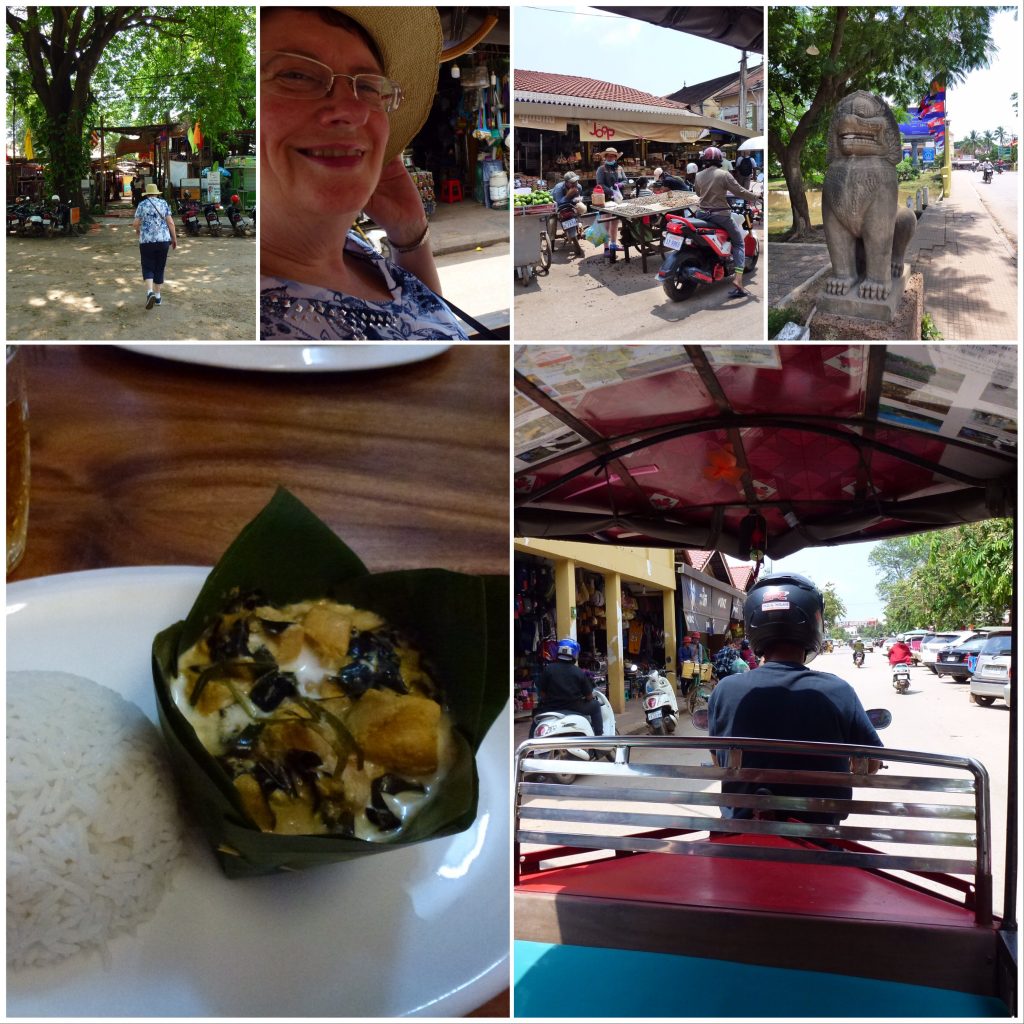 We have a list of Cambodian dishes we wanted to try, and lunchtime was Fish Amok time. Simple presentation in a banana leaf cup, a subtle blend of spices, fish, a green vegetable that was a lot like spinach and coconut cream made for the perfect accompaniment for rice and a delicious lunch. The local Angkor draft beer is excellent for rehydration also, great for me, with Jo having a fruit juice mix.
After lunch, the adventure of trying to get a Tuk tuk back to the hotel began. Our driver had no English, but tried to reassure us that he knew where to go, then took off in entirely the wrong direction, we saw a LOT of Siem Reap before we could convince him to head in the right direction, only to overshoot the road and go up the wrong one for another lengthy diversion. Eventually we found "concrete drain road", named because …. and were deposited, windswept and over it at our hotel. Time for a swim and cool-off in the pool before tour pickup.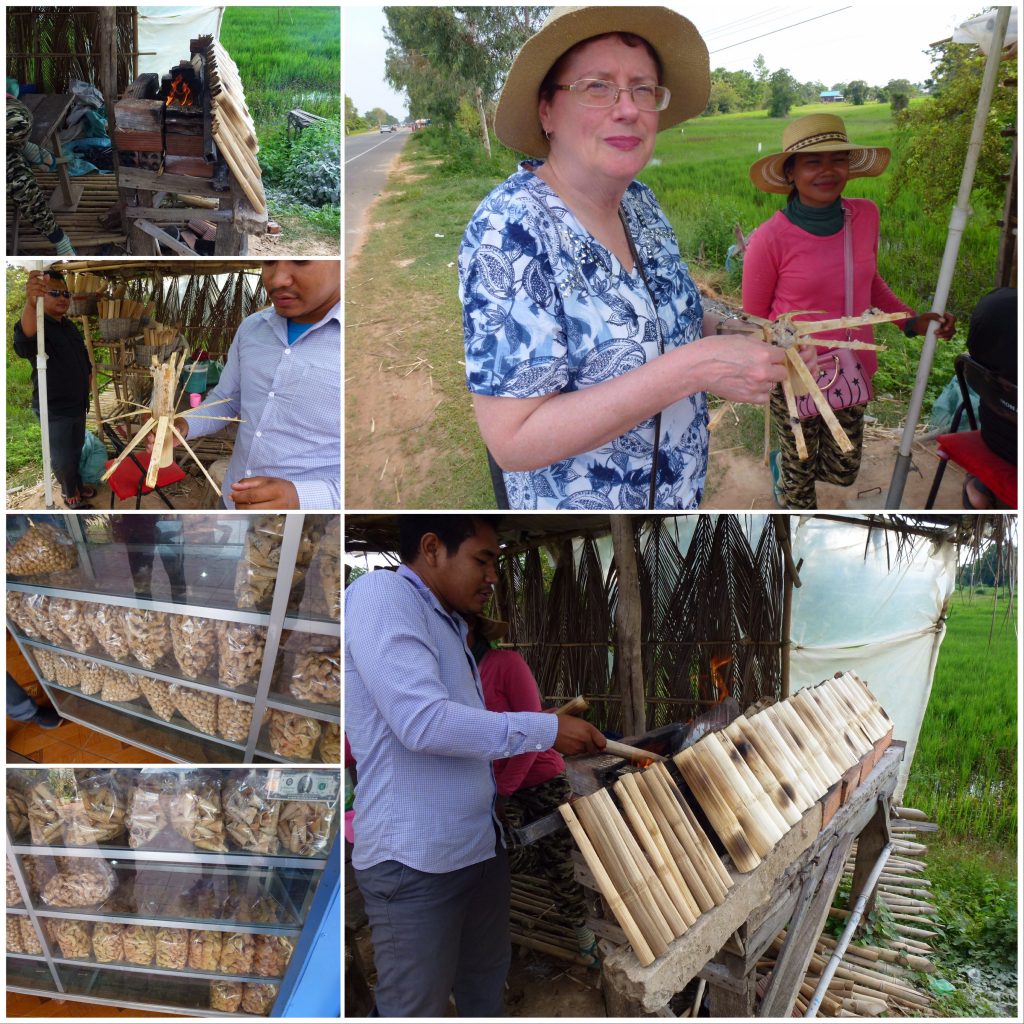 We chose "Community First: Kompong Khleang Floating Village Tours, because the tour fees go straight back into supporting "Bridge of Life" projects in the community we visited. The tour guide was originally from the village we were to visit, so had a lot of local knowledge and many relatives still living there.
We started on a bus (small comfortable multi-seat minibus) and stopped along the way to try typical Cambodian snack foods. First up was sticky rice, cooked in bamboo with black beans and coconut cream. The long bamboo cups were charred over an open fire, then peeled to remove the black so they were thin enough to peel back revealing a cylinder of rice "cake". It was hot, creamy and delicious. I can see why it is so popular as a snack food, and was astonished to see how many vendors lined the main road selling it. I also saw vendors with bottled liquid I assumed was sugar cane juice or some form of hooch, turned out to be petrol for motorbikes and tuk tuks.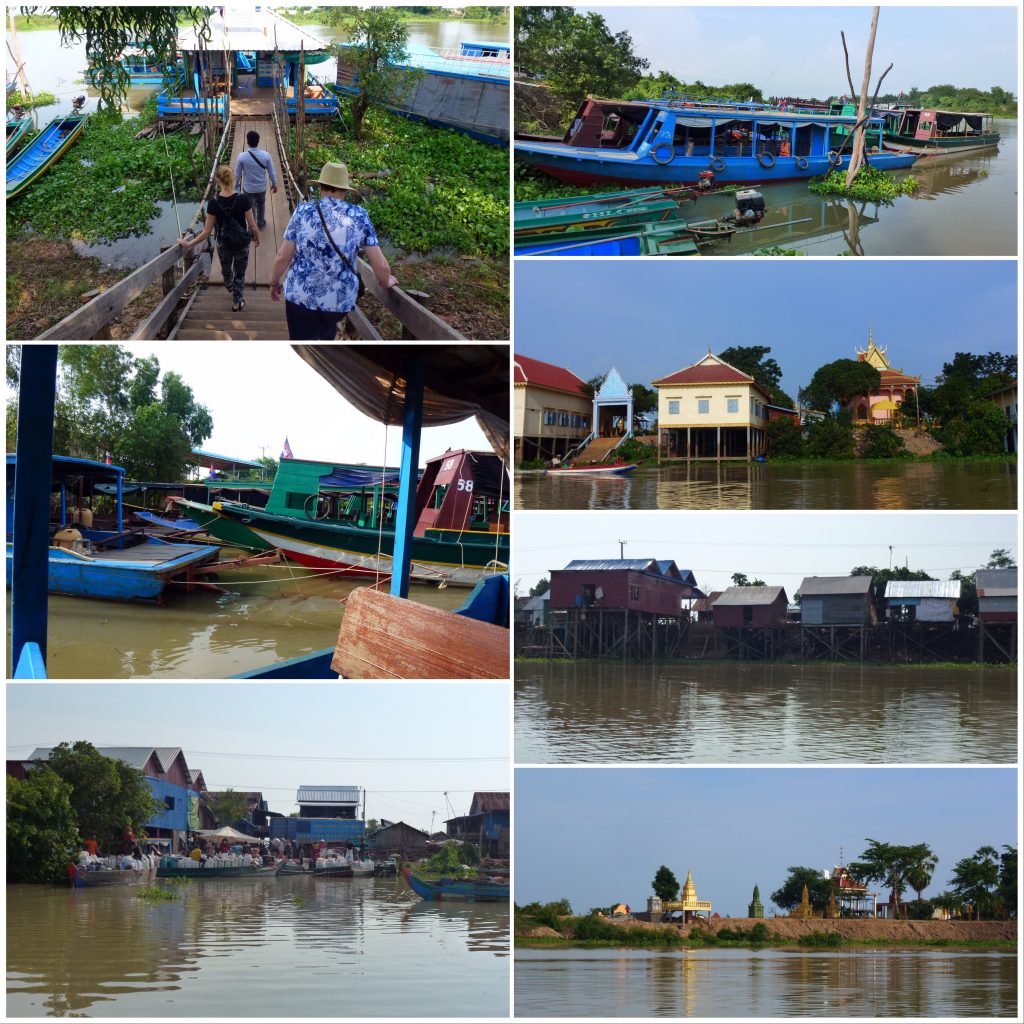 Next stop was a Khmer baker, and samples of Khmer donuts (little deep fried rice flour and coconut snacks soaked in sugar syrup, "worm cakes", which were rice flour shortbread of sorts in the shape of grubs – delicious (my favourite), then some dried mango (sheets of fruit leather). Fortified with snacks, we then left the bus for a long narrow motorboat to begin our river cruise.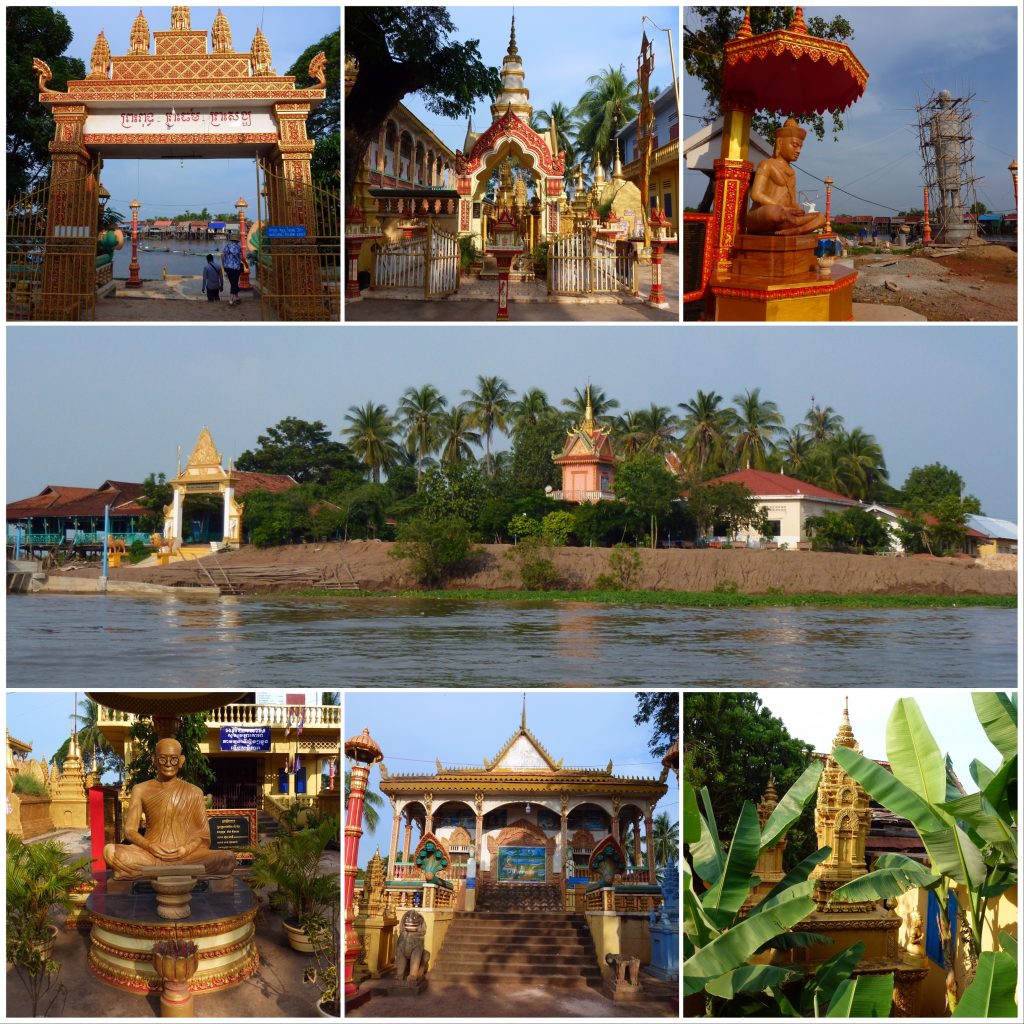 The area we explored was the waterways swollen by the wet season rains. Locals had 2 strategies for coping with the huge variation in water level: either build your house on tall stilts, or make your house float. We saw both. Most houses clustered around small fingers of dry land, but most were surrounded by water with boat the main form of transport. We visited an island that housed a monastery and public school (their computer lab was a Bridge of Life project), learning that class sizes were 50+ in a tiny room with one teacher. Interesting what we take for granted. We saw heaps of happy kids (everyone is so nice) and classrooms, temples and pagodas. We saw people washing in the water, drinking and cooking from it, learned that their plumbing emptied into it and figured people here have strong constitutions.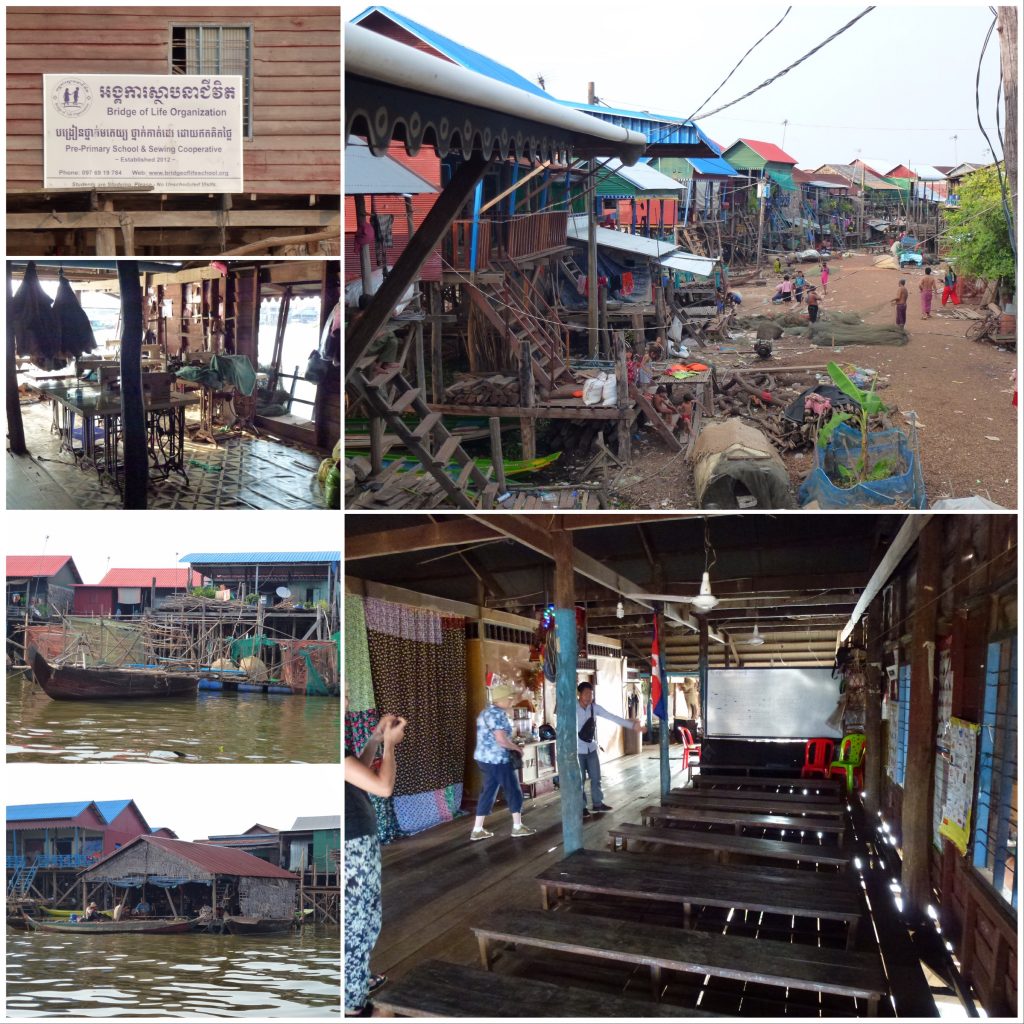 We were further upstream, to learn that most of what we were boating over is actually their farmland in the dry. Locals have 2 jobs: fishing in the wet (the waters are incredibly abundant) and farming in the dry (the soils, when the water recedes is very fertile). Amazing to think that they experience a total change of lifestyle twice a year.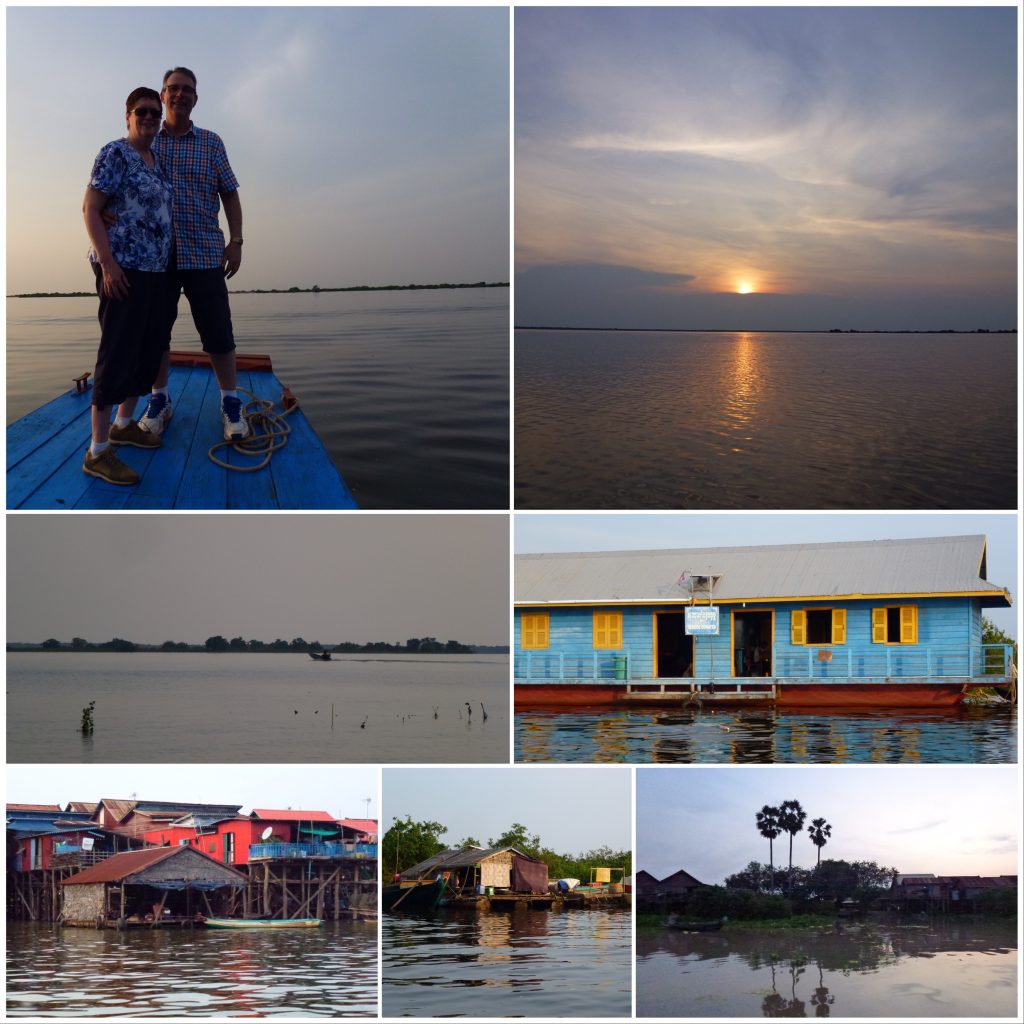 We visited a Bridge of Life year 1 classroom in a small but densely populated village, and a sewing school, all useful projects that suit the locals. Apparently local primary schools are the best way to educate the little ones before they can swim, and hence travel by boat to a primary/secondary school. Literacy is hard work, with a 50 or so letter alphabet, 20 vowels and a bunch of letter modifiers, the language is musical with tones making the same letter sequences mean different things.