After a leisurely breakfast, we packed up lunch (a nice healthy salad and some fruit, trying to watch the calorie intake for a while) and headed out in the car into the countryside towards Avebury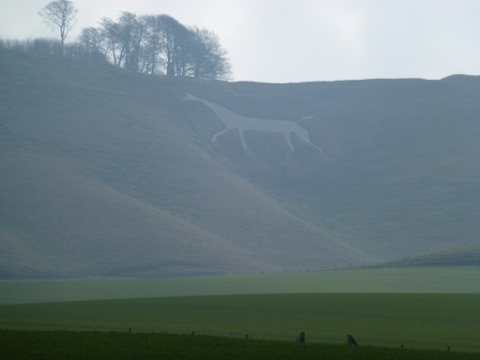 Along the way near Cherhill we saw a huge chalk horse, a petraglyph, in the side of the hill. It was still foggy, squint and you can make it out in the distance – our first ancient monument.
We headed towards West Kennet Long Barrow, an ancient burial mound made over 5000 years ago – it has been excavated and you can walk inside part of it now – just awesome, we had a brisk walk to the top of a hill beside fields of yellow rape seed crops glistening in the spring sunshine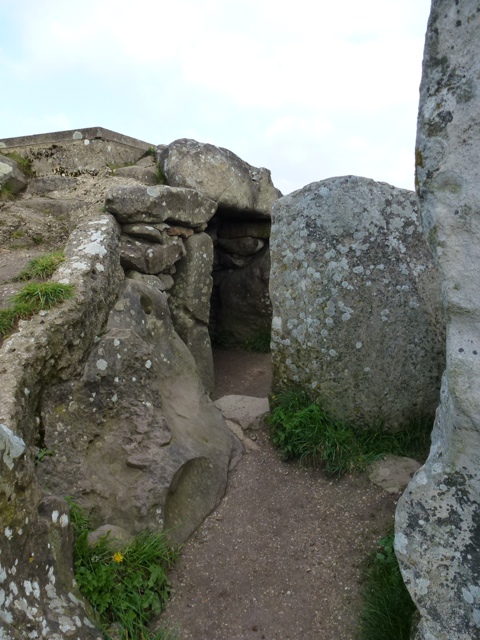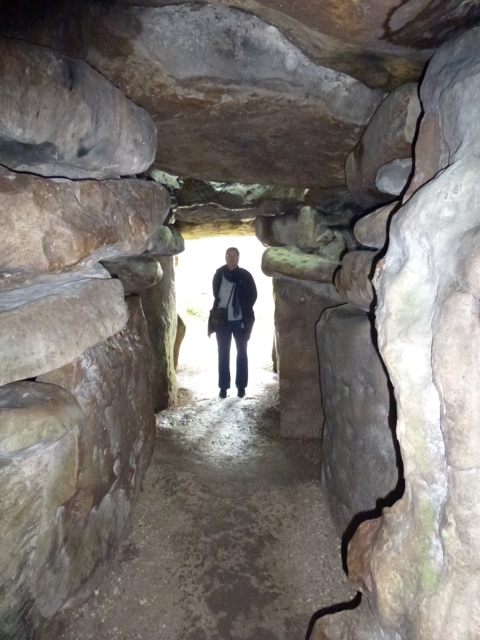 visible from here was an enormous man-made hill, Silbury Hill, I find it amusing when historians try to make sense of stuff that happened in pre-history, without any written records to back up their claims, but this stuff is awesome.
We then headed to Avebury to the site of a series of ancient stone circles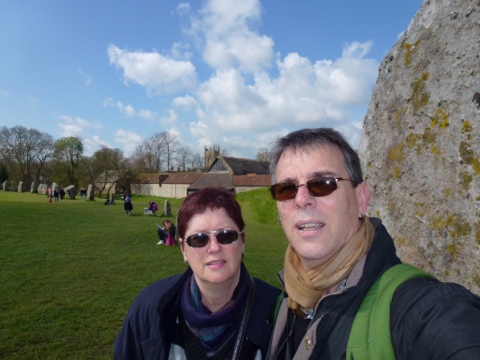 In glorious sunshine, we walked the circle, coming face to face with a baffling but beautiful monument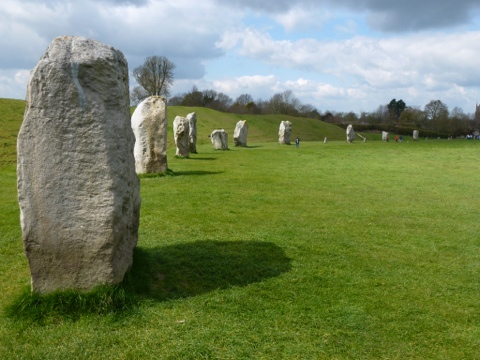 It blows my mind that this monument was here 4500 years ago, constructed then abandoned long before the Egyptians were building the pyramids. The rare privilege of getting so close to this stuff is really humbling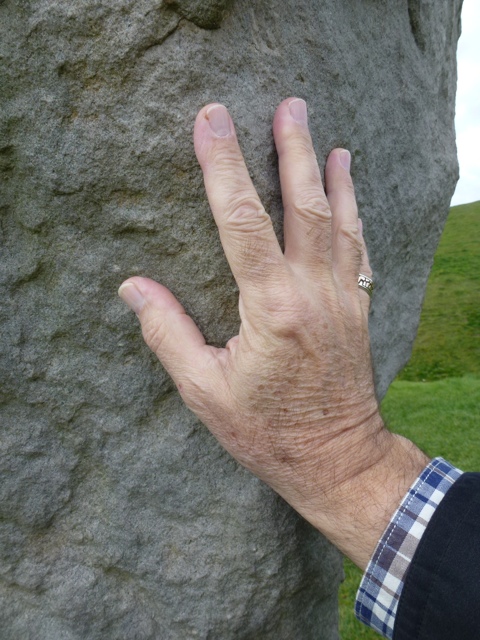 We had a cup of tea, visited the museum there, which was in an oak and thatch barn a mere 300 years old (they recounted how, when leveling the site for the barn, they relocated part of one stone circle and the stones got used for building projects elsewhere). Real thatch is not something I have ever seen, I hope that skill does not die out as it really is lovely.
We then hopped back in the car, determined to see more of Salisbury Plains and next encountered a more well known stone circle – Stonehenge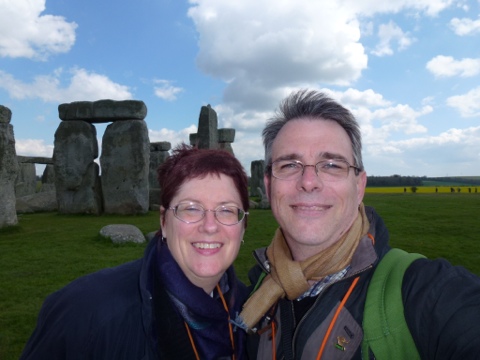 Although you can no longer get up close to the stones at this henge, they are so impressive, and soooo big, your mind bends to think how it was made in the first place. The stone placement only bears casual reference to things like the seasons and the stars, and there is no actual evidence that the Druids were anywhere near it before it was abandoned by the ancients. It is interesting to speculate what, why and how but the truth is the henge and it's connected barrows, avenues of standing stones, trenches and other artifacts are just as enigmatic to us as they have been to generations past.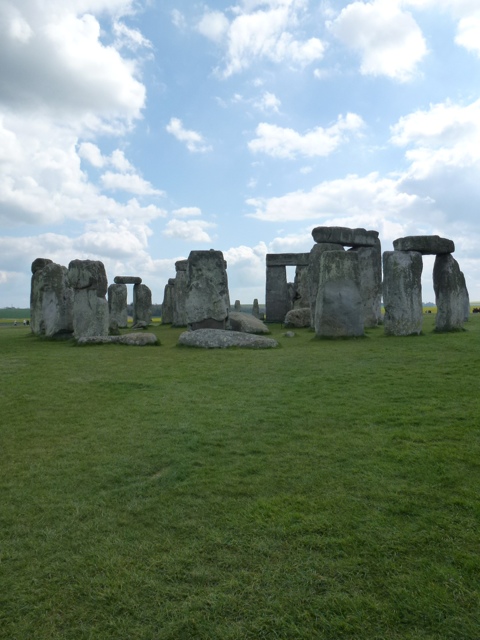 To me it is such a privilege to be able to visit, the sight of these ironstone monoliths standing much as they have for thousands of years, casting such interesting shadows in the sunlight will be a image I will carry with great awe and fondness.
Leaving Salisbury Plains, we headed to Cheddar Gorge for a well earned cup of tea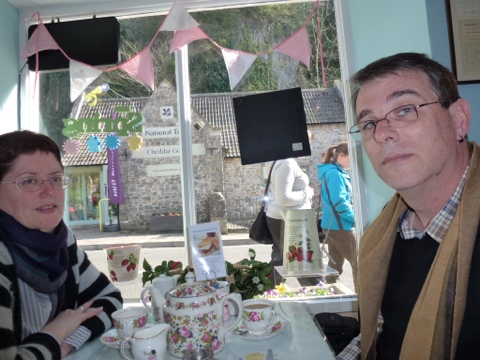 in a quaint little tea house, I also had my first "cream tea" with a cherry scone, cherry and port conserve and clotted cream – very yummy.
After deciding not to buy cheddar from the namesake, we headed back to Bath, with a slight diversion up Solsbury Hill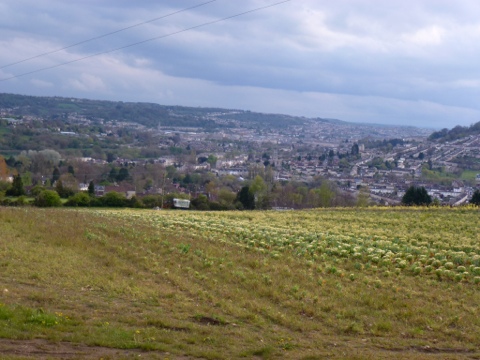 The trip up was perilous, but the views of surrounding bath were amazing. An all round awesome day, wonderful weather, could not have asked for better.