After a leisurely start, we motored in the rain to The Eden Project. We got there an hour after opening time and the car parks were empty, so we got nice and close, then walked down to the main complex.
Wow
What used to be a china clay pit has been transformed by tonnes of soil and even more tlc into a lush oasis of outside gardens and cold biomes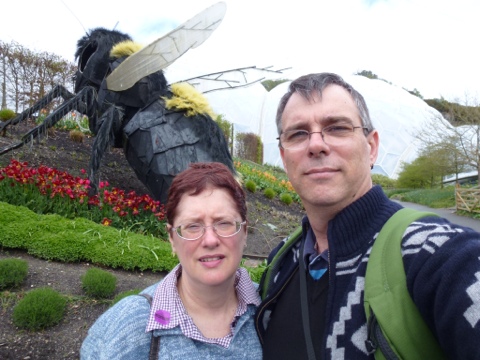 We checked in the headed to the link building for morning tea – toasted tea buns (a first for us) in one of the large communal dining spaces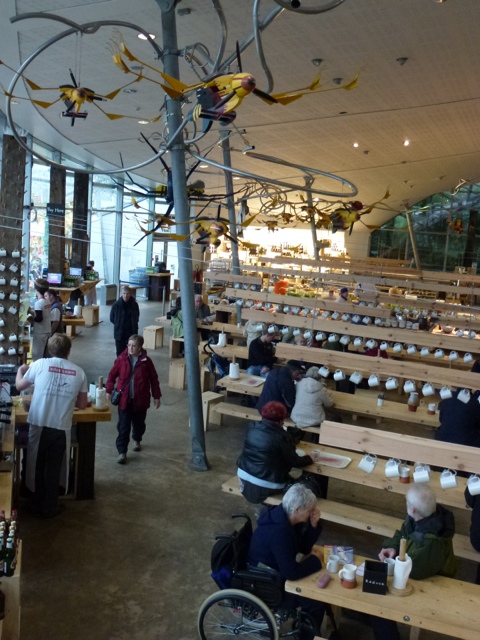 We then headed into the Mediterranean biome, a sub-tropical enclosed space (the roof is made up of a hexagonal grid spanned with plastic inflated pillows, ingenious, fascinating, insulating, intriguing.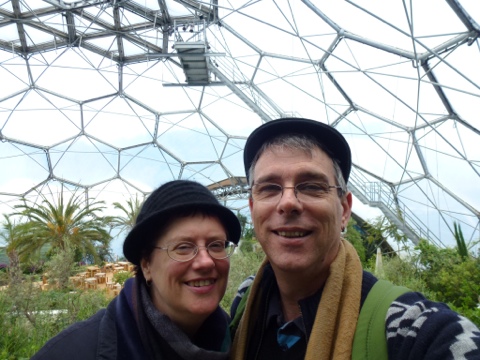 It was nice to be warm, but the plants and integrated sculptures were fascinating. One does not get a sense of the scale of the space until you are inside it and see full sized trees dwarfed by the enclosing roof structure – just wonderful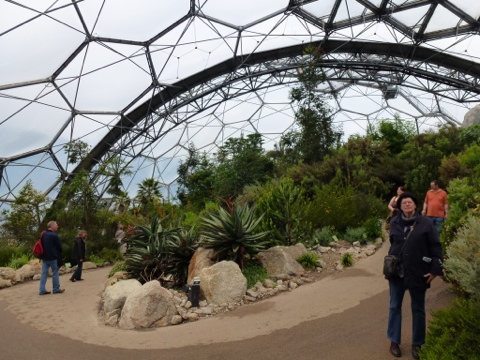 After wandering for a while we headed to the tropical biome and instantly felt more comfortable, temperatures just like home.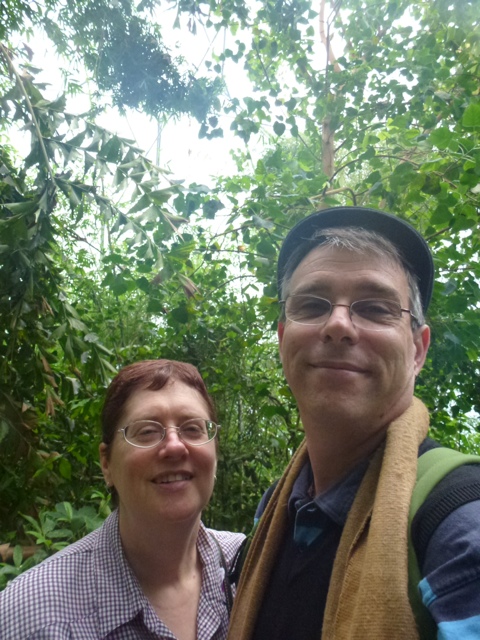 It was interesting, there were health warnings about extreme temperatures (24 degrees C is not extreme to us) and high humidity but honestly we felt fine, peeled off layers down to shirts, nice to be so warm, it has been a while since we have been that comfortable.
The tropical biome is fascinating but we recognized most of the plants, grow many so headed up, up, up. It is staggering that you can climb to the top of the highest dome and we queued to do it, having sighted a medical disclaimer that temp extremes and exertion were not their liability – lol. We did see some pasty white people suffering however so I guess it is better to be safe than sorry.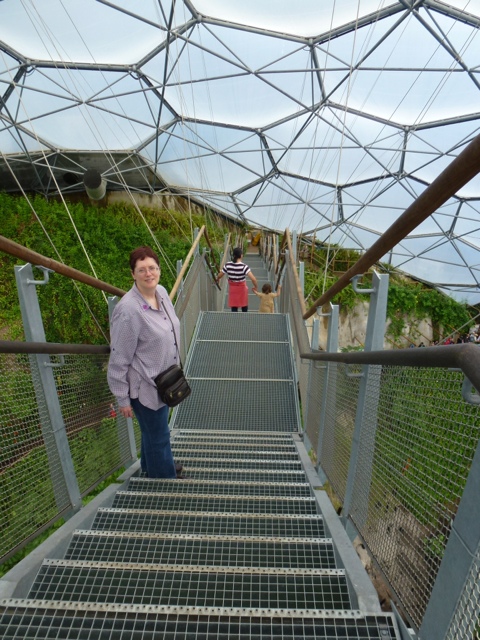 We wandered the gardens outside, headed to a building they call the core and went inside to play with the science things it contained- this would be a brilliant excursion, so much thought has been put into the art styling, education, carbon footprint, recyclability and green credentials here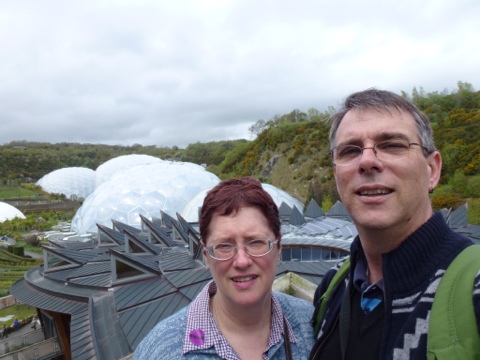 In the centre of the core building is a megalithic sculpture of a seed abstract – so cool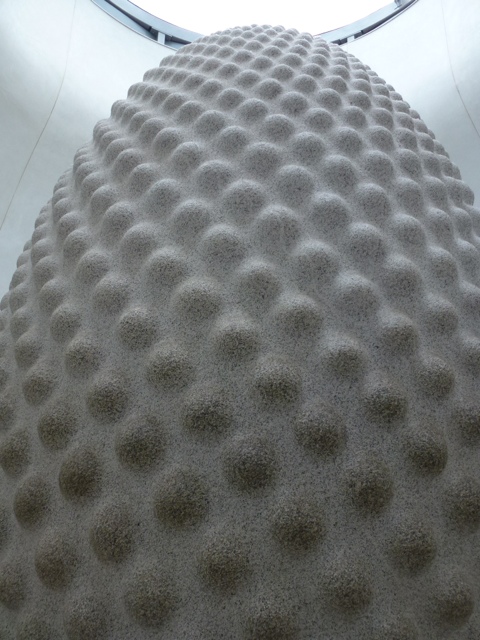 We left Eden impressed and enjoying a temporary respite from the rain, and drove to Fowey. Locals pronounce it "foy" as in "joy" and this highlights what I think is fairly typical of Cornish names – they leave out half the letters. Example – there is a place here called Launceston – all oz people know how to pronounce that, here they pronounce it "Lawnstun", lol. Anyways, Fowey is on the opposite peninsula to Polruan that we visited a day or so ago. It too is a town clinging for dear life to a cliff cut by the sea.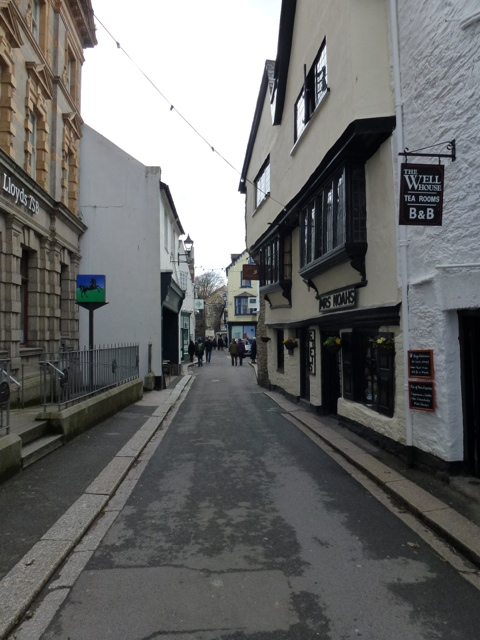 The walk down was Olympian but we did it because we had researched a legendary Cornish cream tea place and were determined to try one (having mastered the Devon cream tea, we were keen to try the "jam first" version).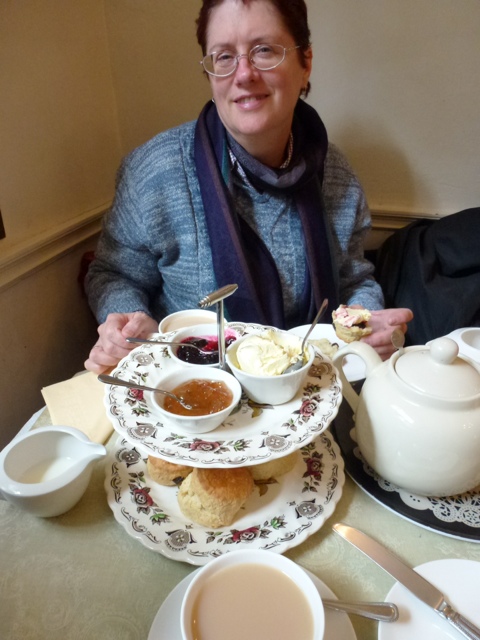 Jo had blackcurrant and I had gooseberry, the cream was astonishingly thick but the combination delicious.
After exploring Fowey for a while, we scaled the cliff to the carpark at the top and then asked plastic patsy to take us to Polporro. Therein lay a mistake. Yee gods, that town is difficult to actually get to – the township has no parking, a one-way loop in and the most terrifyingly narrow street I have ever mistakenly driven down the wrong way. We were ready to give up and go back to Looe when we decided to try a third time to enter the town and finally found the carpark. Depends on the road you come in on it seems. We walked down to the harbour, amongst the higglety pigglety arrangements of houses clinging to the rocks of the narrow inlet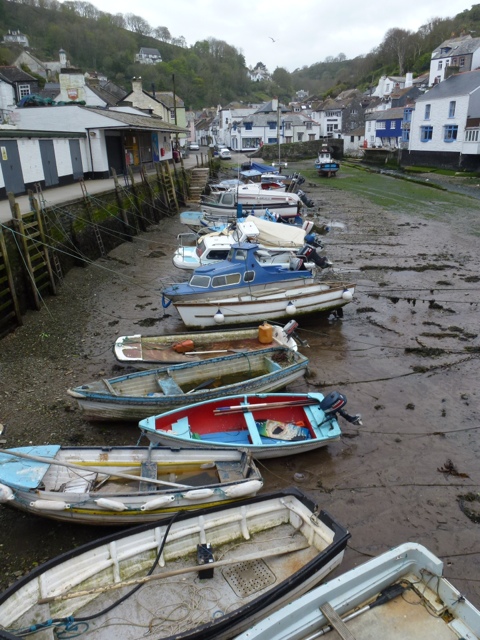 We were looking for a legendary pub "The Blue Peter", nestled right against the sea wall we found it, had a pint and then a wonderful meal – Jo had local crab linguini and I had fish and chips (the fish was perfect, thin tempura batter, perfectly cooked). The meals were huuuuuuge, we did our best

Fully stuffed and a little bit loaded ('pint of best packs a punch), we walked back to the car and headed back to Looe and a little bit of organization before bed, we head to Wales tomorrow so have to up-sticks and pack the car again.
Amazing day, even though the weather only really improved as we got home. We certainly have experienced the full gamut of Cornish weather, hopefully we will get a share of decent weather in Wales.