We have come to appreciate our SatNav "plastic patsy" for a whole bunch of reasons.
After trying a bunch of voice options, we settled on "Joanna Lumly" – aka Patsy from Absolutely Fabulous, because her instructions were calming, authoritative and easy to understand. The satnav is a TomTom brand – I am sure you have your preferences but after trying lots we liked the software and overall operation of the tomtom.
She plots our course, gives astonishingly accurate estimates on arrival time, takes into account local road conditions, gives us a bunch of "navigate to" options we can make sense of and generally does a great job (no, this is not an advert).
We have been genuinely delighted by the voice-skin on many occasions. We howled with laughter the first time we went the wrong way only to be told by Patsy "no, darling, when you get a chance, turn around". Journeys are no longer complete without her announcing "You have reached your destination, darling".
Today we were yet again surprised by her. After a flurry of turn left, bear right, go left on the roundabout third exits we were heading to a river ford when she boldly said "take the ferry, sweetie", we both looked at each other, she repeated it and we howled with laughter again.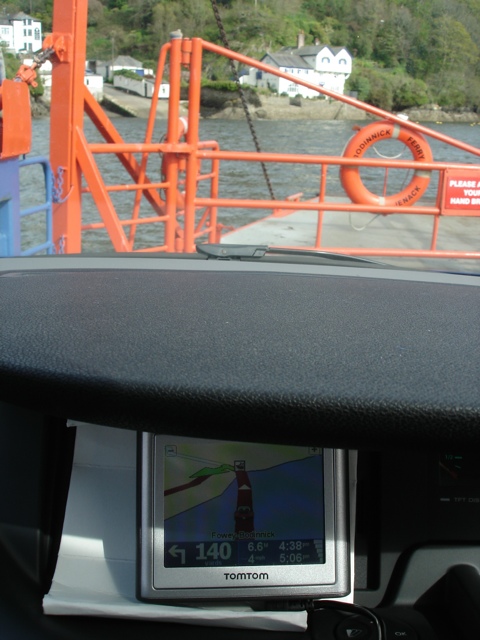 It is good traveling with Patsy, even if sometimes the data she uses inaccurate or incomplete, the journey is interesting unless someone else in the car decides they know a better way. One thing I have yet o reconcile is who to follow when another assertive woman in the car is convinced Patsy is leading us astray … You get that I suppose.