After an evening of getting organized, changing the suitcase to B&B mode we said goodbye to Bramble Cottage, a fantastic little barn conversion that has been so comfortable as home base for the last little while. We headed out via roundabouts and service roads to the M1 north towards Aysgarth National Park Centre, a centre for rambles and walks beside a river and waterfall series.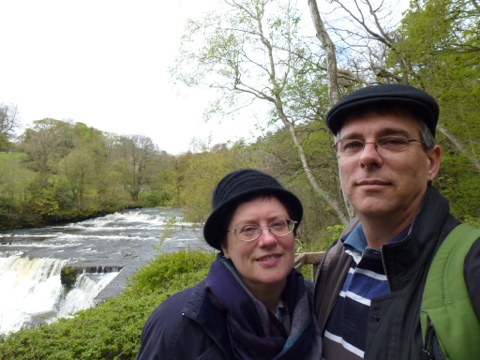 We walked down to a number of the cascades, then took the ramble path that took us through Hazel Coppices (Hazel trees sprout from a central underground stem making a crop of twigs that locals split and weave into fences.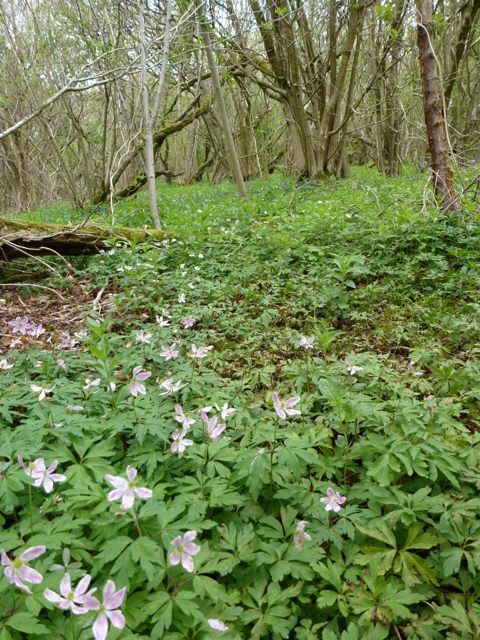 The gentle forest walks wended amongst glades of bluebells and primroses, so lovely.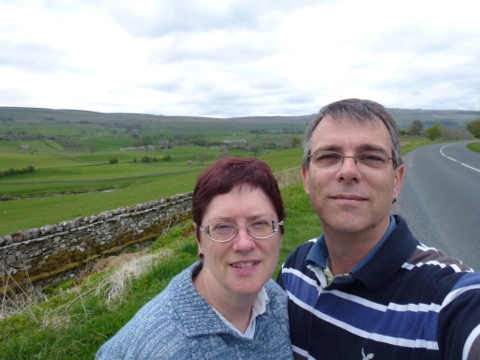 The paths lead us out of the closes, away from the river (swollen from recent rain but still very picturesque) and out into open sheep farmland. I am totally impressed with the national network of public footpaths used by dedicated ramblers everywhere. Ramble routes exist across most land and it is a wonderful way to get to see the country close up. We walked for nearly 2 hours, wending amongst tumbledown farm buildings, stiles (sort of steps over fences) and fenced/hedged fields, over hills, down dells, just lovely.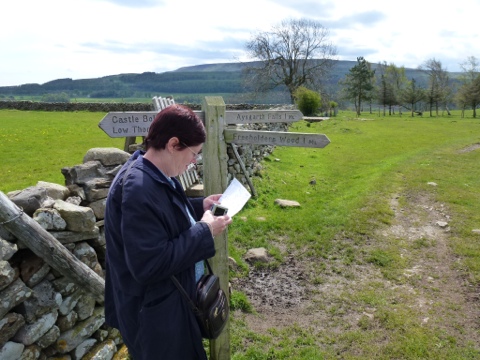 Refreshed and mud caked (there was an underpass that was a quagmire) we got back I the car and pootled around the dale towards Wensley and Hoares (the whole area in this valley called Wensleydale) and a famous Creamery that makes the famous Wensleydale cheese. After browsing the shop and considering the myriad of Wallace and Grommit memorabilia and tasting the many variations of this cheese,we bought wedges of smoked, ginger infused, blue and chive&onion for consumption of the next week – yum.
We stopped for lunch, originally deciding to try a 'ploughmans' but chickened out (mainly because we had already had quite a bit of cheese. Half a pint of 'Black Sheep' ale and hearty lunch and we were off on the road again heading towards Birdoswald Fort, the remains of a Roman fort alongside Hadrian's Wall. Not sure if we were tired or a little "ruined out" but it was difficult to make sense of the tumble of rocks exposed and there was little signage so we ended up making up purposes for the jumble of rectangular traces in the paddock.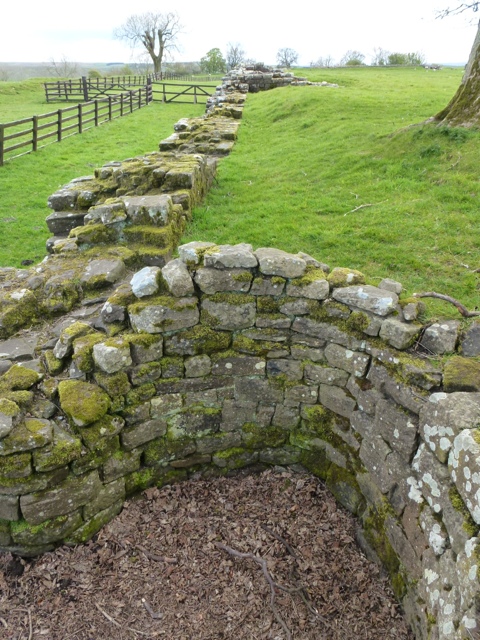 Hadrian's Wall, however was impressive, it stretched over the horizon and is a little mind buggering to think it was 15ft high and has provided the raw martial for most of the buildings and fences around since it fell into disrepair. As a bit of masonry (they did uses lot of mortar to keep it together) it is impressive. We walked along it a little then returned to the and headed towards Carlisle.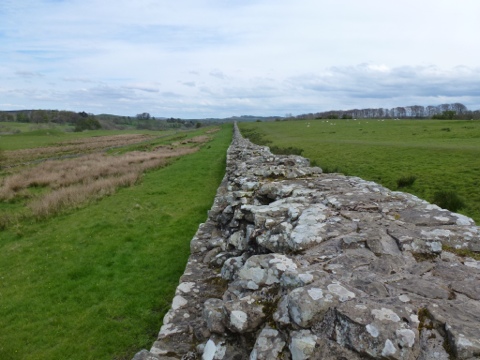 We checked into our B&B and, being tuckered out had a short nap before walking to a local restaurant for a lovely meal (Jo had turbot, I had lamb) and stellar dessert (Jo had citrus tart and raspberry sorbet, I had rhubarb pannacotta – both delicious).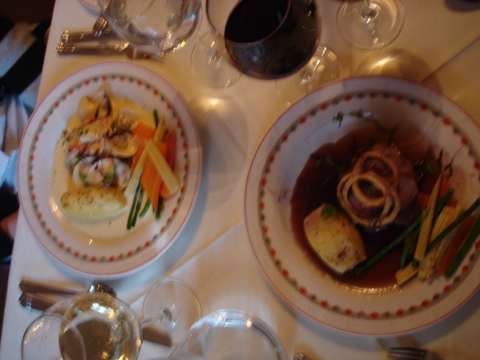 Thoroughly done in, we returned to the B&B and were asleep before our heads hit the pillow. Long days of traveling are hard work, tomorrow should be a little more relaxing.