Jo and I have always had a penchant for Asian food and one of the most vivid and fond memories of our last visit to Singapore was eating from street vendors called Hawkers.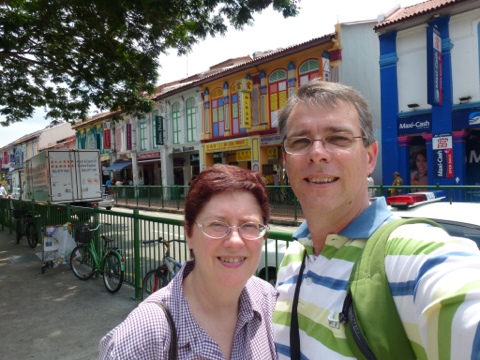 In the years since our last visit, health and zoning regulations in the city have forced these vendors to move to "Hawker Centres" which, for the visitor is much more convenient as you get a huge concentration in a small area.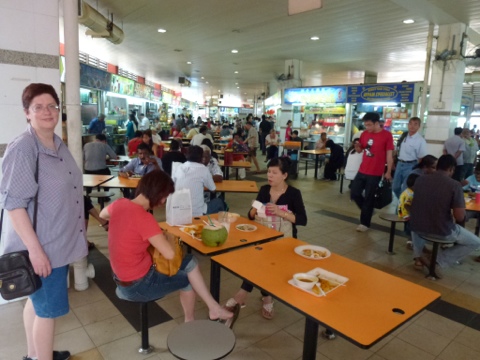 A short walk from our hotel is a harbour and marina, home to some astonishingly odd architecture (yes, that is a full sized ocean liner straddling three tower blocks … Nope, no idea either)
Nearby there is a small hawker centre and we were ready for an evening meal, having been on the plane, being severely lagged and managing only about 2 hours sleep the previous 24 hours we decided on early dinner then an attempted sleep in.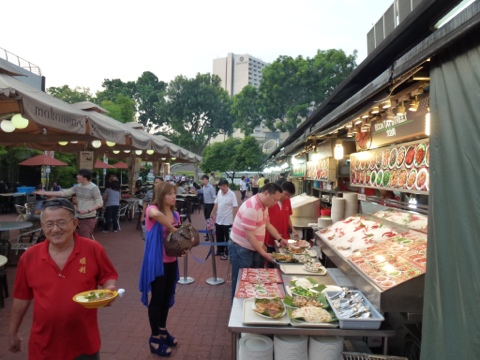 We craved satay – small morsels of mystery meat (nominally chicken, pork, beef and mutton) on skewers, served with a fiery delicious peanutty sauce for dipping, cucumber, red onion and rice cakes for bulk and to quench the fire. This was perfect – we chose a modest 20 mixed sticks and followed it up with what they call fried carrot cake, which in truth is actually a preserved radish and garlic omelette, again delicious. Washed down with Tiger beer it was the perfect filler for an airline food bloated tummy.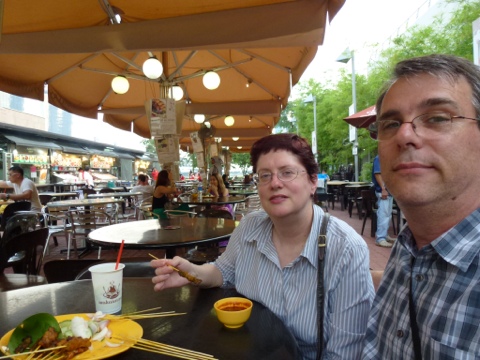 Parts of the city have adopted names, based in part on the predominant culture that used to populate the area. "Little India" is a melting pot of Indian, Malaysian and south east Asian cuisine, we had lunch here – a luscious duck rice, BBQ pork rice, fiery sambal, vegetarian samosa to very happy tummies.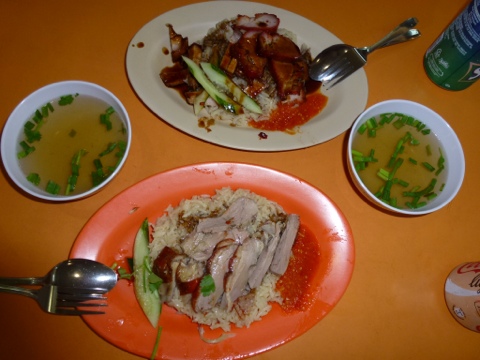 We walked the stalls, wondered what a lot of what was on sale actually was, dodged splatters from the open air butchers, contemplated fruits, choked on toasting chilli vapors and generally had a great time.
For the evening meal We headed to "Chinatown" hawker centre in search, initially, of mee (stir fried noodles) but got sucked in to the moment and ordered chicken rice, joining a queue of locals at Tian Tian for their signature dish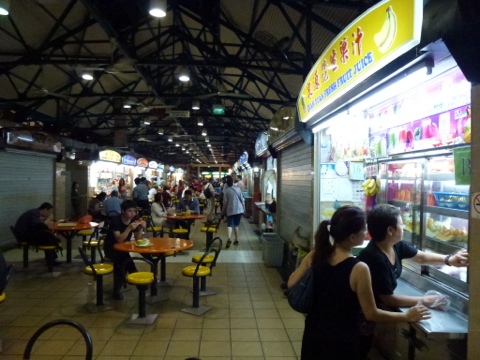 This place was very popular, has its own Facebook presence and has branches now due to its popularity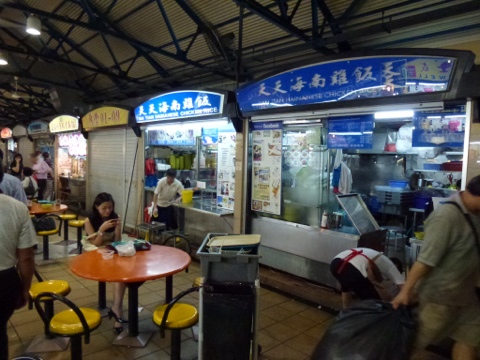 Chicken rice is a luscious dish comprised of the silkiest soft steamed chicken layed over a mound of rice cooked in chicken broth, a bowl of that broth as a side dish and fiery chili sambal and sweet soy so you can adjust your own seasonings. We added some Japanese style Gyoza (dumplings), tiger beer (they have large stubbies on sale) and Jo had a young coconut which was very refreshing and, Witt he supplied spoon you could spoon out the jelly-like young coconut flesh as well.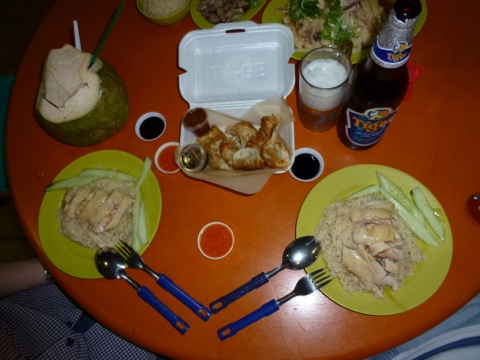 We shared our table with a pair of locals and chatted about the cultural differences – they were surprised to see Australians at the hawker stands, in their experience it was odd to see oz tourists wiling to dive in and taste the local stuff.
More opportunities for hawker/street food to come, looking forward to it and no, no tummy troubles at all. The health regulations here are very strict, there are wash basins with soap and water handy and the loos are nearby (10c per visit, add 30c if you need paper … Too much information?)