We had an early start this morning, waking just after 4 to be picked up by tour coach at 5. Blearily we dragged luggage and 6 litres of water (we were told we needed at least 3l each), walking sticks, hats, sunscreen, fly nets etc to a waiting coach. Having checked out from the resort, we piled sleepily onboard and proceeded to doze as we drove through the black landscape , dodging wildlife as we sped towards a breakfast stop. There were times when the road was blocked by wild brumbies (horses), cattle and we even saw a pair of dingoes and a fox – more wildlife than we had seen in total for the rest of the trip so far.
We arrived at Kings Cattle Station and had a hearty breakfast – nothing quite like bacon and eggs to wake you up, before heading into Kings Canyon National Park for the start of our walk.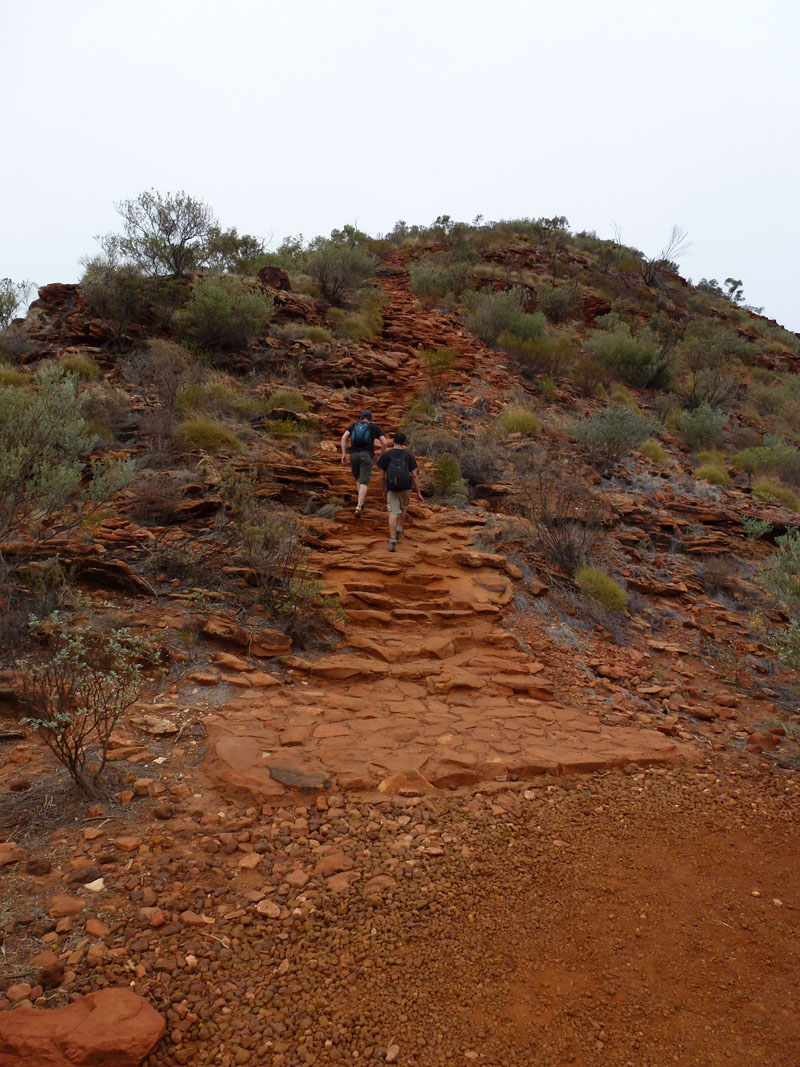 After much agonising, we elected to do the more challenging "rim" walk, that was up and around the top of Kings Canyon. Hoping my knees would not fail we trudged the 500+ rough-hewn steps to the first level and then soldiered on through a startlingly beautiful, rugged and alien landscape.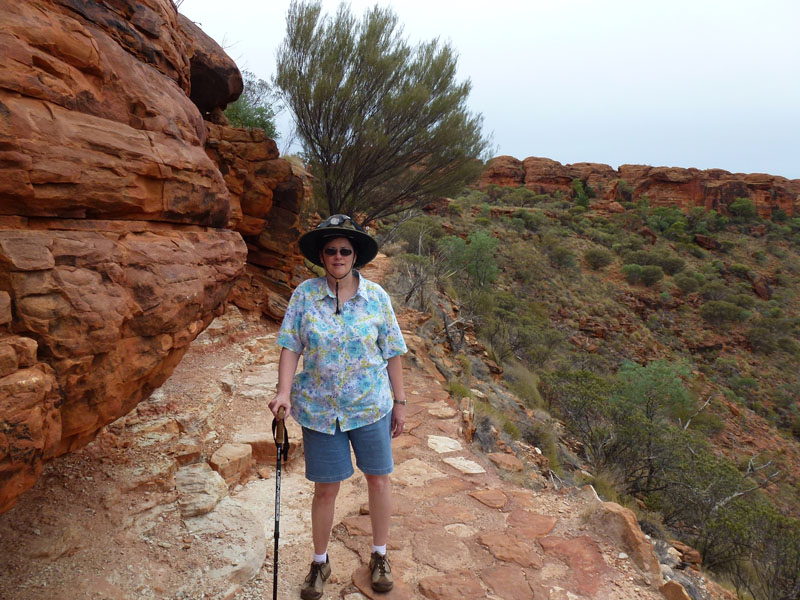 Oddly, the sandstone here is actually white – where there were fresh breaks you could see it clearly, iron oxide however stains every surface rich red. The landscape here is different again to Uluru and Kata Tjuta – here, layers of sedimentary rock crack east-west and north-south to form cubes that weather to form domes and split to form gorges and canyons.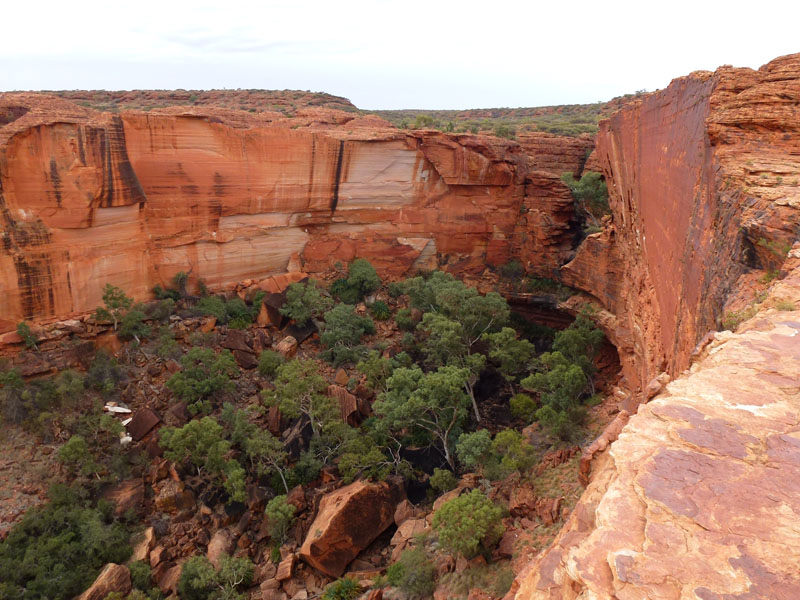 After much trudging, we crawled through "Priscilla's Crack" (affectionately named after featuring in the movie "Priscilla, Queen of the Desert") to an amazing amphitheatre adjacent to the sheer drop of the canyon walls. I remembered this part of the walk, and the subsequent scramble at the far end of the canyon down into the "Garden of Eden" from my previous visit but this time the paths were well established, there were steps and it was much easier of broken aching knees.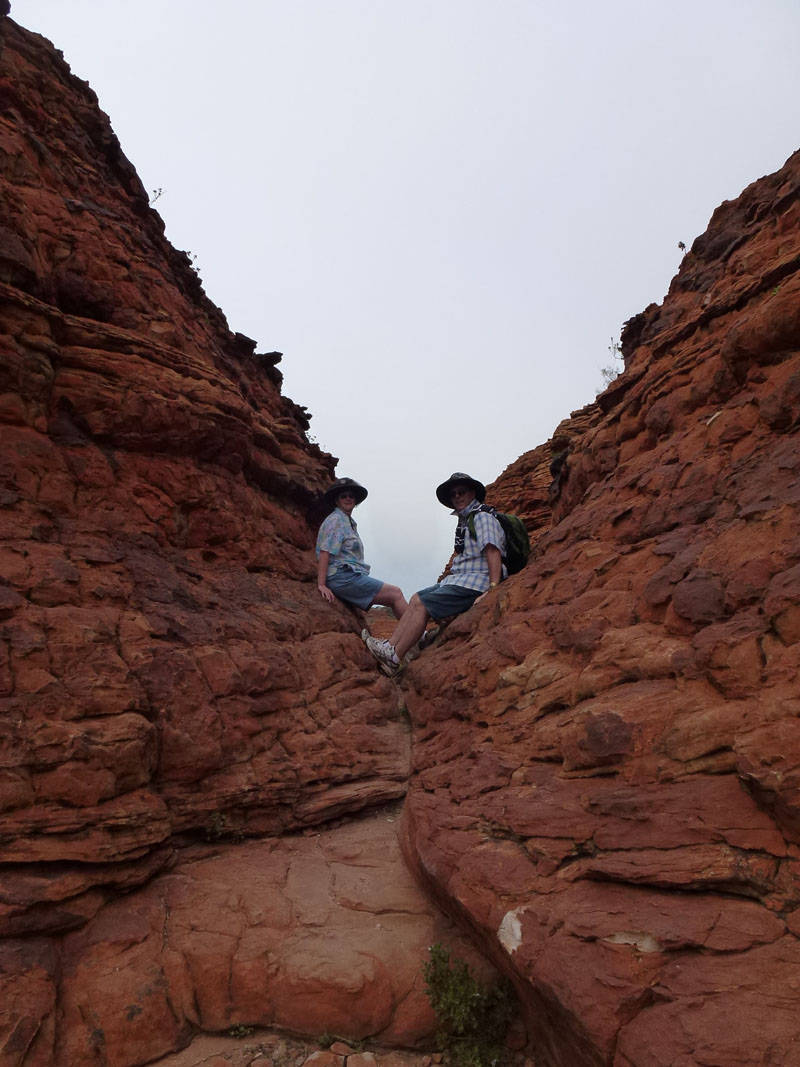 I was amazed how ancient the geology was here – ripples in rocks were once under-sea sand beds that were around before major life forms existed – no fossil records, amazing really. The walk took us nearly 4 hours and about 4l of water. The canyons were lush with trees and cycads, there was plenty of water in holes and streams with breezes in the canyon deliciously cool. Atop the rim, the rocks could get baking hot (the walk is often closed because it is too hot to walk there safely).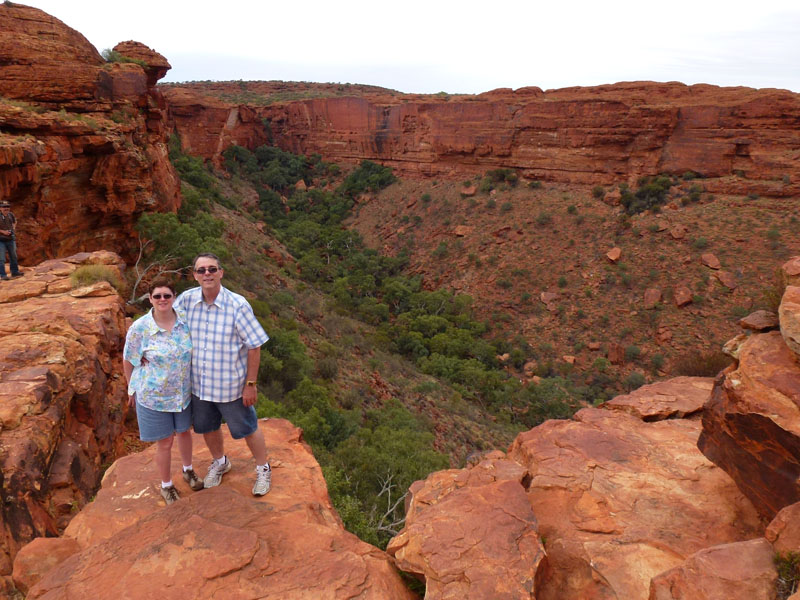 I am so glad we had the walking sticks – going up was hard work but manageable but coming down I found really difficult, knees giving way and legs turned to jelly – it would have been much more difficult without the sticks.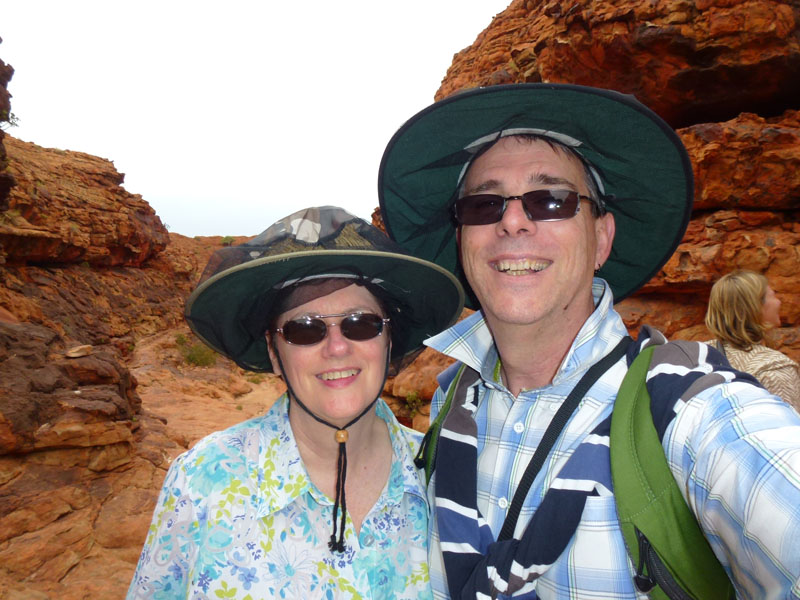 It is difficult to capture the scenery here photographically – fortunately it was overcast for most of the walk, and no so baking hot as I remember, but the scale of the geology is breathtaking – so proud that we made it all the way around and so impressed with what we saw along the way.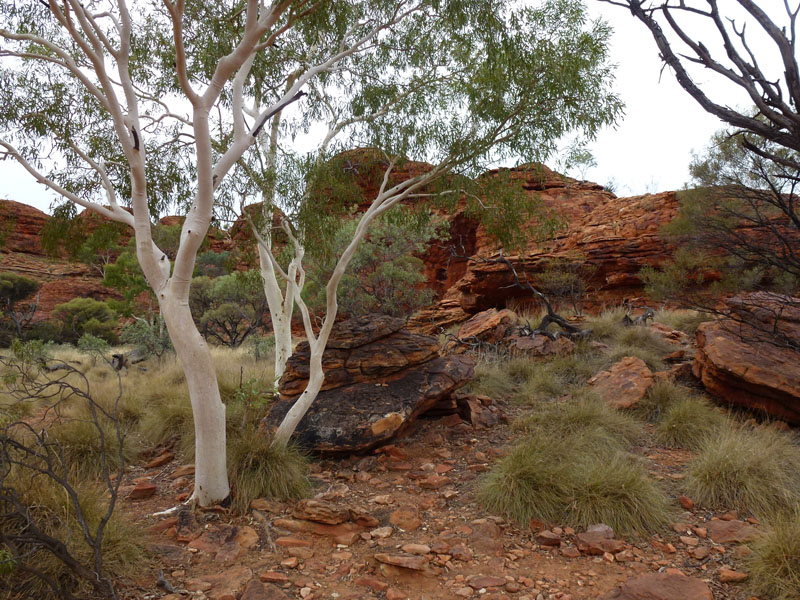 After transferring our cases to a new coach, we began the marathon journey from Kings Canyon to Alice Springs. I was determined to see a camel (we have seen very little wildlife really, but apparently camels run wild in these parts) – the lunch stop was at a camel farm and I managed to EAT camel in my burger (which I thought was fairly indistinguishable from beef). We hurtled along the Stuart Highway towards Alice Springs, our stop-over location prior to heading for Darwin. The journey was long, painfully uncomfortable for now swollen and fatigued legs and the scenery we drove though was uniformly uninteresting – hundreds of miles of scrub, most burned so the red sand and blackened stems were all there was.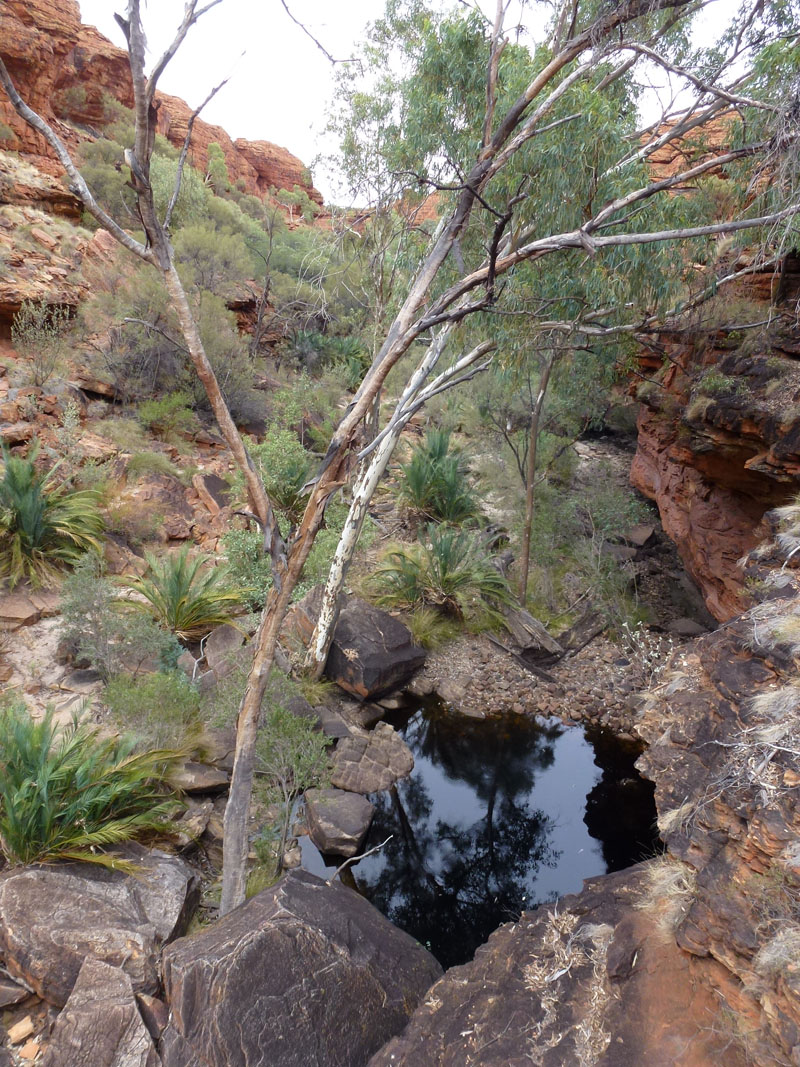 Eventually, over 5 hours later we pulled into our hotel on the outskirts of Alice Springs – tired and hungry, we headed for a Barramundi Restaurant (Jo had expertly planned us to be close) and Jo had grilled barra and I had dukka crusted barra – both delicious.
The free wifi was tantalising, we got a bunch of stuff done before being too exhausted to continue – bed and a sleep in – rare but it seems necessary.