Our day started at 5.30am. I had been told about the "call to prayer" broadcast city wide from the many towering minarets but nothing prepared me for the raw beauty of an opera of call and response prayers echoing and originating from near and far – a sure sign we are not in Kansas anymore. I am struck with the complexity and mesmerised by the syncopated nature of the many interwoven voices and the resonance of the place – quite a lovely way to wake up.
Refreshed after a much needed sleep, we breakfasted and tested the tea making potential of Istanbul water – sad to say the "anti tea" field here is strong, complicated by the difficulty of finding even usable milk – UHT is all that is available and it is easily confused with drinking yoghurt because we cannot read the packaging but in the end we were caffeinated and ready to face the day. We bought butter, which turned out to be cultured butter –  it has the set consistency of cream cheese but melts and cooks beautifully – Vegemite on toast for me, muesli and yoghurt for Jo.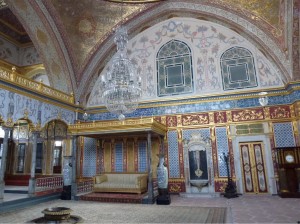 We set out for a big day, having found an easy way through the back streets, up and over a hill (we shall be fit and have calves of steel by the end of this leg I suspect) we headed to Topkapi Palace. After wrestling with a museum pass vending machine we wended our way through the expansive and exquisite tiled, gilded and marbled halls of the royal Harem, then the Sultans residence, Treasuries, Kitchens and more. It was fascinating to wander amongst such opulence but difficult to gain a real sense of how the building complex worked, and assume that the many other rooms and levels catered for every day life.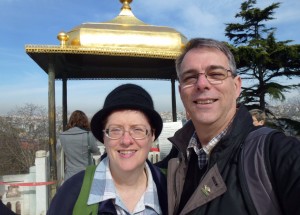 We then headed to Tarihi Sultanahmet Koftecisi restaurant and feasted on on grilled Lamb Kofte, a delicious lentil soup and some sustaining pilaf for lunch – we did not realise how hungry we were (having snacked only on a Simet since breakfast). Suitably supped we headed towards the Hagia Sophia and using our museum pass went straight in, much to the annoyance of the hundreds of meters of queues of people who did not plan ahead.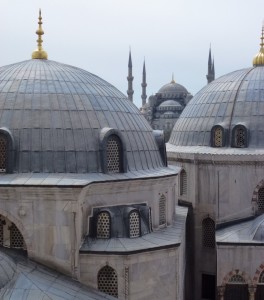 Hagia Sophia is amazing, one loses adequate superlatives when trying to describe such an interesting historical mix of religions that have used the building. Christian iconography and Byzantine mosaics have been plastered over with Muslim gliphs and calligraphy, crosses changed into cartouches and the result makes for a lot to see. Looking up the ornate domes and arches, vaults and pillars is breathtaking. We followed a ramp (interestingly not stairs as "important" worshiper were carried up by their servants in years gone by) to the upper gallery to get up close and personal with astonishing ancient mosaics. There is much restoration work in progress, large sections look like they are ready to fall down but we have learned that that is pretty much how Turkish building is (our apartment has not got a single straight wall).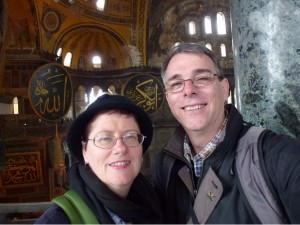 From Hagia Sophia we joined a queue to enter the Blue Mosque. This building is a working Mosque and it was strange to be tourists in such a holy place where families were worshipping. The insides were richly decorated with blue ceramic tiles patterned ornately – we now realise tile work is an ottoman hallmark. Shoes off, in hushed throngs we moved through the mosque where men and women prayed in separate areas, both required to wash feet face and hands before entering. It was very peaceful and I would have liked to stay longer but felt like we were intruding. Other tourists jumped barriers and walked into the main carpeted prayer areas taking videos and selfies and to be honest I thought that was really disrespectful.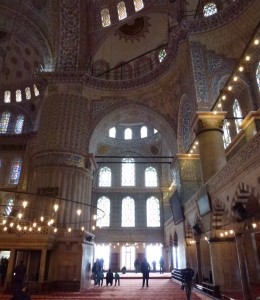 After leaving the grounds of the Blue Mosque we joined a reasonably short queue to enter the Basilica Cistern – an astonishing 524AD underground water tank. Wow, just wow! 9 meter columns support vaulted ceilings and the place is immense, eerie and seemed to buzz with a resonance of combined hushed conversations that echoed oddly amongst the columns. It is really dark, only dim lights pick out some of the columns and I was in awe of the place – how it was built such a long time ago, how it still survives today breaks my brain.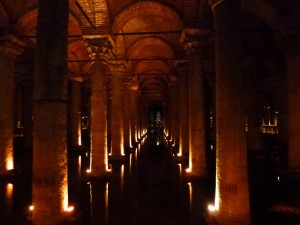 After our time underground in the cistern, we headed to Hafiz Mustafa for some much needed afternoon tea – Jo tried Turkish coffee (medium sweet) for the first time and did not mind it (apart from it being very strong). I had some earl grey and we shared some walnut baklava and pistachio pastries – surprisingly they were not super sweet, but balanced so we could taste all the components – totally delicious.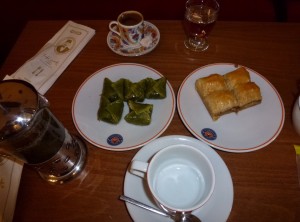 Our day of mosques over, we trudged wearily back to our unit, as the afternoon call to prayer spread out across the city once more. A quick detour to purchase some fruit, vegies and some bottled water and a glass of freshly squeezed pomegranate juice which was really refreshing. Home and a much needed rest before cooking dinner- tonight we will try our hand at Koftes after an hilarious but in the end successful visit to a Turkish only butcher near by.