After a welcome nights sleep we awoke for a bathroom break with a call to prayer, then slept in a little – I guess we are tired.
A quick morning cup of tea then we were out and up the hill to a tram stop that took us over near the spice markets for the first leg of our days trek. Simets (rings of crusty bread encrusted with sesame seeds – crunchy and filling) for breakfast.
On the way we sussed out a number of specialist Turkish Delight shops that came highly recommended but were less decisive than we could have been, then trekked to an out of the way sweet shop that also came highly recommended and bought hard fruit candy and Turkish delight in many flavour combinations, after tasting and deliberating. To our surprise the local sweet is much less sickly sweet than home, and very easy to to eat, we will probably mail some home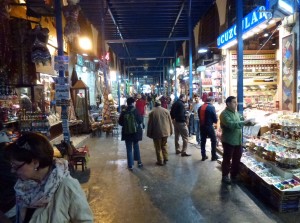 The spice markets, like the Grand Bazar, is a dense collection of stalls, all competing for passing trade by spruiking their wares. We have learned that we are special friends when we look like potential customers but "break their hearts" when we walk away. Emotional blackmail aside I think we are getting better at not focussing on the salesmanship but shopping around for the best we can find.
That is really not as easy as it sounds – so many places have the same thing, in then end you make a call and go with your gut feeling. We were looking for some things like dried fruit for snacks and cooking tonight (lamb pilaf with cranberries and apricots), nuts, leaf tea and some sumac to experiment with and in the end we were happy with our purchases.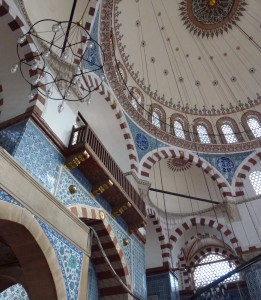 Emerging laden we headed to the ferry terminal to catch a ferry over to Kadikoy on the Asian side of Istanbul, walking through tangled streets of food stalls, fresh fruit and vegie stands and much more. Lunch was a revelation – thin flatbreads made in front of us, covered with spiced ground lamb and baked in a wood fired oven, they emerge crisp and, when topped with parsley, lemon juice and a sprinkle of sumac you roll them up and consume – so yummy we had 2 lots of them – I guess we were hungry.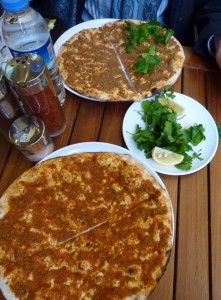 It had begun to rain, just annoying spits really so we made a pilgrimage to a mastic ice cream shop for a sweet treat. Mastic ice cream is interestingly chewy and slightly gelatinous but delicious – I had pistachio and Jo had black mulberry – yum. Riding the sugar rush, we returned to the main food district and searched out a sweet shop specialising in marzipan. After purchases we headed to a cake shop for a well earned caffeine break (and some cake). Content, we returned to the ferry terminal and returned to the European side of Istanbul.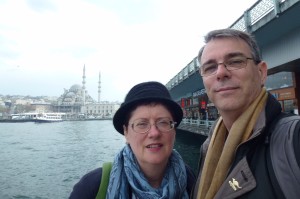 Before returning home, we sussed out a bridge, part of the "Golden Horn" walk and noticed the bridge has 2 levels, the lower level was fish cafes and restaurants that should provide an interesting lunch tomorrow.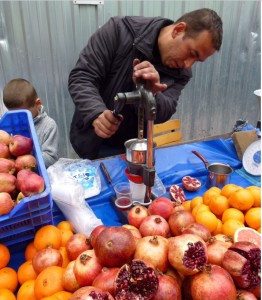 Back on the tram and a weary walk down the hill to our unit for a relax before cooking dinner. A huge but interesting day.