In a moment of self control, we finally got our suitcases, travel bags and other container paraphernalia together in anticipation of the test-pack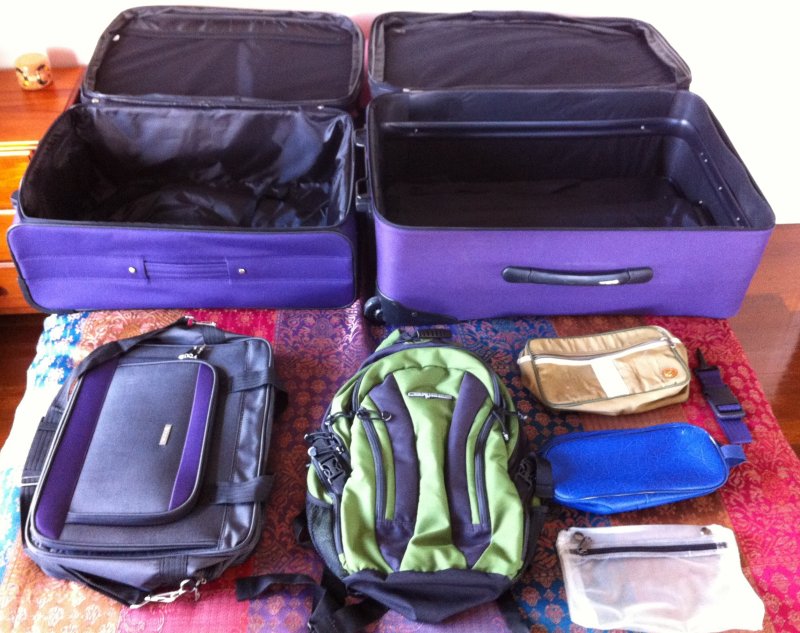 Now our reasoning originally was to "try" to fit everything into one suitcase that was nested in the other suitcase, then sort of expand when we get to the UK to make room for all the stuff we collect along the way.
Cabin luggage (and the day pack) go on the plane with us and carry-on, and will contain vitals (novels, ourPAD, adapters, lollies, valuables etc, the rest goes in the suitcase luggage. Given it is a little nippy over there still, we need warm stuff so will end up "loosely" packing both suitcases I think, then pack it more tightly as we accumulate… stuff and shiz. Given I need to travel with an orthopaedic neck pillow, that will take up room we will reclaim by jettisoning it on the way home.
Let the madness commence as we decide what we can and cannot do without whilst travelling. We have arranged much of our first few weeks around extended stays at apartments, so getting there and collapsing is a plan. the final leg (prior to Singapore) will be in a hire car, so we can assemble a mountain of junk in the back seat if we need to.