After an early start and a courageous lift to the airport (well, I say courageous, I mustered strength not to scream at the almost collisions our hurtling driver avoided) we had a bit of a sit before boarding Turkish Airlines flight to Venice.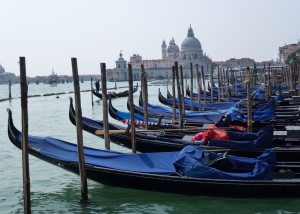 You get off the plane and you could be anywhere really, airports are airports, exit lounges taxi ranks and car parks are too. We walked to a "water bus" stop, in a muddy ditch amongst unremarkable mudflats and waited for our ride.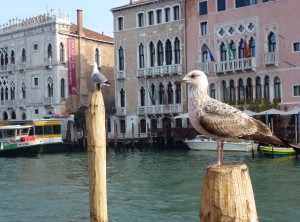 Once aboard a packed water bus, we leisurely motored around a channel, across a vast lagoon and were transported to another world as a city rose around us, out of the now blueish water, coalescing into canals crisscrossing raised land, buildings joined by bridges, boats of all shapes and colours imaginable. I had read about Venice but nothing prepares you for the actuality.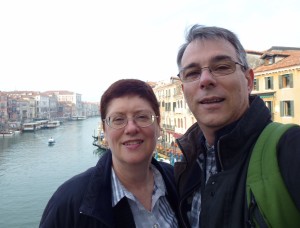 We wandered, turning this way and that, trailing suitcases, eyes wide and mouth open, in the general direction of our accomodation, meeting our landlord eventually at ground level, then up 2 ancient flights of stairs to our apartment – a bright, sunny, comfortable newly renovated marvel. After some brief but incomplete instruction (we assumed much, like we would be able to work the heating and washing machine- neither of which we completely mastered) but we were in, comfortable and raring to explore.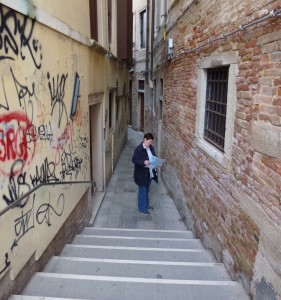 We had maps, but generally just set off in more or less the right direction, each turn offered an amazing and changing vistas of narrow crooked lane or canal. There are no roads, no cars or bicycles, the footpaths are higgletypigglety stonework (hard on tired feet) that open up into squares full of cafes, shops, wine bars and churches.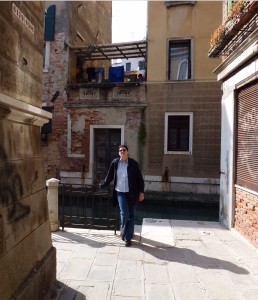 This city makes no sense – only a madman would decide to perch a whole city on stilts set into estuary mud just a little above sea level but thankfully madmen persisted and the resultant ancient city is wonderful. Clearly they are having flooding issues, many of the ground floors (no basements here except in the Cousteau's house) have been abandoned because of damp/flooding. Many streets had stacked raised platforms to make walkways when the tide is extra high. To get around you walk, catch a water bus or if you are made of money you call a water taxi or gondolier. Charges for the latter 2 options take your breath away – private gondoliers begin charging at 60 euro per half hour or part thereof but there are cheaper options if you look. We caught passenger gondolas for nearly nothing and the water bus is a good service that runs until late in the night.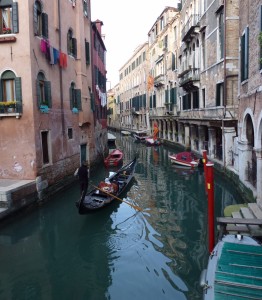 Our first night we went to an Osteria and had cicchetti (a little like crostini – bread topped with various hot and cold things, we had creamy smoked cod, salmon and artichoke, sardines, stuffed olives and many more delicious morsels) and wine – chianti for me, proseco for Jo. Such a yummy dinner, followed to a gelitaria for some deliciousa gelato. Walking around at night, apart from being chilly this time of year, feels safe, friendly and the majority of the streets and squares are well lit. The city breathes history and romance – we walked for hours and used the water bus to tour the Grand Canal at night, so we could repeat it during the day.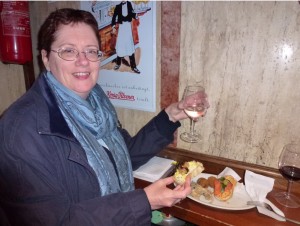 We had "skip the queue" passes we had bought on the Internet for St Mark's Basilica – an ancient, crumbling but currently under restoration marvel of mosaic and over the top marble embellishment through which we wandered the interior in awe. It is clear that old churches particularly were designed with a couple of design premises, apart from functional building, the scale seems to deliberately diminish the worshippers, make them seem small and insignificant. The other is to embellish in many over the top ways – St Mark's from the second level gallery up into the domes has gold encrusted mosaics of astonishing beauty, honestly it is overwhelming looking up towards the heavens. We also took the elevator to the top of the adjacent tower for astonishing panoramic views of the whole of Venice (and the startling realisation that we had walked much of it in the short time we have been here).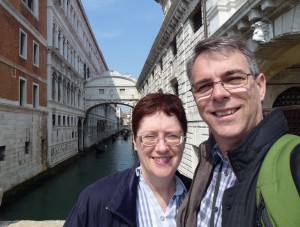 We spent 2 days swept up in the magic that was Venice; shopping, eating and drinking, walking and exploring but early on we both realised we needed to come back and do it at a more leisurely pace. We wanted a taste of Venice, wel liked what we had but want more and vow to return.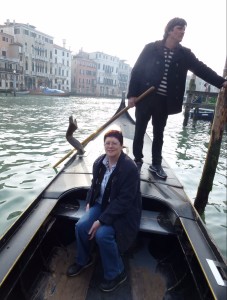 From here, we catch a train to Florence, another adventure awaits us there.