Many of my friends had been to Florence (Firenze) and raved about it, it happened that our transit to Lucca afforded a short visit so we thought "why not". After a leisurely waterbus to the train station, we lugged our luggage (now I get the name luggage) onto attain, first class of course darling (as it turned out, when we booked it online a few months back, super economy was first class, go figure) and cruised the Tuscan countryside arriving rested and refreshed in Florence in the early afternoon.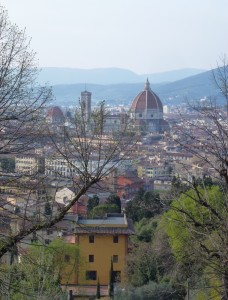 We had booked a Bed and Breakfast (oddly without the breakfast) that was the top floor of an ancient building (3 dizzying flights of stairs up, such a cliff with the luggage) and after a welcoming chat and orientation from our host (which we really didn't have the time for or need) we set off to find somewhere that would sell us a bus ticket (which turned out to be a pain as it was Sunday and everything was either sold out or closed). Eventually we found a tobacconist (looking for a "T" sign that indicated they were licensed to sell tickets) and boarded a #13 bus for a scenic tour of Florence that let us off at Piazza d'Michelangelo.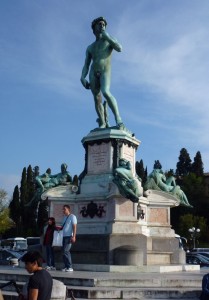 From this hillside vantage point you can see much of Florence. We arrived late so missed the opportunity to hear the Gregorian chanting in the church nearby sadly.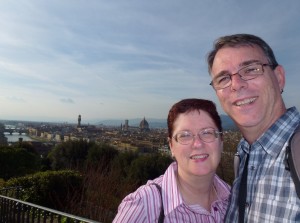 From here we walked down the hill towards the river, a cliff of stairs and a lovely path wending through old Florentine streets. We headed towards Pont de Vecchio, an ancient arched bridge lined with shops selling gold jewellery – shiny!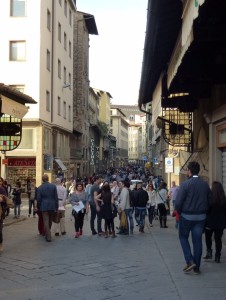 We were strategically wending our way towards L' Brindellone, a restaurant I had hysterically booked in full Italian a couple of months back in Brisbane. It must have been a memorable phone call because they remembered us and showed us to our table, bustling as more and more people arrived.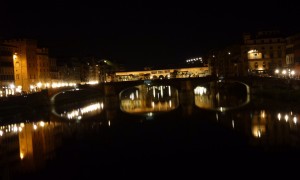 We subsequently heard it was very hard to book. We shared hand made spaghetti with white truffle for starters which was amazing, followed by Bistecca alla Fiorintina (Tbone steak that is the size half a cow, seared outside, rare inside) and some Tuscan beans as a side. We have eaten enough meat for a week but it was tender, juicy and totally delicious. Jo finished with coffee and I was talked into a grappe- an intense sake like spirit that took some time to drink.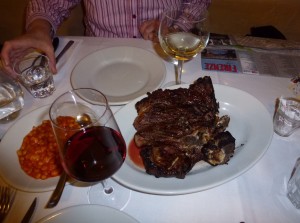 We floated homeward with happy tummies and slightly sozzled brains, stopping for gelato on the way. We did some simple prep for the next day then slept solidly.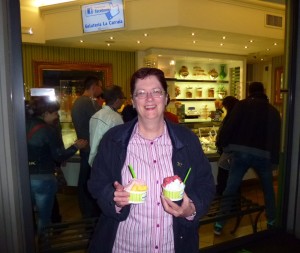 Next morning, we left our luggage in a lockup and headed out to explore Firenze some more. Jo's research said the Duomo was closed but the adjacent bell tower was open, so we arrived early ready to climb the 413 stairs to the top of the tower. The climb was exhausting, the view fantastic … but we saw people slightly higher at the summit of the Duomo, so decided that must be open.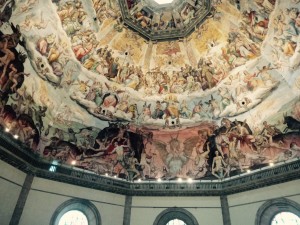 After a terrifying descent through narrow passageways and tiny steep steps we congratulated ourselves then joined the queue to climb the Duomo (450+ steps) – madness in retrospect.
The Duomo is the dome over the transept (cupola) of a vast marble inlay church – the outside surface decoration is lavish inlayed coloured marble with carving and relief work near doors and windows only. After a short wait in the queue we were let in as part of a batch and began our ascent in through the walls of the church. Narrow crawl ways, irregular steps and little light made it seem like an adventure akin to an Indiana Jones movie (half expecting to trigger a giant boulder that would chase us along a gallery).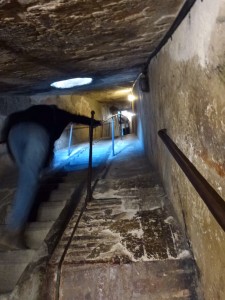 When we reached to top level of the second gallery, we travelled inside the main body of the church admiring the glorious painted ceilings depicting many levels from heaven to hell, and a cast of thousands in various states of despair – I guess anything that frightens the congregation into less sin is fair game? We entered a narrow and irregularly staired gap between the inner and outer skins of the cupola and wended ever upward, sometimes climbing curved stone stairs that disappeared into the darkness – it was a real challenge. Many parts of the climb we had to contend with people coming down, although unlike the bell tower climb where there was only one way up/down, in the duomo there were many sections that were only one way, making the passage of large numbers of climbers easier.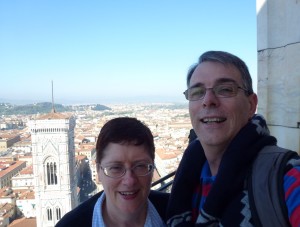 After what seemed like an age, at the end of our exhaustion we arrived at a ladder and sunlight at the top – emerging on top of the dome, in a caged walkway around the stained glass lantern was astonishing – not only had we made it but the view was breathtaking (including looking down on that bloody bell tower we climbed earlier). We rested, hydrated, congratulated ourself and girded our loins for the climb back down which I found really hard on my knees and really difficult to see what I was treading down on due to my poor night vision.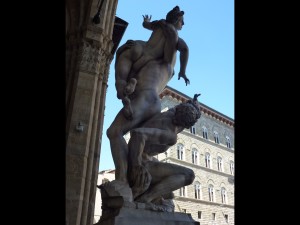 Back on terra firma, our legs like jelly and feet aching like one of the lower levels of hell we had seen so graphically depicted earlier, we trudged to a panini bar for lunch – delicious wholemeal panini stuffed with porchetta/pancetta, tapenade, tomato and a bottle of water – so yummy, so welcome, so restoring (to be honest, just sitting for a while is a welcome relief). We then headed to the central markets to purchase starter provisions for our stay in Lucca. .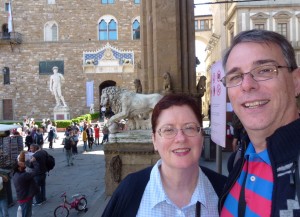 We negotiated stands of cheeses, pastas, oils, and vegies, purchased some ravioli and fettuccini that was milled fresh for us, bought some EVOO, balsamico, reggiano and a few other staples that we would add to fresh in Lucca, then headed back to get our suitcases. I would rather not remember the climb up/down with the cases from the B&B – suffice to say I was buggered before I attempted it.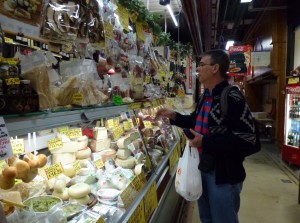 A quickish trip to the train station, pained navigation of an Italian only ticketing system and we had secured what we hoped were 2 domestic 2nd class tickets to Lucca but had to wait until,5 minutes before departure to learn what platform it was going to leave from (the connecting train was late, we were tired and …. Italy). Interestingly we ran into a teaching colleague (hi again Debbie!) who was also taking 6 weeks LSL but was on a route similar to ours, only in the reverse direction – small world hey?
We ended up seeing quite a bit of art on the street (graffiti is clever and an art form in Florence) and we saw a bit of public sculpture including 2 versions of "David" – I am sure Italians so love that statue (particularly Italian men) because they get a boost of self confidence comparing… equipment.
We traveled well and will talk about Lucca in the next post. We had a brief taste of Florence, saw only a small amount but enough to know we probably would want to return someday.  The weather was warm and sunny, beautiful clear blue skies and the people were friendly (if you ignore the Germans).