We planned to spend some time in regional Italy, and the Tuscany region seemed a natural choice coming from Florence out of Venice.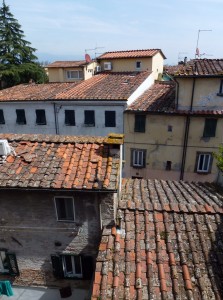 We chose Lucca as a home base primarily because of it's location, ease to get to and the peculiar nature of the city. Lucca is perhaps unique in that it is a walled city, with the outer walls still completely intact.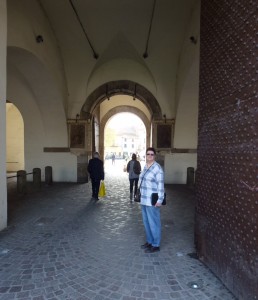 Built as defence from invasion (most of Europe has a long and brutal history of one important force deciding they want what others have), Lucca's enemies included Pisa (no one except people from Pisa seem to like people from Pisa) and Florence – the Medici family were hugely powerful, greedy and wanted what Lucca had – silks and brocades. It seems Lucca's main industry in the Middle Ages was making expensive textiles, like those the pope and his bishops insisted on. As such, it had much to defend, building high thick walls to hide what it had.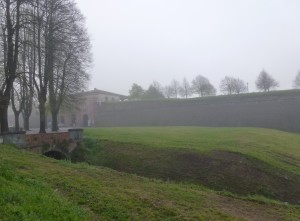 In weird juxtaposition, Middle Ages Italians built towers to advertise their wealth and status- sure the towers are useful defensive position but it seems they were more about status than places to lob projectiles. Lucca had hundreds, today only a few exist and there are remnants throughout the city, holding walls of houses together.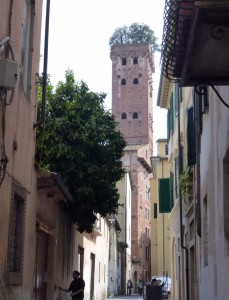 Lucca, or something like it has been in this spot for a very long time. Australians do not really understand a "really" long time, but supports to the roman sections of some buildings (and the remnants of a Roman amphitheater) date to 4BC and earlier. The locals dismantled the amphitheatre later and used the stone to build their houses. Some walls cause the mind to boggle as it is clear how ages of building stack up on more ancient ones.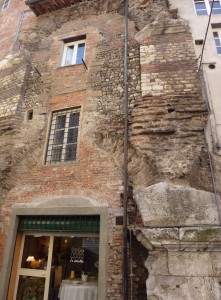 Jo's research found an architect-designed apartment handy to a main entrance or "Porto". There are 5 huge multi door fortified gates that are still intact, providing the only access to the inner city. The apartment is comfortable but up a dizzying 3 steep flights of steps, including a half twist (best performed in the pike position). It was a real challenge to get the suitcases up, and at least a twice daily chore to get to ground level. We have all mod cons, modern design and space to spread out and be comfortable. It Is also nice and central for walking and accessing the rest of the city.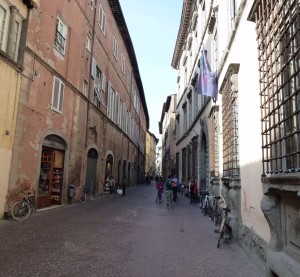 The roads are narrow, cars are not really welcome here with legislated minimum resident car allocations inside the walls, they squeeze through but the most common form of personal transport is the bicycle. All roads are stone paved and are contributing to our aching feet. They divide, twist and turn in fascinating ways, each turn opens up a new and interesting panorama and we have had fun getting lost here as Jo turns the map around and around, up and down to try and work out where the floop we are at any given point.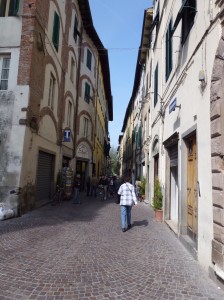 Luccahas a long connection to the arts. Art and music have been central to city life, evidenced by the adorned churches, public artworks and the legacy of families like the Puccini's.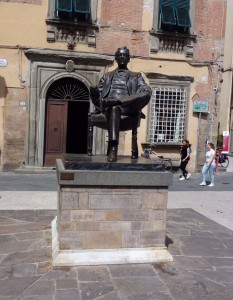 The shops, houses and services are all jumbled, a butcher is beside a pasticceria but it works, there are schools hidden away and 100 or so churches, many of which are active and the place has a charm and atmosphere that we have found to be unique. The locals and friendly, the shops sell fresh produce and a bewildering array of breads, meats, oils and other yummy unpronounceable things.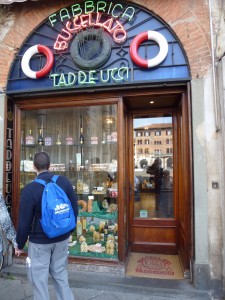 We could happily live here, except for the language- most have little English and we have little Italian, making for some hysterical moments trying to explain the most basic things. From Lucca we have two day trips planned – to Sienna/deeper into Tuscany and into Liguria to explore coastal towns that form Cinque Terre (the 5 lands/villages).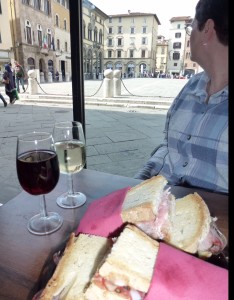 Our last day is a "rest" day and we will probably cycle the walls – Napoleon's sister constructed a wide boulevard atop the walls, the circuit is 4.5 km and an easy ride. We will also attempt a tower climb because that is relaxing, right? We have loved our time in Lucca and will be sorry to leave but Rome and beyond calls.