With a base in Lucca, we had planned day trips to the outer regions, to gain some understanding of the surrounding country in this part of Italy. We have discovered fierce rivalry between the regions, a native Luccan walking tour guide wanted to know why we went to Florence, or why we would want to go to Pisa – I think she was serious.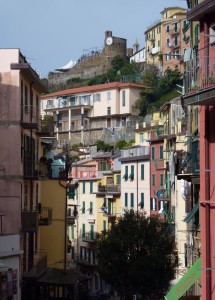 Wednesday we boarded a minibus with a few other people and headed out through rolling countryside, passed the Carrara marble quarries and over to the Ligurian Coast. It was a lovely sunny day, no wind, sea calm as we were driven to Riomaggiore, a tiny village that clings to unstable cliffs that meet the sea. After a toilet break we refilled on a breakfast cup of hot chocolate (Italians do not understand tea, and their hot chocolate is rich, thick and almost a meal in itself) we headed down to the marina.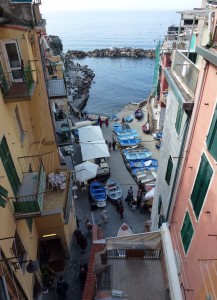 Well, I say marina because that is what they called it, it is really a small block of concrete clinging to a cliff jutting out towards the deep clear azure Mediterranean Sea. To my astonishment, a ferry appeared from nowhere on the horizon and gently nosed close tot the concrete spit. Crew extended a walkway to the shore and we gingerly boarded as everything seemed to move around us. Apparently this is very scary in bad weather – no shit!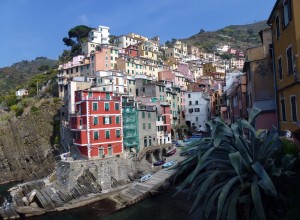 Motoring on the sea was lovely although a little hazy, seeing too far in the distance was marred by a blue haze which we were told would lift when it got warmer. The coastline is rugged, like seriously steep, remote and crumbly but all along we saw boxes of coloured render that were houses gripping onto tiny ridges, miles from anywhere, no electricity and what must have been the very basic of living conditions.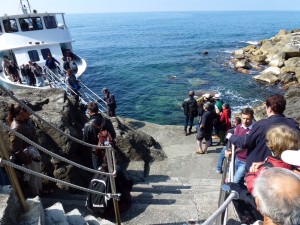 Apparently the locals are strongly bound to the land (hence cinque TERRE) even though there is a perfectly good ocean for a fishing lifestyle, they opt to construct terraces, grow olive trees, grapes and lemons, and scratch a living that way.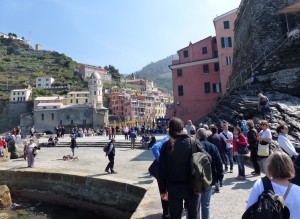 The whole Cinque Terre is a designated world heritage area, and marine park, so commercial fishery is out of the question but one cannot live on grapes, olives and lemons alone – trade must be torturous as the sea is so remote.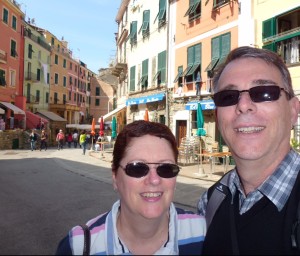 We motored into Maranola, a little picture postcard town clinging down a small ravine that we did not get out at, another impossible landing point for this type of ferry apparently. We were told of the piracy that these townships had to weather – Turkish pirates apparently ravaged them periodically (we thought we had probably met some of the descendants of these Turks when we were trying to get past shops in Istanbul).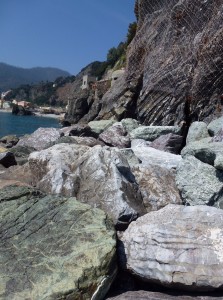 We motored past Corniglia, a charming town set in a natural rocky amphitheater on the cusp of a small rocky prominence that was inaccessible by sea. As we sailed past it it seemed to open up like a fan, showing a church with bell tower at it's centre. It looked like a model, then we noticed a train station a little higher that water level – there is a subterranean railway all along this coast that joins the 5 villages to the coast further in both directions. What an amazing feat of engineering. This completed the ultimate model railway, from a distance they did look like toy models.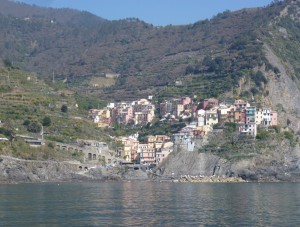 Our next port of call was the village of Vernazza, again with a perilous approach but it also had a lovely circular marina and a well developed main street. Of the places we saw and visited I think this was the prettiest, devastated by floods in 2011 (when you build in a ravine, you are the water catchment for the area) they cleaned and renovated the piazza and gained what they called a beach from the sheer quantity of debris that flowed through the town. Although not really a beach by Australian standards (more of a gravel heap), there were adventurous tourists sunning themselves and dipping feet in the water. The harbour of Vernazza was protected by a half circle of boulders, all discards from the marble quarries in every shade imaginable – if they were discards then the other stuff must be truly spectacular.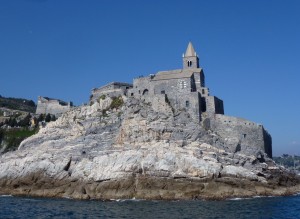 Our last stop in the ferry line up the coast was Monterosso, the most developed of the Cinque Terre, with a relatively safe landing point, restaurant and hotel district and a sequence of piazzas that had stores and market stalls, selling tourist things mostly. We had lunch, a reasonable pizza and bought some dolce (sweet treats) from a pasticceria which we ate waiting for our tour group to reassemble.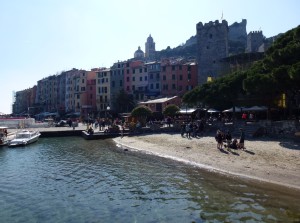 We when took a different ferry line to sail back down the coast Nd around the headland to the coastal town of Spieza with an amazing castle on the hill/promontory and a well protected harbour. The tour company had organised a wine tasting, featuring the scarce and expensive wined of Cinque Terre, the whites were complex and interesting, the Reds originated elsewhere. We also tasted a pesto that was so lovely we bought a bottle – it will solve a dinner in Rome later deliciously.
Tired out and a little sunburnt from our day in the Liguarian  sun, we boarded the minibus again and headed for Lucca, home – tired but it was a really interesting day. I was relieved the sea was calm, I get seasick so brought kwells but did not need them as our seats were outside on deck, there was a fresh breeze and the scenery was spectacular enough for me not to notice the boats rocking and rolling. The haze sort of lifted towards the afternoon and the photos going back down. The coast of the 5 ports were clearer than those taken earlier.
Our other day trip was an exploration of the food and countryside of "typical" Tuscany (the Italian English translation system seems to favour that word as it was used frequently during the day), with our guide "Ami" who did not stop talking the whole day – our minibus had us (English speaking) and a group of Spanish tourists that sort of understood Italian. All explanations regardless of how trivial were provided twice, once in each dialect.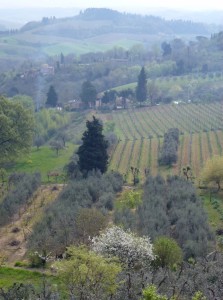 We travelled country lanes, back roads and sW lots of rural scenes, typical farm layouts and fields of vines, blossoming fruit trees and verdant sprouting grape vines. It is spring here at the moment and everything is growing madly – we are not used to seeing so much blossom on stone fruit trees, it really is lovely and reminds me of the cherry blossoms of Japan.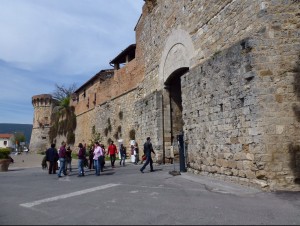 Coloured rendered buildings with rubbed tiled roofs of red, avenues of cypress pines leading to the main house, olive groves (freshly pruned and in bud) and lush vegetable patches carefully tended as most of the locals are at least partially self sufficient.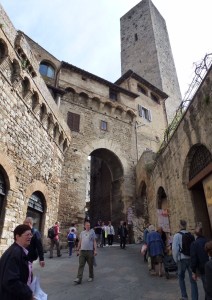 We stopped at a walled city called San Gimignano and were left to explore, given a deadline and return point at the main porta (gate). The town's main street followed a ridge with side streets up and down from it, twisting and meandering through shops, markets and residences. It was really pretty and would be more so if it was not so full of tourists like us seeking a Tuscan experience. Jo finally found a replacement coin purse, an ingenious pouch design that keeps coins secure but makes selection of the right one easy.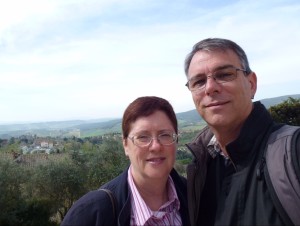 We also found a lovely pasticceria, purchasing a selection of fruit-slice like treats w had not seen anywhere else, lovely short pastry around drunken sultanas being our favourite (a bit like a currant slice but much yummier).
Views from the walls were amazing, rolling hills covered with the now familiar textures of vines and olive trees, homesteads and hedges, so lovely.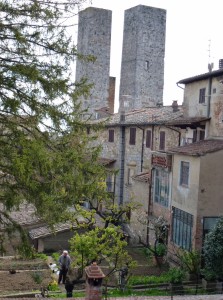 We re-joined our group (who had opted for a guide, whereas we explored on our own) and headed towards Sienna, a much larger city.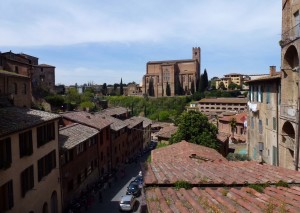 We alighted our minivan at Piazza Dominico, near a church undergoing extensive repair and renovation after recent earthquakes nearly shook it to bits. We were given a map, and some free time to explore – we headed to the city's Duomo- it's main working church as there was a spectacular cathedral and a tower- we were confused as the cathedral bell towers was closed but there was a panoramic climb attached to a tower in the adjacent museum that was a terrifying and squeezy climb but it rewarded with magnificent views.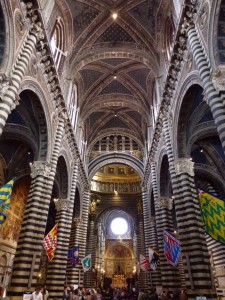 We returned to ground level hungry and headed to Il Campo, an amazing amphitheatre in the heart of the city and bought panini and pizza, gelato and something to drink. We then realised w were fairly lost, and little by little made our way back to the meeting point. Siena is a busy place, we saw a little of it but did not really have enough time to explore properly as the distances between pickup point and city centre were too great.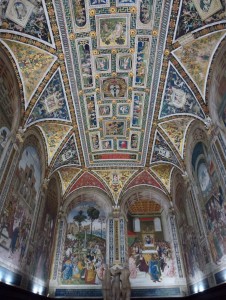 Our return journey was interrupted by a visit to an organic farm that grew vines, olives, vegetables, saffron and beef – the same breed typically used for a Florentine steak – they looked docile and delicious. We tasted 5 wines, some fruity whites, a refreshing rose and a couple of reds including their chianti. I have grown quite fond of Chianti Classico and worked though a bottle of it at our Lucca accommodation. We also tried their olive oil and green olives which were also pretty nice.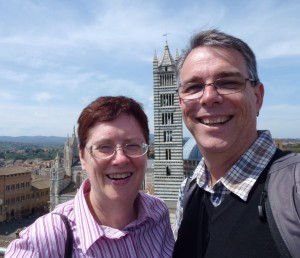 We were served on paper placemats; being starved of paper folding while on holiday I asked for a clean one and folded our host a kangaroo. I had intended to fold it in transit but started folding and a crowd gathered and they insisted on me finishing before we left, to a round of applause (which was a little weird, you get that).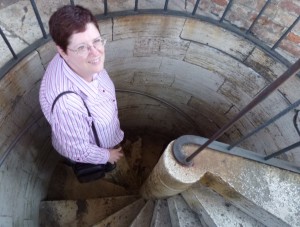 We returned late to Lucca, and used the purchased saffron to flavour our evening meal, a risotto cooked with "brown" arborio rice, which was really nice but needed a lot more cooking than the white kind, using the first half of a huge bunch of asparagus we picked up in a local produce store.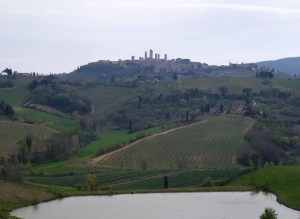 Tired and a little sozzled we slept soundly, the next day was our scheduled "rest" day and we only had Lucca tower climbing, shopping and a bicycle ride around the top of the walls planned for the day, early dinner then a Puccini recital booked for the evening – snippets of famous opera arias, wonderful singing in an ancient church. This provided a perfect end to our stay in Lucca.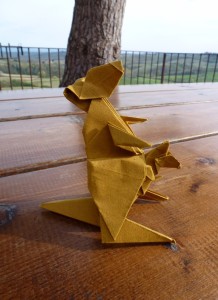 Tomorrow we travel via regional train to Pisa to inspect some rather dodgey buildings and then board an express train to Rome, our next base. We are now quite organised, our suitcases and other stuff is pretty easy to collect and move, we will need to reorganise slightly for plane trips but train where we lug our bags seems to work well without killing either of us too much.