After a welcome night sleep on a wonderfully comfortable bed we breakfasted and headed out down the road to the Flavian Amphitheater (literally our home base is on the road that leads to it, 5-10 minute stroll).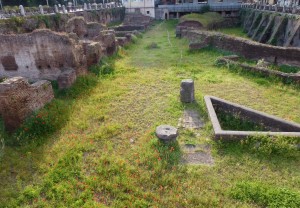 Getting there we also walked past the recently excavated section of an adjacent Ludus – a gladiator school, which was connected to the arena by an underground passage. The story goes that there was once a "colossal" bronze statue of Nero outside, the stadium complex inherited the name "Collos-aem" or Coloseum more modernly.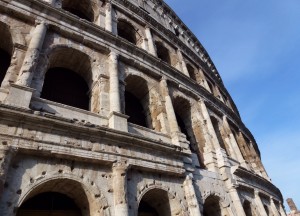 You do not get a real feel for the colossal scale of the building until you are up close and personal, on one side much of the original outside facade exists (minus the marble and Travertine stone cladding) not on the other most of the outer wall, which had collapsed in the Middle Ages, has been robbed out and forms building materials for many buildings all over Italy.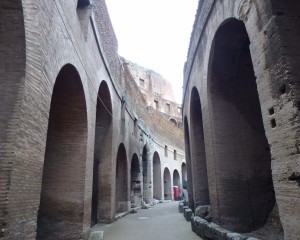 We had a guided tour booked and our first challenge was identifying which queue to join to exchange the Internet voucher for tickets, once inside the bottom level a further challenge to find the appropriate ticket office – there were signs, they did not correspond to the function of each window which we were supposed to be able to work out, apparently.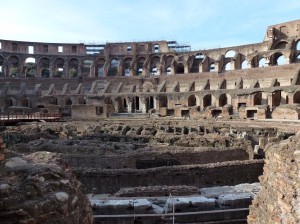 Armed with tickets and tour stickers we had a small amount of time to browse before our scheduled meeting so wandered the structure in awe, mouth open, more amazed with each twist and turn. We noticed that all the pillars (the structure is a collection of pillars and arches – Romans really perfected these) were pockmarked with holes at major stone junctures – apparently originally most of the stoned in the pillars and some arches were further secured with iron clamps and in the Middle Ages these clamps were robbed as iron was valuable. The resulting instability lead to many collapses and continues to be a challenge for conservators today.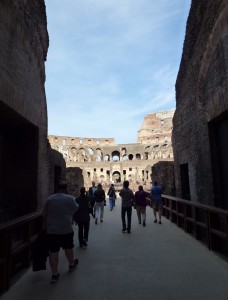 Inside the stadium you get the sense of the raked seating, 5 or more levels of it. The lower marble levels reserved for the bottoms of rich folk (even a supposed place where they thought the royal box was) leading to the higher seats, wood bleachers, designed for women and poor people. It seems the social class stratification started here.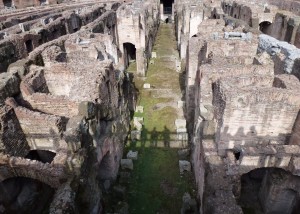 The arena floor, now a tangled maze of stone tunnels once was covered by a wooden stage, then covered with sand. You get a very real sense of the brutal spectacles that took place here and the howling mob craving more and more violent blood letting.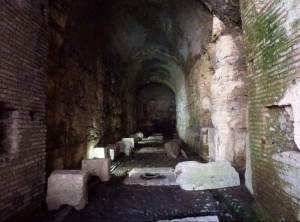 Our tour took us onto the partially re-constructed stage level – from here looking up I can only imagine the terror of contestants battling for their lives for the pleasure of a screaming public. They had also re-constructed a sample trapdoor – as part of the arena stage spectacular, combatants, wild animals and scenery "magically" appeared through a series of 60+ trapdoors and ramps built in to the floor. You do not credit such genius stage mechanics with something so ancient but if you can get past the blood and guts it must have seen many astonishing shows. Certainly all of the emperors, mad or otherwise, loved a good show and their citizens were dying to be in them. Something tells me also that working "backstage" would not be something anyone would have chosen as a career, but I guess it was better than starring in the show.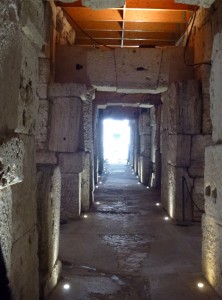 We then went below stage level to the stone corridors and tunnels under the arena. When this was a working building this must have been an horrific place to be. Teams of 8 slaves manned floor mounted winches that did the moving and shaking of cages and traps, animal transport and corpse remains schlurping. It was dark, labrinthal and must have smelt putrid – so much so that apparently above ground slaves would splash perfume around for the pleasure of the expensive seats close to the arena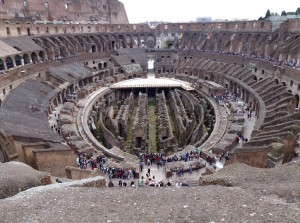 There are, apparently, anecdotal records of earlier under-arena structures made of demountable wood. There are records of the arena being flooded with water and symbolic mock naval battles taking place inside- a number of historical writers mention this but there is no archeological evidence to support it.
After exploring the "bowels" of the building, we climbed up to the second level and then the third- an amazing viewpoint that seemed to dwarf the stage. We were told of a 100 day spectacle where 6000 animals and countless people were brutalised for entertainment. At the end of the tour we wandered for a while (again with our mouths open) then returned to our apartment for a welcome sit down and some lunch.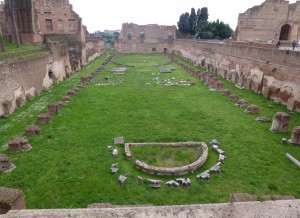 After lunch we returned to the general area we had spent the morning, it is just down the road from us. We walked around the Coloseum towards Palantine Hill- the home of roman emperors. Up the hill and we were amongst substantial remains of houses, piazzas, temples, gardens and more.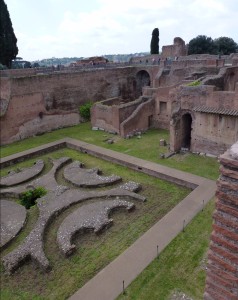 For me, so many names sprang to mind, Augustus's house, Livia's garden and private temple, Tiberius's apartments, Claudius's Library and Caligula's palace – all still present, some in remarkable condition, most complete enough to get a sense of the space and purpose of the parts of each building.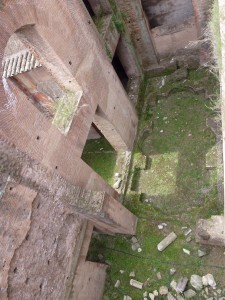 We strolled through recreated gardens, on original surface pavements and were generally overwhelmed by the place.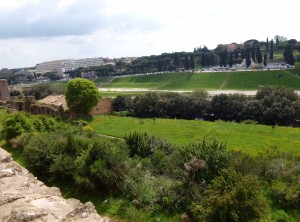 We refilled our water bottles from a bubbler that would have originally been fed by an aqueduct through lead pipes, found viewpoints that showcased the Coloseum and below us the Forum and associated buildings and noticed remnants of wall plaster decorations and mosaic floors. You can see clearly why the nobility chose this area as a residence far from the madding crowd – one side of the hill you had the sports arena that was the Coloseum and the other side of the hill was the clearly visible remains of Circus Maximus – the chariot race track that was one of Augustus's favourite time wasters and must have been awesome in its day.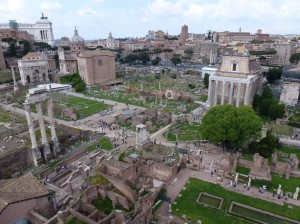 When we had had our fill of Palantine Hill, we followed one of the oldest roads that exist still in the original surface (now a fairly rough basalt boulder street, made difficult to walk on by tree roots, earthquakes and a vast amount of time). The road wends its way down from Palantine hill, past temples, basilicas, public works buildings, fountains, gardens and springs, towards the forum.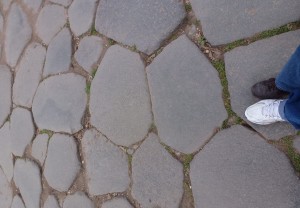 The area is littered with marble column bases, laying out rectangular building blueprints and stray beautiful marble fragments left after robbing. Romans are a practical lot and when this area was abandoned (the aqueducts were breached, residents fled almost completely as siege after siege finally spelt an end of an empire), materials that were valuable (marble, bronze etc) became part of other building projects, reducing the cost of having to mill from scratch.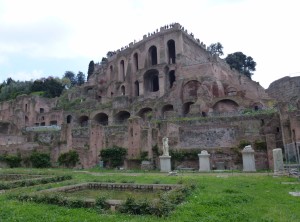 What was left was a confusing jumble of columns, carved marble decorations, arch fragments from once great basilicas and ancient annexes to more recent churches, Christian and pagan iconography, statues in various states of dismemberment and this jumble came from a really long time in history because the area was used for such a long time. I am not sure how you could better show it off as the combination of signage, audio guides and spoken tours made it a bewilderment of history amongst a microcosm of madness and excess.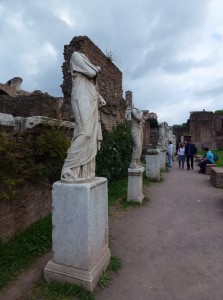 The area in the lower section deteriorated into a jumble of remains and column bases and our feet and legs were in worse shape. Walking on hard uneven stone is hard work, worse on our legs, knees and feet. We reached "ruin overload" or as we prefer to call it, we got "ruined" so decided to head for a restorative gelato at a niche gelato shop called 'Fatamorgana' that specialises in 'odd' flavour combinations, but our choices were nothing short of delicious, providing the rejuvenating fuel necessary to get home.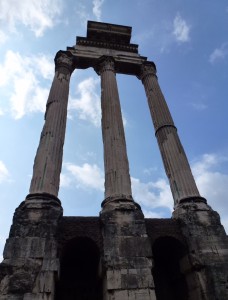 A simple dinner of mushroom tortellini with a fresh tomato sauce, accompanied by some wine we had picked up the previous day was a perfect end to a ruinous day.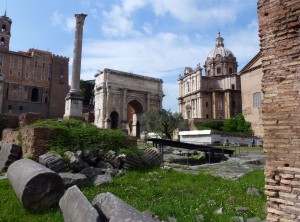 Early to bed because we have a huge day tomorrow in Naples and beyond