We could have taken a tour, we know, but we decided to organise the day ourself and it turned into a corker. Having sussed out the local trains, metro and tram system, we woke early and briskly walked to the train station, taking an intercity service to Naples, going downstairs to the metropolitan station at Garibaldi and hopping on a service out to Pompeii excavations. It was a bit of travel, but interesting to see the country side contrasted with the inner city sprawl and high density living outside the city.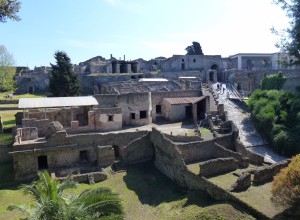 Arriving at Pompeii, we successfully navigated the insistent ticket scalpers and bought entry tickets to the ruins at the gate, found free toilets and had morning tea (some crunchy ricotta filled pastries we picked up at the Rome train station supermarket- yeah, I know, weird right. Interestingly our experience of train station food in Australia is miserable, in stark contrast to the fresh and delicious food and drink offerings in Europe – when did Australians and The English stop caring about quality and value for money for travellers?) before heading off to explore.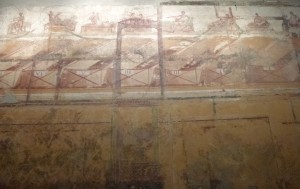 We entered the site, along a basalt boulder street into a bathhouse come brothel. We began to appreciate a number of things about Pompeiians – they loved life and liked to party. We saw elaborate painting, heated floors (hypocaust) and baths and bedrooms, as you would expect.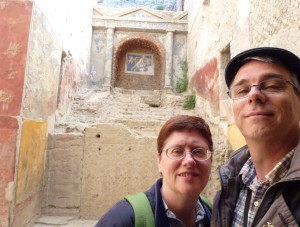 Due to the rapid and catastrophic nature of the fall of Pompeii (a volcano called Vesuvius adjacent erupted and buried it in meters of ash – you knew that right?) and the amazing state of preservation this ancient and extensive city was afforded by the thick volcanic blanket we were blown away by how much of the city is left.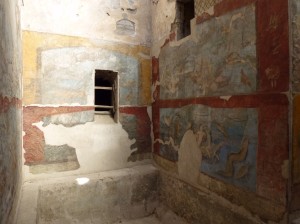 Both Jo and I had vague understandings of the town but were amazed and surprised by how much of the working city was so well preserved. Wandering the streets, entering buildings you really got a sense that people lived, worked and played here.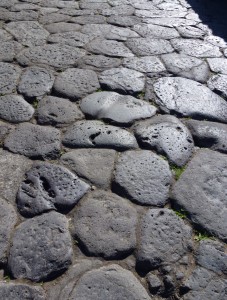 A well developed road network existed, paved streets and pedestrian walkways, when the streets got manky (markets and animals make a mess) they were sluiced clean, stepping stones allowed people to cross without getting feet or cloths dirty.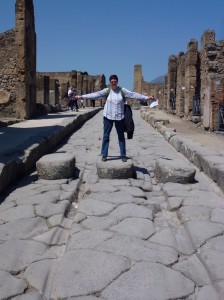 The stepping stones were wide and low enough to allow wagon wheels between them and we saw lots of wear tracks left by well used wagon trails.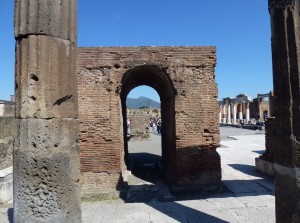 The city had a well developed water system, delivered by aqueducts and lead pipes, using springs and cisterns to allow a relatively water lush lifestyle to evolve. Many of the houses still had the original plumbing intact.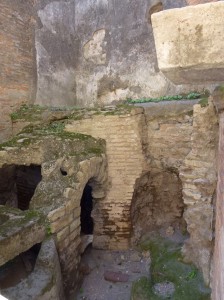 The city had a well developed market economy, we strolled though piazzas and courtyards that were so obviously markets and shops, vivid frescoes illustrated what was for sale (both in the food/drink markets and in the fleshpots).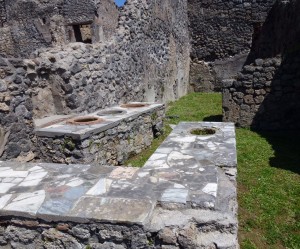 It was easy to imagine bustling food and wine vendors, we encountered marble countertops with holes to warm pots of stew and soup, amphorae to chill wine and vats for oil and vinegar.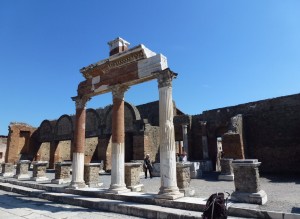 Religious life was clearly important as there were many temples, to all sorts of gods from discrete to monumental, in market squares, in private residences and atop hills overlooking public squares. Most the the statuary has been robbed (for Naples Archaeological Museum) and most of the ornate marble and mosaic floors and decorations have also been relocated but the traces that remain are amazing.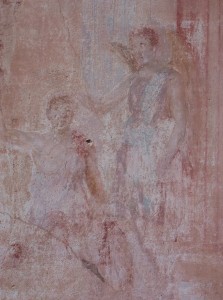 We wandered main streets, back streets, in and around residences, noticing the minutiae that go to make a working city. We saw a urinary (a place were urine was collected, a tax was paid apparently and the urine was used to tan leather and it had other public works applications – how practical and icky)  and also noticed a number of plaster casts of citizens – eerie echoes of people who had collapsed, been covered in ash and decomposed leaving a skeletal air pocket that archaeologists then filled with plaster before excavating.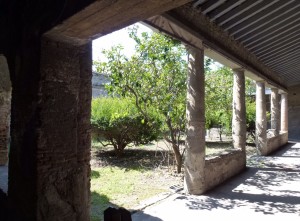 One can only imagine the horror suffered by such a lot of citizens busily praying the gods would calm down but the looming Vesuvius, ever threatening even today, had other ideas. It is clear from what has been dug up that they did not stand a chance and had very little warning of the impending eruption.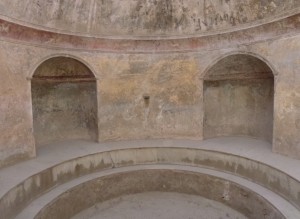 We lunched in a lovely shady garden. We had brought picnic fixings then explored beautiful and newly re-used amphitheaters and other public buildings. Looking at our maps it is evident how little of the city has so far been uncovered – it was a vast metropolis and I am sure it will keep archaeologists busy for years uncovering well preserved clues about life in the roman lifestyle.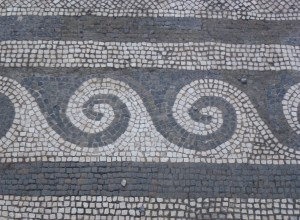 Imagine what would have been had the disaster not occurred. We conjectured that this city, being so centrally located in terms of trade, would have been a major modern force, giving Rome and Florence a run for their money in terms of size and importance.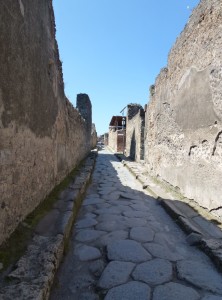 We learned about building techniques, how to save money on a roman style build- marble columns are expensive but if you make them from brick and then render them with marble dust stucco they look like marble without having to negotiate a fair price from the Carrara traders. Brick walls filled with concrete make strong buildings but few roofs survived the weighty bombardment and burial.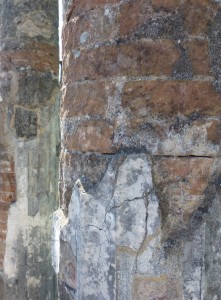 By mid afternoon our feet were sore and legs tired out, so opted to return to Naples and visit the archaeological museum, our short stay let us see some of the most amazing mosaics rescued from the diggings and statuary from many places.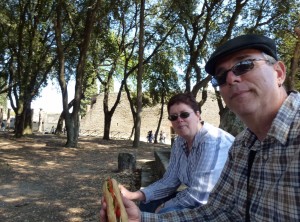 I was really interested in the Roman emperors, and was surprised how flattering 2 statues of Claudius were, given my readings suggested he was a hunchback club footed cripple. Perhaps history has been kind to him as I think he, and Augustus were the best of the lot.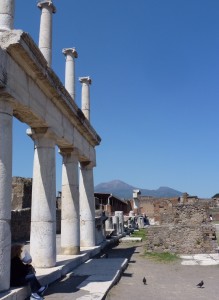 Before returning to Rome, we had planned to try Napoli pizza, apparently different but the original deal and trip advisor had suggested a little pizzeria not too far from the train station so we trudged there.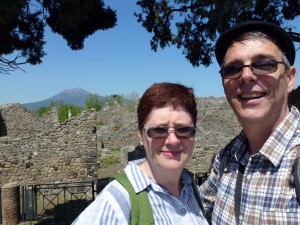 We watched as an old man delicately made the pizza and pan handled it into his wood fired oven. After a few minutes baking on the searing hot stone floor of the oven it emerged cooked to perfection.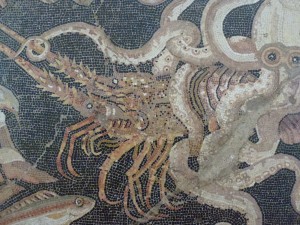 I have a new favourite thing – marguerita; a celebration of tomato and a small amount of mozzarella with some basil to finish – simple delicious.
Unlike the Florentine pizza we had that was thin and crispy, the dough had a little chew and it was almost soupy in the middle – mmmmmm.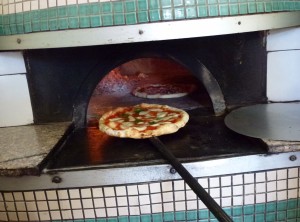 Jo also had prosciutto on hers but we ate till we were full. I would drop everything and go back again, it was so good. Along with drinks it cost nearly nothing, the shop was not flashy and a little out of the way but wow, just wow.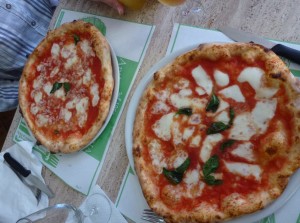 Exhausted and a little sozzled we wearily trudged back to the train station to catch our intercity back to Rome. We caught a taxi from the train station to our apartment because the though of more walking was dizzying. We arrived back just after 9pm – a huge day but wow it was interesting.
In no time we were asleep, a relatively easy day tomorrow (our "rest" day in Rome) before we fly out to Athens.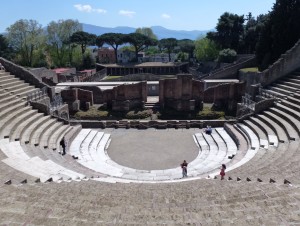 Postscript 1: I was actually looking for the arena that Pink Floyd played live back in the 70's, thought this might be it only to discover subsequently that a second site, named "Villa de Mysteri", has the arena they used – still, I felt suitably close to what was an important musical event for me and a much loved album by Winston O'Boogie and myself (waves to Michael).
Postscript 2: Generally I blog about the day before, so the blog is usually a day late in terms of when we actually do it, if that make sense. This post, for instance, has been the result of a lazy lunch and a third of a bottle of chianti (well, I cannot travel with it and it would be a shame to waste it, and it goes so well with the lunch…). Often it will post the words before I have vetted and edited the photos. My iPad client will not let me post full sized photos so I have invented a rather torturous but successful workflow for cropping / resizing that works but miss my full computer and its file system.