Roma is a varied and vibrant city with so much to offer the eager tourist and our last day was an easier day so naturally we had some simple things we wanted to do.
An early start and we were off to the Metro station, an underground train network of 2 lines that meet only at Termini, a transport centre of sorts. The metro is separate to the train, bus and tram network but you can use the same tickets for most. We had pre-purchased a day pass so were free to jump on and off as we liked.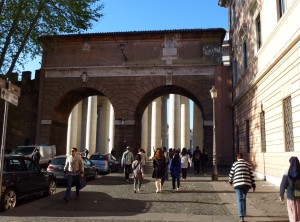 We headed for Vatican City, an odd (in my opinion) section of the city that is sort of like its own country. We had heard the queues can be horrendous, but we arrived pretty early (opening time) and were pretty well straight in.
This visit we planned to look at St. Peter's Square (which turned out to be round – so I am already confused) and the Basilica.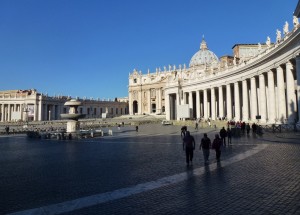 After a frisk and bag X-ray we were in and wandered towards the Basilica. The surrounds of the square have unusual proportions, the curved colonnades dwarf people but from a distance create the sense of a space which for many is a holy place that the Pope appears in. When we were there they were setting out sections of seating, we presume it was for the Popes audience tomorrow but we are not sure. Huge video screens and a massive sound system elevate the pontiff to rock star status, making it easier for the faithful to see and hear their leader. There was a papal stage with nice white awning and further up the building a balcony that could be used for orations.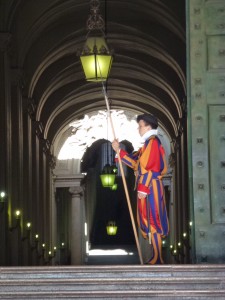 Although I work in a catholic school, much of the pageantry and spectacle still remains a mystery to me.
We entered the vestibule and then the basilica and were struck with the scale and ornamentation.
The space is huge, like really really big, and every surface is adorned by coloured marble, gold, statuary, pope tombs and inlay.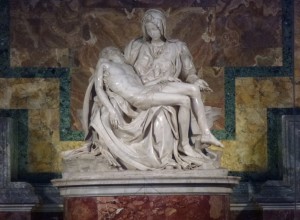 One of the things I really wanted to see was Michelangelo's "Pieta" – a single block of marble breathed into life as the tragic scene of a dead Jesus slumped over the lap of a grieving Mary (at least I think that is the subject). At its simplest it is a mum grieving her son and as such is a definitive study in posture, facial expression and composition. The artistry of this work is breathtaking – regardless of the symbology, the marble has flowing fabric, live flesh and a real sense of tragedy and despair. It was difficult to get close to this work (much like the Mona Lisa) which is a real pity, but it was stunning none the less.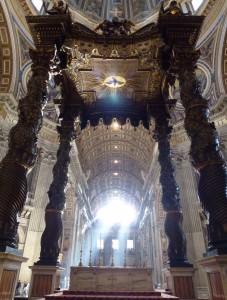 Walking around in the basilica you notice that each nook and cranny is a separate chapel, most running services but the ambience of the whole space was remarkably quiet. Each nook was elaborately decorated with either altar or tomb, the floor was marble mosaic in large geometric shapes. The morning streamed in to the auditorium elevating its grandeur and scale.
Each dome interior, and there were lots, outdid the next in terms of decoration and sheer eye candy. Gold, mosaic and fresco combined into a huge and awesome space.
The funniest things we saw were nuns and priests with selfie sticks (a modern cancer that has surely reached saturation point – we were pestered by street vendors all over Europe trying to sell us one) grinning like maniacs in front of holy relics – I can imagine the Facebook posts of "I prayed here" and the like.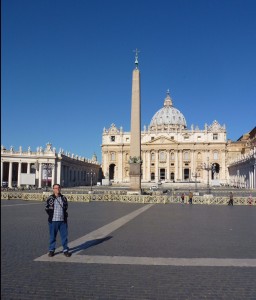 We went to the Vatican post office and bought stamps for postcards for the mothers back home and posted them in the city, we are hoping the Colosseum postcards find their way home.
After another stroll around the square we headed home for a rest, dismissing "beat the line" scalpers that came out in force in the area around the Vatican City entry, noticing to our surprise the size of the queue now waiting to get in. It is clear we did the right thing coming early.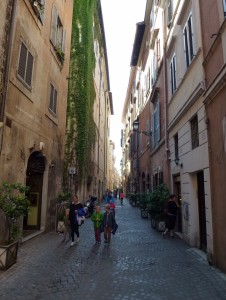 After lunch and a rest we decided to head out and "do the sights", using a guided walk thing we had, taking us through "the heart of Rome" pointing out important landmarks.
The walk was really interesting, and it started in a piazza called Campo di'Fiori which, when we were there hosted the remnants of a huge open air market. In the centre of the piazza is a huge statue of a depressed hooded figure Giordano Bruno, an intellectual who was burned here for speaking his mind (the heretic!).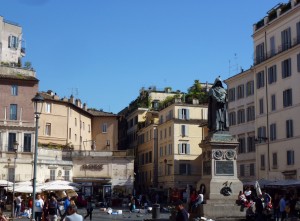 We wended through old streets, visiting gelato and lolly shops, leather and jewellery shops (Jo got a lovely pair of leather gloves). We arrived in Piazza Novono, an oblong open space now with 3 fountains in it, huge gauche marble fiascos that are all very lovely but apparently this piazza was originally a racetrack – Romans loved to gamble and racing was a favourite money waster. The level of the ground is much higher than it used to be – building upon buildings; in past ages they used to flood the piazza with water to make a free pool for cooling off in the summer – viewing an archaeological dig on the side of it and seeing where the original roman floor is it is easy to imagine how flooding it would be possible.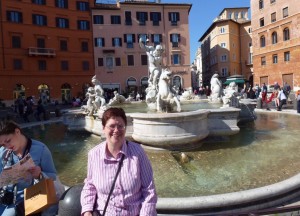 From here, via a convoluted but interesting set of side streets we emerged at a bustling piazza full of people listening to a brass band, behind them rose the Pantheon (not to be confused with the Parthenon in Greece). This marvel of engineering built by Hadrian in 120AD is still a working church, a service was about to get underway at the main altar when we visited (over the PA we could hear, in 7 different languages, requests for silence that were almost completely ineffective). Based under a huge vaulted dome with an open operculum (there is a central hole in the roof- open to the elements), the marble floors and elaborate carvings all around are most impressive.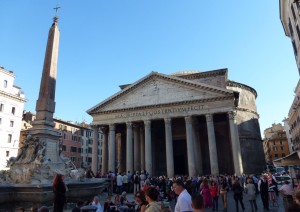 When we were there a circular patch of sunlight was working its way down the inside of the dome- just amazing. Around the inside of the cavernous space were chapels and tombs, marble and gilded wood, quite lovely. We even found the tomb of the guy (and his wife) for whom the "margherita" pizza was named – at last a pilgrimage I can relate to.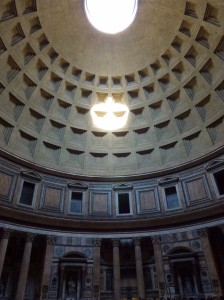 The building was clearly mostly really old, the portico was beaten up and the columns at the front look like they have survived many a siege. What an interesting place.
From the Pantheon, we again wended our way through streets that led past the Houses of Parliament, outside which there was a noisy, flag waiving demonstration that we skirted around. They were grouped around an obelisk that apparently Augustus liberated from Egypt in 6BC.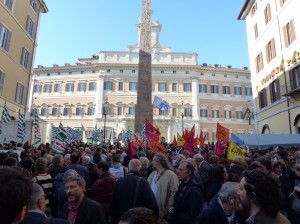 In the piazza on the other side of the parliament was a column that dated back to 2BC carved ornately to celebrate Marcellus' victories – amazing to think it has been here so long.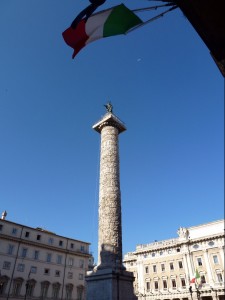 Continuing on with our journey, we wove among busy streets, turned a corner and were at the Trevi Fountain. Although it was closed for repair and cleaning (years of lime scale are being cleaned off), we walked over a gantry erected over the fountain and threw coins off it, even though there were signs saying not to do . There was a portly police officer mid way keeping coin tossers to one side, non coin tossers to the other. Clearly they realise people want some symbolic "we will return to Rome" memory so tolerate the behaviour. We managed to get rid of the annoying tiny change Schapelle that had accumulated, thus guaranteeing we will be back.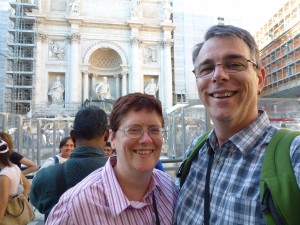 From the Trevi Fountain, we wended our way towards The Spanish Steps – oddly covered in potted azaleas in full bloom. We joined couples on the steps, cuddling, canoodling and telling "selfie stick" vendors to bugger off. This was our last stop on the path before finding our way to the restaurant we had booked for dinner – a tiny 10 table place that featured modern spins on ancient roman recipes. The food and wine were delicious and we left with full tummies and empty wallets.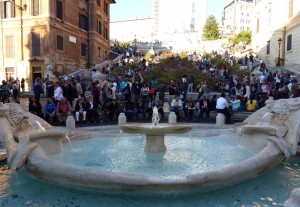 Returning to our unit, we did a final pack, set the alarm for ridiculous o'clock and slept solidly. The next day was a transfer/transit day with a taxi to the train station (we could have walked, but it was early and we were still tired) and a train trip to the airport, then a little wait before boarding Aegean Airlines for the 2ish hr flight to Athens (where we also, due to the vagaries of timey-wimey wibbly wobbly, lost an hour) meaning our arrival at the unit (a maze of train and mystery alphabet street names) was late afternoon.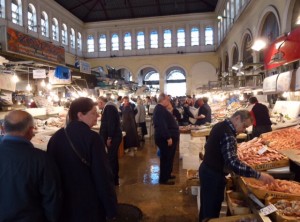 After finding our apartment nestled between The Playboy shop and Guy Laroche, on the 7th floor (gasp) with a lift (huzzah), we deposited bags and headed to the supermarket for basic supplies before settling in and seeking dinner.
We have both developed coughs (we think from the pollution and second hand smoking) but mine matured into hot/cold achey flu symptoms so after some Panadol I had a relatively early night.