After a strenuous but well planned transit day from Rome, we arrived at the train station near the airport, negotiated tickets like a pro and headed to find a train luggage in tow. Our home station is Syntagma Square but the bloody Greek alphabet has s's as sigmas, Rs as Ps, and more bizarre symbol combinations which I am told are phonetic, with sort of English under them, well, most times(ish) a shift in brain function and signs started to make sense.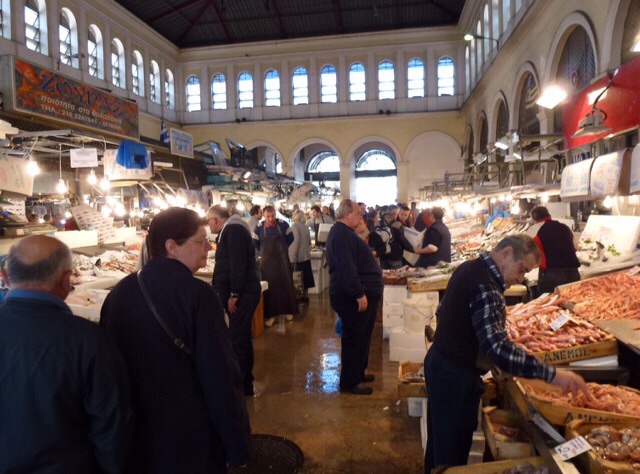 Our new digs (can't make this shit up) is plumb between Guy Laroche and the Playboy shop in the posh part of town. 7th floor caused a heart flutter until we found a lift (well, in truth a single person carrier that both of us and our luggage just about fit, bugger the weight limitations right, they are just guidelines not laws) and were soon making sense of the apartment.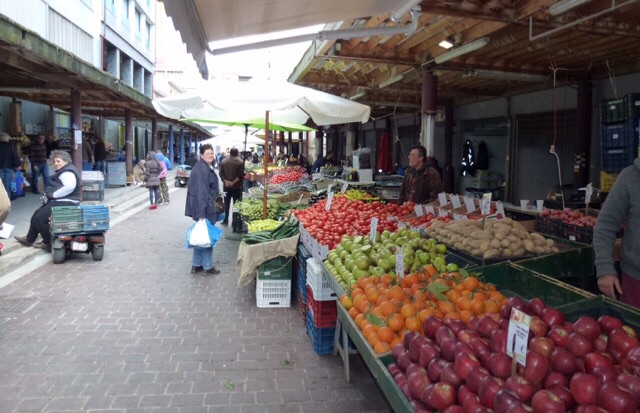 We looked at maps, they were free and seemed to be great until we started using them to discover that only main roads were indicated – great for gross navigation, less so for finding a particular place if you only have a vague idea where you are to start with. All through this holiday, Jo had made Google maps of the areas and attractions, capturing them on the iPad so we can use them offline and they have been a lifesaver.
We were tired, it was late, we headed to the supermarket for some basic supplies (milk, butter, bread etc) then returned to the apartment to settle in. I had been feeling fluey for a couple of days and Jo had a cough we attributed to the pollution and second hand smoking we are doing being amongst natives but I was running a temperature, dosed up and after an interesting restaurant meal had an early night.
Awaking seemingly refreshed, we headed out on foot via a number of vague map directions to the Central Markets which was an eye opening experience. We needed lamb, fish and chicken, and saw chunks of each freshly slaughtered. Negotiating with market stall owners, and avoiding the slippery floors underfoot was interesting and although I think we only sort of knew what we were buying, we managed to get our meat. On to the vegie stands for staples then back to the unit to store them in larder and fridge.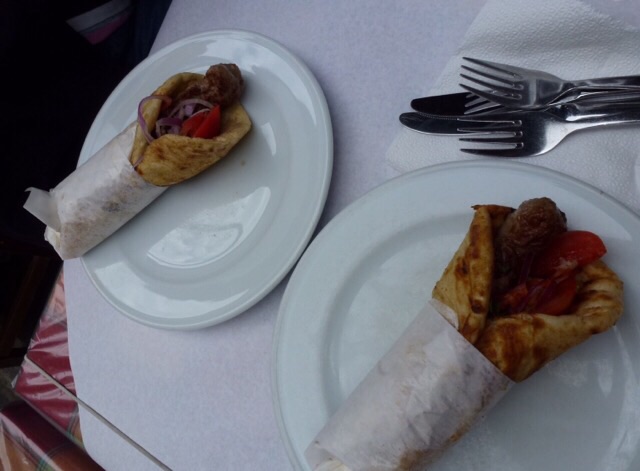 After a rest and restorative cup of tea we headed out on the metro one stop away to grab some lunch – we wanted to try both Kebabs (a skewer of spiced lamb mince bbqd wrapped in a pita with salad) and a gyros (sliced meat much like a doner kebab wrapped in a pita with chips – yeah, I know, weird hey- and salad and yoghurt and garlic sauce). Both were delicious. The pita was thick, puffy, warm and utterly yummy. I could easily do lots of them.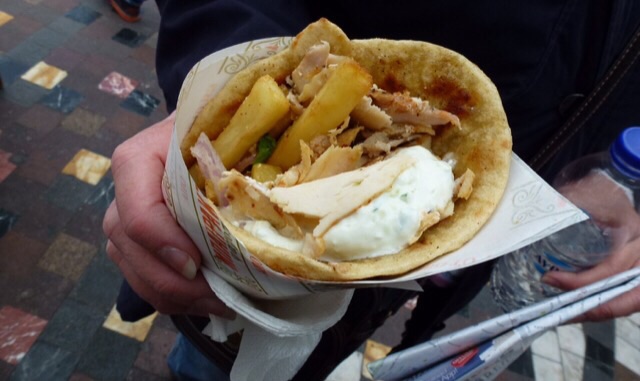 Feeling suitably fed, we headed off to explore Agora – an ancient city under a part of Athens that had many periods of occupancy. We bought multi-site passes that let us into the major areas so we could do them in an order that suited us.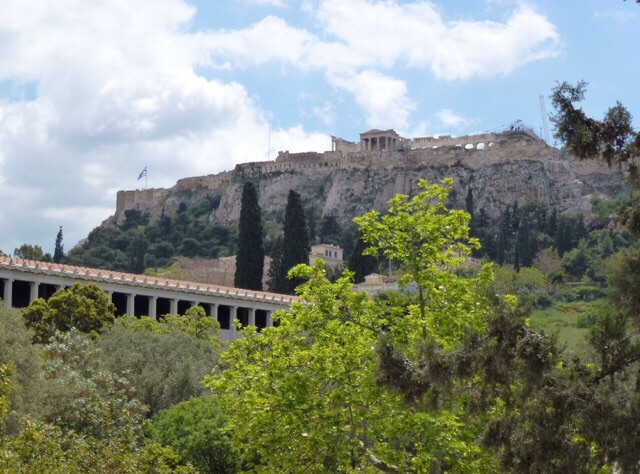 The first site, called "Roman Agora" was difficult to visualise – piles of rubble, lines of column bases and neat stacks of stones earmarked for reconstruction sometime, possibly. It was originally a roman market place and you could sort of get it, temple one end, colonnades and stalls around.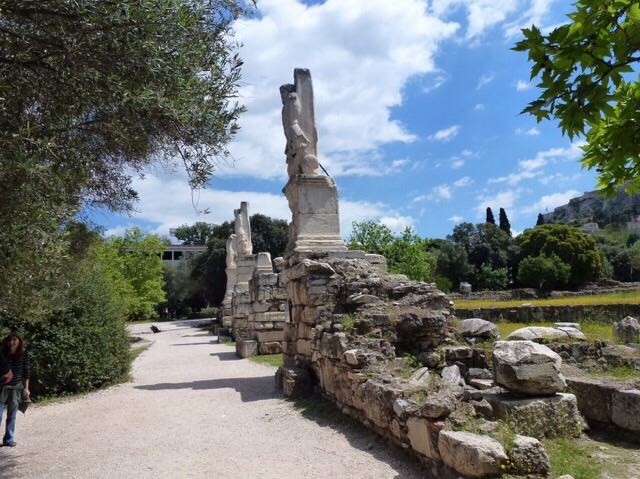 We then headed to a larger section of Agora, dating to 400BC and before, which breaks my brain. We wandered through remains of buildings, courtyards, temples and roads. We went through a reconstructed stoa (colonnaded pavilion) which now houses a museum containing some lovely pottery and lots of decapitated statues – heads seem in short supply on Greek statues it seems.
We wended our way up the gentle slope, a clearly tantalising Acropolis over our left shoulder, towards an intact temple that was first used in 428BC, converted to a Christian church in 7AD and later used to bury Protestants in the 1800s. It nestles beautifully into an olive studded hillside and is the very model of what I think of when someone says Greek temple.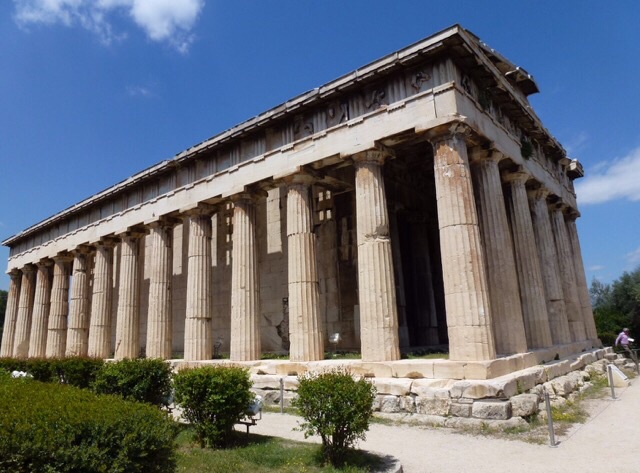 Last stop was a gravesite that had been used by many ages. Robbed artefacts were housed in a museum adjacent and showed grave goods stretching back to Egyptian times.
Tired and fluey, we returned to our accommodation for some rest and a home-cooked fish supper. Considering the micro kitchenette I think it turned out really well. On our tiny stove I managed to brown and cook the fish cutlets through, served with a Greek salad and dinner was done.
After a restless sleep and continued flu symptoms worsening for Jo we opted to move our rest day (we had one scheduled for Athens, so it was fine) so we could take it easy.
I had an outing, I was sent with a mission to locate and purchase Greek pies from a certain shop not far from us – chicken and bacon filled one and feta and spinach the other, delicious and a filling lunch.
We did go for a brief walk in the afternoon through the central gardens, emerging at the site of the first modern Olympics – a massive horseshoe shaped arena that was used first in the 1800s.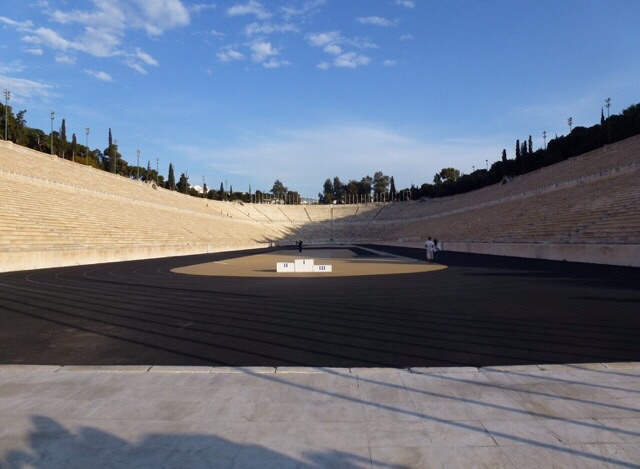 I am not sure what sports that stadium could host as it was nearly all searing, nearly no track.
Re-entering the gardens on our way home we got a little lost and nearly joined a large and vocal political demonstration that was heading for the palace and Houses of Parliament but managed to skirt around them eventually.
We have noticed in Greece (and to an extent in Rome) that public trees in the streets are often citrus. At this time in the season they are laden with fruit and all the easy to reach ones are already picked. We found a mandarin tree, plucked a fruit, peeled it and attempted a segment – sour as anything which was annoying as it looked lovely and ripe – perhaps it is just that variety.
Lemon and garlic chicken was expertly sizzled in our micro kitchenette for dinner, with braised Mediterranean vegetables, making a yummy and satisfying meal to top of the day.
Our next day started early, as we arose, breakfasted and headed to the Metro to go one stop on the red line towards the Acropolis. We took our time, ascended the hill to be greeted with astonishing views of the hand built plateau that tops a hill – clearly they had augmented the existing hill with huge walls. Once the centre of religious life in Athens, the scale of the site is staggering, and the approach imposing.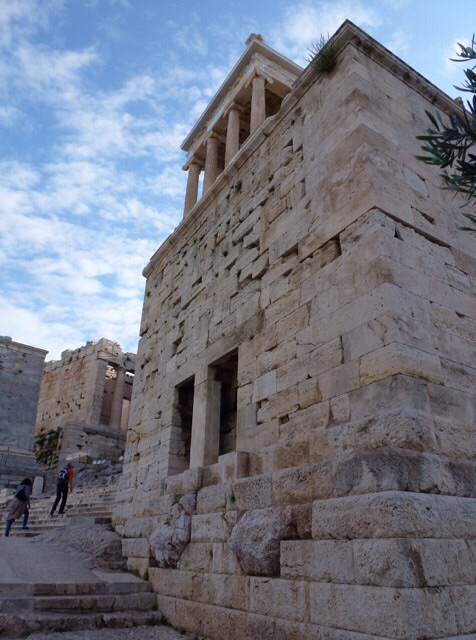 Many ages of development have left remnants. Some have been demolished to make way for more recent buildings, existing buildings are being painstakingly reconstructed using original and new materials (I like that you can tell the original from the new) and repaired from old attempts at restoration.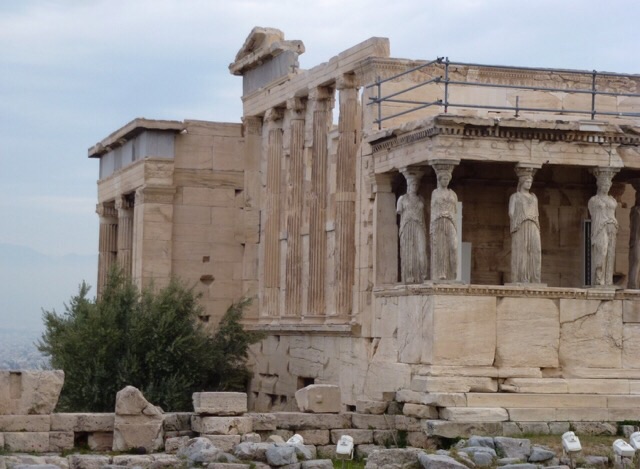 It seems early attempts to ensure there was something spectacular atop the hill have damaged those somethings to the point where some have to be dismantled and rebuilt. Materials, science and techniques have improved and much of the Parthenon are now intact – such an awe inspiring building.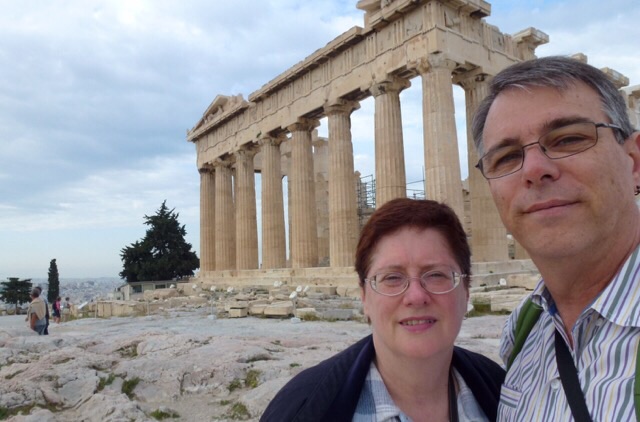 After climbing through the entry gate (Propylaea) we wandered the plateau, amazed at the remains. I liked the side temple, (Erechtheion), I named it the temple of the perpetual headache because one of its porticos was held up atop the heads of a row of woman statues.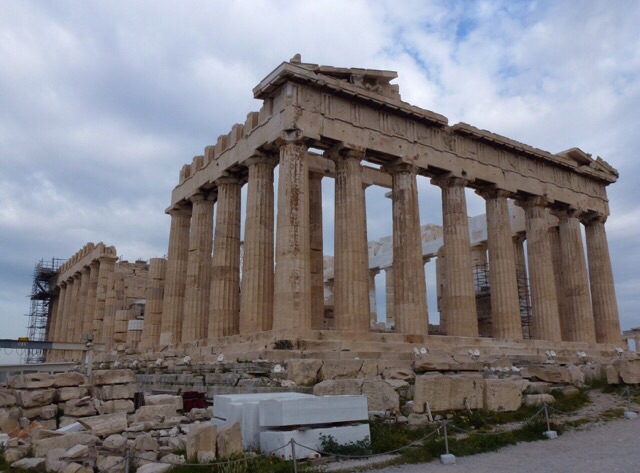 It is clear this is a long term restoration project, piles of stones are catalogued awaiting their relocation and reconstruction, much of the feel of the latest buildings has already been effected but the reconstruction project has been going on for decades (Jo says it is just a giant jigsaw puzzle, why do they not just get on with it).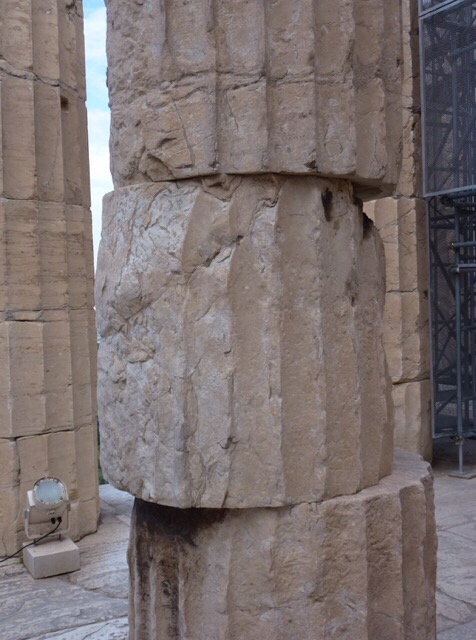 On one of the long sides of the Acropolis, down hill and inset into the hill are a pair of gigantic amphitheatres – the neatest one (the Odeum of Herodes Atticus), has been tidied up and looks ready to host performances again but the other (Theatre of Dionysus) is little more than a ruin. It is clear that both Roman and Greek loved their theatre And understood acoustics because the design is nothing short of brilliant.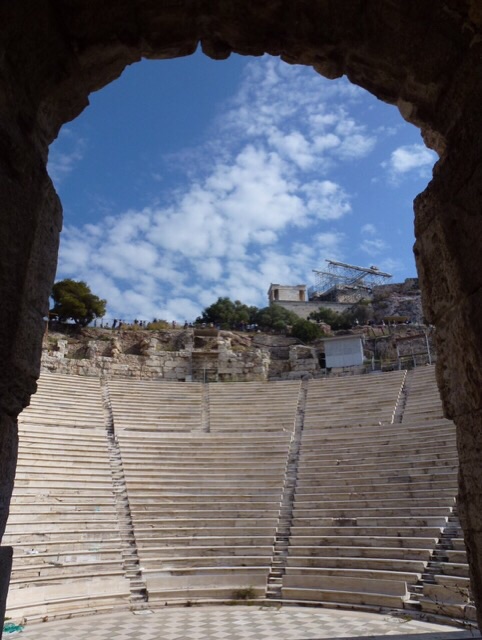 We made the right decision to come early, as we were climbing down waves of tourists (yes, I know we are tourists also) were coursing uphill, selfie sticks in hand. We wended our way down the side of the Acropolis to the Acropolis museum, built specially to house and display remains of the site. Built in levels, there is an amazing array of pottery, statues and fragments (a head gallery – perhaps this is where al the heads ended up), coins and other objects used to live and pray.
I was particularly interested in the pigments, minerals fixed in solvents and still visible on some of the better preserved pieces. I did not realise that the temples on the Acropolis were once richly coloured as well as covered with scuplture. The top level of the museum showcases the top levels of decoration of the Parthenon, indicating clearly how spectacular it once was just from an adornment perspective. Deep relief sculptured panels along all sides tell many tales of victory, anguish and the involvement of gods and mythical animals.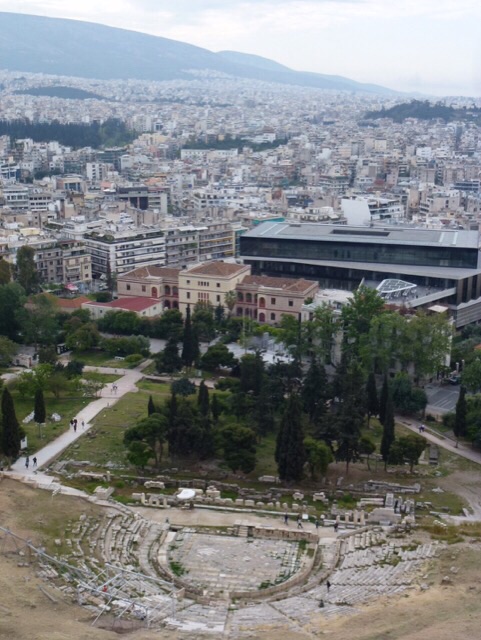 Of particular interest to me were the pediments – the triangular areas each end under the slab roofs. Proper statues, carved in the round as opposed to slab reliefs seems to me excessive. Even though the fronts were only ever partially visible from afar at ground level, they needed to be perfect in the eyes of the gods.
They depict a jumble of gods, legends and dazzling collections of tits and arse. Oddly, as seems to be the culture here, male statues are usually naked, female statues are usually fully clothed. The originals were transferred here, well, that which remained after a destructive Christian cleansing and centuries of trophy hunters looking for just the right thing for their front garden. Up on the Parthenon we could see fragments of the pediment statues (well, copies of bits) to give you an idea of space, place and scale.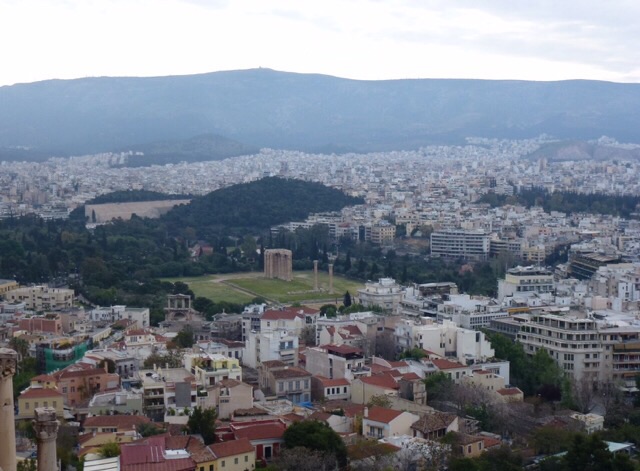 Some of the most precious and complete statuary from this site is funnily enough in the British Museum – apparently they said they would look after it until there was suitable display space in Athens, and now there is they are still looking after it.
Back to our apartment for a rest, we shall see what we are up to on the morrow.