The go go go of travel and the wildly changing weather conditions had finally taken its toll on us and Jo's sniffle turned into coughs and temperatures. Fortunately, due to some good advice (from the lovely Mrs Noisy) we broke out our travel antibiotics and we had the good sense to slow down in Athens.
Our playboy apartment was a short walk from Syntagma Square, a train line meeting point and there were lots of things to do and see in the local area so it was not a loss really.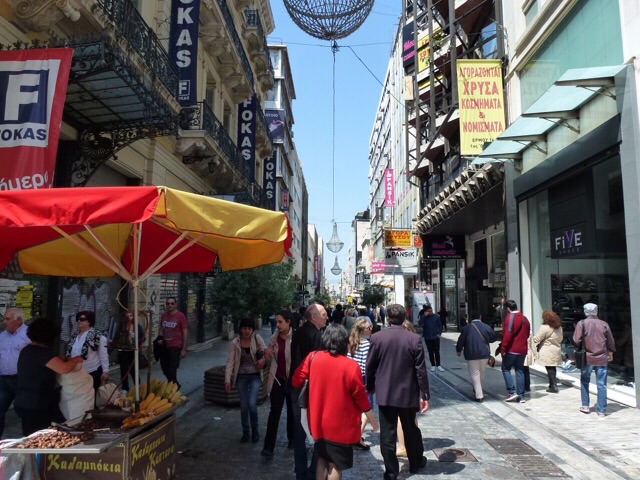 I was sent on food raids, found hidden kebab and gyros shops off the tourist path, pie shops (Greeks like pastry and bread) and were well sustained during the day.
On our second last day in Athens, there was something I really wanted to explore – the Archaelogical Museum, and the prospect of going solo concerned me a bit. I could see the headline now : "And that was the last she ever saw of her husband", but with a mud map in tow, I caught a red line for a couple of stops getting me to Omonia Square and after an initial bewildering walk around the square and heading off in entirely the wrong direction (those who know me would not be surprised by this) until I ran into a street that was on my map, and realising it was the wrong side of the map.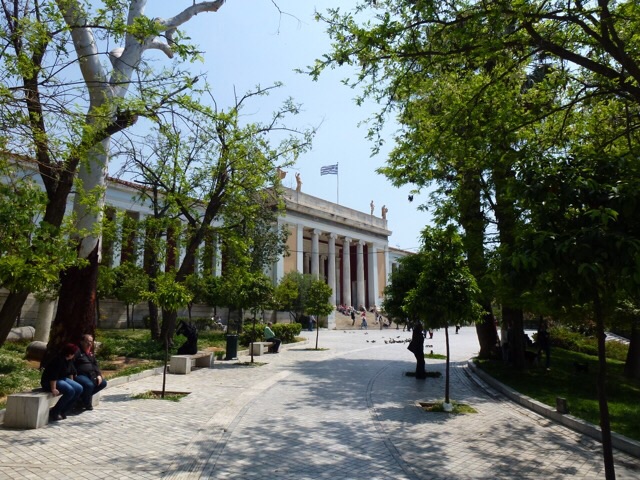 Once I got my bearings I was off and before too long arrived. It was open until 8, Jo said she would not start worrying until after 5 so it was all good as I casually meandered in and out of some astonishing collections of artifacts.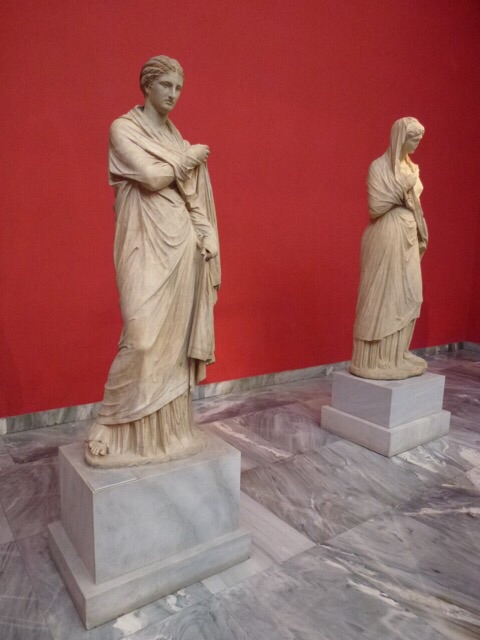 First I did the statues, lots of really old but in very good condition, clearly the best of these is probably in the Louvre or British Museums but it is nice to see whole statues. Not really sure why all the men were nude but the ladies clothed, times change I guess.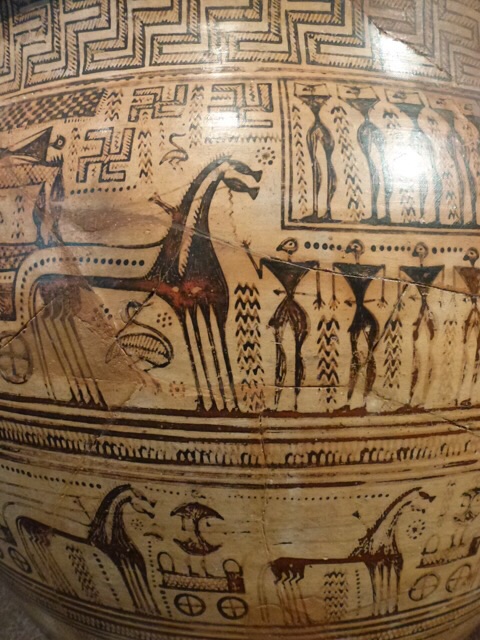 I wandered into the vase collection, amazed by the vibrancy of design and colour from pots that age back to 450BC and beyond.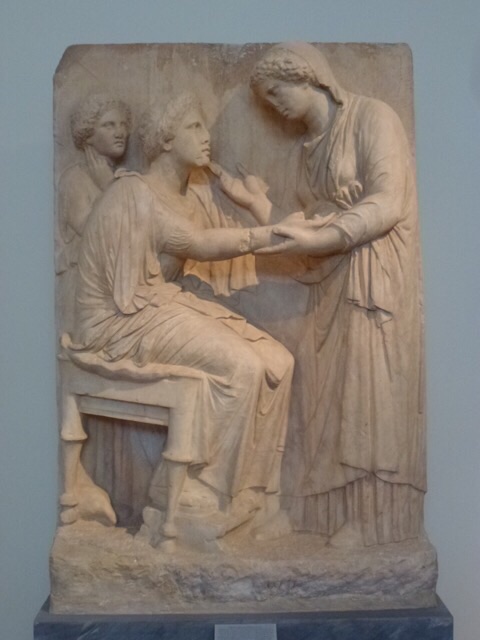 I also fell in love with a style of sculpture that captured vignettes of scenes containing a mix of people going about daily life. So much so that I started a captioning competition on Facebook for those interested. The carving style is naturalistic, lovely flowing lines, delicate rendered fabrics and everyone looks calm and peaceful – reminiscent of the much more recent art nouveau movement that so changed Paris.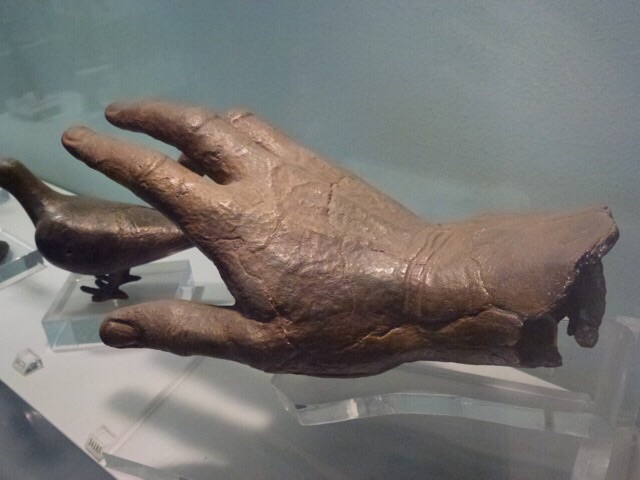 Amazed at how my incomplete research flooded back to help me distinguish amphorae, kraters and kylixs (they are pot shapes that determine usually what they are good for). There is an unhealthy amount of pottery and I got a bit fatigued of the amazing designs – astonishing visual motifs and burnished ware with incised and glazed patterns much like the modern monstrosities on sale for tourists.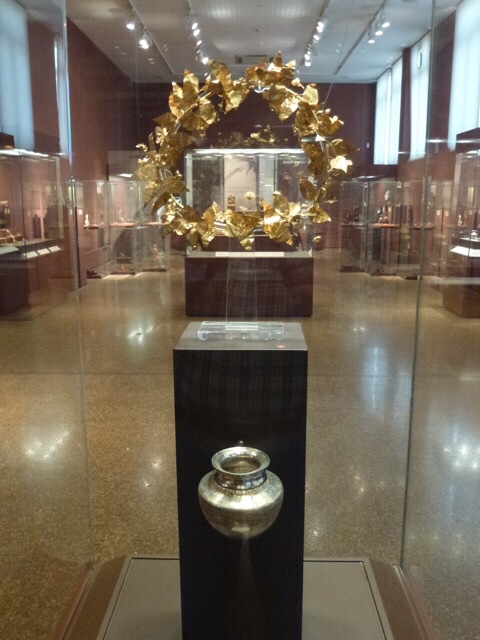 The Egypt section was interesting because of the large collection of everyday objects and I really liked the bronzes section, so many beautiful tiny cast bronze figurines for so many purposes from votive offerings (thanks "Time Team", I know what that means) through to kids toys.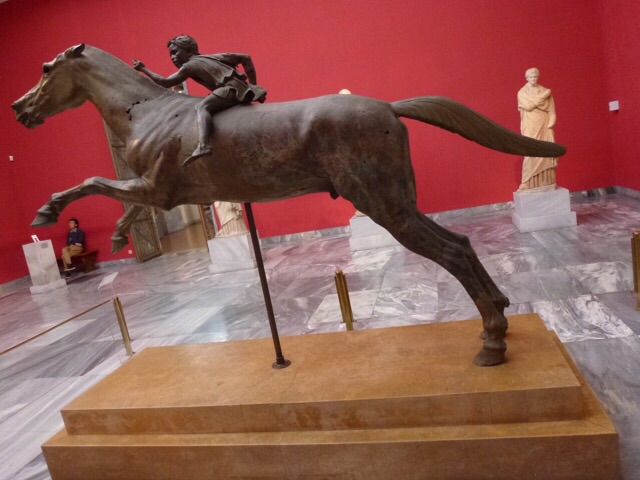 The museum also had a number of galleries that were collections owned or sponsored by families, they seemed to be a hodgepodge of artefacts from many eras, with only cursory chronological arrangement.
One of the must see treasures I looked for was The Antikythera Mechanism, an ancient bronze computer from 2BC that, via and astonishing series of interlocking cogs and levers could (they think) accurately predict the position and rotation of the moon as one of its functions but there are few records that even hint at such a machine. An astrolabe like thing was seen in contemporary etchings but the connections are sketchy at best. The level of engineering and precision for something so old breaks my brain. This section of the gallery was full of more recent attempts to duplicate some of the functions believed possible with this gizmo but wow, just wow – I never thought I would ever actually see it.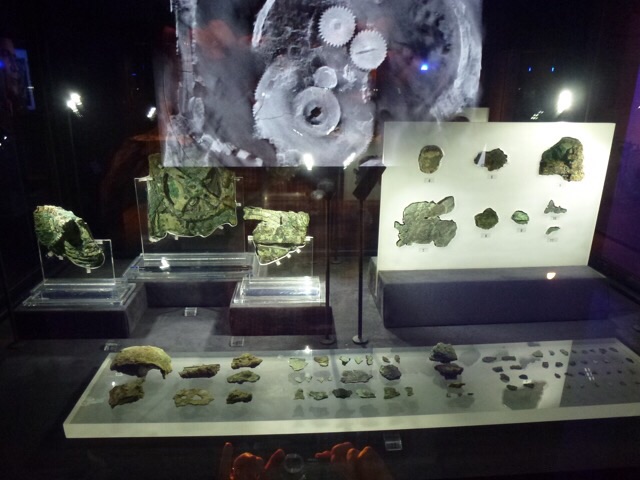 Entering the "prehistoric" section of the museum takes your breath away. Nerdy tho I am, there are a number of ancient/precious world things I have told myself I must if the opportunity avails see and the "Death Mask of Agamnemnon" is up there. He greets you, as a slightly squished flat be beautiful solid gold mask that is for me the symbol of Ancient Greece, or more correctly Mycenae, crafted in 1500BC and as glorious today as it was then.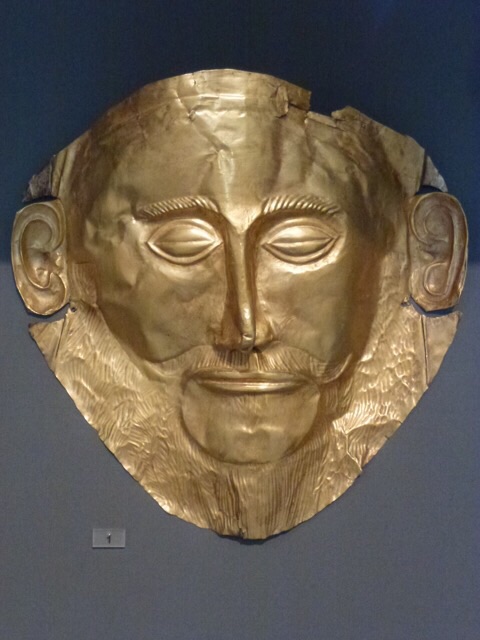 Surrounding this mask there is gold, lots of it, chest plates, head adornments, Childs dolls, wrist bands, jewellery, sword hilts and much much more. It was overwhelming but so beautiful. Amongst the really old stuff were votive offerings, coins, kids toys, beauty aids, so much of the day to day.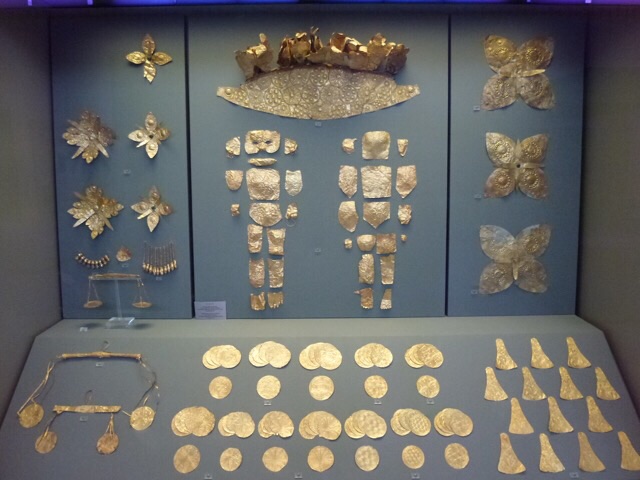 Suitably overawed, I made my way back to the metro station and back home with nearly no issue and then did the dinner run, Jo much rested and looking/sounding better for the day rest.
Next morning we had an early transfer. Packed and ready, we trundled our suitcases to Syntagma square, took the lift to the train station, travelled on the blue line for a stop and then transferred to the green line and rode to the terminus – Piraeus to search out our ferry.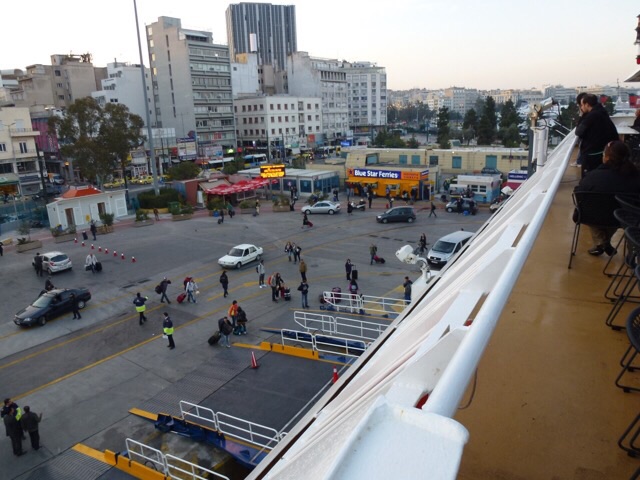 I had visions of this tiny chugging boat that I would be seasick over the side of whilst still in the harbour (for those not keeping up I get motion sick in a bath) but in front of us was the 7:25 to Fira, a suburb sized monster passenger and vehicular ferry that would rival a cruise ship.