Relaxed about the ferry ride – these sorts of ships go through the waves rather than over them, and consoled by the fact that there was little wind and the ocean was calm and flat, we had a good trip, albeit 8ish hours (when a plane from Athens takes 1/2 hour).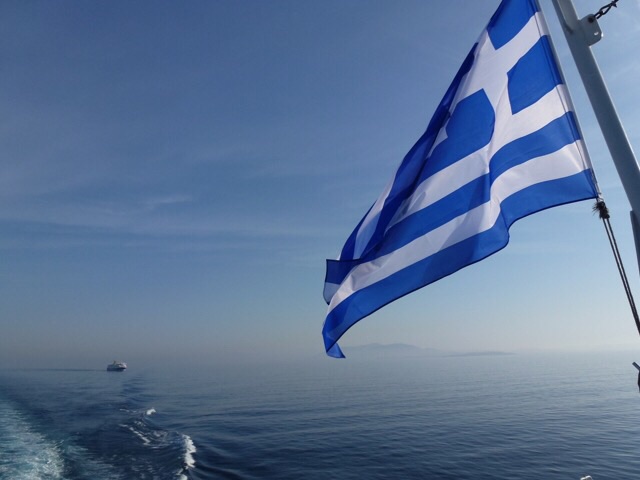 The ship is a small suburb on the water, with multiple vehicle layers (to my amazement I saw a huge articulated semi trailer drive in front first and come out the right way round???) and passenger decks above, with cafes and seating of all types. We opted for 'airplane type' seats which were allocated and comfortable but you could take pot luck and commandeer one of the many bench seats as seasoned sleepers did.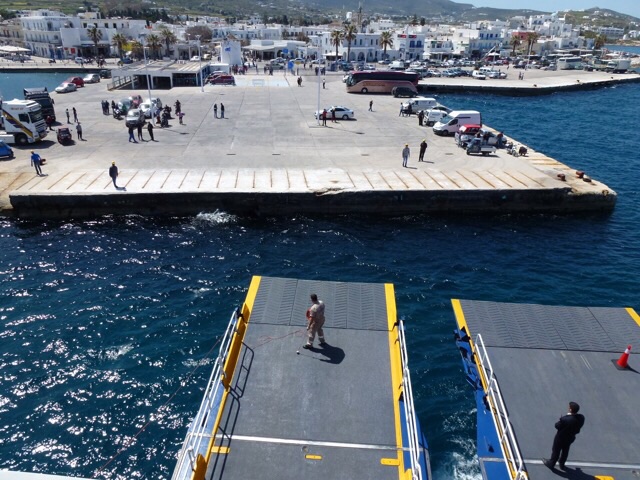 We chose to travel this way because we wanted to gain a view of Santorini from the ocean, the island is the remnants of an exploded volcano, with most of the townships on Santorini clinging perilously to terrifying cliffs on the inside of the caldera, and one of the few ways to gain an appreciation for its shape and scale is by sea.
The 8 hours seem to pass pretty quickly to our surprise, there were a couple of island stop overs along the way which were interesting. You never get used to the colour of the ocean here – such an intense aqua blue, and so clear you can see at the shore line the islands plunge down to the depths really rapidly.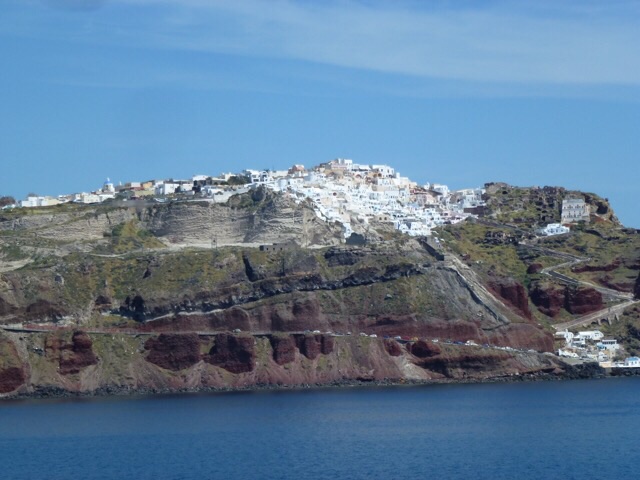 We got our first glimpses of Santorini – a crescent shaped island caldera cupping a volcanic core – still steaming and active off the port bow (I do not know, the left side of the shippy thing) as the Oia headland formed a sort of 'gap' in the tiny landmass on the horizon. We sailed towards the gap to gradually discern a thin 'crust' of houses along the top ridge.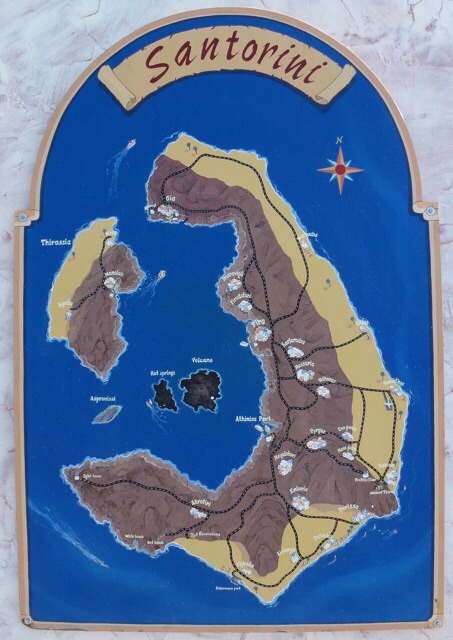 As we rounded the Oia headland, the crescent shape opened up and we could see a number of villages in clumps perched on the cliff edge, white and glistening in the afternoon sun.
Our ship docked at the far end of the island and a car was waiting to ferry us back to Oia and out accomodation and I am glad I do not drive here – the roads are narrow, windey, barely a car wide and often you meet other traffic, like the local bus, on them.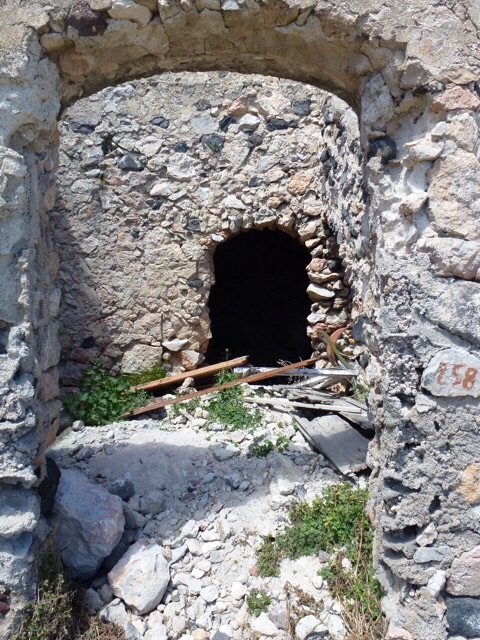 Much of the accomodation here is modelled after traditional cave houses – ours was a box with a barrel-shaped roof, loft bedroom built in to the roof above kitchen and bathroom – compact but cosy (if you do not mind cracking your head in the middle of the night as you go for a wee walk) but you do take your life in your own hands climbing down the ladder from the loft.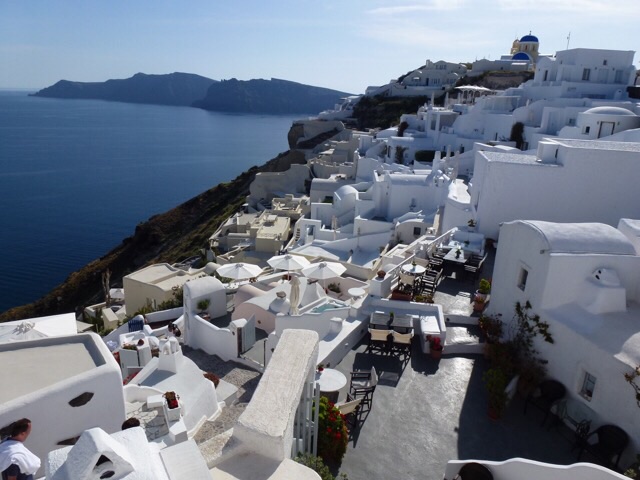 After settling in, we headed up to Oia searching for groceries (milk for tea etc) and sussing what was available so we could do a proper provisions run on the morrow. The walk to the shops and restaurants in part follows the road, a scary squeezy walk when busses are about but once there you have a long avenue of shops one side, unspeakably beautiful views over the caldera in the other.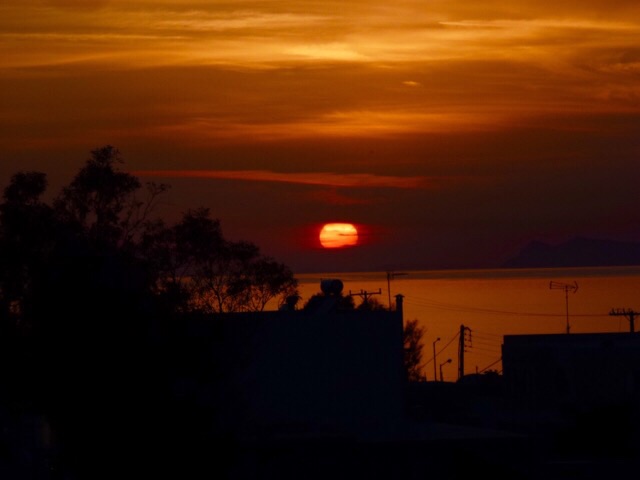 Our main objective on Santorini was to relax – it had been go go go up until now and we thought a little sunshine and sea breeze would just be the tonic. Both of us have been a bit fluey so the warmer climes were appreciated.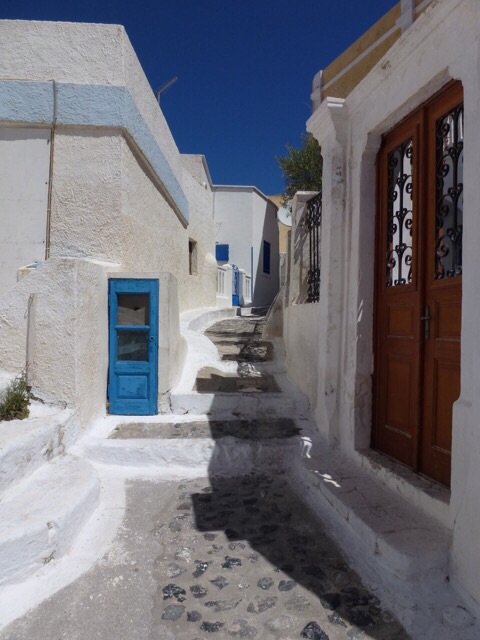 Sunsets here are special – maybe just for those of us who live on the eastern side of a continent and find the sight of the sun setting over water novel but every evening there is a mass migration of people who flock to the tip of Oia to watch the sun go down. We did it a couple of times and were surrounded by locals, tourists from cruise ships and the like.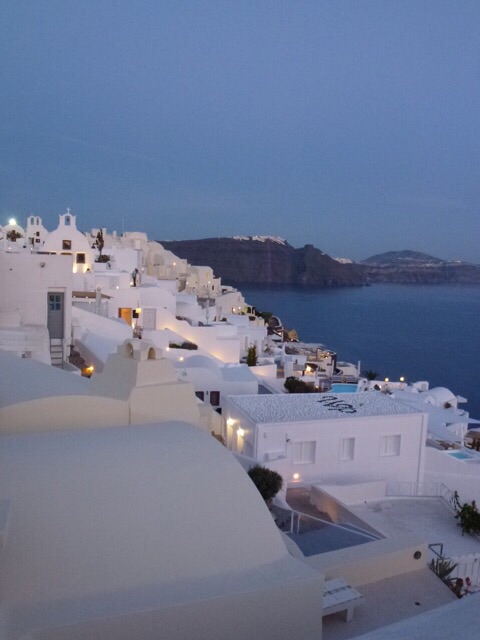 There are a few options for getting around on Santorini. Some folk hire cars, quad or motor cycles, we opted to use the local bus network and that worked out fine. We journeyed over to Fira and had a try at a 'fish spa'. You wash your feet then, with assistance, plunge them into a tank full of tiny fish that gently exfoliate you. It is the oddest feeling, ticklish at first then just odd as little fish vigorously schlurp away at your feet, wiggling between your toes and seeming to enjoy it. I felt a little guilty that my giant clodhoppers provided their meal (I am assuming they are feeding on dry skin).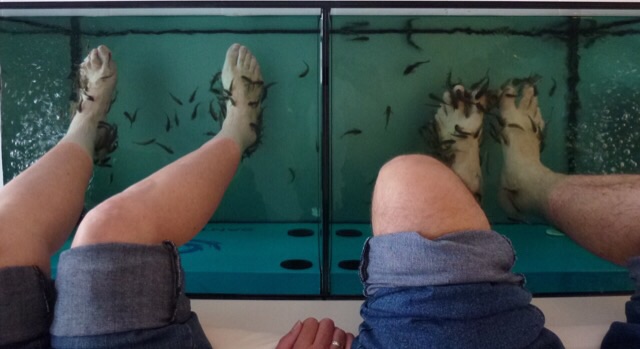 The fish spa fitted in the gap between busses nicely, we were on time for a second bus that would take us on to Pyrgos. This township was billed as 'traditional village life' as it was less developed and more of the houses and other things needed for living were on show. We lunched, shopped and climbed the ridge exploring the twisting turning passages between buildings and churches which was very interesting.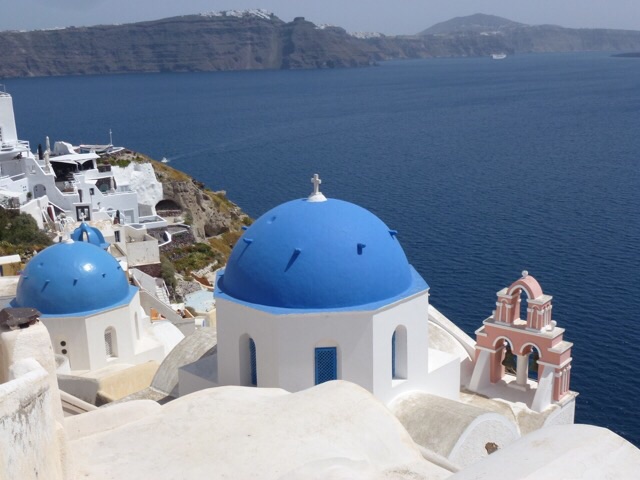 Catching the bus back to Firos, we further explored. It looks like this town lives and breathes cruise ship tourist, even providing launches and cable car to get the, on/off quickly. Everywhere you look you see white buildings, blue church domes and cliffs dropping shear into oceans of blue green.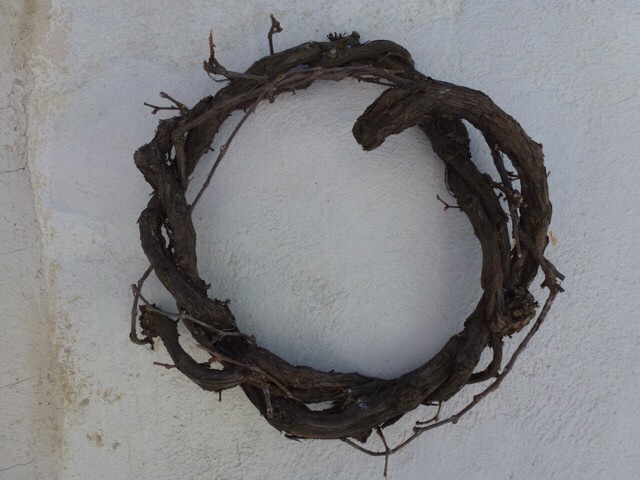 We have tried food and wine here, I want to say I liked the wines but found them resinous and salty on my palette which was not what I expected until I saw how they cultivate grapes. Elsewhere they encourage grapes on trellises but here, due to the salty winds they cultivate grape plants in tight spirals really close to the ground. The yield is small, mostly white and the wines are dry (except for the deadly fortified wines and spirits distiller here also).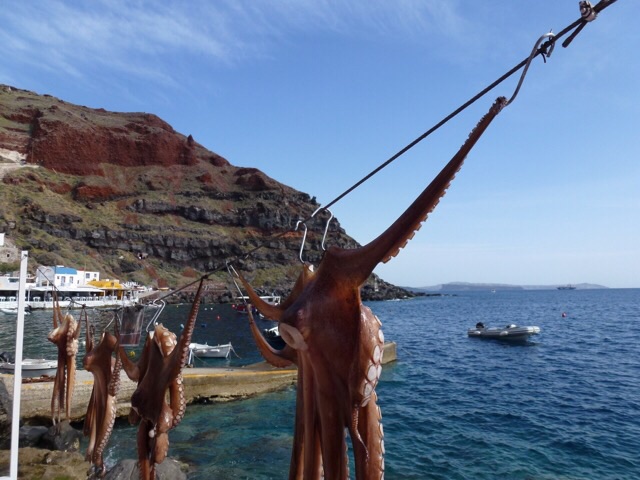 We have found here particularly, but Greece in general, the food to be salty. It is probably more a product of the abundance of olives, capers and seafood but if I was asked my lasting impressions I would say that.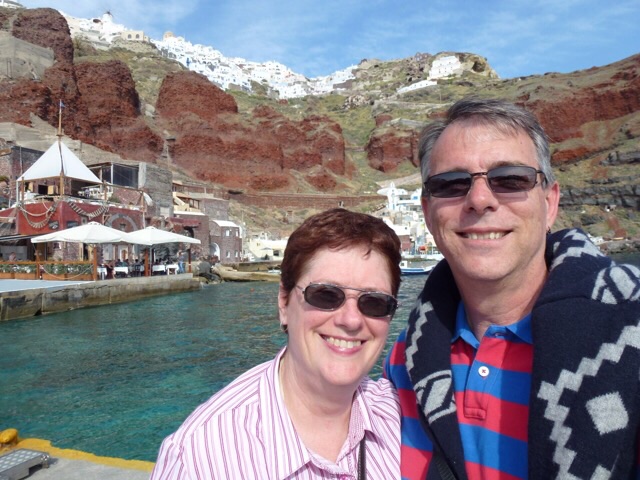 That said we have had some lovely things. We hobbled down the zig zag steps at Oia to sea level – quite a climb (tourists often do the reverse journey atop miserable donkeys that are herded at the bottom the the descent) and had a late lunch at the Sunset fish cafe – mussels in white wine, tomato balls and saganaki which was a good meal. The kebabs and gyros are also fab eating, as are generally the fish. We also tried mezze, I liked the fava (a split pea purée) and grilled octopus which was tender and tasty. Not sure I can face another greek salad however as I may have reached my feta capacity.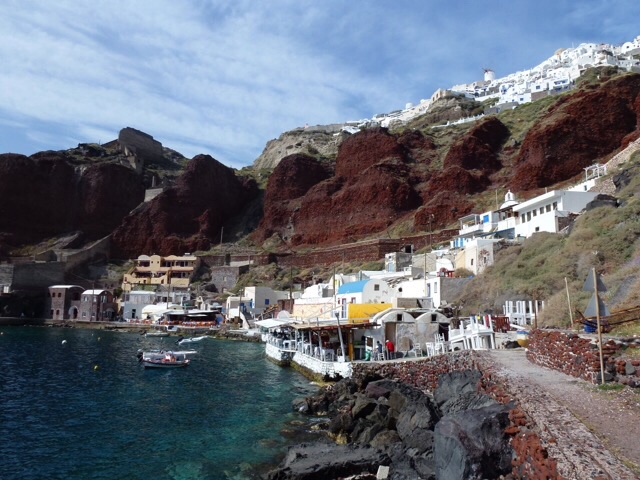 Looking through my photos, there are many postcard views, amusingly we bought a calendar and in it are photos of places we have also photographed. Our quest to accessorise our bathroom led us to a series of porcelain buildings that will look a treat where we have planned for them to be.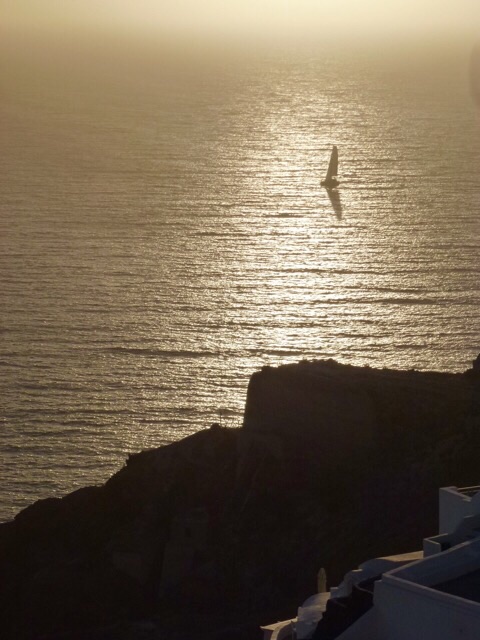 Santorini has provided us with a breather – pace here is so very relaxed, sleep ins, lax timetables and warm sunny weather have put us in good stead for our next leg onwards into France. We leave in the evening for a late flight to Athens, hotel stay over and early flight to Lyon … bring it on!